I've been a big fan of the Thompson Fat Pad since the very first time I benched on one. It's wider, longer, thicker, denser, and more supportive than any other bench pad I've ever seen or used. In addition to all that it has a unique, heavy-duty "grabber" vinyl cover that prevents any slipping or sliding around on the pad; a surprisingly uncommon feature for bench pads.
The Fat Pad is incredible, and to give you an idea of how much I love it I purchased a frame specifically for it and then had that frame custom chopped to account for the extra thickness of the pad (I wanted it to still be the normal 18″ from the floor to top of pad). Did it cost a few bucks? Sure, but I'll never need to buy a bench or pad again.
The pad itself retails for $155 when not purchased alongside a Rogue frame, and it is worth every cent if you not only love the bench press, but you want to maximize power and safety while benching – and who doesn't want that, right? When it comes down to it the Fat Pad is an all-around great product, and it is becoming commonplace despite its higher cost simply because there is no better pad on the market. Not a single decent alternative.
The Fat Pad Creator
For those who don't know, the Fat Pad was created by powerlifting legend and equipment innovator, Donnie Thompson. Donnie is the first human being to total 3000 pounds. He has eight all-time World Records in powerlifting including three bench press records, two squat records, and three Total records. In addition to developing the Fat Pad, Donnie has created many other training tools and implements including the Thompson Fatbells, the Bowtie, and the X-Wife. In other words, he's an active participant in and a contributor to the powerlifting industry and community.
The Titan Fat Pad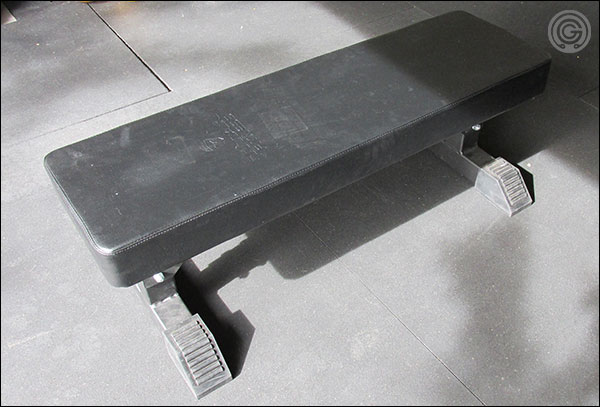 Enter the "Hefty Bench Pad", an imported knock-off of the Donnie Thompson Fat Pad made by none other than Titan Fitness; the masters of riding coattails. The Hefty Bench Pad has dimensions that are modeled completely off of Donnie's Fat Pad. Not a single dimension is off by even by a fraction of an inch. The location & spacing of the mounting holes are even identical. Most interesting to me is that the Titan pad comes in packaging that's labeled "Fat Pad", not "Hefty Pad", which definitely closes the door on any argument that the Titan isn't a clone (not that there was any doubt anyway).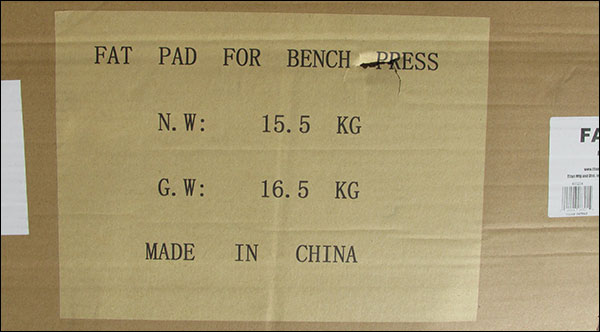 We all know that Titan has made an awfully good business out of reverse engineering every single profitable fitness product out there (most of which are stolen from Rogue) and having them made with cheap materials and for low wages in China, so it's not surprising at all that the popular Thompson Fat Pad was also "borrowed".
Obviously arguing the ethics of Titan's business model is more or less pointless to do here, so I won't go there. All that's left is to ask whether or not the Titan Fat Pad is just as good of a product as the Thompson Fat Pad. Are they equal products? Is Rogue too expensive or is Titan just offering up junk? Are you sacrificing anything by going with the knock-off?
In my opinion; having both pads in front of me; the answer is clear: the Thompson Fat Pad is a far superior product. Yes you save some money by buying the Titan Fat Pad, but you're sacrificing performance and not getting the full benefit of this over-sized pad. Here's why.
One of the best features of the Thompson Fat Pad is the special, grippy vinyl. Aside from it being extremely durable, it has thousands of tiny textured particles that completely prevent the lifter from slipping and sliding down the bench. Once you get set into your final position, you're not going anywhere. Whether you do a single max-effort rep or heavy sets of 12 with a Sling Shot, you'll end the set where you started. This is an important feature of this pad.
Titan's pad is nothing more than a standard, cheap bench pad that's designed to mimic the dimensions as the Thompson Fat Pad; that's all. The vinyl on the Titan is no different than what you'd find on a $40 bench from Amazon or in a chain store. It is thin, slick, and cheap. You get the extra surface area from the larger dimensions, but that alone doesn't make it a Thompson Fat Pad.
Now the foam padding used for the Titan Fat Pad is actually more firm than I expected it to be, but without the thicker, high-quality vinyl the overall feel still leaves much to be desired. The combination of that thicker vinyl and the way the vinyl is sewn into well-defined edges with the Thompson Pad makes the outer edges of the pad seem firmer as well. Now maybe if you've never benched on a Thompson Fat Pad you wouldn't know what you were missing out on, but that's hardly a good reason to settle for less.
Finally, because of the thin vinyl and low-cost workmanship, I suspect that the Titan pad will age and fall apart more like a cheap bench pad. I haven't had the Titan pad long enough to see this wear and tear yet, and I most certainly won't be keeping this pad to witness this in the future, but that is my assumption nonetheless. It just has that cheap feel to it.
In other words, these products are only identical when viewed as spec sheets. They are no more alike than the Bomba and the California Bar are alike.
Titan vs Thompson – Review Summary
The Thompson Fat Pad is a superior product by more than just a small margin. The quality of the American-made Thompson Fat Pad is just obvious in many ways: the use of a thick, premium vinyl cover, the precise way in which that vinyl is cut, shaped, and stitched around the pad, and in the overall feel of the pad when in use. Even if you are willing to forgive the Titan for its use of cheap vinyl, there is still the issue of the gripping effect of the Thompson vinyl that you are giving up by going with Titan. Again, this is a crucial feature.
I'm all about saving money when possible but I see no point in replacing your current bench pad for any amount of money if it's not actually an upgrade, and the Titan Hefty Pad is not much of an upgrade. My suggestion is to either buy the Thompson Fat Pad or just stick with what you currently have. If it just kills you to pay more than you hoped to maybe it will make you feel better to know that by buying the Thompson you're putting food in the mouth of the guy who invented it, not the company and Chinese factory that ripped it off.
Finally, it's worth pointing out that the Thompson Fat Pad can be had as an upgrade to the normal pad of the Monster Utility Bench by paying only $30. You get the beefiest frame on the market and the best pad for under $300. How much did you spend on your last phone?