Welcome! This is a review for the new Vulcan One Basic 28.5 mm Olympic Barbell; my very first Vulcan bar. I'm pretty excited about finally having a Vulcan bar to play around with; I've been researching them for some time now, and have heard many good things.
I've wanted to do a Vulcan review because I think that there is a genuine interest in Vulcan bars, but there is an unfortunate shortage of feedback and user-reviews for them. While that limited feedback is overwhelmingly good, it is still limited. With this review, I am hoping to contribute to and expand upon that limited available feedback so that those of you who are interested in Vulcan will have more information available to you.
---
Why the Interest in Vulcan?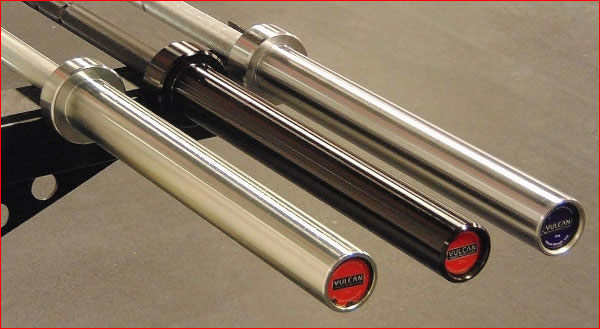 Well for starters, Vulcan bars look really good on paper. The specifications are on par with or better than some very reputable brands, and the prices are extremely competitive. Also, the product descriptions are transparent, often times outlining both the pros and the cons of each bar in a very straight-forward way. Combine that with the promising feedback that I've already mentioned and it's easy to see why there would be an interest.
Additionally, I've done my share of harassing Vulcan with technical questions. They not only did a good job of answering my questions, but they did so in a way that demonstrated their technical knowledge of barbell manufacturing; both of their own bars, and their competitor's bars as well. Better yet I never felt like I was being bullshitted for the sake of a sale. Nothing annoys me more than marketing misdirection; claims of having the highest this or best that in the Universe, steel shafts forged in the fires of Mount Doom, and so on.
In other words Vulcan bars look good, they're priced reasonably, the available feedback is promising, and the company itself seems to be knowledgeable enough to develop bars, and honest enough to sell them.
---
The Vulcan One Basic Bar Review
The Vulcan One Basic is the closest thing to an economy bar that Vulcan Strength offers. Don't confuse economy with cheap, though. Economy refers only to the pricing of the bar. Oh yes, economy bars can most definitely be cheap bars, but it is not implied nor is it the case here. To help illustrate this point, consider the Rogue Bar as Rogue's economy bar. I'm sure we can all agree that it's a very nice bar at its price point.
If you've seen any of my other barbell articles then you know that I don't talk about all that many bars this close to $200. I'm not a huge fan of budget bars; I think too many of them are bad investments. Matter of fact, I can count on one hand how many different economy bars I'd buy for my own personal use, and I don't need all five fingers to do it.
I firmly believe that an economy bar needs to be exceptional for its asking price in order to be worthy of a recommendation. I realize that not everyone has $500, $400, or even $300 to spend on a premium bar, but I dislike the idea of suggesting a sub $200 bar that will only last a year or two (if that) when spending even 15% more will get you a bar that will not only last, but absolutely outperform a cheap bar.
I don't mind telling you right off the bat that the Vulcan One Basic is one of those bars that I'd recommend. This bar can go toe-to-toe with any bar in it's price range, many bars above it's price range, and absolutely smoke any of the $200 or less bars. So if you're looking for an affordable bar for CrossFit or a general strength training program, I'd ask that you read this review before you make any purchases, especially if you've been considering a chain-store brand or a cookie-cutter bar from a fly-by-night CrossFit equipment dealer.
---
Vulcan One Basic 28.5 mm Barbell Specifications
Here is a breakdown of the Vulcan One specifications. Please be aware that while the One is still available as a product, it has undergone updates and changes that this review does not cover. Finish, warranty, price, and possibly more have changed.
Standard men's 20 kg bar
Dual-marked, 28.5 mm shaft
Black zinc coating (sleeves and shaft)
Lab verified minimum tensile strength rating of 190,000 PSI
Moderate knurling; knurled to shoulder
50 mm sleeves (49.98 mm), 16¼ in. loadable length
4 Self-lubricating bronze bushings per sleeve
Double snap-ring assembly
Good whip for 28.5 mm bar
4-year warranty
$234 including shipping (black zinc)
2017 update: chrome finish for $248

You can see that the shaft diameter and sleeve diameter are well within even the strictest of tolerance ranges. It is especially important that sleeves to not go above 50 mm as Olympic bumper plate openings are 50.4 mm.

---
Pros and Cons of the Vulcan Bars
My articles tend to be long-winded. In an effort to keep it under 10,000 words, I'll stick to a Pros and Cons format.
---
The Good Stuff
Bar Whip
On their website, Vulcan claims that the whip/elasticity for this 28.5 mm shaft is mild under moderate loads, but is decent under heavy loads. I found this to be a slight understatement, as the Vulcan One displayed very respectable whip for a bar at this price point.
I compared the whip of the Vulcan One to that of the Klokov and the Chan (same shaft as Ohio). I found that the One started to exhibit whip at slightly lower weights than the Klokov (a true 28 mm Olympic bar), and at about the same load as the Ohio-line shaft. Pretty damn good for a $234 bar.
Keep in mind that this is a multi-purpose bar, not a 28 mm professional Olympic WL bar. If a lot of whip is what you want, you're looking at the wrong kind of bar, and in the wrong price range. The Vulcan One Basic is already a lot of bar for the money, and the fact that it whips as well as it does is merely a bonus in my eyes. I'd recommend looking at the 28 mm Elite if you want a high whip, affordable Olympic training bar.
Construction Quality – Sleeves
Because of its effect on spin, noise, and performance for the long-term, sleeve construction is one area that cannot be compromised when developing an economy barbell. Sacrificing precision and using inferior components under the hood will lead to a poorly-to-no spinning bar that will end up needing to be replaced.
Half-assing the sleeve assembly leads to an excess of lateral shifting of the sleeves on the shaft. This is easily tested for by shaking the barbell from side to side. Of course, you can also just load up the bar, drop it, and listen to the noise it makes. Solid bars make a minimal amount of noise when dropped, while low quality bars are loud as hell. If you have dropped the Bomba or a AF Team bar, you are familiar with loud bars.
Noise really is one of the bigger complaints about poorly constructed economy bars, and this is especially true in a box-setting where many bars are being dropped repeatedly. While that noise is annoying, the loss of spin is a much bigger deal as it directly effects your ability to use the bar for certain lifts.
No doubt that the Vulcan One lacks the precision of a bar that sells for three times as much dough, but it certainly exceeds any other economy bar that I've lifted on. Sleeves are tight, they spin smoothly and consistently (as you'll see below), and the bar is not overly loud.
Sleeve Rotation
The Vulcan One is assembled with four bronze bushings per sleeve instead of the two that is found in many economy and cookie-cutter bars. Bronze is what you want in your bar. And while bushings won't spin like high-end needle bearings, a good bronze bushing will spin much better than an economy bearing (ball or needle), and for much longer. Yes, there are still ball bearing bars out there.
I avoid bushing bars that don't specifically claim bronze in the product description. Never assume that they are bronze if the description doesn't say so, because they are probably not. Composite bushings are the only other material I'm comfortable with, but that's fairly uncommon. The point is to avoid bars that are non-specific about the bushing material, as there is a good chance it's an inferior, cheaper material.
In terms of rotation the sleeves of the Vulcan spin just as well if not better than comparably priced bushing bars, and better than many higher priced bushing bars. It certainly has more than enough rotation to handle the Olympic lifts, especially at CrossFit weights. Although, if you Olympic lift on a competitive level, you probably should be looking at a bearing bar.
Incidentally, the Vulcan 28.5 Bearing Bar is this exact same bar only with bearings instead of bushings. Might look at that if you want bearings for close to $300. I plan to review that bar in the coming month or so.
Knurl
The knurl on the Vulcan One can only be described as moderate. It's a nice compromise between the aggressive knurl of a single-rep competition bar, and the insignificant knurling that many low to mid-range bars ship with. The knurl is very high-rep friendly.
I tend to prefer a fairly aggressive knurl on all my bars, but I realize that I am probably in the minority on that one. So while I could stand for a bit more sharpness, I don't think that this bar's knurl is so moderate as to be considered mild (or weak.)
Also worth mentioning is that the knurling does reach the collars; it doesn't stop short like many economy bars do. Additionally, the start and stop points are well defined. Overall, the knurling of the Vulcan One is done well.
Value
I do believe that the Vulcan One eliminates a great many bars from a potential CrossFit / multi-purpose bar shopping list. This bar offers more quality and more of a high-end feel than any other bar for under $250 that I've touched, and I dare say that is bar superior to many other bars that cost more.
This is a quality, no-nonsense barbell. By no-nonsense, I mean that here is no manipulative marketing (including no BS specifications), no gimmicky components, and the product page accurately portrays the bar that you will receive.
Economy bars are designed with beginner to intermediate lifters (and of course those on tighter budgets) in mind. This bar is perfect for anyone that fits that description, and I think that even an experienced lifter with limited funds would appreciate the Vulcan One at this price point. I'm not kidding you when I say this is a lot of bar for the money.
Product Testing
Vulcan bars undergo a large amount of testing before being released. In the case of the Vulcan One, it went through many re-designs over the course of a year before launching. The bar prototypes are not only tested in-house by Vulcan, but are handed down to both a CrossFit box and a professionally coached Olympic WL team so that the bar can be tested by end-users of varying skill levels.
Don't get me wrong, I'm not saying that having professional athletes test your prototypes isn't important (because it is), but putting bars into the hands of the novice athletes that can potentially destroy your bar is just as important, especially in a box setting, where we all know how well equipment is treated (sarcasm, of course.)
---
Oh No!
Black Zinc Sleeves
It's true, blacked-out zinc bars look cool as hell. Unfortunately, it is inevitable that you will slowly chop away at that zinc coating from loading and unloading plates, especially if you use steel change plates. I'm not saying this doesn't happen with bright zinc (it does), but it will be more noticeable with black zinc.
I'm merely talking about how much more noticeable it is with black vs bright zinc, so this is really a cosmetic issue. The fact remains that any bar finish will show wear and tear. Even chrome can be chipped off the bar, though it is much more resilient (and expensive.)
So yeah, black zinc is not my favorite finish option. You will need to occasionally give the bar a good coating of 3-in-1 oil to help maintain the finish. As you chip away at that zinc, you will need to do this more often.
BTW! For those of you that wonder how a $100 bar from Dick's or Academy can have a chrome finish while "real" barbells that sell for two or three times as much use zinc, it's because that chrome that you find on cheap bars is a decorative chrome, not hard chrome. It's the stuff the flakes off and makes your gym look like a club dance floor. It's absolute junk; zinc is far better than decorative chrome.
Turning a Con into a Pro
The Vulcan One will be available in a hard chrome finish for about $30 more at the end of March. Buy chrome, and you negate my only con.
More Cons?
I'm really impressed with this bar. I can't think of anything else that I would consider to be a con that wouldn't have everything to do with the fact that it's not a more expensive bar. The limited warranty isn't even much of a con when the bar only costs $234.
As per usual, if I make a new discovery over time I will update the review to reflect my new position. As I've mentioned though, this is a lot of bar for the money, and I do not foresee any issues.
---
Vulcan One Review – Summary
When it comes down to buying an affordable garage gym or CrossFit bar, there's no reason the Vulcan One shouldn't be considered. The Vulcan One is a high-quality, low-cost bar that is constructed well and offers a number of features that you'd generally have to pay more to get. The spin is excellent, the shaft is better than the industry average (both PSI rating and whip), and the construction has been fine tuned to ensure that the bar not only performs but continues to perform over time. If I had to guess, I'd say that this bar is deliberately under-priced in order to bring attention to the brand. Who cares why though, right?
---