Have you seen the new Dumbbell Bumpers from Rogue? What do you think about them?
These colorful rubber discs are designed specifically for use with Rogue's DB-10 and DB-15 Dumbbell Handles. They are offered in six different increments ranging from 10 to 55 pounds (the same as regular bumper plates) but they are only 9″ in diameter. In addition to being compact and just bad ass looking, they appear to be far more cost-effective than buying pairs of Rogue Change Plates; which is what many have been doing.
Personally I think these are a great idea. Swapping out single discs is easier than dealing with stack after stack of 5- and 10-lb change plates. Also these eliminate all the noise that comes with stacking change plates on any bar. Finally, if you are using plates larger than 230 mm in diameter on your dumbbell handles, these discs will make your dumbbells feel more like real, fixed dumbbells by offering a more centralized distribution of weight.

---
Cost?
Rogue's dumbbell bumpers truly are less expensive than the rubber change plates, and by a lot too. To give you an idea, a pair of 10-pound bumpers will set you back $50, but it costs $81 to buy a pair of 10-pound rubber change plates. That's a big difference, and it only gets better as you move up in weight. Take a pair of 25-lb dumbbell bumpers; they'll cost you $125, but it would cost you $204 to buy that in change plates. Or 45's at $185 a pair; they would cost $366 in change plates. Huge difference.
Of course it would be negligent of me not to point out that rubber change plates aren't the only plates you can stick on your dumbbell handles. There are still steel change plates, of course, which will cost you about half of what these rubber bumpers will cost per pound. So while steel is definitely cheaper, it's not as quiet, accurate, bad ass, or quick and easy to really load up as single bumpers.
I should also point out that whether you are using rubber change plates, steel plates, or these new dumbbell bumpers, having access to enough weight to make a pair of heavy dumbbells is going to be expensive. A decent set of dumbbell bumpers is definitely less costly than owning a set of fixed dumbbells like you'd see in a gym (even if you use cheap iron hex units), but still no small investment by any means.
---
Sizing

As I mentioned, all of these dumbbell bumpers are 9″ in diameter. The thickness of each bumper is as follows: 10-lb plates are 45 mm"; 15-lb plates are 75 mm; 25-pound plates are 120 mm; and the 35-55-lb plates are 150 mm. The three largest plates have cut-out inserts to allow the disc to slide over the dumbbell collars for a secure fit and also to allow for your clamps to fully engage the end of the sleeve.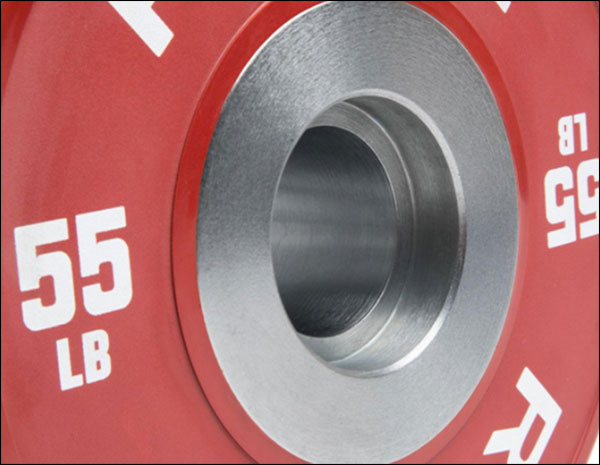 Since these do have 50 mm inserts, you could use these with your Rogue EZ Curl Bar as well (or any Olympic bar for that matter.) The colors adhere to the standard IWF scheme, save for the 10's and 15's which are black, and the inserts themselves are chrome.
Your Turn
I for one am kind of anxious to try these out, but what do you think? Neat idea? Will they take off? Are they worth the money? Would you buy these? Do they make you wish that you owned dumbbell handles? Comment below.