A few months back I picked up a couple pairs of the Thompson Fatbells. After having spent a good amount of time messing around and training with these bad boys, I figured I'd spend a few minutes telling you what I think about them.
For those of you who have no idea what a Fatbell is, well they are essentially a kettlebell with the handle moved to the center (or the core) of the bell for the purpose of balancing the weight equally around the hand. Or to look at it another way, the Fatbell is the unification of a kettlebell and a dumbbell.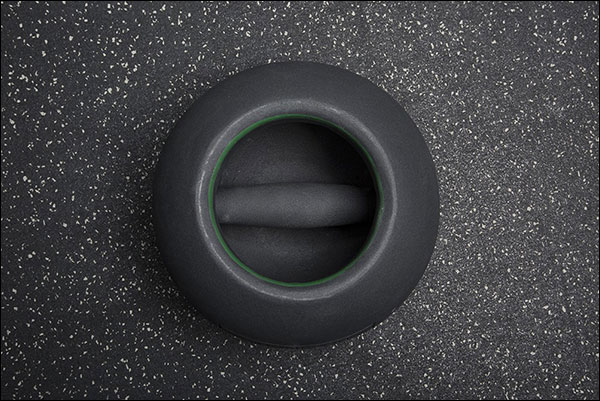 Some of the claimed benefits of this unique & clever design include a reduction of shearing force, better load distribution on the muscles and connective tissue, and less strain on the wrists. Well, that's the claim anyway, but we'll see.
---
My Thompson Fatbells
I purchased a pair of 26-lb and 35-lb Fatbells. I chose these two weight sizes because my initial impression of this product was that they were going to make a much better dumbbell than kettlebell, and these two sizes happen to be extremely versatile as dumbbells (lateral and front raises, arm bars, bicep curls, flyes and reverse flyes, and so on.) Also, going with relatively light Fatbells made checking them out affordable; much more so than buying 80- or 90-pound bells.
If you're wondering why I had the impression that Fatbells would make a better dumbbell replacement than kettlebell replacement before ever seeing or handling one, It's because it seemed unlikely that I'd be able to get two hands inside a Fatbell. The way I saw it was that if I could use Fatbells for anything I could use a dumbbell for, and I could use them for just about any one-handed kettlebell movement, but I could not use them for two-handed kettle movements, then it really doesn't replace a kettlebell.
Anyway, that was just my initial impression from reading the product description and looking at the pictures.
---
Actual Initial Impression
Upon receiving my Fatbells and playing around with them for a little bit I knew that I liked them. The weight does feel more balanced, and once you get used to them a little bit they do feel easier on the wrists. Now as far as there being more load distribution on muscles & connective tissue, I'm not sure I'm qualified to agree or disagree with such claims. However and interestingly enough, Fatbells do feel heavier than dumbbells of the same weight which is peculiar – so perhaps the claim is true.
That said, I was right about not getting two hands inside one of these – no chance in hell. Looking at the images on Rogue's site (shown below), it doesn't even look as though the opening gets much bigger as the weight goes up. Now there are ways to hold the Fatbell to do two-handed swings, but it's certainly not ideal, nor is it particularly safe. So yes, Fatbells are definitely more of a dumbbell than a kettlebell.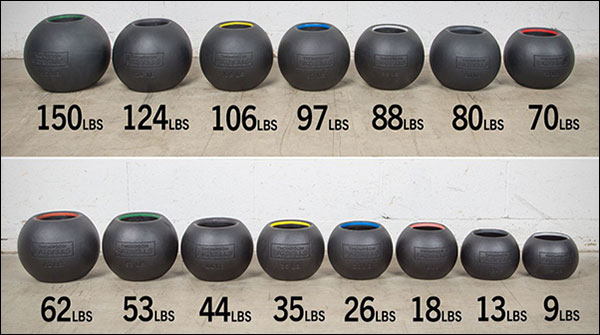 Despite that, I still think that Fatbells are a really neat and ingenious idea, and they clearly have their place in a gym. They no doubt improve upon the dumbbell, and maybe even completely replace dumbbells – and they half replace the kettlebell in the sense that one-handed movements are doable. Again though, it's a no-go on the two-handed stuff.
---
Worth the Cash?
Thompson Fatbells could easily replace dumbbells in a gym setting. Sure, you and I could both find a couple random movements with dumbbells that wouldn't work well with Fatbells, but overall these are just as good if not better than a dumbbell. The problem is that they are expensive, and nobody is going to throw out dumbbells for a new, pricier product.
To give you an idea, a pair of 25-pound rubber hex dumbbells runs about $60, while a pair of 26-pound Fatbells goes for $90. A pair of 70-lb dumbbells sells for about $170, while a pair of 70- pound Fatbells is $216. The gap gets smaller as they get heavier, but never is a Fatbell cheaper.
You also have to deal with large, inconsistent jumps in weight. Instead of 5-lb increments like you'd have with dumbbells, you get jumps ranging from 4-lbs to over 20-lbs; with the average being about 9-lbs. Hopefully at some point Rogue fills in the larger gaps with more units, but I'm thinking that's unlikely since Fatbells, while in pounds, are based on standard kettlebell weights (that are in kilograms.)
All that being said, I still really like Fatbells. Honestly I'd have already ordered more of them by now, but I have the problem of already owning a full set of dumbbells so the cost is, well, unjustifiable. Now had I not already owned nearly 20-pairs of dumbbells, I'd definitely own more Fatbells.
---
Pros [+]
Even distribution of weight around the hand making just about any movement easier on the wrists, and this is true whether or not the movement is typically done with dumbbells or kettlebells.
Extremely versatile; push, pull, clean, lunge, snatch, press, row, curl, chop, swing, and toss all with the same item. Fatbells almost completely replace the need for dumbbells, and aside from two-handed movements they do the same for standard kettlebells.
Less joint shearing and greater load distribution than dumbbells and classic kettlebells. Again, this is a claim made by Rogue and Thompson, and other than to say that work done with Fatbells feels more productive, I cannot confirm or deny this claim with any real certainty.
Sturdy flat base makes them great for Renegade Rows, bear walks, and even push-up and plank variations.
Fatbells have a smaller total diameter than equivalent dumbbells and most kettlebells, making for a potentially larger ROM in certain movements.
Cast iron design is durable, and standard Rogue powder-coating is easy to maintain. No heads to come loose like with standard hex dumbbells.
Cons [-]
Cost: A single Fatbell of every weight up to 100-pounds (97, actually) will set you back about $950. If you want pairs, double it. There are also a bunch of Fatbells that exceed 100 pounds, and to include those pairs in your set is another $1000.
Big weight gaps between each Fatbell. This is the only reason why Fatbells could not 100% replace dumbbells – there is just too much weight difference between each unit. Dumbbells jump 5-pounds at a time, with smaller bells being 2½-pounds apart. Fatbells jump up about an average of 9-pounds. This large jumps make the progression of accessory lifts more difficult to manage.
Fatbells cannot be ditched at the end of a set as easily as dumbbells. Imagine trying to dump a pair of 80-pound Fatbells at the end of a set of presses – you can't with your hand deep inside the things.
As previously mentioned, Fatbells are no good when it comes to two-handed kettlebell movements. You'll still need to own standard kettlebells for those.
---
My Favorite Use for Fatbells?
Arm Bars! I have a funny shoulder that requires a lot of re/pre-hab. Fatbells have become a nice addition to my 'rotator repair' tool box.
Here's a good video on he Arm Bar in case you are unfamiliar. Jeff is using a kettlebell, but try it with your Fatbell after trying it with a kettlebell – you'll see why I like the Fatbell more.
---