Is Rogue Fitness going commercial?
Rogue is well known for their huge selection of quality Crossfit and weightlifting equipment. They are the go-to for power racks, Olympic bars, bumper plates, and all sorts of gear for equipping a Crossfit affiliate or a personal home or garage gym. However, Rogue Fitness hasn't typically been associated with commercial equipment. You know, the machines you would find in a giant mega-gym. Well there are some new items from Rogue that definitely scream commercial gym. I'll show you some of them and let you decide if Rogue is going commercial or not.
---
Rogue Iso Leg Press Machine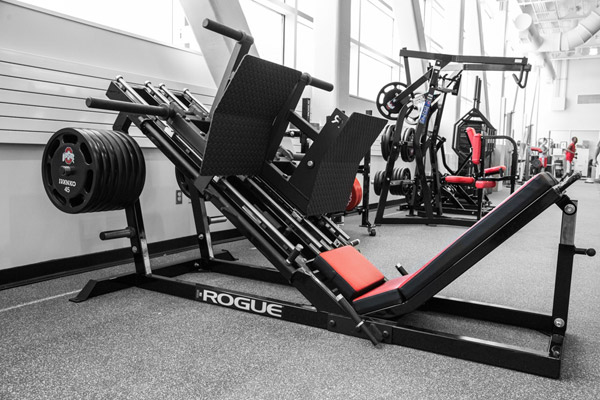 First up, the Rogue Iso Leg Press Machine. Step into any large commercial gym and you'll see at least one leg press machine in the weight room. While most of us would undoubtedly love to have one of these in our personal gym as well, you won't actually find these in many garages. Yes it's a beautiful and useful machine, but it's just not practical for the home due to it's large size and commercial price tag.
Since this couldn't possibly have been designed for garage use, and I can't see too many CrossFit boxes wanting one, who's it for? I'm guessing Rogue is introducing items like this so they can take facility outfitting beyond the CrossFit boxes and start outfitting larger gyms like colleges, high schools, and the smaller commercial gyms.
Regardless, I must say that they are not half-assing their new equipment. This leg press is actually an innovative upgrade from the standard commercial leg presses, and it appears that Rogue will strive to make their equipment better than their predecessors. So if Rogue is trying to ultimately break into the commercial gym market, maybe it's a good thing. What do you think?
Rogue Prone Leg Curl Machine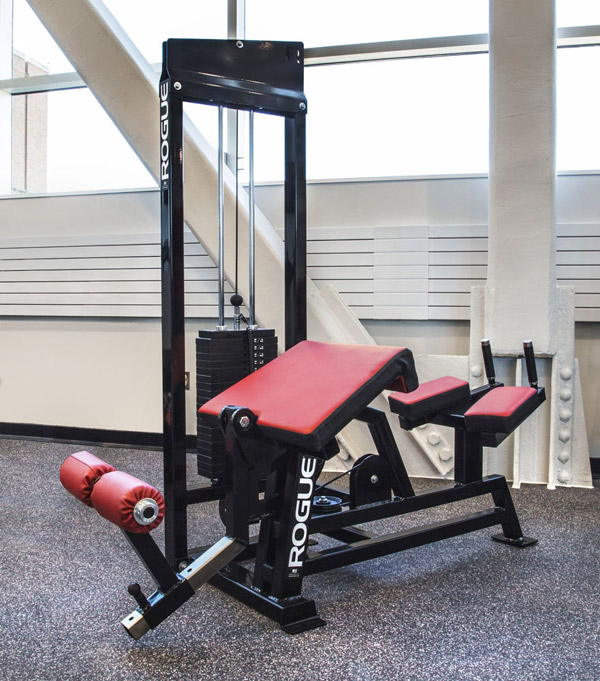 Another lower body machine, this one should be easily identifiable to any current or ex-gym goer. This is a prone leg curl machine. Again, not a piece you'd see in your average garage gym or CrossFit box. As per usual, it looks like Rogue did a pretty good job with this. It has 5 adjustments for height rather than the standard three, and the body pad is arched rather than flat to produce better contraction of the hamstrings.
I'd say both this leg curl machine and the leg press above are definitely commercial pieces, as neither belong in a box. Should we be expecting a leg extension machine soon?
---
Rogue Monster Lat Pulldown/Low Row

This freestanding Lat Pulldown/Low Row is a 100% American-made piece of commercial gym equipment. Weighing in at over 600-lbs and offering a 300-lb weight stack with 10-lb increments, this is most garage gym owner's wet dream.
This is a beautiful and versatile piece of equipment with a relatively small footprint of only 40″ x 60″. Just as with all combo lat machines, you can row and pulldown with Lord knows how many different attachments and get an incredible back thrashing done on this single piece of equipment.
The Rogue Monster Lat Pulldown/Low Row sells for $2950 and has gone through a couple revisions that make it pretty much perfect. It comes with a wide stainless steel lat bar, band attachments, and new and improved giant 6″ pulley wheels. I realize that this isn't meant for garage gyms, but if you have the space and income, do it.
Want an even smaller footprint? Attach this to your Monster Power Rack.
---
Rogue Monster Swing Arm GHD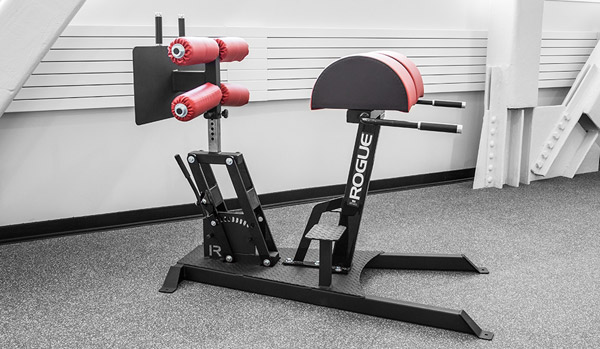 Glute Ham Developers (GHDs) are actually less of a commercial piece than a garage gym piece, but that's not to say they aren't present in many large gyms. And while tons of folks buy GHDs for their home gyms, they aren't typically buying such beefy and expensive units as this one. This unit is much nicer and a bit more expensive than your run of the mill GHD.
The pads on the Rogue Monster GHD are very thick and look much more comfortable than some of the lesser units available. Also this GHD has the same type of quick adjustments usually found on commercial equipment that's intended to be used by many people. This is definitely a commercial piece of equipment, and a nice one at that.
---
Rogue Pro Oblique Flexor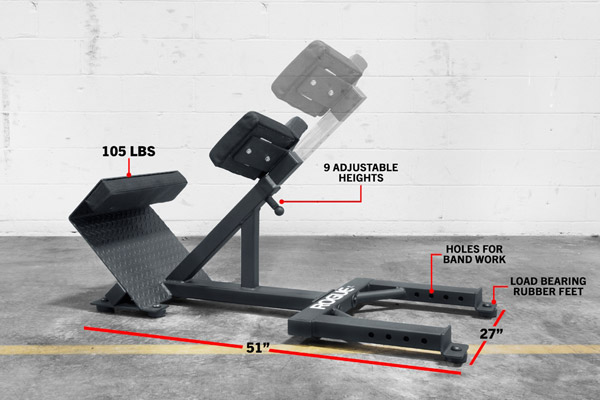 The Oblique Flexor I'm not so sure about. While not a machine, I have never seen or heard of anyone owning an one in a garage, yet I have seen a row of these at every commercial gym I've stepped foot in. Is there a demand for these in homes and boxes, or do you think this is intended for a large gym?
Interestingly, Rogue's version of this piece looks more comfortable than the units I'm used to. The pad is really thick and shaped to accommodate all quadrants of the waist. Since it's all one V-shaped pad rather than two separate pads, it would be much more comfortable on the hips when using it for obliques. It even has holes for band pegs!
It's starting to become clear that if Rogue is going to enter the commercial gym market, they are going to actually bring improved items to the table rather than just copy & paste all the existing equipment out there.
---
Rogue Westside Bench Press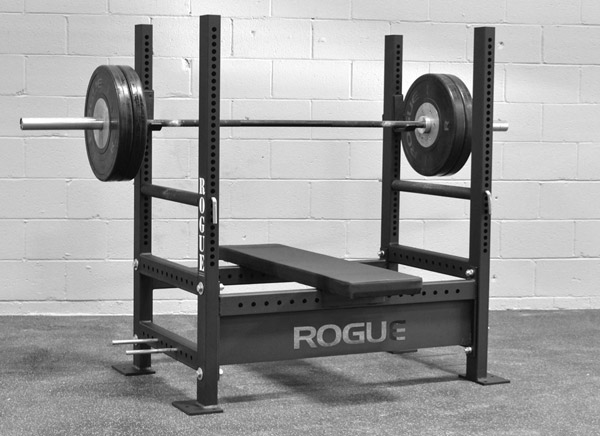 This isn't new, I know. They've actually sold this bench for some time now. This is definitely intended for commercial use though. A power rack serves the same purpose as this bench does in a garage gym or affiliate setting, so there aren't many reasons left to manufacture a bench like this unless the goal is to sell to facilities.
When it comes to dedicated benches, this bench is by far better than the standard Cybex or Precor benches you'd normally see in a commercial gym setting. Those other models have no safety systems in place, meaning you need a spotter to go heavy. Or worse, no safeties means you will often find people using one of the few power racks in the gym to bench in.
In addition to safeties, this bench has dedicated pegs for adding resistance bands to your lifts. With the other guy's benches, you need to find creative ways to wrap the bands around the equipment itself – not ideal, and not always safe.
One final benefit of this bench is the 1″ Westside hole spacing for both the safeties and the J-cups rather than 2+" normally found on commercial power racks. If you're going to have a dedicated bench press, this is the one to get for your garage gym or commercial facility. It's also about half the price as the other commercial benches at just over $700.
---
The Verdict?
While Rogue still does not have the commercial selection of say Precor, or Legend Fitness, they sure seem to be adding exercise equipment geared more for a commercial setting. As with all of Rogue's CrossFit and garage gym gear, it looks to be of a high quality, so maybe it will be a good thing for them to enter that sector of the market. I'll keep an eye on it, as I find these new pieces especially interesting.
Is there any commercial piece you can think of that you'd buy if Rogue started making it? I'd probably be pretty interested in a Rogue cable crossover myself.
---