Ready to see some of the new fitness products available at your favorite weightlifting and Crossfit outfitters? Companies like Rogue Fitness, Sorinex, and Uesaka all offer their own lines of equipment for outfitting your garage gym, and I scour their sites for all their latest releases. With any luck, there is something you've been waiting to see on this list. Enjoy!
---
#1 Rogue Echo Bumper Plates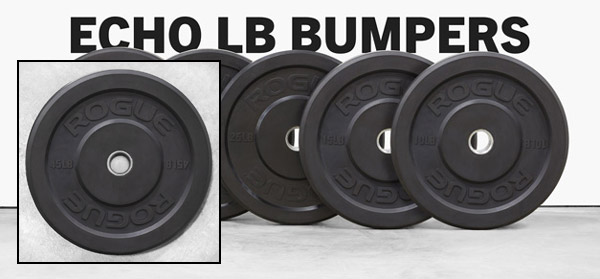 Rogue recently introduced new budget bumper plates that meets IWF sizing standards, has a very respectable weight tolerance of +/- 1%, and that ships for free for a good portion of the USA. The Echo Bumpers are so well received and popular that that they are commonly out of stock. These sell for about 80-85% of the going rate for their HG Bumper Plates; the previous low price bumper from Rogue. Both options are a hell of a deal so you can't lose.
---
#2 Inov-8 Powerheel – New Fitness Products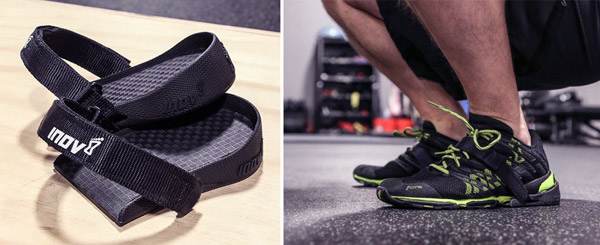 edit 2017: this product obviously bombed, but I'll leave the original text cause why not.
The Inov-8 Powerheel gives you the versatility you need when you want a weightlifting shoe for your WOD, but don't want the heel for things like box jumps and sprint intervals.
The Powerheel straps on to any Inov-8 shoe and elevates the heel (0.60 inches) for squats and Olympic lifts. This product is great for traveling athletes who do not want to haul around multiple pairs of shoes. $35.00
---
#3 Strongman Monster Dumbbells

Rogue's Monster Bells bring back the look and function of the classic circus dumbbell in a heavy-duty, 21st century form. These Ohio-made bells are available in four different sizes, with loadable weight capacities ranging from 75 lbs (with the 6" bell model) to over 250 lbs with the 12" option. Just add sand, coins, buckshot—whatever works—to create and adjust a custom weight that aligns with your goals and progressions.
---
#4 Rogue Iso Leg Press 35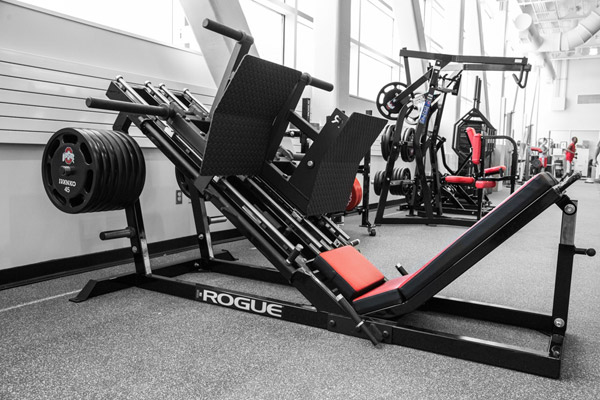 This is an amazing piece of training equipment that just had to be included. Even though the price tag makes this item too expensive for pretty much all garage gyms, it would make a fantastic addition for those that can afford it.
The Rogue Iso Leg Press is suited for athletes of all sizes. This bilateral/unilateral leg press machine has four loadable weight pegs that give it a total weight capacity of up to 2,475 lbs. It features pop-pin adjustable lumbar seat and adjustable spring safety stops. Its innovative design also includes a multi-angle foot-deck, linear ball bearings for smooth action and four on-frame weight storage posts.
As one of the only heavy-duty American-made leg press machines on the market, the Iso Leg Press 35 addresses many of the old criticisms of these machines, delivering more than 60% of true weight in average resistance and allowing for concentrated double and single leg exercises. Price? ~$4750
---
#5 Sorinex Loadable Husafell

And yet another Strongman product – the loadable version of the legendary Husafell Stone is now available. The Sorinex Husafell Stone weighs 80 LBS empty and is easily loadable up to 215 LBS. In addition to the traditional front carry you can also perform Zercher squats. The Husafell comes with a handle on top for quick transitions to a Farmer's Walk when you own a pair. Great for Strongman strength training. ~$299 at Sorinex.

---
#7 Reebok Crossfit Nan0 3.0 Shoes

Goodbye 2.0, hello 3.0. The evolution continues with a Dual Density platform that provides the perfect combination of forefoot cushioning and heel stabilization. Reebok added more flexibility and protection to the outsole with Metasplit grooves and RopePro wraps on the medial and lateral sides. Check out the color selection available for the new 3.0's at Rogue, the biggest and best source for Crossfit, cross-training, and weightlifting shoes anywhere!
---
#8 Harbinger Lifting Grips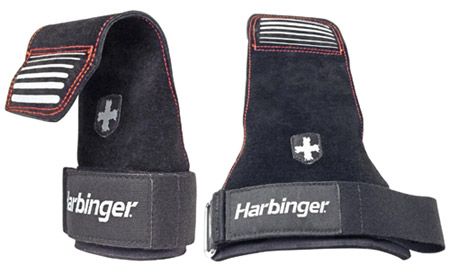 Harbinger Lifting Grips are a versatile accessory that works as an all-in-one palm protector, wrist support, and lifting strap. Made from genuine leather with neoprene stretch padding, Lifting Grips can be worn flat against the palms or wrapped around the bar and under the hand like a leather hook lifting strap. With either approach, the padding conforms to the bar for a secure grip while helping to prevent blisters and calluses. Meanwhile, an adjustable, heavy-duty nylon strap and NeoTek pad keep the wrists well cushioned and supported. Buy these at Rogue or Amazon if you're a Prime member and want free shipping.
---