This is a preliminary review of the Rep Fitness  AB-5000 'Zero-Gap' Adjustable Bench. It is extremely thorough and should answer most questions, but it is not complete.
The reason I don't consider this review complete is because I just haven't had the bench for very long. A week just isn't enough time with a product to write a complete, comprehensive, and honest review. That having been said, interest levels around the AB-5000 were just too high. I've had sooo many questions so this review definitely needed to be fast-tracked.
Again, this is kind of a "first impressions" review. It's thorough; all things considered; but it's not the final word.  I will be updating this article as I continue to use the bench.  I encourage anyone with questions to use the comments section below to ask those questions.
---
Rep Fitness AB-5000 Specifications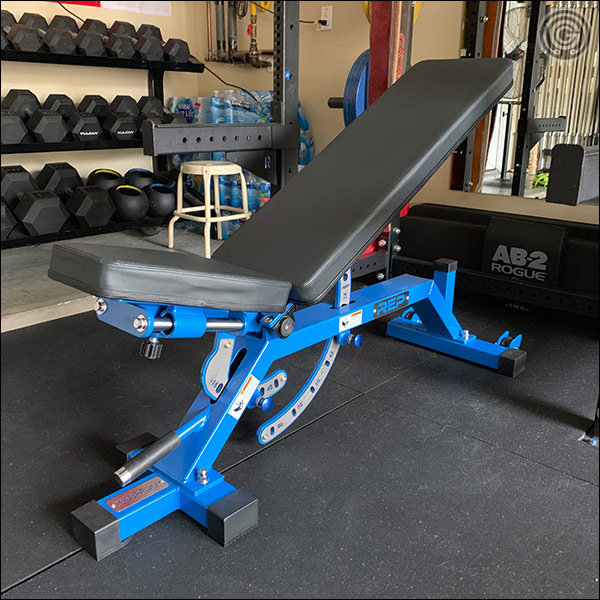 The AB-5000 is a fully functional flat/incline/decline bench. It is loaded with features; one of which is very unique; and sells for an amount that currently cannot be touched by any other manufacturer. It's not only a great garage gym option, it would do very well in a commercial facility as well. As you'll see, it's just that damn beefy.
11-gauge steel frame with a 1000 lb+ weight capacity
7 back pad adjustments with laser-cut position markings (0º, 15º, 30º, 45º, 60º, 75º, 90º)
5-seat pad adjustments with laser-cut position markings (-15, 0º, 15º, 30º, 45º)
sliding seat eliminates the gap between the seat and the pad in all positions
wheels and handle for easy mobility around the gym
available in four frame colors (blue, black, red, silver)
optional leg attachment ($89) converts all incline positions into decline positions
retail price of $499
For reference and comparison purposes I've included some random measurements that I'll surely be asked about as well.
back pad dimensions: 12″ wide x 38″ (rectangular)
seat dimensions: 12″ wide x 15″ tapering down to 8″ wide (trapezoid)
total length of pads when flush and flat: ~53″
rear foot width: 20.5″
front foot width: 12.5″
distance from floor to top of pad when flat: 18″
distance your butt is from the floor when bench set at 45º/45º: 21″
distance your butt is from the floor when bench set at 15º/75º: 19″
seat sliding distance: 0-6″ (made up of 8 settings approx ¾" apart)
total weight (without foot rollers): 117 pounds
---
Rep Fitness AB-5000 Review – The Sliding Seat
What makes the AB-5000 such a unique bench is the sliding seat feature, and it is exactly what it sounds like – a seat on rails that can be slid back and forth for the sole purpose of eliminating gaps between the back pad and the seat. It's a fairly ingenious solution to that age-old issue of adjustable benches making shitty utility benches because of the massive 2-3″ gap created by both pads being lowered to their 0º position.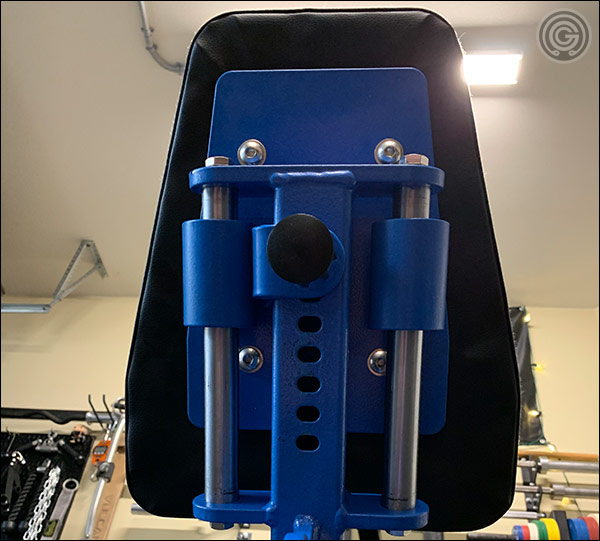 With 8 different lateral seat positions each about ¾" apart, the seat can travel a distance of 6″.  This allows you to really fine tune the feel of the bench in every possible position, both flat and the various incline positions. So whether you are doing decline flyes at -15º, incline presses at 30º-45º, military presses at 75º, or Lord knows what at a full 90º, the bench can be set to have as zero gap.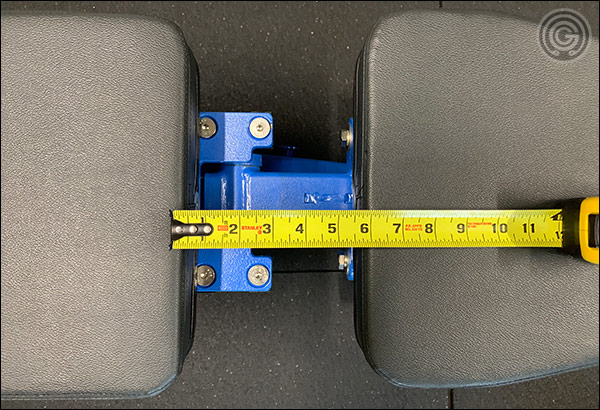 Making these sliding adjustments is easy; simply turn and pull the selector pin and slide the seat to where ever you want it, then simply re-tighten. It literally takes seconds.
I've found that the easiest way to get the perfect positions is to slide the seat away from the bench, adjust to back pad to where you want it, adjust the seat (angle) to where you want it, then slide the seat up against the back pad. Voilà!
The only drawback to this sliding seat mechanism is that it generally requires you do adjust both the seat angle and lateral position each and every time you make changes to the back pad angle. It adds a few seconds to your adjustments but I think the fact that this bench can completely eliminate the need for a second utility bench makes it a worthwhile chore.
---
Rep Fitness AB-5000 Review – The Pads
The back pad is rectangular with no taper and measures 12″ wide x 38″ while the seat pad is more of a trapezoid measuring 15″ and tapering down from 12″ wide to 8″ wide. Together the total length of the pads is about 53″.  This is a lot of surface area to work with, meaning the AB-5000 will never be too short. Even better, for military and shoulder pressing there is a really good chance that your head will have support.
The AB-5000 has very dense padding in the seat and the back pad; very reminiscent of the Rogue Utility Bench 2.0. It feels firm, semi-comfortable, and provides a very stable platform for pressing. The firmness will take some getting used to if you're used to a cheaper, softer pad, but it's worth it simply because it's better. Zero complains about the feel or the density.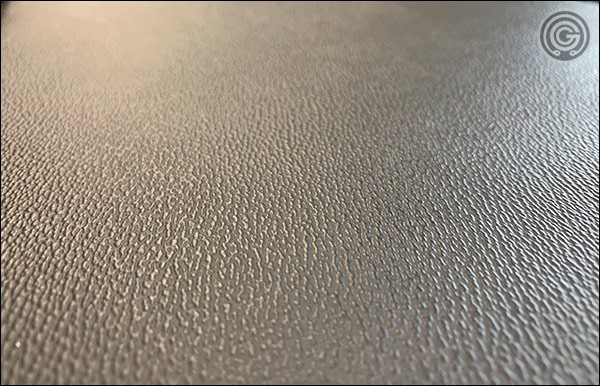 The vinyl covering is also of a high quality. It is not the grippy vinyl like what you see on the two FB-5000 pads, but it is still textured and isn't slick. Keep in mind that in all positions but one (flat) you are held in position either by the seat or by the foot rollers, so in a way grippy vinyl isn't actually necessary (though I'd still have been happy to see it.)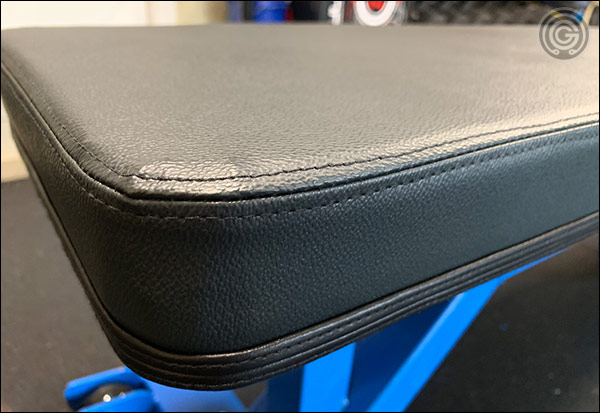 Overall I think the quality of the pads is well above average, and I see no obvious signs that they won't last for a very long time. Even the stitching looks really good. Of course, I'll keep an eye on the bench for pad/vinyl wear.
---
Rep Fitness AB-5000 Review – Pros and Cons
Pros
Rep cut zero corners with the steel used in the AB-5000. The frame is the standard 11-gauge, but the base plates and the crescent-shaped adjustment arms are constructed of incredibly thick steel. This bench will definitely handle the weight, and it will last.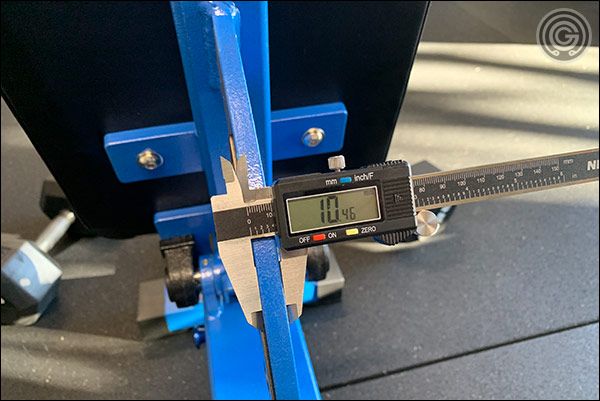 The AB-5000 is an incredibly stable bench. The wide stance of the rear footing and the T-shaped front foot eliminates a lot of the rocking and the wobbling that you experience on incline benches that have just a single, small foot plate in the front. This is especially true when in a full upright position and all your weight is on that front foot.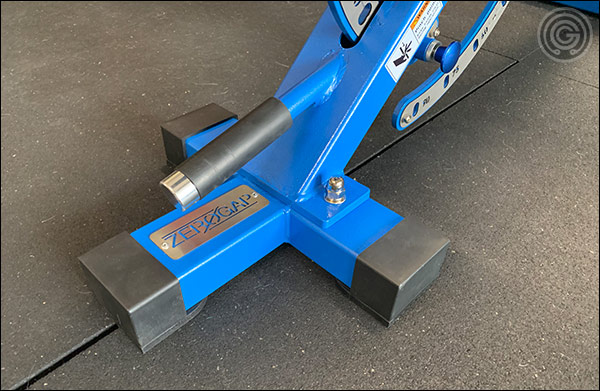 The rubber feet are the nicest that I have seen on any bench – flat, incline or otherwise. They are larger than usual, textured, and they sit flat and don't slide. A very nice choice on the rubber feet.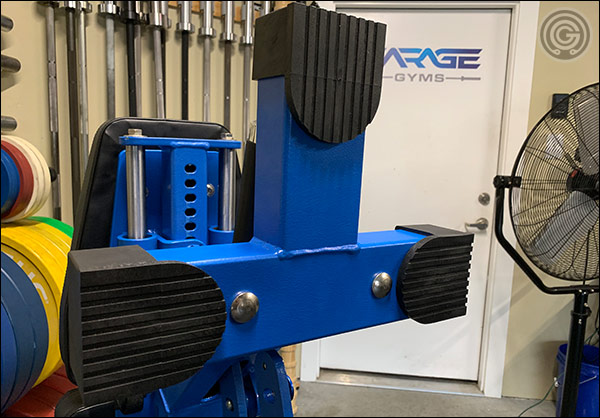 The urethane-coated handle and the wheels with squared off protectors are always nice to have on a bench this large and heavy.
The stainless steel wear guards with the laser-cut angle numbers are a really nice touch to the pad and seat adjustment mechanisms. It not only looks super classy, but it should add to the longevity of these parts.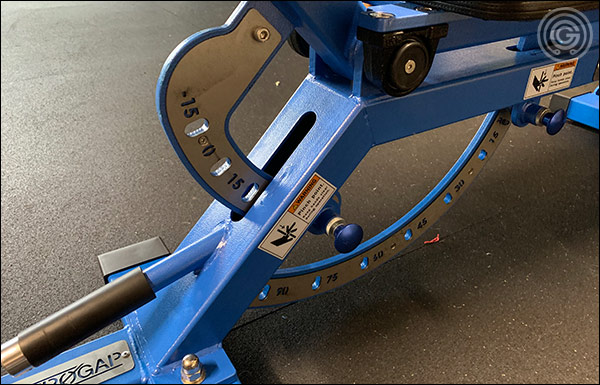 The padding is super dense and the vinyl is textured and of a high quality. I suspect the pads will last for a long time.
Regarding the padding, both the seat and the back pad are supported by an excessive amount of steel.  The seat has an over-sized support plate, and the back pad has three (versus the standard two) steel supports.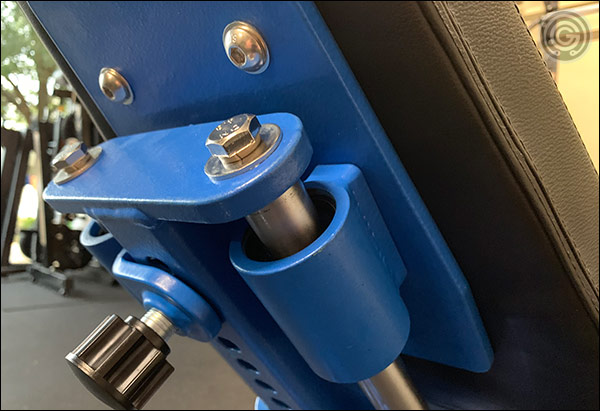 The decline attachment (the optional foot rollers) installs and uninstalls with ease.  The attachment is adjustable for shin length and it functions exactly as it should. This is one of the only incline benches that does make for a nice decline bench. No you can't really use all 7 positions for decline, but you will have a multi-position decline bench.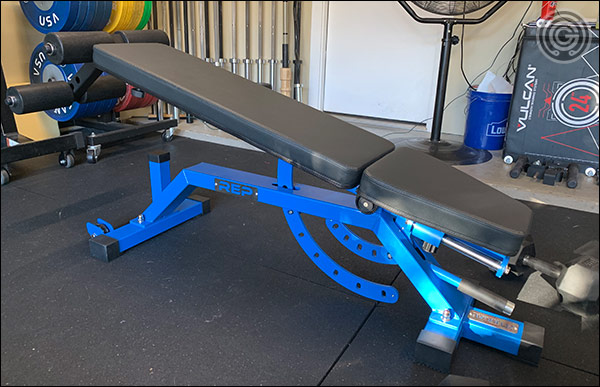 Speaking of decline, the fact that the decline attachment is a separate purchase was a good move by Rep. Not everyone cares about or wants negative positions so having to pay for that should indeed be optional.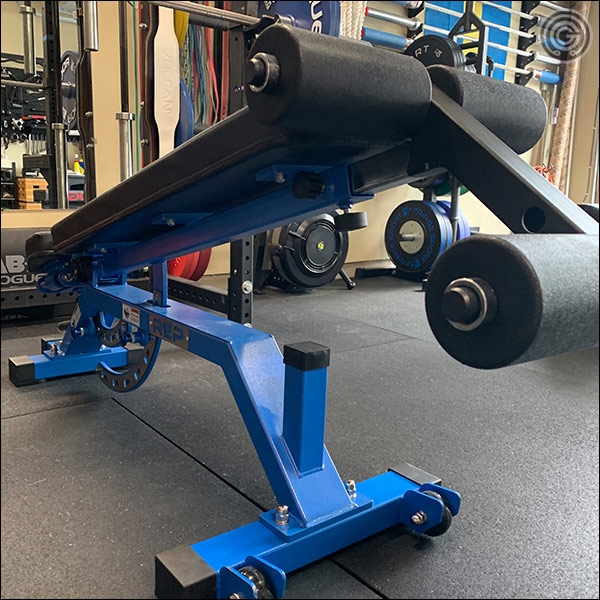 The AB-5000 can stand straight up on its end for storage purposes without needing to lean against a wall for stability.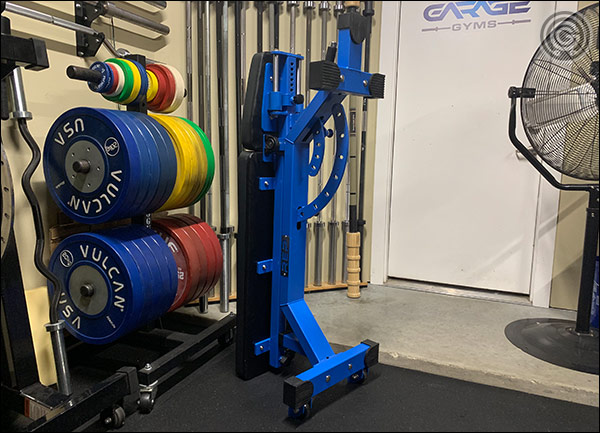 The sliding Zero Gap seat is brilliant. Finally a full incline-decline bench can be used as a flat utility bench. The seat needs to be adjusted when you go between flat and incline, but it takes but a couple seconds and completely eliminates the need for a second, flat bench in your garage. And even with this extra functionality…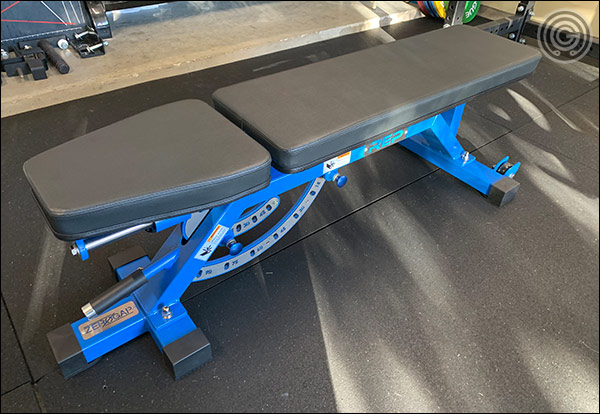 The price is just stupid. It is impossible to get this heavy-duty of a bench for this kind of money anywhere else. Even those benches that are close in price don't have nearly as many positions or extra features. $499 is a steal.
Additionally, the AB-5000 does not have to be shipped freight like the other commercial benches. This is because the feet are not welded to the frame, rather we have to attach them ourselves (roughly a 10-minute job.) Fully assembled benches of this weight have to ship freight, but a bench broken down into 3 smaller pieces does not.  We save $100 or more this way.
Cons
The AB-5000 is a heavy bench that requires a decent amount of effort to lift, move, and re-position. It has the wheels and a handle, of course, but it is definitely heavier than the average adjustable bench and much, much heavier than your standard utility bench. Lift with your legs!
The vinyl, while textured and of a very high quality, is not grippy vinyl. I would have liked to have seen that material used on this bench. This is just personal preference though.
The final back pad position of 90º should probably have been 85º,  as 90º puts the torso in a sort of forward-leaning position. That being said, the 75º actually feels closer to 80º, meaning it's still a solid setting for shoulder/military presses.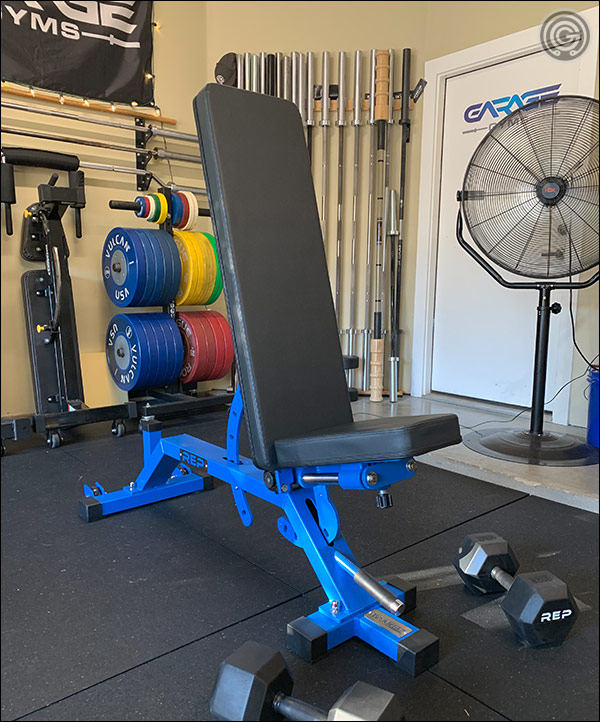 It's necessary to adjust the seat (both the angle and the slider) each and every time you switch between incline and flat.  It sounds more annoying than it actually is, plus it's just the price you pay for no gap in any position.
---
The Rep AB-5000 vs the Average Commercial Incline Bench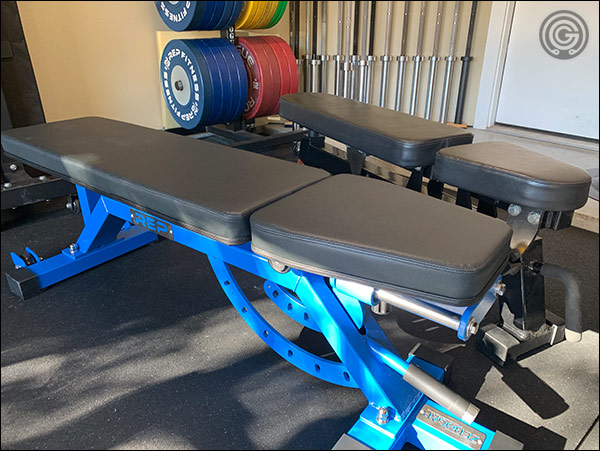 In the image immediately above and the image immediately below this paragraph you'll see the REP AB-5000 next to the Legend #3103 Adjustable Incline Bench. The #3103 is a fairly typical commercial adjustable bench in terms of its size, quality, adjustment method, and so forth. It's a high-quality, almost entirely welded, heavy-duty bench with three seat settings & seven back pad settings, durable pads, and a hefty price tag of about $800 delivered.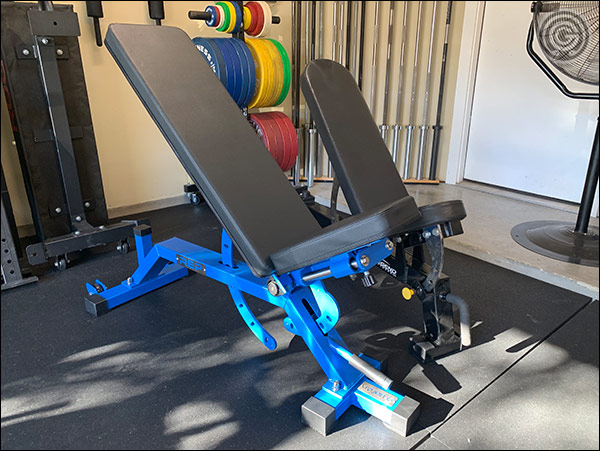 The Legend (and others like it) are great benches; very reliable and extremely durable. Hell mine is about six years old. If I took a duster and a wet rag to the entire bench it would look brand new still. Not a single tear, rip or hole in the pads either. I have zero complaints about the durability and reliability of my Legend.
That said, the Legend #3103 was (and still is) horrendously expensive by today's standards and the same goes for other commercial brands like Precor, Hammer Strength, and Cybex. Paying $800 to $1200 for an adjustable bench used to be the only way to get a high-quality adjustable bench, but even since the release of benches like the Adjustable Bench 2.0 and of course the Rep AB-5000, it's just madness to consider the commercial brands; especially for a garage or home gym.
The irony about commercial benches versus the Rep AB-5000 is that the Rep is the better bench. It's just as strong while offering more seat and back pad adjustments, wider pads, a more stable stance, a decline feature, and of course the price is lower. Just look at the two pictures. How tiny does that $800 Legend look next to the $500 Rep?
---
Rep Fitness AB-5000 Review Summary
This is a commercial-grade adjustable bench at what I can only call an economy price. Now I realize that $499 is not a small amount of money, but when you consider what all the other commercial adjustable benches sell for I'm sure you can see what I mean.
Whether you shop Sorinex, Legend Fitness, Rogue Fitness, Precor, Elite FTS, or any other commercial dealer, you will pay hundreds more delivered for something comparable (and in many cases these benches are not even comparable in terms of features and adjustability.)
Like with the FB-5000, Rep Fitness knocked this one out of the park. You can not do better than the AB-5000 for the money if you want a strong, stable, functional, versatile, and even stylish adjustable bench. I just cannot see where anything was overlooked.
I have literally no reason to not recommend the AB-5000. The AB-5000 is practically all pro and no con, and of the very small amount of cons that exist (and I had to really reach to get as many as I did) not a single one of them makes the bench less appealing.
To put all this another way, I have a Legend Fitness Incline Bench that I paid approximately $800 for delivered. I've owned and used this bench for years now.  It will be replaced by the Rep AB-5000 as my gym's only adjustable bench. Actually, I should just say that it already has been.
---