This is a review of the Rubber Coated Hex Dumbbells by Rep Fitness, a new and improved version of that classic garage gym dumbbell that we all know and love; mostly because it is what most of us can afford.
In this article I am going to discuss what makes the Rep version of this implement different from the hex dumbbells of old. I'll be discussing features, pricing, and all the pros and cons of this redesigned product. I'm also going to compare them to Vulcan's Pro Hex Dumbbells; another clever twist on this tried-and-true product.
Just so you know what I am dealing with here in terms of my hex dumbbell selection, I have pairs of dumbbells from CAP, Rogue Fitness, Vulcan, York, MDUSA, and now two pairs of the Reps. In an effort to get a better idea of how the Reps feel and perform I picked up two pairs from opposite ends of the available weight spectrum; a pair of 25's and 90's. This has allowed me to experience them at both relatively light weights and at fairly heavy weights.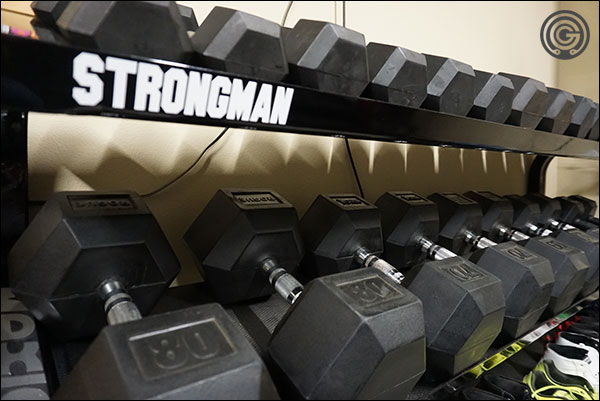 ---
About Rep Fitness Hex Dumbbells
At a quick glance the Rep Fitness Hex Dumbbells look pretty much the same as any other rubber-coated hex dumbbells; two black rubber heads attached to a chrome-finished shaft. Pretty standard stuff.
What makes Rep's Rubber Hex Dumbbells different from the others is the use of a straight, fully-knurled shaft instead of the ergonomic, partially-knurled handle that's found on the vast majority of other hex dumbbells. Just like an Olympic barbell, the shaft of the Rep dumbbell is of a fixed diameter, and is knurled from end-to-end with no stops or gaps; much more like a commercial-grade dumbbell than an economy dumbbell.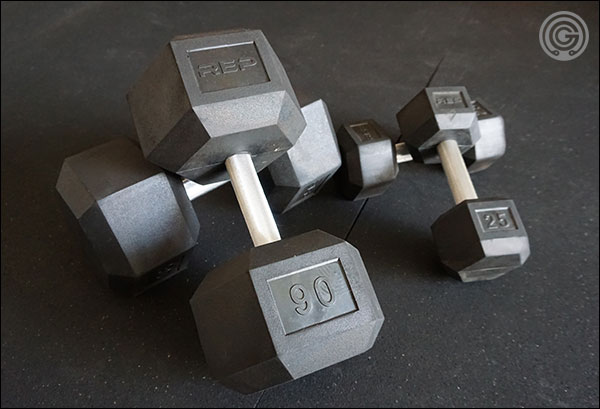 Additionally, Rep's dumbbells are assembled using friction welding; a process that ensures that the heads will remain permanently affixed to the bar shaft (watch the short video below to see how friction welding works.)
This practice of friction welding the heads isn't exclusive to Rep Fitness, but it is exclusive to the more reputable brands. With the cheaper box-stores and mega-warehouses that sell rubber hex dumbbells for $0.75 a pound, you'll find that more times than not that the heads and shaft are merely screwed together, and with use the heads will loosen, and sometimes even break away from the shaft (like below).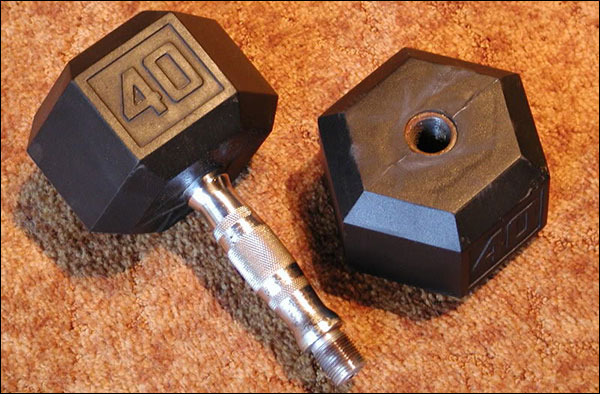 So reliable is great, but you can buy ergo-handled dumbbells that are reliable as well (like Rogue, for instance). The real question is which handle style is better? ergonomic or fixed-width? Ultimately this is just a matter of preference, but here are some things to consider…
Ergonomic Dumbbell Handles
Ergonomic handles aren't bad. The shape is definitely user-friendly in that it does allow for a solid grip on the dumbbell. However, the handles aren't fully knurled, and these partially-knurled ergo handles are known to get slippery both when there is heavy moisture in the air and when our hands are sweating. Chalk is always an option to counter this issue, but that is obviously not ideal.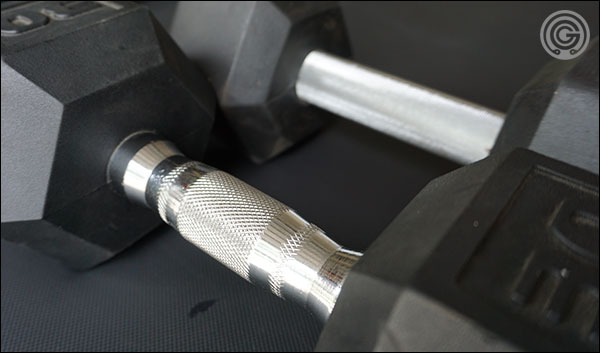 Fixed Diameter Dumbbell Handles
On the other hand, Rep's dumbbells feel the same as the expensive, commercial dumbbells that you'd find in any commercial gym. Iron Grip, Hammer Strength, American Barbell, and Ivanko all use fixed diameter, knurled handles on their dumbbells. Why?
Well for starters a fixed, 34 mm steel shaft is just stronger than a variable-width shaft. It just makes for a more durable product.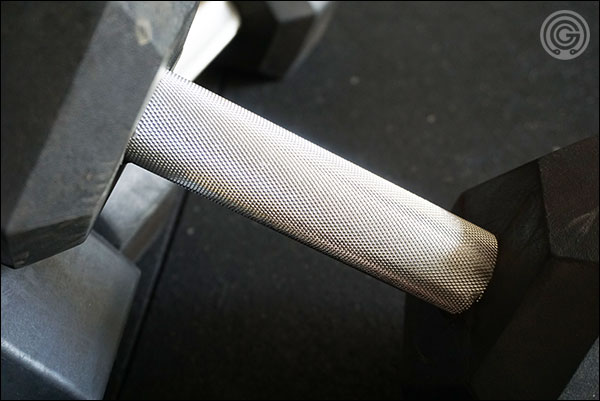 Secondly, all ergonomics aside, a fixed diameter dumbbell shaft that is fully knurled offers improved contact. That is to say, more of your hand is in contact with the shaft, and since 100% of that shaft is knurled you just get a more secure grip.
Fixed Diameter Handle Cons?
There are none really. You may feel like you're holding on to a thicker handled dumbbell at first since the shafts are a fixed width, but they are actually a hair narrower than the thickest point of the ergonomic shafts. If you're already used to a commercial dumbbell then you will feel right at home with Rep's dumbbells.
What About the Vulcan Rubber Handled DBs?
As many of you already know Vulcan Strength offers their own unique version of the rubber hex dumbbell as well. Rather than having a chrome-finished, ergonomic shaft like standard hex dumbbell, or a fixed-diameter, chrome-finished shaft like the Rep Fitness hex dumbbell, the Vulcan Strength Pro Hex Dumbbells have a uniquely-shaped shaft that features a highly tactile, textured rubber coating.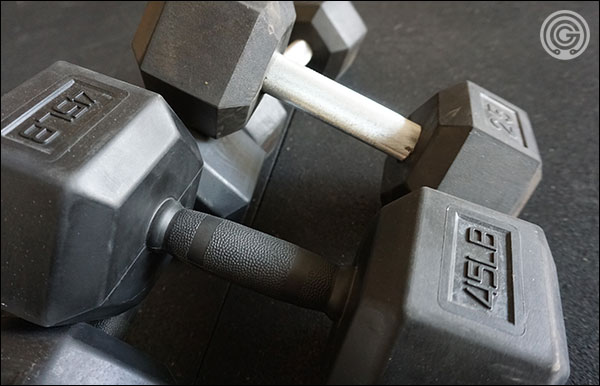 This rubber coating is the knurl, and believe it or not this rubber coating is actually less slick than the half-knurled, chrome-finished ergonomic shafts found on basic hex dumbbells. The grip is secure whether your palms are sweaty or not, and they feel more comfortable in the hands than any of the steel-shafted variations of the dumbbell. It's a very unique feeling that is definitely superior to basic hex dumbbells
That having been said, the Rep Fitness Hex Dumbbells are a huge improvement over basic hex dumbbells as well. The fixed-diameter shaft and Olympic-bar-style knurling makes for a great grip; one on par with the Vulcan Pros. There's also no denying the simple fact that no other rubber hex dumbbell feels as similar to a commercial-grade dumbbell as the Reps do, and they offer this classic feel for a lot less money than actually buying commercial brands.
Look at the chart below to see Rep and Vulcan side-by-side.
| | | |
| --- | --- | --- |
| | Rep Fitness Hex Dumbbell | Vulcan Pro Hex Dumbbell |
|  25-lb pair | $50 | $92* |
|  50-lb pair | $100 | $213* |
|  Set 5-50-lbs | $550 | $650 |
|  Set 55-100-lbs | $1550 | $1790 |
|  shaft diameter | 28 mm – 34 mm | 30 mm – 35 mm |
|  assembly method |  friction welding | interference press fit |
|  size |  standard | 0-30% smaller |
|  home/garage warranty | lifetime | lifetime |
* prices include fixed shipping rates, which can be good or bad based on your order and location.
So I think both of these brands are true contenders, and in order for you to decide which is best for you you'll need to consider a few things.
First, the Vulcan Pros get more compact as the weight goes up. At 100-lbs, the unit is 30% smaller than other hex dumbbells. The Vulcan Pros also have a lifetime warranty for garage and commercial use. However these perks will cost you more per pound; 18% more for sets and potentially much more for pairs.
The more compact size of the Vulcans is definitely a perk, but the price per pound is higher. With the impressive assemblies of both the Rep and Vulcan hex dumbbells I just don't see either of them coming apart, and I can certainly make good arguments for both brands. So I think you'll just have to decide which works best for you. At the end of the day though these two beat out all the other hex options.
---
Pros of the Rep Fitness Hex Dumbbells
Incredibly low price of only $1 per pound. This price is consistent among all pairs and sets making the Rep dumbbells one of the best priced, high-quality dumbbell options on the market.
Heads are permanently bound to the shaft via friction welding. This process eliminates loosening and potential departure of the heads. Loose heads are very common among cheap brands.
Fixed-width handles are completely knurled, making the Rep Hex Dumbbells the only hex dumbbells to feel like a commercial dumbbell.
Lifetime warranty for home/garage gym use.
Narrower shaft diameter vs ergonomic handles; though because of the fixed-width they may feel thicker at first.
No embedded shipping on sets or pairs can equate to some massive savings in almost all circumstances. "Free" shipping on dumbbells is almost never ideal unless you're only buying a single pair and/or you are very far from the vendor.
Pros of the Vulcan Pro Hex Dumbbells
The overall size of the dumbbells gets progressively smaller as the weight goes up (that is compared same-weight hex dumbbells from other brands). The difference is as great as 30% at 100-pounds.
Price per pound (in sets) starts at about $1.18 per pound; very reasonable for such an innovative and comfortable dumbbell.
Vulcanized rubber handle has a comfortable shape that's slightly ergonomic, but mostly fixed, while offering a secure grip on par with the Reps and certainly far better than the semi-knurled, ergonomic handles that make up the vast majority of hex dumbbells.
Heads are affixed to the shaft using a method called interference press fitting. Just think of it as friction welding to keep things simple.
Lifetime warranty applies to both home/garage gym use and commercial use.
Impressive 1% accuracy guarantee.
Pros of the Standard Hex Dumbbells (like Rogue)
More reliable than box-store brands due to having the heads permanently affixed to the handles, and at $1.20 per pound they are still less expensive than commercial units.
The ergonomic, semi-knurled handles are familiar to many home/garage gym users. If this grip is what you prefer, then by all means stick with it.
I think this style is on its way out thanks to Rep and Vulcan. At $1.20 a pound you're paying the same as you'd pay for Vulcan's Pro Dumbbells but getting none of the perks associated with the Vulcans or the less-costly Reps. I see no reason to buy this variant unless you can pick them up directly from a [reputable] merchant.
When I say reputable, I mean not Academy, Dick's, Wal-Mart, Amazon, or those wholesale outfits you see spamming Craigslist. I do not recommend investing too heavily in dumbbells that are being sold for well under a dollar a pound. Expect them to loosen or fall apart over time.
Remember, you cannot see how the dumbbell was assembled, so if the product description doesn't say "heads permanently attached via x" then you have to make a judgement call based on the pricing and the vendor/brand in question.
---
Rep Fitness Hex Dumbbell Review – Summary
The Rep dumbbells aren't your only option out there, but they are one of the better options for anyone who doesn't want to invest in a commercial brand; which I would wager is most people considering that full commercial sets can run anywhere from $5k to $10k or more.
The price per pound of the Rep hex dumbbells is just too reasonable to ignore, and the lack of embedded shipping is a bigger perk than you may know. Also the manufacturing process ensures you'll be using these for decades to come. I've literally got nothing negative to say about the Rep Hex Dumbbells. You can buy these with total confidence.
---