There have been a lot of new equipment releases this spring, and a great number of them are definitely worth sharing. Of course, there always seem to be more new products than I can fit into a single post, but I am going to share some of the more interesting releases with you. You know, just in case you missed them.
If you have any thoughts on any of these items, or if you know of any noteworthy releases that I might have missed, leave a comment!
---
Vulcan Absolute Calibrated KG Plates – Finally Available
A year or two ago Rogue Fitness showed us that calibrated steel powerlifting plates did not have to cost $10+ a kilo, and that for slightly more than the cost of machined iron plates we could have extremely accurate, super slim, colored plates in our garage gyms. As a matter of fact, because of how competitive Rogue's Calibrated Steel Plate pricing is, they've more or less been the go-to plate for serious big-3 lifters ever since their release.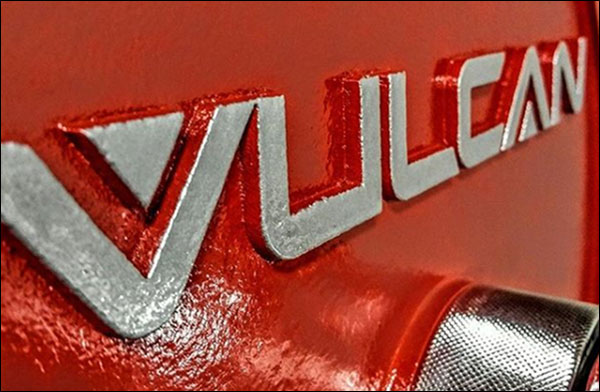 Well Ivanko or the Swedes may not be able (or willing) to compete with Rogue for the calibrated plate sales but Vulcan is evidently willing to hop in and grab some of those transactions, as they recently released their Absolute Calibrated Steel Plates; a competitively-priced, classy looking alternative to the Rogue discs. What's interesting is that the Vulcan discs may be an even better buy than even the ever-so-popular Rogue discs. Why?
Well Vulcan took their calibrated disc manufacturing a step further than Rogue. Rather than pre-drilling the holes for calibration plugs into each and every disc, Vulcan casts each plate whole, weighs them, then decides if they need a plug or not. That means some plates have no holes drilled at all, some have only one plug, and only those that absolutely need it have two plugs. It's a little thing, but technically the fewer the holes, the stronger the plate.
Prices are mostly on par with Rogue's for pairs, but with free shipping on large sets Vulcan technically has much better pricing (or a lower total cost per kilo). Vulcan also offers a large set variety; basically allowing you to choose how many pairs of 25 kgs you get. I believe the only drawback of Vulcan versus Rogue is the lack of availability in pounds.
Plate colors are consistent with all other brands, of course, but all of Vulcan's change plates below 5 kgs are black rather than chrome or colored. So far the Vulcan Calibrated KG Discs are the best calibrated option on the market, and if you ask me the Phoenix artwork makes them even cooler.
---
Rogue Cerakote Bars – Oly & Power Bars Galore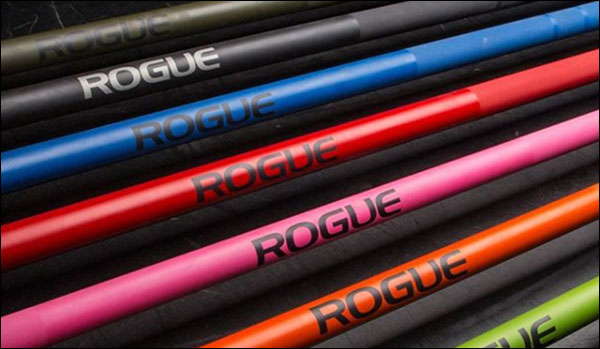 Rogue is adding colored Cerakote variants to what seems like the entire Rogue bar line-up. Oly bars, power bars, WOD bars; you name it! So if you want colors, Rogue has colors.
When it comes to the Cerakote versions of these bars, only the finish is different; each bar's core specifications are unchanged. Sure the Cerakote bars cost more than their zinc, oxide, and bare steel predecessors, but rest assured that all the variations of a given bar have the same shaft specs, sleeves, bushings, and knurling (and because of this I won't bore you all with those known specs here).
Rogue Cerakote Ohio Power Bar

In addition to bare steel, black zinc, and stainless steel, the 45-lb Rogue Ohio Power Bar is now available in four new Cerakote colorways. Currently your shaft color options consist of black, red, blue, and olive drab/military green. All of them have a big Rogue logo across the center knurling (meh), and all of them are $325.

Additionally, there is a fifth Cerakote color option in the form of the Thor Edition Power Bar. It is a black Cerakote shaft with chromed sleeves, and the shaft features the text "Thor" in white alongside the Icelandic national flag. This special edition variation of the Ohio Power Bar is $395.

The 'Thor' version is my favorite of the Cerakote OP Bars because of the chrome-finished sleeves, but it's basically a $70 up-charge which kind of sucks.
♦ ♦ ♦ ♦
Rogue Cerakote Ohio Deadlift Bar
Much the same as the Cerakote version of the Ohio Power Bar, the Cerakote version of the Ohio Deadlift Bar was released in the same four colorways; red, blue, black, and OD green, and all with black Cerakote sleeves. All four are priced at $385.
The Ohio Deadlift Bar is not (yet?) available in stainless steel, so dropping an extra $30 for Cerakote instead of black zinc seems like a reasonable option, but then again paying $295 for the bare steel still seems like a no-brainer to me (but what do I know!)
♦ ♦ ♦ ♦
Rogue Cerakote Olympic WL Bar
Even the Rogue Oly Bar is now offered in Cerakote, which means the Oly bar is offered in no less than three different finishes now – bright zinc, stainless steel, and Cerakote. What I like about this particular Cerakote variant is that the sleeves are chrome-finished instead of also being Cerakote; meaning the sleeves should age better over time.

In both the men's 20 kg variant and the women's 15 kg variant of the new Cerakote Oly Bar, current colorway options include red, blue, and black, and all variants sell for $545 with free shipping. I suspect more colors will added in the future.
♦ ♦ ♦ ♦
My Thoughts on Cerakote Bars in General
I believe Cerakote is a solid finish, and I'd take Cerakote over black zinc in a second. Now I don't personally get excited about color shafts, but if you do then by all means have at it; it's a solid shaft finish in any color. I do recommend trying to get a colorway that has chrome or bright zinc sleeves rather than Cerakote sleeves, but that's more of a longevity issue than a performance issue.
I could certainly do without the branding on the shafts, but I'm sure it's not going anywhere.
---
Rep Fitness Economy Adjustable Dumbbells
While I am definitely not a fan of buying weights that can't be used on an Olympic bar and almost nobody likes having to make weight changes to an adjustable dumbbell in between sets, but I sure can't argue with the fact that Rep's Adjustable Dumbbells may very well be the least expensive way to add a pair of half-decent adjustable dumbbells to a garage gym.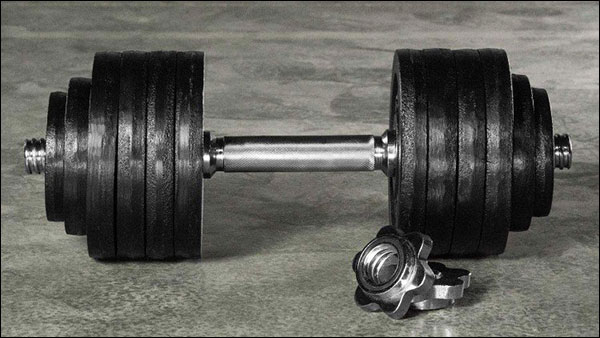 I'm a huge fan of fixed-weight dumbbell pairs simply because they are grab and go. As you move through your sets you can just grab the pair you need to get lifting; no time wasted by adding and removing plates, or doing math. That having been said, building out a dumbbell collection is expensive, and most people cannot afford to run out and buy 10 pairs at once.
If you're just starting your garage gym and you want to add pairs of dumbbells ranging from 5-pounds to 52½ pounds for under $100, Rep's dumbbells are the answer. At only $44.99 a dumbbell, you get access to curls, lateral and front raises, delt and dumbbell flyes, shoulder presses, and all kinds of accessory work that utilizes the light to medium-weight dumbbells.
When you can afford a nicer and more permanent dumbbell option, Craigslist these for 75% of what you paid for them. Consider them a nearly free loaner. Yeah swapping plates out in the meantime will be lame, but not as lame as not being to do any dumbbell work at all.
---
Rogue Socket Pull-up Bars

This next product is really kind of a neat idea, and if I wasn't so torn about which version I'd actually like the best I probably would have purchased one by now.
The new Rogue Socket Pull-Up Bars are basically replacement pull-up bars for your Rogue power rack or squat stand. Intended to replace the basic powder-coated steel tube that new racks ship with, this product is basically a barbell for pull-ups. You can order this pull-up bar knurled or smooth, and in about half a dozen Cerakote colors. You can also save a few and order it in stainless steel (which is where I'm leaning).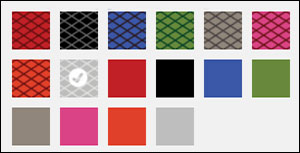 Prices start at $105 for the bar and socket sets, but once you have the sockets you can buy different bars for $30 less (say you want to switch from knurled to smooth, or change colors for some reason). Now there are different bars for the different types of Rogue racks so you need to choose the right version for your particular unit. Choose from Infinity, Monster Lite, and Monster, then select your color and style from there.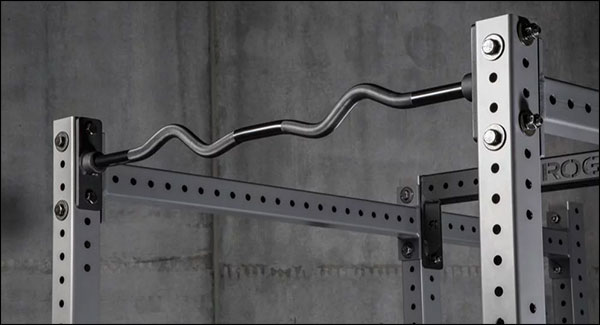 There is even a curl bar version of the Socket Pull-up Bar that starts at $145. It's literally the Rogue Curl Bar shaft (28.5 mm, black e-coat) mounted to your rack. In a way I suppose it is a slightly less expensive way (vs multi-grip) to add more grip variety to your pulling routine, and of course if you own this and the standard socket pull-up bar you can swap them out at will; making it even more versatile.
Again though, the socket sets are exclusive to each Rogue rack style. Be sure to select the proper product for your rack. Infinity – RML – Monster
---
Garage Gyms 3'x5′ Gym Flag
Embellish the bare walls of your garage gym while simultaneously supporting your favorite garage-gym-themed review site with a Garage Gyms wall flag. These 3'x5′ knitted polyester flags are pitch black with a white logo, and feature grommets on all four corners rather than just two.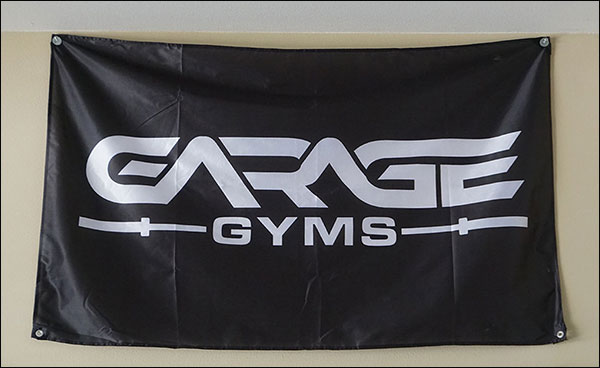 The Garage Gyms flag is priced about as low as I can afford to sell it while still offering free shipping. I just want you guys n gals to be able to afford one should you want one. To those of you who already fly the Garage-Gyms banner in your garage gym, thank you very much. I am truly flattered to have your support.
---
Iron Company OB-5150 Olympic WL Bar
Iron Company has a number of new products this year, one of them being the IC-OB-5150 Olympic Weightlifting Bar. The 5150 is a "hybrid" bar; which basically means a CrossFit bar. It has a rotation system comprised of both bronze bushings and bearings, IWF hash marks, and no center knurl. You can kind of think of the 5150 as a less expensive NxG XF of sorts.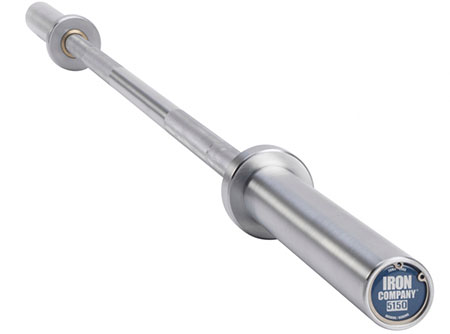 The 28 mm shaft of the Iron Company OB-5150 is rated at 195k PSI tensile strength, and it is finished entirely in hard chrome. The knurling is of a medium depth and aggressiveness; which is pretty typical of a dual-marked WOD bar; and there is no center knurling.
I've actually been testing this bar lately and will have it reviewed within a few weeks, but so far I can say that it's one of the nicer WOD bars I've lifted with. The 5150 is $299 delivered.
Iron Company has some of the most thorough bar product description pages of any retailer. If you're not familiar with this company check them out – they offer equipment from so many brands – Ivanko, Precor, Body Solid, Iron Grip, York, and dozens more.
---
Proloc Camber Bar Attachment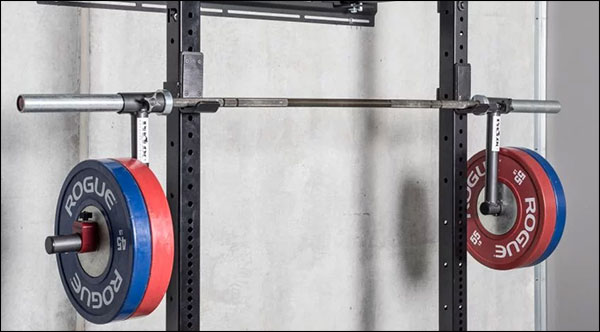 Want a cambered bar for $132 instead of several hundred? Well now you can! The makers of Proloc Collars just introduced this set of steel camber bar attachments that lock down on your existing bar. They are compatible with any Olympic or power bar with 50 mm sleeves, and they come with their own pair of Proloc Strongman Collars.
---
Vulcan's "Too New" Products
What's the hell is "too new"? Announcements for new products that you can buy but that won't ship for months is, and Vulcan has quite a few of them right now. A lot of them are really exciting which makes it almost annoying that you can't buy them, but what can you do, you know? Here are some of the more notable upcoming releases.
---