If you're serious about training at home, then you're going to want some form of power rack or squat stand in your garage gym in order to get the most out of your workouts. You'll need somewhere to rack the bar for overhead presses and squats, and you'll also want access to safety spotters so that you can confidently go heavy on your bench press and squats those days you find yourself training alone. You will also need a pull-up bar, and those are already built into power racks and many squat stands.
When it comes to buying a power rack or stand there are many different manufacturers and a wide range of quality options available. Some power racks have tons of available features and add-on options, and some have very few.  There will be features that you already know you want, and there will also be those that you may not have thought of yet.
I am going to show you a lot of different power racks, cages, and squat stands in this article and also give you some things to watch out for when shopping for yours; all with the goal of improving the chances of you getting exactly what you want and need the first time around.
Updated 2/25/20 – added multiple full-size racks and half racks, updated pricing, grammar, etc.
---
Table of Contents
---
Things to consider when buying a power rack
Will the rack fit? – Check not only for the necessary floor space, but also make sure to not choose a rack higher than your ceiling will comfortably allow. Remember to factor in head clearance for pull-ups.
Will it really fit? – Also, consider the equipment space needed. Are you left with ample space around the perimeter of the rack? Can you move around the rack to load/unload the bar? Will the bar rub against the wall? Remember that Olympic bar are over 7′ long.
Does the manufacturer offer the accessories you want? – It won't matter how many accessories they have if they don't have the ones you care about. Some have dozen of accessories and some have only a few. In some cases, accessories can even be cross-compatible.
Is it the right size? – If you are a tall guy don't buy an 85″ high rack. If you're unusually short maybe don't buy a 108″ tall rack. Consider all the dimensions; depth (the distance between uprights where the bar will travel), the height, and the width. Typically, the less a rack costs (the cheaper the rack), the shorter and narrower it is.
Does the rack offer anchor holes? –  There are only a handful of power racks that are not intended to be anchored to the foundation or a platform.  If you perform kipping pull-ups or want to attach a dip station, you should probably make sure that you can anchor the rack down somehow.
Is the rack easy to use and adjust?  –  Some standard equipment can be annoying to use. For instance, the pin & pipe safety system is what you get with a number of power racks by default. They are time-consuming and sometimes frustrating to use, and you'll probably upgrade sooner or later to spotter arms, safety straps, or drop-in safeties. It is usually cheaper to select the options that you prefer when you buy rather than adding it later.
Does the rack have a rear stabilizer?  Most racks are designed to be anchored to the foundation. Despite this, some racks have a stabilizer that runs along the bottom rear of the rack that keeps the rack square and stable when it's not anchored. These tend to be a hindrance by getting in the way of both your feet and your weight bench. Make certain that this stabilizer is either not present, is removable, or is thin enough to be nearly flush with the ground.
How is it shipped? Make sure the parts fit where you want to assemble it. Some racks are in pieces, others are completely welded except for the crossmembers. Are you able to get those parts through doorways, curved stairs, narrow hallways, etc?
How much is shipping? Racks are big, heavy, and can be expensive to ship, and they tend to ship LTL freight. You may find one with a price you like but the rack costs half as much more just to ship.  Some retailers ship certain power racks for free.  Double-check on that shipping rate before you get too attached to any particular rack.
Do you care where it's made? Some will argue this point but there can be a difference in quality between American-made racks and the imports. If you opt to settle for a super cheap import (and you will know one when you see one),  just know that you are indeed sacrificing durability, functionality, and maybe even some degree of safety.
---
Power Rack vs Squat Stands
There are typically two different reasons why someone might consider purchasing a squat stand over a power rack, and the first is budget. You can get a squat stand for less money than a power rack. However, for squat stands that offer pull-up bars and safeties, the price difference isn't really that great; as I'll show you below.
The other reason people look for squat stands over power racks is because of a perceived lack of space for a full-sized rack.  The fact is that a squat stand takes up more space than you may think… or rather, power racks can take up less space than you may think. Look at the image below.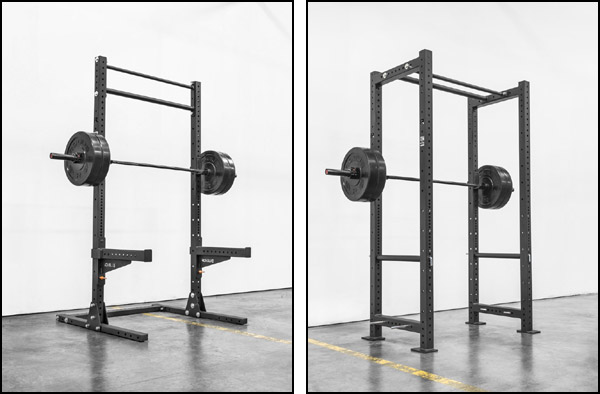 The squat stand on the left (the Rogue SML-2) has a footprint of 48″ x 49″  and sells for just over $600 with the spotter arms. The power rack on the right (Rogue RML-3) has a footprint of 30″ x 49″ and sells for $755. So while the power rack costs about $150 more, it does take up less space, is more stable when anchored, and has more accessory options.
So it's one thing to prefer a squat stand for some reason or another,  but don't automatically assume you have to settle for one because you're working with limited space. Look at some of the smaller power racks and half racks before you commit to a squat stand. If you are not sure which to go with, check out a discussion on this topic here.
---
Commercial Squat Racks
I'm not a fan of squat racks for a home gym. When writing this article, I couldn't find a single squat rack that had adjustable safeties for anywhere near a price that would justify buying it over a real power cage.  Freemotion makes a squat rack that adjusts for $1300, but there is just no reason to spend that kind of money and not get a pull-up. Squat racks like these are for commercial gyms, not home gyms
Buy a power rack or squat stand, not a commercial squat rack.
---
Basement Gym?
I have one exception to my position on commercial-style squat racks, and that is for the few of you out there that have a basement gym rather than a garage gym. Some basements out there have incredibly low ceilings, and a standard power rack is just not going to work out. I have also started to keep my eyes open for 'basement-appropriate' racks so that you're not stuck with only the "classic" squat stand option. Jump to Basement Racks!
---
Folding Racks
There are a number of wall-mounted folding racks on the market now that serve as full-size squat stands when set-up, yet fold away in mere seconds and take up very little floor space so that you can still pull your truck in. These folding racks are strong, affordable and can be somewhat versatile. In an effort to not over-crowd this already long-winded article I opted to make a separate page for these folding racks, and you can see that here.
♦ ♦ ♦
Full-Size Power Racks Review
This section is made up of your standard, full-size power racks. Some will have six uprights and some will have four – the rear two of the six-upright units being for plate and accessory storage.  What separates these from the half racks and squat stands further down the page is the fact that you usually work out inside these racks,  and outside of half and squat racks. Full racks also tend to require more floor space, although that is not always the case.
Powerlifters and those who just happen to enjoy heavy-duty accessories will want a full-size rack over stands or half racks. Accessories such as the nylon safety straps, a reverse hyper attachment, and lever arms require a true power rack, not a squat stand or half rack. Those with tons of plates and chains will benefit from a rack with six uprights.
---
King Rogue Racks – the R-6 and RML-690 Power Rack
Of the three base models of Rogue Infinity power racks (the R-3, R-4 and R-6), the R-6 has the largest footprint. This over-sized power rack is essentially an R-4 with two extra uprights for plate storage. These extra uprights eliminate the need for a separate piece of equipment for plates, bands and chains. Having the storage on-board also makes getting the plates on and off the bar quicker and easier, as they are just inches from the bar.
The R-6 is built using industry standard, 2″ x 3″, 11-gauge steel, and 5/8″ hardware for both assembly and the optional accessories. The R-6 comes with a ton of plate storage (8 horns, to be exact), 2 different pull up bars including the multi-grip bar (shown above), protective J-cups, band pegs, spotter bars, and it also has Rogue's famous Westside hole pattern (or 1″ hole-spacing through the bench region). The total footprint of the R-6 is 52″ W x 81″ L and it is 90″ tall. Retail price is $1495.
The Rogue RML-690, on the other hand, is more or less a beefier, sweeter looking version of the R-6. Rather than 2″ x 3″ steel, the RML-690 is assembled with giant 3″ x 3″ 11-gauge tubing, making it a better choice for institutions or commercial gyms. This thing is so sturdy and massive that it does not even require bolting to the floor or a platform.  Other than that difference in tubing the racks are essentially the same, although the RML does not include the multi-grip pull-up bar as standard equipment. They both have Westside spacing though. Retail pricing on the RML-690 starts at $1568.
If for some reason or another you don't find that either of these are enough rack for you, try the Monster RM-6!
---
Legend Fitness #3133 Power Cage
As with all Legend exercise equipment, you really cannot go wrong.  Made with 3″ x 3″ steel tubing, the Legend 3133 Power Rack is 88″ high and has a large 60″ x 68″ footprint. It has a standard 2″ hole pattern, J-cups, pipe safety system, pull-up bar, and built-in plate storage.
This cage, as with all Legend Fitness equipment, is made-to-order; meaning you get to pick your frame color but you have to wait for production.  A large variety of accessories is made available for this Legend rack: dip attachment, spotter arms, landmine, band pegs and even two tone paint. It will get expensive fast though, as Legend is a full-commercial brand.
While definitely a beefy commercial power rack, I'm not a fan of this rack when compared to the offerings from Rogue; like the R-6 or RML-690; or even Rep's PR-4000. Legend Fitness is just too expensive and offers less feature premium features, less attachment options, and lead times that are just too damn long. It used to be necessary to deal with these prices and delays if you wanted custom colorways, but not anymore.  Upgrade the RML-690 to a RML-690C and you get access to 11 colors with a 10-14 day lead time rather than 6-8 weeks!
It should also be noted that the Legend #3133 Power Rack is almost entirely welded. You'll want to take this into consideration if your installation location is not easy to get to, or door-ways leading to your location would not permit these larger pieces to fit through.
---
Vulcan Build-Your-Own 3×3 Power Rack
Vulcan's Build-Your-Own Power Rack is similar to the Rep Fitness PR-5000 in that you can completely customize your rig at the time of purchase, getting only what you want, how you want it, and for a price that you can be happy with (and that even includes the shipping!)
The BYO Power Rack is a 3″ x 3″, 11-gauge base rack that's available in three heights (91″, 96″, and 108″) and three depths (24″, 36″, and 42″). The rack starts at just over $620; there are upgrades that raise the price and even a couple downgrades that lower this base price. Included accessories (before upgrades) include basic J-cups, pin-pipe safeties, and a basic pull-up bar.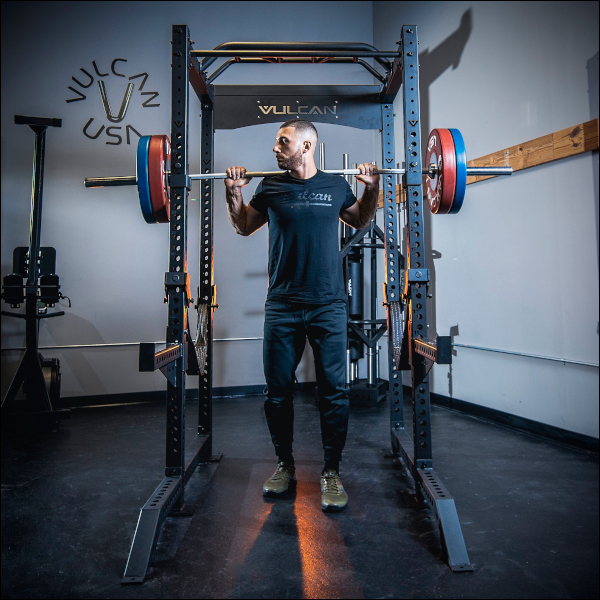 Optional accessories include a third row of uprights for storage, more safety options (such as straps and spotter arms), dip station, band pegs, and even a pair of front stabilizer legs that allow you to train outside of your rack like a half rack.
The Build-Your-Own Power Rack isn't the most elaborate power rack out there, but it's very strong, it has all of the necessary accessories, and is incredibly affordable compared to the likes of Rogue and even Rep Fitness. This is one of those racks that should give you all the reason you need to not buy something like a Titan rack simply because you can't afford the expensive racks.
---
Rep Fitness PR-5000 Power Rack w/ Storage
The Rep PR-5000 is a 3″x3″, 11-gauge power rack that is clearly modeled after the Rogue RML-690. The PR-5000 has 1″ accessory holes like a Monster Rack does, but the inside depth is a little shorter and all the hardware is all still 5/8″, so it's not quite a Monster. Does it matter? Not really when you consider that this rack sells for $1200 instead of the ~$1600 that the Monster Lite sells for, or the near $2000 of the Monster.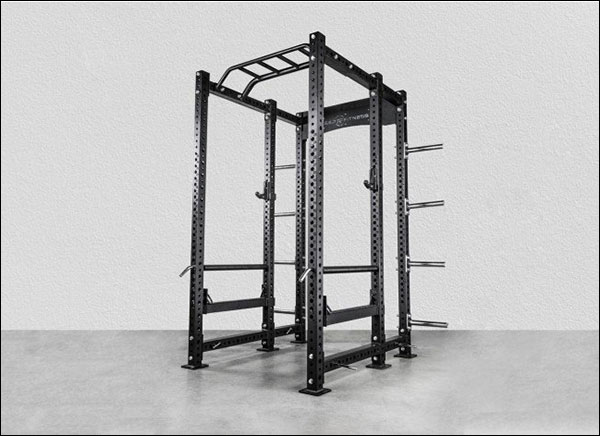 Why is the Rep PR-5000 so much less than the Rogue racks? Well the Rep is an imported product, and the quality of steel and hardware; while not bad; just won't match that of the Rogue racks. Again, not sure it matters in this case because a) 3×3 racks with 1″ accessory holes will not fail, and b) Rep still blows away super low-quality imports like Titan and other Wal-Mart brands. In other words, if you want a rack this big and the cost of this Rep is more feasible than something nicer, have at it.
Alternatively, you can buy the PR-5000 without the weight storage for about $800. It is not a bad price, but not nearly as sweet of a deal as the storage unit. See my review of this rack here.
---
Rogue RML-490C 3.0 Power Rack
The Rogue RML-490C is a beefier, colored take on the classic Rogue R-4. Instead of using 2″ x 3″, 11-gauge steel like the Infinity line, the RML line (Rogue Monster Lite) uses 3″ x 3″, 11-gauge steel. This upgraded steel makes for a heavier-duty and more stable rack; both in appearance and in reality.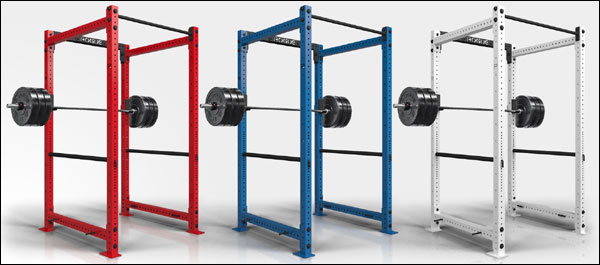 There is an RML-490 that is offered in black powder coat for about $200 less than the 490C ($983 versus $1175),  and while they both have the same technical specifications, there are some cosmetic differences (other than the obvious color choices). For instance, the 490C is equipped with a nameplate rather than just a standard rear crossmember. Additionally, front to back crossmembers of the 490C are compatible with the Rogue Slinger.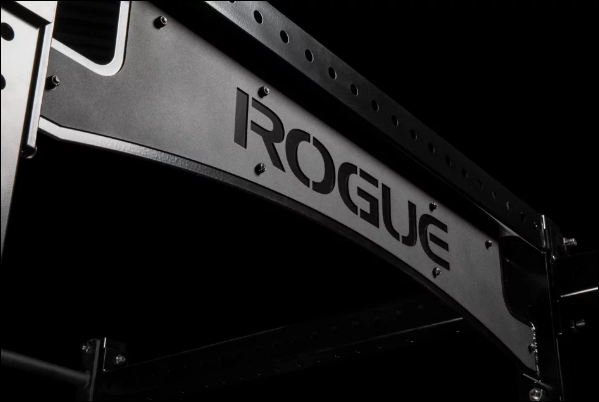 In terms of accessories, all standard Monster Lite accessories work with the 490C, and they look pretty badass too since the accessories are typically black and match the hardware.

All of Rogue's newer colored racks are beautiful and really make a gym pop. Just about all Monster Lite racks and stands can be had in color these days.
---
Rep Fitness PR-4000 Power Rack
The PR-4000 Power Rack is Rep's answer to the Rogue RML line of power racks.  Almost identical in terms of steel choice, hardware, and overall size, the PR-4000 starts at about a full hundred bucks less than the RML; even less if you don't need a full-height version (Rep offers a shorty version at 80″ versus 93″, Rogue does not.)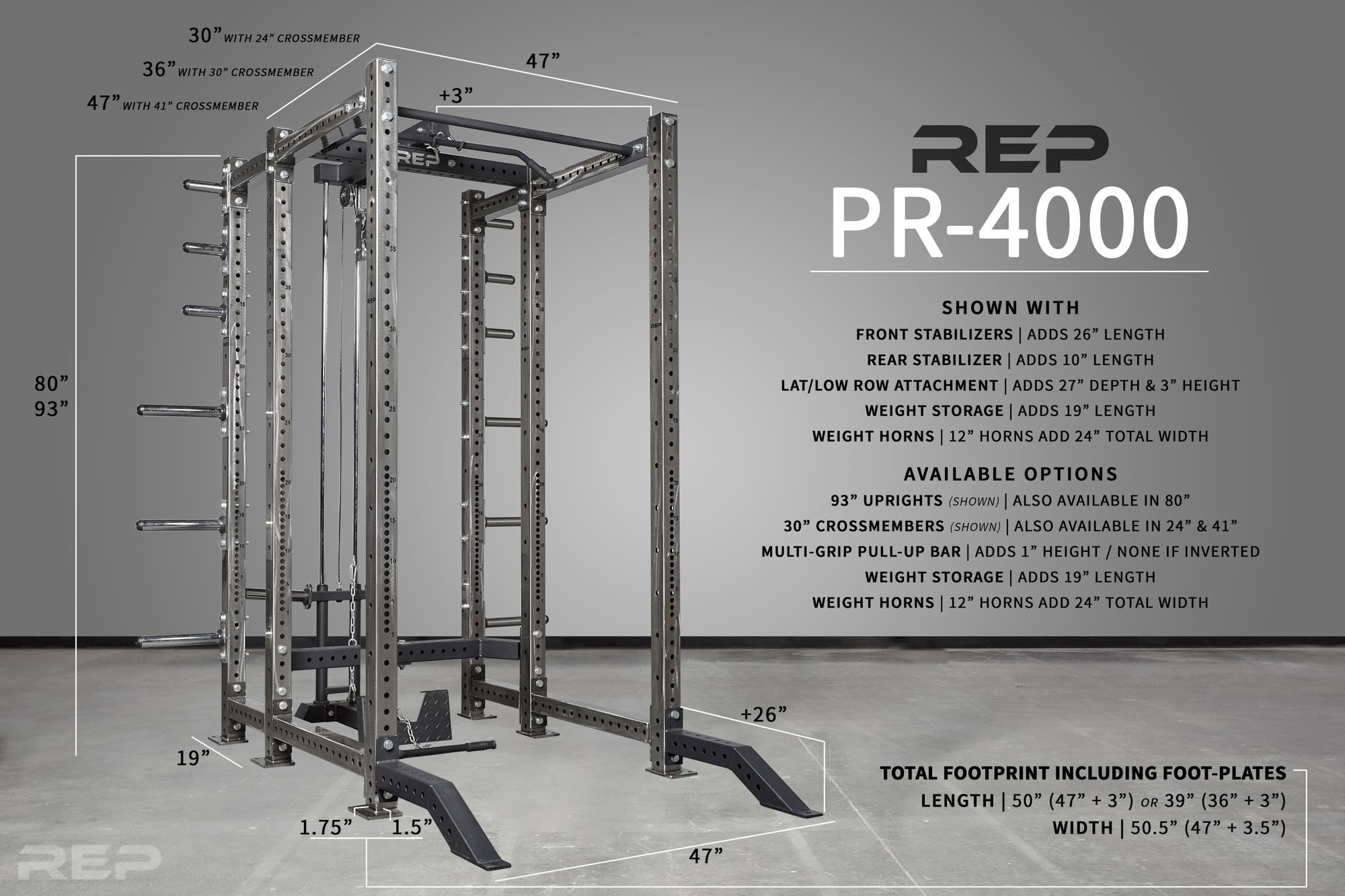 The PR-4000, like the PR-5000, is completely customizable upon ordering. Nothing is said to be "standard equipment" in that, you pick and choose which J-cups, safeties, pull-up bar, and other optional accessories you want. There's zero redundancy, and no chance of being stuck with a component you don't particularly care for.
While nobody has an accessory selection as large as Rogue, Rep doesn't have just one or two like many companies do; there are well over a dozen. These include a couple that even Rogue doesn't offer, like a rack-mounted lat tower and front stabilizer feet that more or less convert your power rack into a half-rack/power rack combo. This can eliminate the need for anchoring for many of you, and allow you to train both inside and in front of your rack.
View this post on Instagram
The Rep PR-4000 should, in my opinion, already be on the shortlist of anyone considering not only a Rogue RML Rack, but even a rack from Rogue's Infinity line.  You should also be considering this rack if you're looking at super-budget options like those from the famously-inferior Titan. Can't afford Rogue and looking to settle, well maybe the PR-4000 can be the compromise that stops you from feeling like you had to settle.
Prices for the PR-4000 start at about $660. Adding height, depth, color or accessories will obviously raise this price, but you will always be looking to spend less than at Rogue. Don't forget to add the FB-5000 and Deep Knurl Power Bar to your order, as these are two other Rep products that are just stellar, and they'll basically ship for free with your rack order.
---
Rogue R-3 and RML-3 Power Racks
The Rogue R-3 Power Rack is one of Rogue's Westside-inspired power racks and is easily one of their best selling products. The R-3 is the smallest rack in the Infinity line in terms of needed floor space; it has a footprint of 34″ x 53″ and rises 90″ above the ground. It's made with the standard 2″ x 3″ 11-gauge steel, is assembled with 5/8″ hardware, and ships with a pair of J-cups, pin and pipe safeties, double pull-up bar, and four band-pegs. Because it's a Westside rack, it has 1″ hole spacing through the bench and clean zone.
The R3 is a well-known rack and has found homes in thousands upon thousands of garage gyms, affiliates, and schools across the country. It's compact, durable, affordable, and there are countless accessories available for the Infinity line. The R-3 should definitely be on your shortlist if you are working with limited space or a limited budget, though do take note that it is recommended you anchor the R-3 to a platform or your foundation.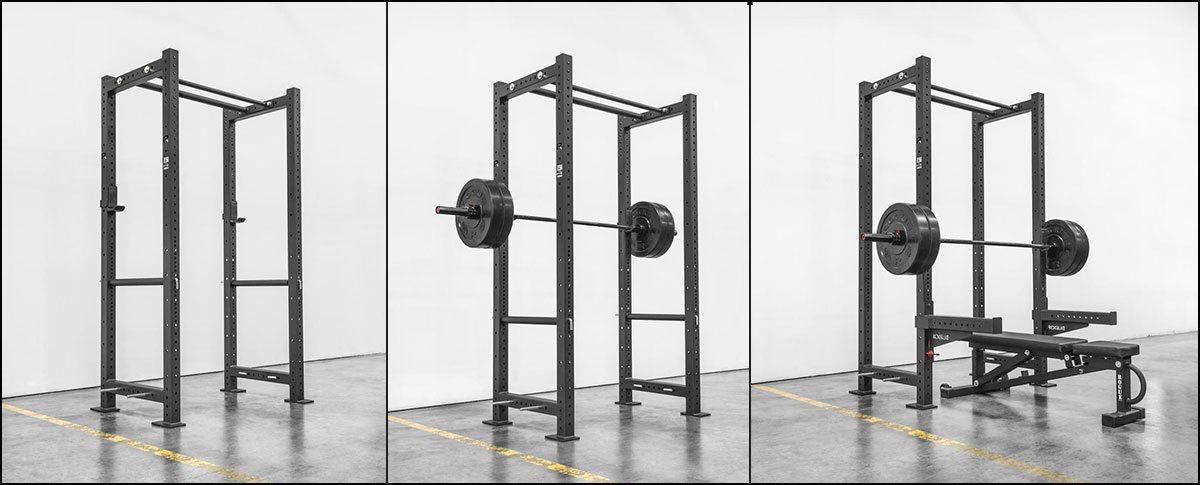 The RML-3 Power Rack is the Monster Lite version of the R-3.  Made with 3″ x 3″ 11-gauge steel, it's basically just a beefier, heavier-duty version or the R-3. It comes with all the same accessories, has the same footprint, and still has the Westside hole pattern. It even looks a bit cooler. Just about everything that applies to the R-3 applies to the RML-3. That said, the accessories are not cross-compatible.
The Rogue RML-390C is a slightly upgraded version of the RML-3 Power Rack. I'd say the biggest difference is the fact that the 390C is available in many colorways, whereas a RML-3 is only available in black. The base 390C starts at about $1000.
---
Rogue RM-3 Bolt Together and RM-390 Flat-Footed Rack
Even beefier than the R-3 and RML-3 covered above, the RM-3 Bolt Together and RM-390 Flat Foot are as solid as they come. Both of these racks are variants of the standard RM-3, and like all Rogue Monster racks, they use thick 3″ x 3″ 11-gauge steel for the uprights and are assembled with massive 1″ hardware.  Monster racks also have a larger assortment of accessories and add-ons; many of which are exclusive to the Monster line.
The RM3 Bolt Together is intended to ease transport and installation in tighter locations that wouldn't allow fully welded rack pieces to fit through; like stairs to a basement, for instance. It comes standard with laser etched numbers for each hole, a pair of UHMW J-Cups,  and a pair of pin and pipe safeties. The uprights can be ordered in three heights (90″, 100″, 108″), and you'll get to choose all of your cross-members and other components as well (including color now). It even ships with two Monster wrenches for quick assembly. It's a sweet, space saving rack with virtually no max load capacity.
The RM-390 Flat Foot is for those who cannot anchor their rack down for some reason, but still want a slim, beefy power rack. This rack uses the same steel and hardware as the RM-3, but sits on top of the Monster Squat Stand base; which has four giant 3″ x 3″ rubber feet. This set-up keeps the rack from shifting excessively and also protects flooring.  The rubber feet add nearly a foot of depth to the footprint, but the rack itself offers the same inner area to train in. A lot of the same upgrade options are available for the Flat Foot model, but color is not one of them.
---
Vulcan Flat Foot 3×3 Power Rack
The Vulcan Flat Foot Power Rack is an economical rack offered as an affordable alternative to the RML Flat Foot models,  and as a comparably priced but much higher-quality upgrade to the Titan X-3 Flat Foot Rack. While still more expensive than the Titan X-3 (approx. $700 base versus $600) the Vulcan isn't made with scrap iron and the overall quality is just much higher.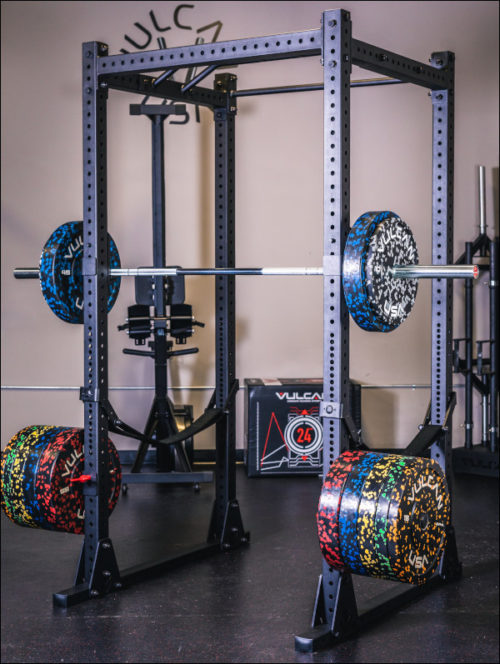 The Vulcan is made with the same 11-gauge, 3″x3″ high-quality steel as the RML line. It has 10 mm thick gussets at the base and uses quality 5/8″ hardware (making it compatible with other brand's accessories). Unlike the Titan, the steel is not B-scraps, the hardware isn't the cheapest possible brass stuff, and the welds are professional. This rack is the ultimate have your cake and eat it too unit – a solid compromise between expensive and junk.
It is worth pointing out is that you can add this or any Vulcan rack to a bar+bumper set at a discounted price; $100 off in the case of this Flat Foot.  By going that route you actually are paying Titan prices, only on a much better rack. Also, you get a real bar and the best plates in the industry, and it's all discounted and shipped for free.
Optional accessories include a multi-grip pull-up bar, dip horn, plate storage, landmine, and finally, a new safety strap system.
---
Force USA 'My Rack' Modular Power Rack
The Force USA Power Rack is a modular power rack that has similar dimensions to a basic power rack like the Rogue R-4 or Vulcan 3 x 3 Rack but is very different in the way it is built and sold to us. A rather interesting power rack to say the least; a My Rack may very well be the best way to stretch your budget and build out an entire, customized garage gym without spending a ridiculous amount of money.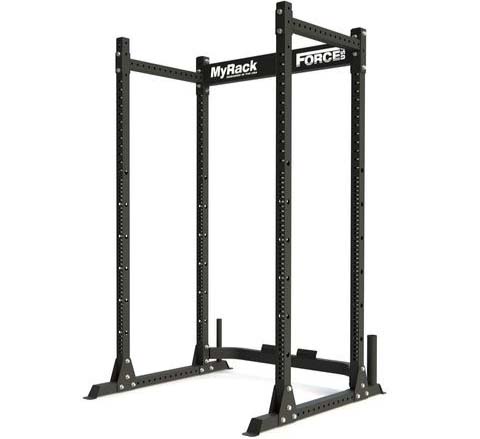 The Force USA My Rack is a flat-footed rack measuring 47″ wide, 55″ deep, and 87″ tall. It is made with non-standard 12-gauge, 2.4² tubing, it has optional anchoring holes, extended Westside spacing, built-in bar storage, and has a very low base price of just $499.
The idea behind the My Rack is that for $599 you purchase the base only.  That is, you get the uprights, the base, and the stabilizers, and nothing else.  What makes this a clever and economical idea is that you get to choose everything else that you want from the beginning, pay only for what you want, and have no redundancies like you would with too many of the other brands. For instance, you can choose to buy the basic J-cups for $60 if that is all you need, or you can buy the sandwich cups instead (rather than in addition to).
Same goes for the pull-up bar and safeties. If you want a standard, straight pull-up bar then you can choose to buy that. If you'd prefer to buy one of the many multi-grip bars that would just replace the straight bar, then why ever pay for the straight bar? Don't want to buy those default pin and pipe safeties because you know you'll want spotter arms or straps, well with this rack you just pick the one you want from the beginning. Pretty solid idea.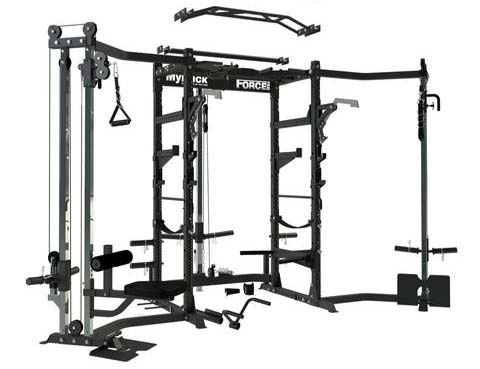 Aside from the necessities like the J-cups and pull-up bar, Force USA also offers other add-ons including a lat attachment, dip bar, plate storage, band pegs, and my favorite accessory by far, the cable crossover attachment! You can literally turn your power rack into a full gym. Read my review of the Force USA My Rack.
Update: this rack is very regularly on sale for way less than $599. Additionally, the base unit is offered in matte red and matte blue in addition to matte black.
---
Titan Imported Power Racks
I get asked about Titan Racks often enough that I figured I should just add one and discuss it. Titan racks are basically cheap knock-offs of the Rogue racks. Virtually any rack that gets released by Rogue is then copied by Titan using the cheapest steel available, the cheapest hardware available, and the lowest-wage labor possible. On paper, Titan racks appear to be exactly like a Rogue rack for like a third of the price, but the quality is literally night and day.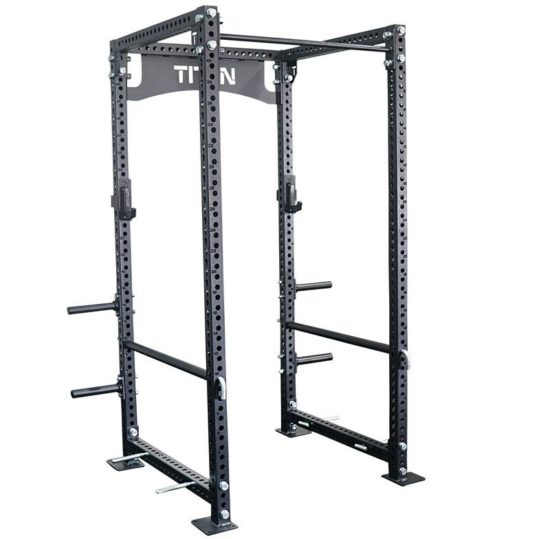 There's an old video that gives you an idea of where Titan was a couple of years ago. Their customers like to say they've come up a little and made some improvements, and I am sure that is true, but they still have a pretty bad safety track record. I'm all about you saving your cash where ever possible, but sometimes you risk way too much. Safety first, you know?
Update:  In Titan's defense, they have responded to customer's complaints on some of the easier to fix issues. For instance, UHMW is used instead of rubber slabs on J-cups, and the washer was removed from the spotter arms.
The fact remains that it is literally impossible for Titan to match the quality of the American rack builders using the steel they use and paying the Chinese the low labor costs that they do. With today's tariffs on Chinese steel and imported strength equipment, the savings are less than they've ever been. It makes less sense than ever to go this cheap route.
I personally won't use Titan's racks or rack accessories, but if I'm being completely honest it is not even the rack itself that concerns me. Sure their equipment is made using the lowest quality, cheapest steel available in Asia but even pig iron is strong enough for a power rack. Rather it's the accessories that scare me. Scrap iron and sketchy welds are not what I want to see on my J-cups and spotter arms. I just won't mess with that, and neither should you.
---
Valor BD-11 Economy Power Rack
I've decided to include one full-sized economy rack as a way to sort of illustrate why I prefer the mid-range or better power racks. I selected this Valor rack out of the hundreds of cheap, imported racks because if you straight up cannot afford an American-made rack and you're inevitably going to buy an import rack anyway, at least this one is one of your better options. It's not perfect, but it'll hold you until you need (and can afford) something better.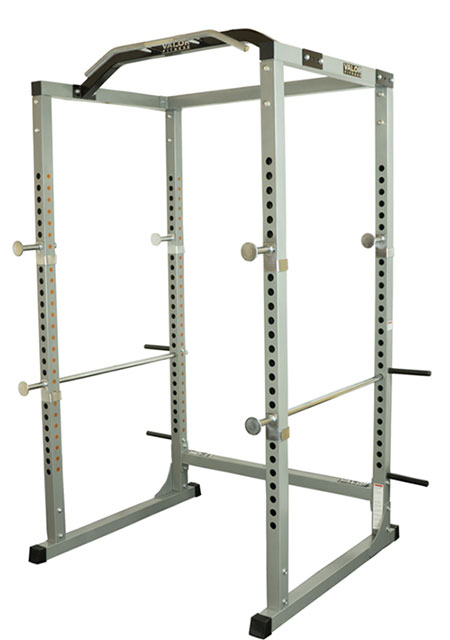 The Valor BD-11 Power Rack does have a lot of features for its low, under $500 price tag. It comes with two pairs of bar catchers (makeshift J-cups), a set of safety rails, a wide pull-up bar, and four standard 1″ plate storage horns. This rack also has a base rather than feet, so you won't need to anchor it. There are no band pegs included, nor is there anywhere to use them if you had them, but Valor has a hefty selection of add-ons and accessories; including a lat tower; which many people seem to desire.
The BD-11 made from thinner steel than all the other racks in this guide, but this is typical of the cheaper, imported power racks. It's 12-gauge steel versus 11-gauge which may not look like much on paper, but you will feel a difference. Now, even though 12-gauge steel isn't the weakest steel that's used for Chinese power racks, it does impact the maximum capacity. In this case, that capacity is 500-lbs on the catchers, 800 on the safeties,  and 400 on the pull-up bar.
So in terms of function and affordability, it's not awful but it does have some drawbacks. For instance, the bar catchers suck and should have just been normal J-cups (see below). Also, paint and decorative chrome are not durable finishes so this rack will chip and rust with use. The storage pegs are useless – you cannot have these mounted and loaded if you intend to use the rack, as the stored plates will be in the way. Finally, the Valor BD-11 lacks Westside (1″) hole spacing. Don't dismiss that Westside spacing – it's a huge feature.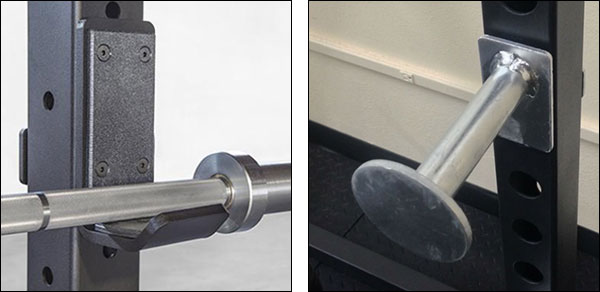 The verdict? Strong lifters need an 11-gauge rack.  500-lbs on the hooks and 800-lbs on the safeties is too low for someone will a heavy squat. Keep in mind that the max capacities are for static loads, and a failed rep is not always controlled.  Also, Valor doesn't offer any of the hardcore attachments,  and cross-compatibility between Valor and major US-manufacturers does not exist. It's a fine beginner rack but it is not an end-game unit by any means. Still I'd rather see you with this Valor than a $200 unit from the chain store.
♦ ♦ ♦
Half Racks
Half racks have very little inside depth, but they still have four uprights like a power rack. A half rack isn't a true power rack though. Actually, it's probably best to think of a half rack as a glorified squat stand, as they are generally more stable and they offer plate storage. Like with squat stands, all work is done outside the rack rather than inside of it, and movements that utilized safeties usually do so with a pair of spotter arms rather than pipes or straps.
Half racks really do not offer smaller footprints than standard power racks.  However, a half rack is still a space-saving alternative to a full-size power rack with plate storage because a power rack with that capability would require 6 uprights (like the Rogue R-6 at the top of the page).
So if your goal is to have your rack and storage in one compact unit, a half rack is the way to go.
---
Rogue Monster Collegiate Half Rack
The Rogue Monster Collegiate Half Rack is an absolute beast of a power rack. As a matter of fact, I own this rack and could not be happier with it (see review.)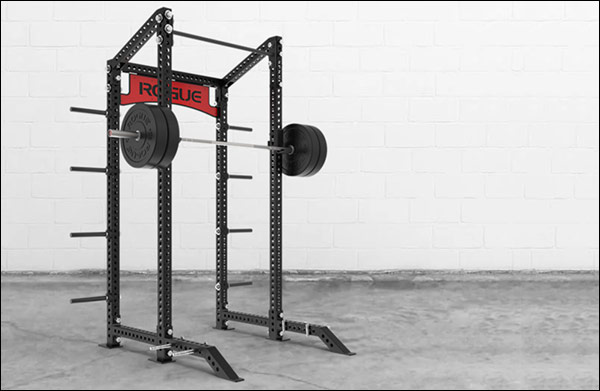 This half rack is a Monster Rack, so it is manufactured using 3″ x 3″, 11-gauge steel.  It has 1″ accessory holes spaced 2″ apart, sits 100″ off the ground on the front end, ships with (4) band pegs and (8) new keyhole plate storage horns, and sports a massive, red name-plate for the rear crossmember. It's an impressive and beautiful piece of equipment.
The Monster Collegiate Half Rack is not cheap,  starting at just under $1500 before optional equipment is added. Luckily, about the only thing you'll need to add to this beast is a pair of safety spotter arms. You can also choose to upgrade your pull-up bar or J-cups, and as you order is definitely the time to do that as you only pay the difference in price.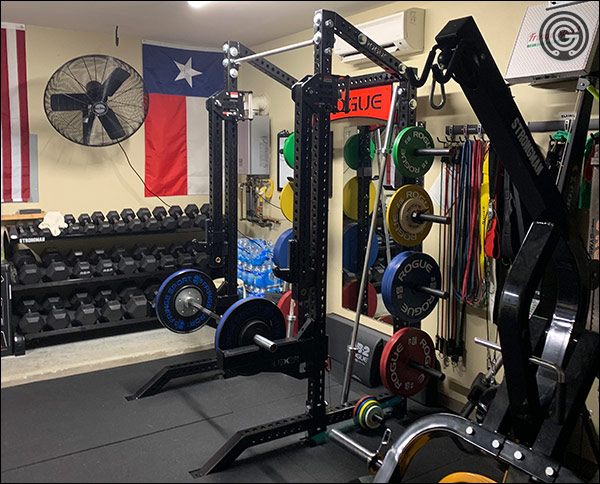 When I bought this rack in 2018 it was about $300 less expensive, but if I had to do it again at today's price I might just. This half rack is about as badass as half racks come.  The front stabilizer feet are elevated making them ideal for band work; the accessory holes are laser-cut numbered; the finish is beautiful, and I don't think that a taller half rack exists outside of the commercial market.
There is a double-sided version of the Collegiate Half Rack for $2100, which isn't that bad of a price all things considered, but I don't see that going in any garage gyms.
---
Vulcan Edge Half Rack
Looking for the most stable half rack around that still comes in for a tad less than the Rogue Monster Half Rack, check out the Vulcan Edge Half Rack. While still very reminiscent of just about any other half rack, the Edge has the added benefit of two enormous 1/2″ thick plates at the base of the rack that adds considerable weight and stability to the rack. If ever a rack didn't need to be anchored, it's this one.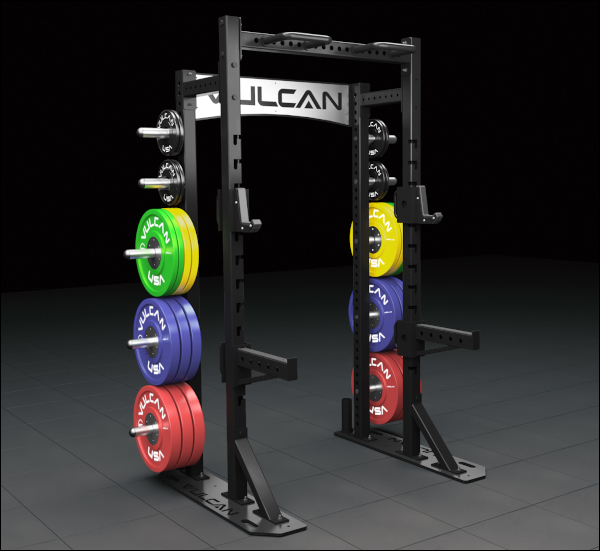 The Edge Half Rack is made with 3″ x 3″, 11-gauge steel, is 93.5″ high, ships with a pair of safety spotter arms, and sports a pair of double-notch, sandwich-style J-cups. It also comes with the plate storage horns (10 total.)
The pull-up bar is a little basic and the hole (notch) spacing is not ideal at what looks  to be like 4″, but it is still a seriously beefy and stable rack. Actually, this is more of a commercial unit but since when as that stopped home and garage gym owners from buying something.
---
Rep Fitness HR-5000 Half Rack
The HR-5000 Half Rack is Rep's answer to Rogue's Monster Half Rack.  It is a feature-rich, affordable to the now very costly Collegiate Half Rack.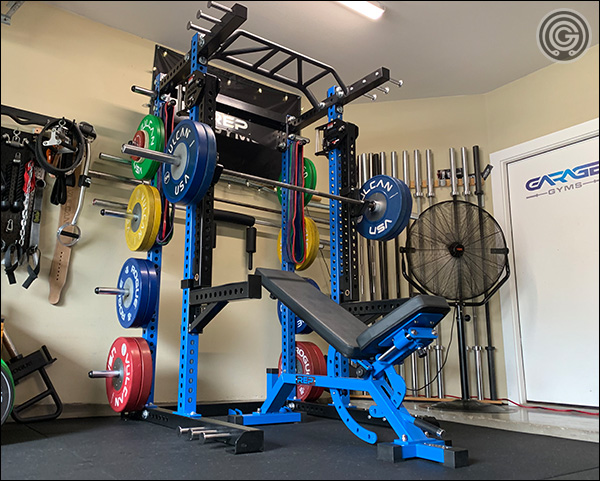 Like the Rogue, the HR-5000 is manufactured using 3″ x 3″, 11-gauge steel. At only $1150 base, the HR-5000 comes with dual-locking sandwich-style J-cups, a multi-grip pull-up bar, safety spotter arms, and built-in lower and upper band pegs. When you look at the price of this rack compared to the Rogue and all of the extras that it has, it becomes super obvious which is the better deal (and by a lot!)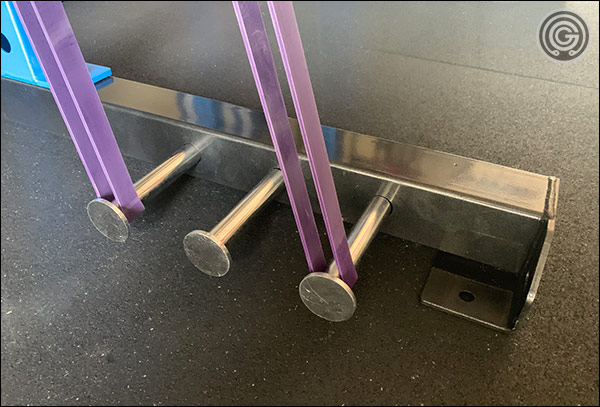 I reviewed the HR-5000 and I loved it.  It takes up about as much space as the Rogue, has even more plate storage,  comes in a handful of colors, and has the added benefit of being 47″ wide rack rather than 49″ (49″ feels tight for some people during squat walkouts.)
So are there any cons to owning the HR-5000? Not really. The price is insanely reasonable, and you get so much included in the base price. Rep doesn't offer as many accessories as Rogue does, but many of Rogue's Monster attachments will work on the Rep HR-5000 (not all though.) Sure, there are less expensive half racks, but this one probably has the highest overall value, assuming it's within budget.
---
Valor Pro BD-58 Half Rack
The Valor Pro BD-58 is an interesting half rack option. It's basically an imported variation of the HR-2 that I'll discuss next. A lot of accessories that would cost extra with Rogue's HR-2 are included with the $800 price tag of the BD-58.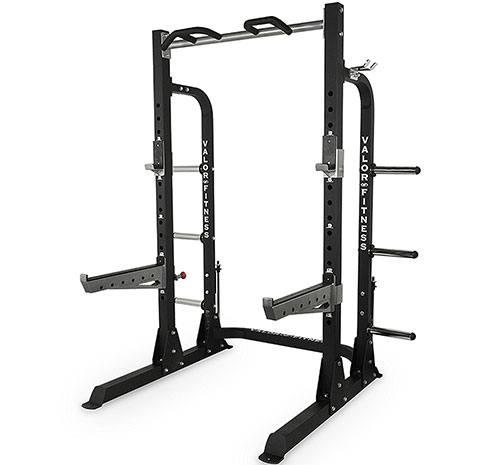 The Valor is made with 11-gauge steel, comes with spotter arms, two hooks for storing your barbells, and has six 10″ plate horns for plate storage. These horns are spaced far enough apart that every one of them can hold 450 mm discs (the 45-lb plate diameter.) Additionally, there is a multi-grip pull-up bar and 2 pairs of resistance band pegs.
Drawbacks to this half rack include lighter-duty J-cups than you'd find on a Rogue or similar racks, short overall height of 85″ (pull-up bar looks to be about 83″ according to schematic), no other accessory compatibility, and a complete lack of customer reviews.  Since the cups clearly aren't 11-gauge like the rest of the rack it does make me wonder about those spotter arms, but at least they don't look dangerously thin in the pictures.
While not as high quality as an American rack, this one at least looks better than the typical import. Not bad. Be sure and compare features to the other half racks listed – especially the HR-2.
Update: this increased in price by $100, making it much less appealing than it was before.
---
Rogue HR-2 Half Rack
The Rogue HR-2 is a half rack that can be purchased as a complete unit or as a conversion kit for a Monster Lite Squat Stand (the SML-1, SML-2, or SML-3).  The footprint of the HR-2 is the same as it is for the SMLs; 48″ x 49″. Height varies by model, of course.
Assuming that you don't already have an SML Squat Stand, the HR-2 sells for $655 for the 92″ high rack and $725 for the 108″ high rack. The height of the rear uprights is 70″ and 90″ respectively. The HR-2 is a Monster Lite, so the uprights are 3″ x 3″ 11-gauge steel and the hardware is 5/8″. The HR-2 comes with a pair of J-cups and a pull-up bar,  but spotter arms and plate horns are extra.
If you do already own one of the SML Squat Stands, the conversion kit will run $245 with all of the same upgrade options for safety and storage. Like the squat stands this unit does not need to be anchored; which is really cool.

The Rogue HR-2 is a great half rack option, and one of the better options for a garage gym, as it takes up so little space, has so many potential features (like plate storage), and Rogue has so many accessory and attachment options that can be added as needed. The price of the base HR-2 is also very, very reasonable, and there's really no reason why it would ever become necessary to upgrade this rack.  It also requires no anchoring. It deserves to be on your shortlist.
---
IronMaster IM1500 Half Rack
The IronMaster IM1500 Half Rack is a pretty solid half rack for the money. At $699 shipped, you're looking at a unit with spotter arms, pull-up bar, bar storage and plate storage already included in the price.  There are also band pegs, numbered holes, and anchor holes should you choose to use them. The two uprights are 11-gauge with a 1000-pound capacity but I'm assuming a good portion of the rest of the rack is probably 12-gauge based on the verbiage in the product description.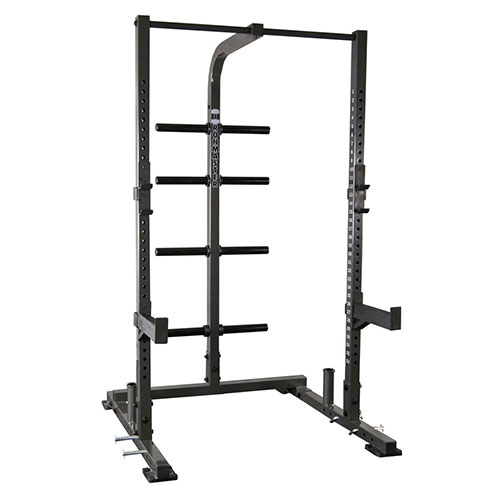 So yeah, lot's of good stuff for only $700, but what about the cons? Well it is relatively short at only 84½" tall – not a great height for tall athletes when it comes to chins.  It also has 2½" square uprights instead of one of the standard configurations,  which means you'll probably not be adding much in the way of accessories. Additionally, the product description says the plate storage horns hold standard or Olympic plates, which means the rods are 1″ and need to have 2″ wide plastic sleeves installed if you have Olympic plates. Finally, this is imported.
At the end of the day, this is a decent deal, and it has enough built-in features that you don't have to worry about accessory upgrades. The HR-2 is definitely a beefier half rack and also an American-made rack,  but you won't walk away with an HR-2 with the same accessories for only $700. I still prefer the HR-2 myself.
---
♦ ♦ ♦
Squat Stands
Squat stands are just what they sound like. Some have pull-up bars, some don't, and some are just two independent uprights that offer nothing more than an opportunity to get under a loaded barbell. Squat stands are much less expensive than half racks and power racks, but unless you already own a wall or ceiling mounted pull-up bar, I do suggest you spend a little extra to get stands with a pull-up bar. It's worth every penny.
---
American Barbell Mammoth Squat Pull-Up Rack
The American Barbell Mammoth Pull Up Squat Rack is not the cheapest squat stand + pull-up option by any means, but it does offer a couple of unique features that may be of interest to some of you.
For starters, it has about the smallest footprint of any full-size squat + pull-up rack out there. The depth of this unit is only 34″ rather than 48″ or more, so you can conceivably fit this guy off to the side of your garage and still get the car in.  34″ in not all that deep at all but it's still about 10″ deeper than independent stands so there will be more stability. This would not be my first choice for kipping, but for chins and pulls you're good to go.
The Mammoth Squat Stand is incredibly beefy.  It is constructed with 11-gauge, 3″ x 3″ US-sourced steel and assembled with ¾" hardware.  Additionally, it comes with sandwich-style J-cups instead of the light-duty cups typical of just about every other rack. Sandwich J-cups are generally about a $100 upgrade, but it's not as though that isn't probably worked in that $650. Also, this squat stand does not include any safety spotter arms.
---
Rogue SM-2 Monster Squat Stand
The Monster squat stands are about the best option for squat stands. They are thick 3″ x 3″ steel with massive rubber feet, and they have a pull-up bar (3 out of the 4 available models do anyway). This unit is available in 4 total heights up to a very tall 108″.  Unfortunately, the spotter arms are optional and an extra expense.
If you're looking at squat stands because of limited space, not necessarily budget concerns, this may be the way to go. You have access to most of the Monster accessories, but not all because with only two uprights there really isn't a place for things like plate storage. This is by far the coolest squat stand I've seen, and one of the beefiest. Except for maybe the next stand below.
Alternatively, there is also the SML line of squat stands for slightly less money, though if you are willing to move down to the Monster Lite line then I highly recommend the HR-2.
---
Vulcan V-Hammer Squat Stand II
The Vulcan V-Hammer II may very well be the beefiest, sturdiest, and heaviest squat stand on the market. It is assembled with 2½"-square, 8-gauge steel tubing and massive 1″ black oxide hardware. It weighs in at nearly 260-pounds and has no maximum capacity. It comes standard with sandwich-style J-cups, 25″, coated safety spotter arms, and a pair of storage horns for storing plates near the base of the uprights.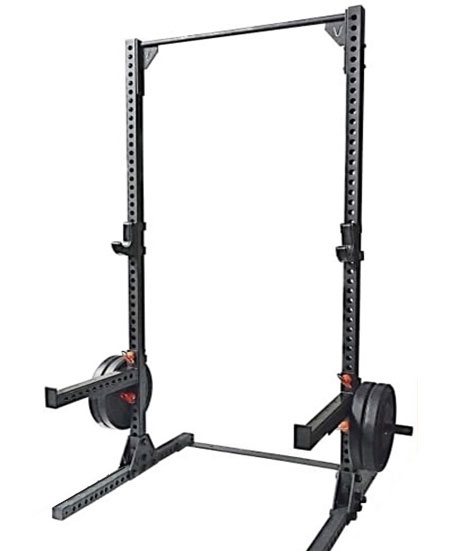 This unit is intense, and it is a model you would never, ever have to worry about loading too much weight on. It has 1″ holes with 2″ hole spacing, UHMW on both the J-cups and pair of safety spotters, and it can be anchored down if you were so inclined. It's not an inexpensive unit at $795 but shipping is at least included in that cost; which if you think about how much this weighs is not a bad deal at all. This is an incredible squat stand.
---
American Barbell Garage Gym Slim Rack
Becoming rather popular lately are the wall-mounted "slim" racks, like this one by American Barbell. Unlike the also-popular folding wall racks that don't handle accessories all that well (since they are not anchored), these slim wall racks can still be installed in your garage and not interfere with pulling your car in at night.  A rack that's sticking 2′ out from the wall is not sticking out very far at all, yet it's stronger and safer than a folding rack, and much easier to install, too.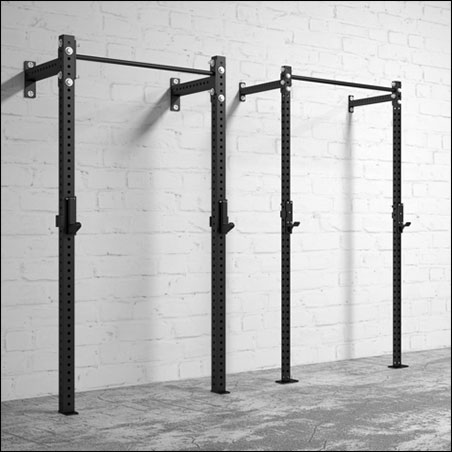 The American Barbell Garage Gym Rack is available for much less cash than the other slim units; probably because it doesn't have a flying pull-up bar. It's a 3 x 3″, 11-gauge rack, and it's available in both 7′ and 8′ heights. The hardware holes are 3/4″ which means that it's not going to be compatible with many other manufacturer's accessories but there's not much to add to a double-upright rack anyway. J-cups are included, spotters are not. $400
I think this is a fantastic, space-saving rack – definitely better than folding racks. Well, that's my opinion anyway. As with all wall-mounted units, a stringer may be necessary.
---
Rep Fitness SR-4050 Squat Rack w/ Pull-up Bar
The Rep Fitness SR-4050 used to be called the Gladiator;  or something to that effect. It is a very reasonably-priced, well-equipped, and fairly tall (94″) squat rack with pull-up bar.
At $379, there just isn't much to complain about (much).  It's a really low price, and if you're willing to pay $20 more you can have the 110″ tall SR-4000 instead. Both SRs have a ton of bells and whistles, but sadly, these racks are designed in such a way that they lack any kind of cross-compatibility with other manufacturer's accessories; which is less than ideal.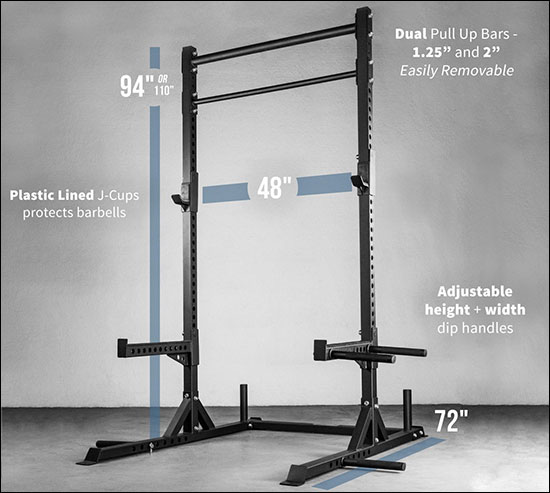 What do I mean by that? Well just look at the picture. Not only is this unit 2½" square tubing rather than 2″x3″ or 3″x3″,  but all the hardware holes are on the sides of the uprights rather than front-facing.  What that means is that even if you managed to find accessories that are compatible, they'd probably attach on the wrong side of the rack.
That being said, it has most of the basic accessories covered fairly well, the price is decent, and it's 11-gauge steel so it'll hold some solid weight. It ships standard with spotter arms, J-cups, and band pegs. It has a large footprint though; 72″ x 48″, so it's not exactly the space-saving award winner.
---
Rogue S-Series Squat Stands
This is the economical Rogue squat stand option. The S-model uses 11 gauge, 2″ x 3″ steel and is available in 4 heights; 3 of which have a pull-up bar attached. This unit is simple and affordable and takes up very little space.  Floor mounting feet, different pull-up attachments, and spotter arms are all optional.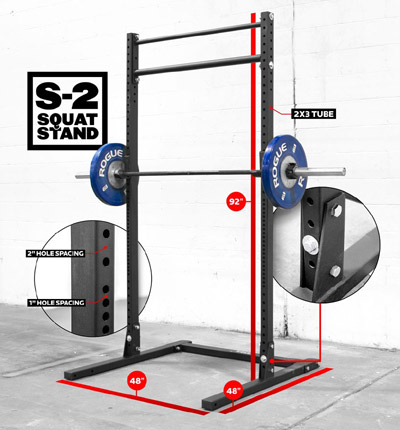 The S-Series is a surprisingly popular option for home and garage gyms on a budget, so be sure to take a gander if that sounds like you. Prices start at $345.
---
Body Solid Multi-Press Rack for Basement Gyms
For basement gyms with low ceilings, the Body Solid Multi Press Squat Rack is my favorite recommendation. At only 74″ high, this squat rack is over a foot shorter than most full-sized power racks and should fit in most basements. Of course, you'll want to measure and make sure!
This stand is made with the same 2″ x 3″, 11-gauge steel found on many of the commercial power racks so it will handle some weight. It has 14 different barbell positions and it comes with spotter arms (so you can still bench on this rack), but I'll bet you need to be fairly strict as the spotters are pretty damn short. Downside of a classic squat rack, I suppose.
Total footprint is 45″L x 64″W x 74″ H. Reviews are great, shipping is included, and you get plate storage even. $650
---
Valor Fitness BD-19 Squat Rack for Basement Gyms
For an even shorter option for those with low-ceiling basement gyms, I'd maybe take a look at the Valor Fitness BD-19 Squat Rack. At about  72″ high there is no ceiling so low (I hope anyway) that this shouldn't fit. It has 9 pre-set, sawtooth-style barbell notches, a pair of mini adjustable spotter arms, and four horns for plate storage.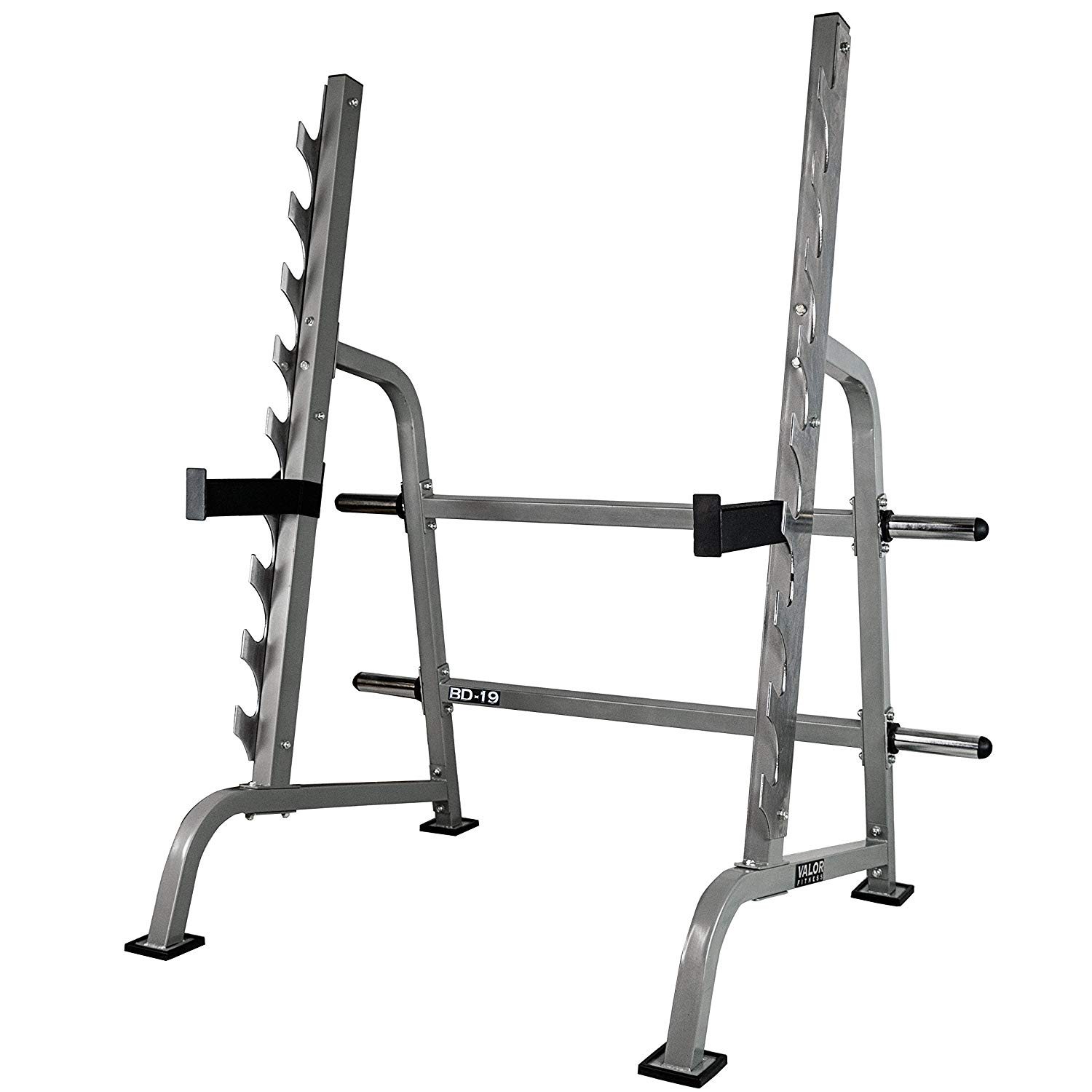 This rack is built with 2″ x 2″, 11-gauge steel and has a maximum capacity of about 600-lbs, which isn't anything to write home about but should be fine for the majority of lifters.
I do not think this is an amazing piece of equipment by any stretch of the imagination, but if you're dealing with a basement your options are extremely limited. This will get you by, and it is pretty affordable on Amazon for about $325 shipped.
---
What to Avoid when Power Rack Shopping
There are probably hundreds of other racks on the market to choose from; no way can I list them all here.  My hope is that you've learned enough about what to look for that, on the off chance you didn't find a match here, you can make an educated executive decision on your own. To help with that, here is a list of red flags you should probably run away from:
Avoid the following:
Power racks with no listed technical specifications (steel gauge, dimensions, etc).
14-gauge steel power racks. 12-gauge is acceptable if weight expectations are low.
Power racks with low weight capacities relative to your goals.
Power racks with hole spacing greater than 2″.
Racks under 7′ high unless you're basement gym shopping.
Wal-Mart, Sears, Dick's and other sporting goods or chain box stores.
Box store brands like CAP, Marcy, Titan, Body Champ, Gold's Gym, Ethos, etc.
---
Power Rack Guide – Suggestions & Summary
My default suggestion for those with normal-sized garages and an average budget used to focus around Rogue with their R-3 and HR-2. The quality of the Rogue racks paired with all the customization and accessory options and the relatively low costs of these two particular racks made them an easy recommendation. Rogue racks are modular, they are safe, they'll last, and have a very high resale value should you ever choose to upgrade.
That having been said,  Rep Fitness has come along with a number of competitively priced power racks and squat stands in the last year. The PR-4000 is a phenomenal rack with lots of configurations, colors, and accessories to choose from, and at a base price on par with a Rogue Infinity Rack such as the R-3, while the Rep Fitness HR-2 is is literally a fully-loaded half rack that will require no additional purchases whatsoever. It ships with spotter arms, the J-cups, loads of plate storage, upper and lower band pegs, and even ships with a multi-grip pull-up bar. These two racks, along with the PR-5000, are just really hard to ignore.
View this post on Instagram
Rep is definitely the way to go for power racks and half racks right now, but even with such competitive pricing compared to Rogue and Vulcan they do still require a moderate budget. For those with an even more limited budget I suggest leaning towards something like the S-Series of squat stands if you care about accessory options down the road, or Rep SR-4000 if you just want a ton of bang for your buck but you don't care about a lot of extras or cross-compatibility between brands.
If your budget is super, super low and you're considering a weak, 12- or 14-gauge rack, or if you're looking at any of the inferior Titan racks, I strongly suggest you continue to save your money until you can get into a better-built, safer rack. You're not saving any money if you're out there buying another rack in a year. Two bad power racks is not cheaper than one good power rack. Buy once, buy right.
In any case, no matter which rack you are interested in I hope this guide gave you a clearer idea of what would work best for you, your floor space, and your budget. Whatever brand or model you go with, be safe, train smart, and train hard.
If you found this article helpful, please share it. I greatly appreciate those likes and shares.
---