I recently ordered and received a fancy 10 mm powerlifting belt from Pioneer (aka General Leathercraft). I've been wanting to do more with the Garage Gyms branding for a while now and I figured putting the site name across my favorite power belt was a great place to start. Now that I have it in my hands, I figured I'd take some time to show it off while also praising Pioneer for all the great work that they do.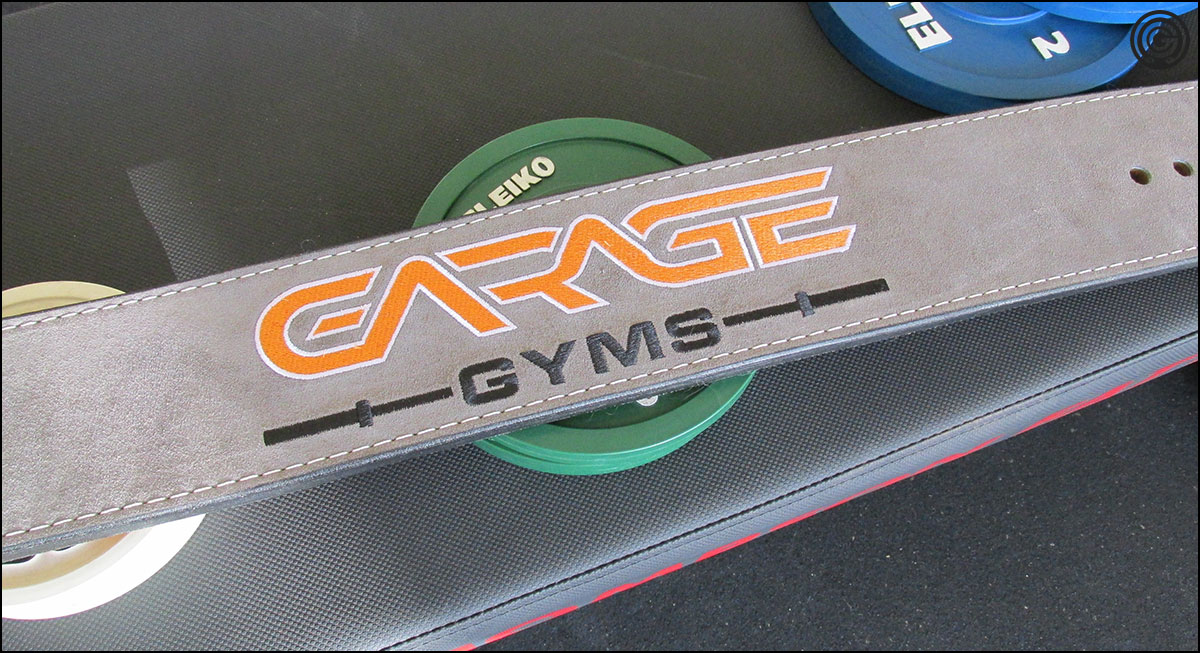 I positively love my new belt, but before I get into all that I want to first thank Matt at Pioneer for his help putting it together. With so many possible suede and thread color combinations, and me not having a good eye for style, I had a hell of a time committing to a color scheme. Matt was patient with me and my indecisiveness, and with very little clear direction from me he was still able to put it all together. I love it, so thank you again, Matt.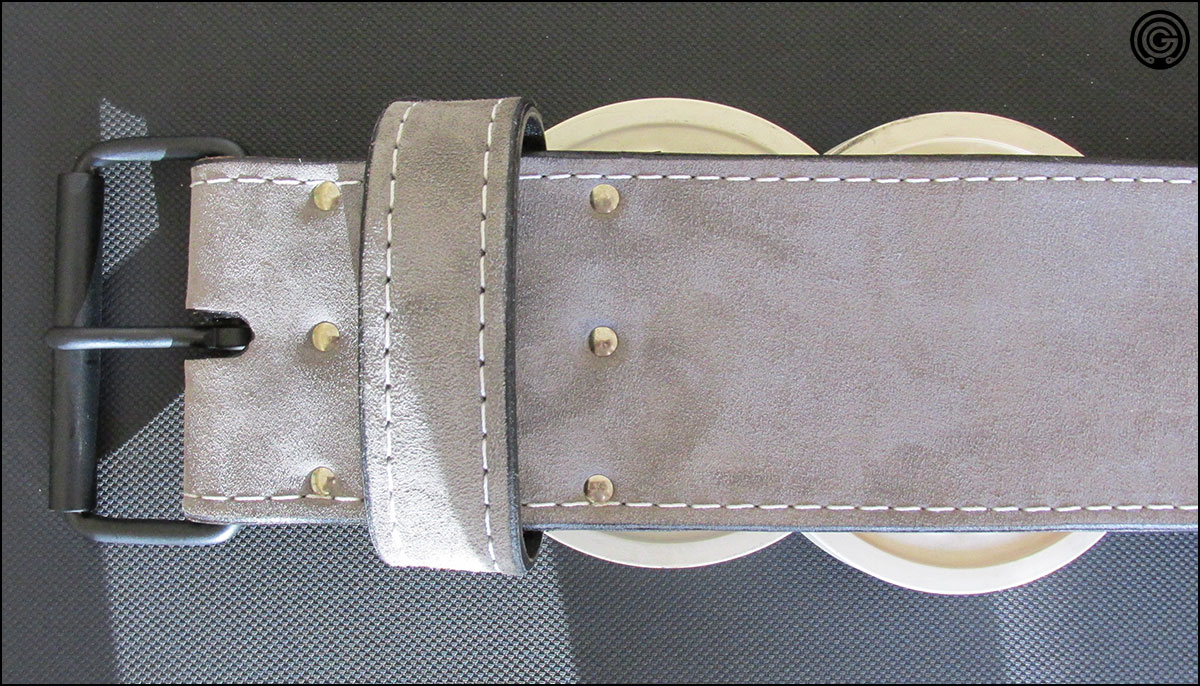 Now I could have gone with any number of manufacturers for my custom power belt but I've been happily using a Pioneer for years now. I was already of the opinion that they made the finest and most comfortable 10 mm belt for the money, so I saw no reason to go elsewhere. Matter of fact, I was so happy with my current Pioneer that the only thing I changed was the coloration and the custom embroidery. It's the same 10 mm, 4″ wide, single-prong belt that I was already very happy with.
Well technically I also updated the sizing a little bit to get back to using the center hole, but that's still not really a change.
Why am I so fond of Pioneer? Well, many reasons! They use only high quality leathers and components, they have very reasonable prices, nearly too many customization options, and they are the only belt-maker with a seemingly flawless customer service record. Of course I'm not saying all other belt-makers have poor customer service and bad products, but none of them can compete with Pioneer's quick response time, quick shipping time, eagerness to help with custom orders, and reasonable prices.
In other words, there are other companies that make killer power belts, but generally you'll either pay more (sometimes a ton more), wait months before you ever see your belt, and in some cases wait weeks before you even get into queue because of how long it takes to get each email response. With many popular belt-makers, you'll go through all that only to end up with an expensive and beautiful belt that will never break in. Of course you can always order 'off the shelf' belts from Rogue or Mark Bell, but these aren't built nearly as well, and there is nothing in the way of customization options.
Speaking of breaking in belts, that is one of my favorite things about using Pioneer's belts; they don't need to be broken in. Yes pricing, customer service and a bunch of customization options is great, but comfort is king, and Pioneer belts are way more comfortable than belts from Inzer or Crain. I actually have numerous Inzer belts, and as you can see in the picture below they are not used much. Yeah they are great belts; built to last forever (and they will); but that kind of durability is not exclusive to the likes of Inzer. It is possible to make a long-lasting belt that's actually comfortable to wear; even from day one.
Am I obviously a Pioneer fan? Yes. Do I think they are the only ones making good belts? Of course not! It's just that when you look at the big picture; the prices, options, service, quality and durability; they just stand out the most. And for the record, Pioneer does not pay me for advertising or referrals. I just really like their belts.
---
Video Review
Check out this lengthy and thorough review of the top nine power belts on the market. Now I realize this review is being done by the CEO of Pioneer (General Leathercraft) and you might be inclined to think that this is pretty biased, but believe me when I say this review is legit. Honestly, Matt doesn't give himself enough credit for his contribution to this industry.
---
Pros and Cons of Pioneer 10 mm Belts
Pros:
Extremely competitive prices. Single prong belts start at $75, lever belts start at $95.
The highest rated customer service in the power belt industry.
Shorter lead times than most competitors, even when custom work is involved.
Belts are made from 100% genuine sole leather and garment suede.
Six different default sizes are available, but custom sizing is possible simply by asking.
Customization options are endless:

Choose single or double-prong, or lever.
Choose rounded or tapered tongue.
Choose both outer and inner suede colors (20 colors).
Embroider text on outside of belt in font of your choice.
Embroider text on the belt loop in font of your choice.
Embroider images or branding on the outside of your belt.
Personalize the inside of the belt.
Select stitching color, buckle/lever color, and black edging.

Belts are made to IPF specifications.
Pioneer Power Belts are guaranteed for life.
No fillers for achieving thickness means no break in time.
Cons:
Customization options like embroidery can quickly make the belt expensive.
Pioneer belts are not IPF approved.
Holiday queue times are long, but duh.
---
Summary
I am a huge fan of Pioneer's belts, and if you follow any of the big YouTube and Instagram athletes you'll see that I'm not alone. Pioneer has been around for nearly four decades now. They have the experience, and they have a higher standard for customer relations than the other big belt manufacturers. Sure they could probably raise prices a little, respond to email slower, and make no effort to ship in a timely matter while still selling a ton of belts, but they don't, and that's commendable.
Honestly if it weren't for the branding on my new Pioneer, I'd never have stopped using my original Pioneer. Considering how often I use the thing, how much I sweat on it, and how many holes I've shifted over the years the belt looks fantastic. It's supportive, and it fits like a glove.
So whether you just care about function and comfort, or if you want catchy colors and your 'words of wisdom' embroidered on the back of your belt, I strongly suggest you put Pioneer on your short list. You won't regret it. Don't take my word for it though, ask around!
---
Question
I am giving serious thought to offering a version of the Pioneer belt that I just picked up as a product to sell on this site; to help fund reviews and all. I'd love to hear what you all think of that; especially you consistent readers and subscribers. Yes, an actual Pioneer.
---