Folding wall racks are a great space saving alternative to full-size power racks for athletes who want to train in their garage, but who still need to be able to pull the vehicle in at night. Folding racks require only some empty wall space and a few inches of floor space to store, yet they open up into a full-size rack that's almost as versatile as a normal power rack, and able to support more than enough weight.
Most folding wall racks are less expensive than freestanding power racks, and many can even handle some of the standard rack accessories (dip station, landmine, etc.) Of course, any folding rack worth having will also have a chin-up or kipping bar.
In this article I'll show you a handful of the available folding wall-mounted racks from many different manufacturers. I'll talk about the differences in design, construction quality, pricing, and more. Don't get overwhelmed, there are only a couple racks that really matter; as you'll see as we go through the list.
Last update: January 2018
---
Folding Rack Guide – Table of Contents
Folding Racks
Honorable Mentions
For guidance with non-wall mounted units, view the Power Rack & Squat Stand Guide.
*FYI: Most wall-mounted folding racks will require the use of stringers when attaching the rack to wood or metal studs. I strongly suggest doing exactly what the manufacturer of your rack suggests in terms of installing that stringer. You'll also need to make sure your location for installation has enough space for said stringers. 
---
What to Look For in a Folding Rack
Buying a folding wall rack isn't a whole lot different than buying a standard squat stand or power rack. You're going to want to pay attention to ceiling height requirements, the steel used (dimensions and gauge), where it's sourced, the size of the hardware used, the build quality (this has a lot to do with where it is sourced), and what kind of finish the unit has. It goes without saying that price will matter, but most are priced reasonably.
As with non-folding racks, I recommend 2″ x 3″, 11-gauge steel for the uprights. 3″ x 3″ steel is acceptable as well, but it will be more expensive and there isn't much of an advantage to having it over 2″ x 3″. I'm not a huge fan of 2″x2″ because it feels kind of flimsy to me, but at 11-gauge it will still hold a good amount of weight.
Personally I prefer racks made with US-steel. US steel units have a hefty list of advantages over their imported (Chinese) counterparts including fewer imperfections in the steel, more resilient powder coating, laser cut components and holes, and just a better overall end-user experience (no rust, consistent hole sizing, hardware holes line up, no burrs or sharp edges and/or flashing, and so on.) You've got to figure that there is a reason importing racks costs half as much money. It's not just because of the cheap labor.
In any case, I'll try to address all of these things along with each product. If you happen to be looking at a folding rack that's not listed in this article, just use the information you learn here as a guideline in determining whether or not you're looking at a quality product or not.
---
PRx Profile Series Rack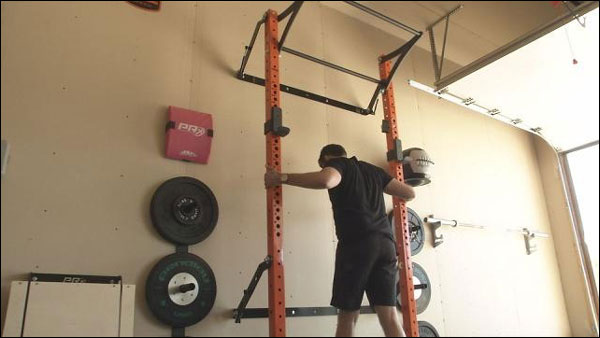 The PRx Profile Series is unique in that it stows away vertically rather than to the side like most folding racks. Utilizing gas shocks, it's probably the quickest and easiest folding rack to pull down and put away. The PRx Profile also is the most compact of any folding racks, sticking out only 4″ from the wall when stowed away.
Sadly PRx racks are still the most expensive folding racks around. Even after coming down in price multiple times (in light of all the new competition), they are still the least competitive in terms of pricing, with some units exceeding $800 before a single accessory is added. That's twice as much as other folding racks that I'm going to show you, and about as much as a full-size, beefy power rack like the RML-490.
There are other minor drawbacks besides the high price tag. Because of the way this rack stores vertically, it requires more vertical wall space. You need to have 9′ ceilings to install any of the Profiles that have pull-up bars; 8′ ceilings just won't do. Additionally, because of the short distance between rack and wall, the optional kipping bar is a near-necessity to put some distance between you and the wall when doing any pull-up movements. That's all well and good, but the basic kipping model is the one that starts at $800.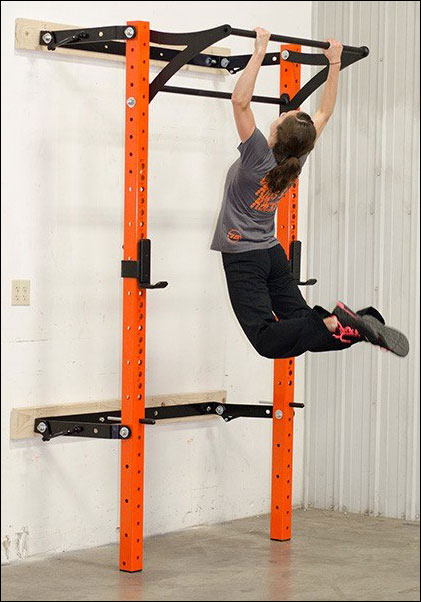 PRx Profile racks are built with industry standard 2″x3″ 11-gauge steel and 5/8″ hardware, so we're good there. PRx also makes their racks here in the USA; also good. Now they do not offer as many accessories as Rogue Fitness does, but many Rogue Infinity accessories will fit on the standard Profiles, so that's not really an issue. All-in-all, very nice, but pricey.
PRx also offers a 3″x3″ Pro Profile that can be ordered in like eight different colors and has etched numbers in the uprights, but for $1100 I just don't know how appealing that is for the majority. I guess the best way to look at the Pro version is consider it their luxury model for folks with no concern whatsoever for budget (yeah it's a ripoff.)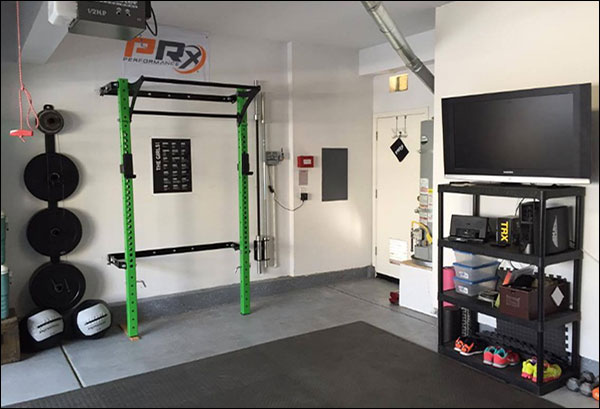 Pros: Clever vertical storage method puts this unit closer to the wall than any other unit when stored away (4″); US product, colors and numbered uprights available on Pro racks, compatible with other manufacturer's accessories, stringer not required according to PRx, but I personally believe it's still a good idea to use one. 
Cons: Most expensive folding rack (the Pro is a total ripoff); kipping model starts at $800, requires 9′ or higher ceilings for install, unit fairly close to wall, gas shocks are wearable.

My Rating: I give the PRx Profile 5-stars for ingenuity & functionality, 3-stars for versatility (9-ft ceilings eliminates a lot of customers), and 3-stars for price. 4-star total.
---
Rogue Fitness R-3W & RML-3W Folding Rack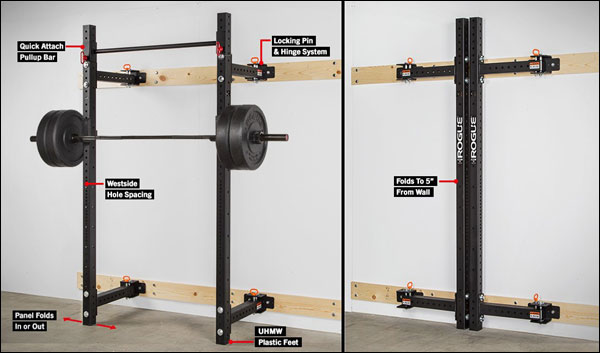 Of all the folding racks on the market right now, the Rogue R-3W is currently my favorite. It offers access to all the same lifts as the PRx, but for hundreds of dollars less. It has a semi-adjustable pull-up bar, Westside hole spacing throughout the bench region, and it can be ordered in two different depths. Rogue also offers the largest selection of rack accessories of any company.
The R-3W is made with 2″x3″, 11-gauge steel and uses Rogue's standard, heavy-duty 5/8″ hardware. The two available rack depths are 20.5″ and 40.5″, and they sell for $475 & $555 respectively. Both depth variations stick out less than 5″ from the wall when stowed away so there is plenty of space when it's opened yet very compact when closed.
Rogue also has the option to get 3″x3″ steel with the RML-3W, but unless you already own Monster-Lite accessories for this steel configuration, I can't see much  reason to choose this upgrade. Yes the beefy RML variations are only $20 more than their Infinity counterpart but accessories are going to cost more as well. Your call, of course.
Setting up and stowing away the Rogue R-3W takes a few seconds longer than the Profile, but we're talking seconds. It's just a matter of pulling or placing a few pins. The 20″ version folds inwards, and the 40″ versions can fold however works best for you – both left, both right, or both to the outside. All versions are the same 5″ from the wall when stowed away.
Rogue also has added an 11-gauge steel stringer to their store. For only $50 you can add it to your Rogue folding rack order. If you need to purchase this stringer independently for any reason, you can do so here for $65.
Pros: Affordable, available in multiple steel configurations, colors, and depths, Westside hole spacing, UHMW caps to protect floor, easy to use, unit is only 5″ from wall when not in use, largest accessory selection of any rack manufacturer, made in USA.
Cons: Set up and storage takes 15-seconds instead of 5-seconds.

My Rating: I give the all the Rogue Folding Racks 5-stars because there really is nothing to complain about. That's all customers leave for a rating anyway; who am I to argue with like 100 perfect reviews! 5-stars it is.
---
AF Wall Mounted Folding Power Rack
This product has been discontinued.
---
Titan Fitness T3 Fold Back Power Rack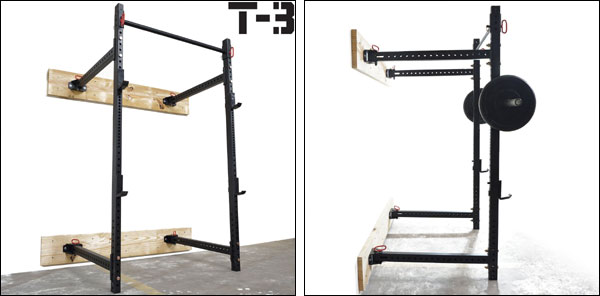 The Titan T3 Folding Rack is an exact clone of the Rogue R-3W Folding Rack. On paper, it looks identical; same design, same size steel and hardware, same height and depths, and so on. In reality the Titan T3 is made with inferior steel, cheap hardware, and it's just riddled with flaws and inconsistencies. Titan has no shame when it comes to taking the spec sheet of a well-built American product and letting the lowest bidder in China pump out scrap metal clones.
The most common Titan complaint is structural and surface imperfections in the steel; flaws that are easily spotted through the thin powder coat (a coating that will already be flaking off before you even have the thing assembled).
Also fairly common is a lack of consistency in hole size and the location of these holes on the uprights. Hardware and accessories don't fit through some holes without drilling those holes out yourself, and components won't always line up true. Removing burrs and flashing in order to eliminate the risk of slicing your hands open may be needed as well.
In my own personal opinion, the T3 is not an overly impressive product, and Titan is not an overly impressive company. That said, if Titan gear is simply all you can afford and you're willing to endure the shortcomings of Titan products (and you're also okay with supporting a company that rips off the companies that create things while innovating absolutely nothing themselves), then by all means have at it. Perhaps you won't notice all of the shortcuts and flaws anyway if you've never even used a high-quality rack before; who knows.
Pros: Low price and shipping, looks like a Rogue rack from afar. 
Cons: Inferior craftsmanship, low quality control from overseas manufacturer, low-grade steel, sharp flashing around holes and edges, weak powder coat (chips and slips), pins and bolts often don't fit through hardware holes and holes won't always line up, no assembly instructions.

My Rating: I want to give it no stars because it's not even their product to rate, but I'll give it 5-stars for affordability and functionality, 2-stars for quality, and zero stars for ingenuity.
---
Valor Pro BD-20 Wall Mounted Rack
Much like the Titan T3, the Valor BD-20 Wall Rack is another economy option. At only $350 it'll get the job done for a beginner, but intermediate and advanced lifters might just pay the extra $100 for the Rogue because the Valor BD-20 actually has a weight limit. Valor doesn't advocate the use of a stringer, and the steel uprights are 2.5″ square tubing of an unknown gauge instead of the standard 2″x3″ 11-gauge, so I imagine these two things contribute to the low weight capacity.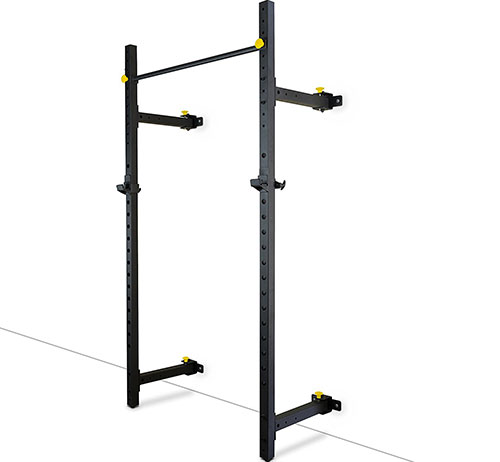 You'll want to keep in mind that this rack's steel & hole configuration makes it incompatible with most accessories. You'll not be adding a dip station or landmine attachments with this. Additionally, the J-cups that ship with this unit are garbage, and because of the accessory issue I just mentioned, you're probably stuck with them. At $350 I think you'd be overpaying and selling yourself short with this particular unit; or any with similar specifications (and max loads.)
Pros: Low price and free shipping. 
Cons: Low price is still too much. J-cups are of an awful design, no accessory compatibility, unit has a fairly low maximum capacity (this may be improved with stringers, but I wouldn't swear to it because gauge of steel used for uprights and crossmembers is not listed.) 

My Rating: I give the ValorPro BD-20 a 3-star rating. 4-stars for affordability, 4-stars for functionality (load limit), 3-stars for the bad J-cups, and 2-stars for deviating from normal steel types and eliminating accessory access.
---
Honorable Mention – The Slim Gym
The Pure-Strength Slim Gym doesn't fold away, but it does take up a very minimal amount of floor space (as little as one foot in depth.) It's made with the same 2″ x 3″, 11-gauge steel as the Rogue or PRx folding racks, and it comes standard with a pull-up bar that sits far enough away from the wall to keep you from making contact with that wall when kipping or doing pull-ups. The pull-up bar can also be adjusted to various heights.
The Slim Gym is a fantastic rack. It's priced similarly to the folding racks; though it has no moving parts. It will need to be anchored to the wall and the floor, but it's solid, and it's a US-product with US-sourced steel. Again, just to be clear, it does not fold away, but a foot away from the wall is not that much of a space requirement. You should have no problem pulling the car in. $499
Pros: Slim design is more stable due to being anchored to both the floor and wall, USA product, has accessories including spotters, three depths available (12′, 18″, and 24″), flashy red J-cups. 
Cons: Somewhat expensive considering, hole spacing is weird at 2½" (won't take double-pin accessories designed for standard 2″ spacing), not actually foldable; once installed it is a permanent fixture. 

My Rating: This rack is nearly perfect save for the 2½" hole spacing. Makes adding certain accessories impossible despite the hardware holes being the proper size.
---
Vulcan Slim Fit Wall-Mounted Rig
The Vulcan Slim Fit Rack is very much like the Slim Gym, only it's made with super beefy 3″x3″ 11-gauge steel rather than 2″x3″. The Vulcan comes in three different crossmember lengths, but the shortest is 18″ versus the 12″ of the Slim Gym. This is still close enough to the wall to be space-saving and allow a car in the garage, but if you need closer because your garage is just too narrow, it'll have to be the Slim Gym.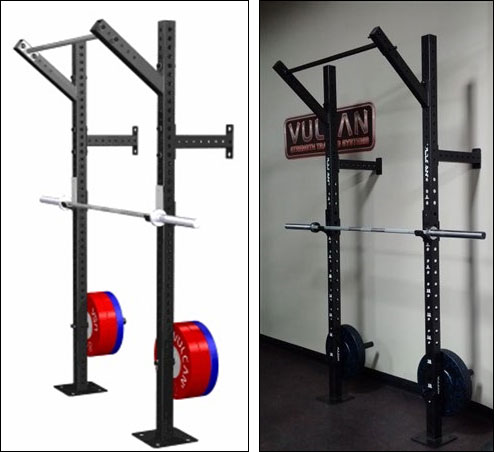 With the Vulcan Slim Fit, it's possible to install this without bolting to the floor by using extra crossmembers; much like the folding racks above. It's available with 8′ and 9′ uprights, can accept spotter arms (unlike folding racks), plate storage, and a dip station. The Slim Fit Rig also has a kipping/pull-up bar set away from the uprights, and very far away from the wall. The Vulcan is a great alternative to folding racks, and it has no moving parts whatsoever. It is still a good idea to use a stringer though.
Pros: Slim design is more stable due to being anchored to both the floor and wall, but can be used without floor anchors. has accessories including spotters, three depths available (12′, 24″, and 36″), beefy 11-gauge 3″x3″ steel, two upright heights, and a fair price ($539).
Cons: Not actually foldable, no 12″ option available, still have to deal with a stringer.

My Rating: I took half a star away from the Vulcan Slim Fit Rig for no 12″ variant, but gave it back because for 3″x3″ steel the price after shipping is better than the Slim Gym.
---
My Recommendation
I think that you'll get the most bang for your buck from the Rogue R-3W. In terms of folding racks it's among the highest quality, it's priced reasonably well, and you have access to the most accessories. The Rogue also has the most 5-star reviews of any foldable rack, almost 100 5-stars among all variants. Don't forget color is available with the Rogue RML-3WC, but only black is available with the R-3W.
The PRx Profile Rig is a safe bet as well. It seems to be on par with Rogue in terms of build quality, and the Pro version has some nice features, but you're looking at a much, much higher price tag, and that'll be a turn off for many.
The Slim Gym and Vulcan Slim Fit are also interesting options. They're more permanent in that they require floor anchoring, and technically yes they do require the most floor space among these racks, but both are very well-built, space-saving, and completely functional. These slim units are definitely better options than the economy knock-off units. Actually I don't consider either the Titan or Valor folding racks to be a particularly good use of funds.
There are other folding racks out there, but most are just clones of the models here. If you see another model that you like and it's not listed here, you should now have enough good information to make a well-informed, executive decision. Just remember, you get what you pay for.
Good luck, and please share this article.
---