In the last month or so there's been a number of new products to hit the market, and a few that are due very soon. I thought that I'd highlight some of the coolest among them for those of you who don't have time to troll the Interwebs for stuff that you don't actually need and probably shouldn't be buying (like the first item on the list.)
---
A Beast for the Beasts – Monster Westside Bench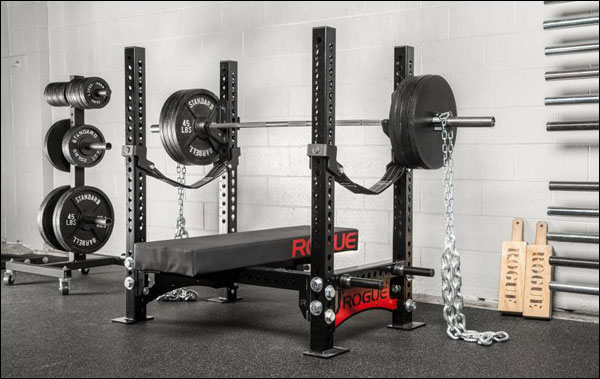 The Monster Westside Bench is by far the beefiest, coolest, and most well-equipped bench around. The Monster is essentially an upgrade to the already over-engineered Westside Bench, and the only way it was possible to make the classic version any better was to just go all out with the steel and hardware, add even more bells & whistles, and make anything that would normally be an upgrade part of the standard equipment.
The Monster is framed with 3″x3″ steel, it has laser-cut numbers for the safety strap system in the uprights and for the adjustable bend pegs in the cross-members. The Monster Bench also comes with massive sandwich-style cups instead of standard J-cups, a diamond-tread spotter platform, and the whole thing is bolted together with massive 1″ hardware.
Another bonus feature of the new Monster Westside Bench is a 7-gauge reinforced steel spine that runs directly under the pad to increase stability and prevent flexing of the pad under huge amounts of weight. The Monster also comes standard with the Thompson Fat Pad (though you can request a "normal" pad.) Crazy!
This thing is a beast, plain and simple. I swear if I had the space for this in my garage I'd just have to own one. I dare say there is not a more bad ass and hardcore piece of strength training equipment to be found anywhere. From $1195 to $1495 depending on equipment and upgrades.
---
Rogue Vertical Bar Hanger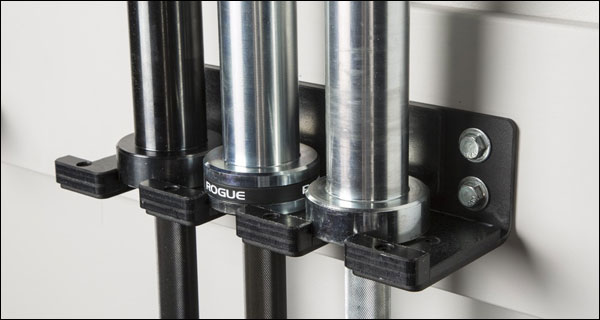 Last year I was shopping around for a way to vertically store my bars on the wall – basically I wanted a vertical gun rack. Unfortunately I was unable to find anything that I liked and the only solution at the time was to DIY my own bar storage rack, so I did. My DIY'd rack turned out great and all, but I definitely would have preferred to snatch up a couple of these barbell hangers had they been available at the time.
The Rogue Bar Hangers can be hung on the wall, of course, or you can attach them directly to power racks and rigs. You can purchase a single bar holder (it beats the old-school steel tubes), or a three bar holder. Prices range from about $35-$50 depending on configuration, and all of them are lined with UHMW plastic to prevent any metal-to-metal contact. This isn't any cheaper than using horizontal gun racks, but it does make much better use of wall space.
---
Muscle Mace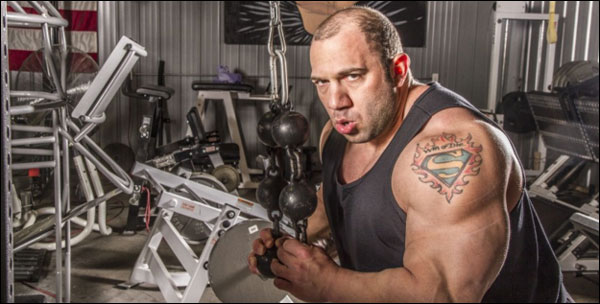 The 3″ Muscle Mace is an interesting product. It's a cable attachment that; at the end of the day; is basically an alternative to the classic tricep rope. It's pretty much designed for doing 3-phase tri-pushdown, but with some creativity it could also be used for other cable-based movements like curls, flyes, shoulder raises, and so on.
At regular price it's $50 per, but you really need a pair – and that my friends is $100. It's not the most economical cable attachment in the world, but it is definitely unique. Use these to add some versatility with your Spud Tricep Pulley; which I know you have!
---
2016 Adipower Weightlifting Shoes – Hrmm
The Leistung Rio 2016 shoe from Adidas combines maximum support and stability with a lightweight, flexible, custom fit. It's a weightlifting shoe precision-optimized for the needs of Olympic weightlifters at the highest level of competition, including those representing their countries at the Summer Games in Brazil.
The Rio 2016 design is available here in bright red, and includes a high-density, die-cut midsole wedge, a micro-adjusting Boa lacing system, and a durable ADIWEAR™ outsole. The raised heel is specially configured with an integral rearfoot for a strong but comfortable level of support—ideal for the daily rigors of the snatch and clean-and-jerk disciplines.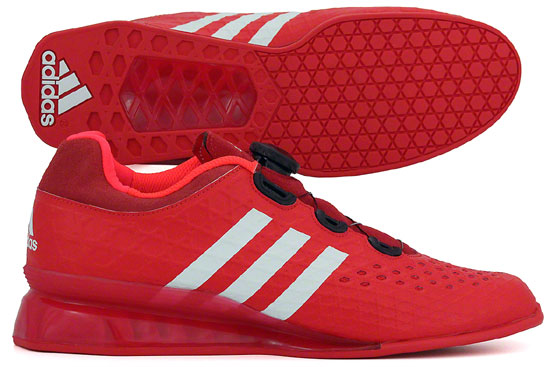 Have any of these products? Feel free to rate them in the comments, and then share this site with someone!
---