If you're setting up your own garage gym, there's a pretty good chance that you'll end up in the market for a flat utility bench. You can easily spend a small fortune on a well-built, non-adjustable utility bench, but this isn't the piece of equipment that really requires you to go all out and spend a third of your salary. One of the better, more affordable options out there is the Rogue Utility Bench, and it just so happens to be the one I ended up with.
I'm a little embarrassed to admit it but my original bench; the bench I replaced with this flat Rogue bench; was exactly the type of box-store crap I commonly suggest not buying. It was somewhere between $40 and $50, and as I should have suspected at the time, it fell apart. Well thankfully it didn't literally fall apart (as in to crumble beneath me), but both ends of the padding warped and sloped down, making for a pretty awkward feeling when using it.
While $40-$50 isn't a whole lot of money, it was still a total waste considering that the thing didn't last (I was basically renting.) I'm of the opinion that something as simple in design as a flat utility bench with no moving parts whatsoever should survive as long as a power rack. If anything is going to fall apart it should be the upholstery, not the frame. But in any case, lesson learned.
Update 2017: Rogue has added slip-on rubber to the Utility Bench. This bench has always been level for me, but the rubber feet do add to the user experience in that the bench won't slide, and is more likely to level out on a foundation that's not level. 
---
Rogue Utility Bench – Construction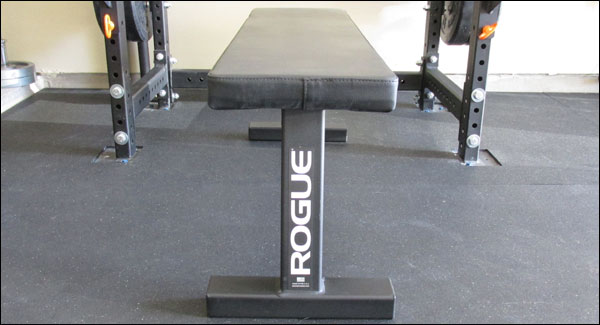 In terms of construction, I'd give the new 2.0 Rogue bench a perfect score. The frame is a beefy 2″ x 3″ 11-gauge steel frame; the same tubing the Infinity power racks are made with. Rather than using butt joints, the 2.0 is constructed using pass-through joints, which makes the thing as solid as a rock; and the legs are angled, which actually does make the bench feel more stable. The best part is that it's not a bolt-together bench; there is no hardware to come loose, no re-tightening, and it requires zero assembly.
Not only is this bench built like a tank, all of the dimensions are where they should be. The pad width is 12″, not a narrow 10″ like some models out there. The height of the pad is just right at 18″, and the length is 47″. In other words, feet can be planted firmly on the floor, and you won't hang off the length of the bench.
---
Rogue Utility Bench – Padding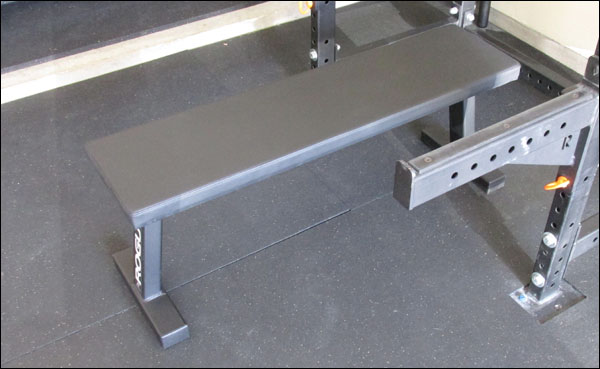 The padding under the upholstery is super dense neoprene, and neoprene is apparently much firmer than the high-density foam normally used for gym equipment. Even though the padding is an ample 2″ thick, it's still firmer than I was used to. I'd personally like it to be a tad softer, but I think I'm alone on this because everyone that's used mine said they liked that firmness.
Update: I adjusted, and now other benches feel too soft. Go figure!
The fact is that the Rogue 2.0 bench a very well-designed bench with ideal specifications. The upholstery is extremely durable and professionally sewn, and it's super easy to keep clean and looking nice. The upholstery looks so well done that I can't imagine that I'll ever have an issue with it coming apart, and I'm certainly not worried about the frame.
$179 for this bench is pretty much a steal when compared to other benches on the market, especially those box-store benches like the one I tossed. There are no holes, no bolts, no moving parts like the ridiculous leg extension thing that hangs off some benches, and the frame sits flush with the ground; no rocking or wobbling. This is a commercial quality utility bench for 50% of the cost of a commercial brand like Precor, Cybex, or Legend. I approve.
---
Extra Perk?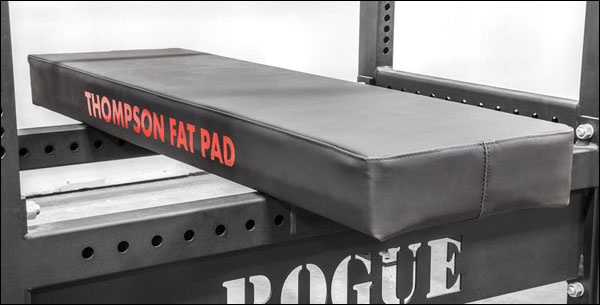 This bench, along with every other bench Rogue makes, is compatible with the Thompson Fat Pad. Adding the Thompson pretty much doubles the cost of the bench though. I won't lie, I've been contemplating this pad for a while now. It looks comfortable as hell, and has a whole range of other benefits.
Update: see Thompson Fat Pad Review (oh yeah, I bought one).
Anyhoo, if you are need of a flat bench, I think you should take a gander at the Rogue Flat Utility Bench. It's a very solid piece of equipment.
---