I am a huge advocate of the CrossFit garage gym movement. I have a gym in my garage and it's my favorite room in the house. It's convenient, there are no crowds, no driving, no equipment queues, no creeps, and no monthly dues.
If you're considering dropping your gym membership in order to build your own garage gym, I think that's great; you'll absolutely love the convenience of it. It can take a little money up front to get things started, but maybe not as much as you may think. Don't assume that because your gym had equipment x that you need it as well; the list of things necessary for a home gym is not very long and doesn't include any of those gym machines.
Try to focus on getting the right gear from the beginning so your workouts are productive right out of the gate. Always buy quality equipment – both for safety reasons and so that you're not buying the same pieces of equipment over and over. In other words, don't try and save a few bucks by purchasing crappy gear that will break or that you will outgrow in a matter of months.
Top 10 Equipment Items for Crossfit Garage Gyms
Priority Equipment #1-3
The top three items should be considered a priority. You'll be hard-pressed to have a consistently productive Crossfit workout without an Olympic weightlifting bar, weights, and a pull-up bar. This is where the majority of the investment in a garage gym is. It's mostly smooth sailing after these three items are acquired. If you can only afford one item at the moment, make it a bar and then build from there.
Secondary Suggestions #4-10
The remaining pieces of equipment on this list are secondary but still very important. I have not listed them in any particular order since your workout may necessitate one item more than another. I will say that numbers 4 and 5 are really low cost and should be picked up early on. Matter of fact, other than the GHD, most of the secondary gear is fairly inexpensive.
#1 – Olympic Barbell
An Olympic weightlifting barbell is the obvious front-runner on the list of required gym equipment to have. I'm pretty sure that I don't need to explain why you need a barbell, so I won't.
First off, avoid being cheap when it comes to buying a bar. Expect to spend at least $200 on a quality bar. Buying a bar from [insert box store] for less than $100 is not saving you any money, it's just throwing that money away because you will replace it. Whether you bend it, break a sleeve, or end up with flaked chrome pieces all over your floor; one way or another you'll eventually send that cheap bar to the scrapyard.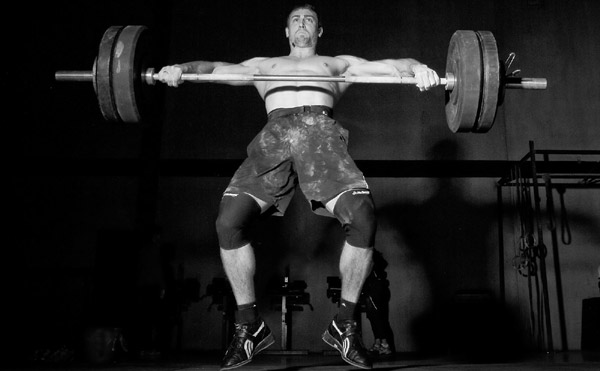 Standard men's Olympic barbell are 20 kg and women's barbells are 15 kg. Women's bars are also designed with smaller hands in mind. The diameter of the bar shaft is 25 mm versus 28-29 mm found on a men's bar. Buy whichever variation fits your hands best. The weight difference is irrelevant as you can always slap more weight on a bar.
Knurling is another thing to consider. For Olympic lifts and Crossfit, you'll probably want to avoid bars with center knurling. Center knurling is for powerlifting and if used for Crossfit it can cut you up pretty bad during high rep clean and jerks. Having said that, there are many good bars for CrossFit that have a passive center knurl. 
When shopping for a bar, look for a bar with a tensile strength over 150,000 PSI. If the barbell you're interested in doesn't make that specification available to you, then don't buy that bar. Additionally, you'll want either an end cap or snap ring sleeve design; don't buy anything with a hex bolt sticking out of the sleeve. If these last couple paragraphs confuse you, please read at least the top portion of this post regarding bar specifications and what they mean.
If you need any guidance choosing an Olympic bar, I have an entire barbell buying guide that outlines some of the best bars for the money in various categories and price ranges. Bars listed start at about $200 and include Olympic bars (including women's bars), CrossFit bars, powerlifting bars, and youth bars. You can see that post here (new window).
#2 – Bumper Plates
Next you'll need weights for your new bar. Unless you're an aspiring powerlifter, I suggest bumper plates rather than classic iron plates. Thanks to the CrossFit movement there is a lot of competition in the market where there wasn't before and it's lowered costs for bumpers considerably, so there are many good deals to be had.
Stick with reputable brands. Companies like Rogue, American Barbell, Vulcan, and HI-Temp are the most common for home use and Crossfit affiliates; with Vulcan being the front-runner in terms of quality, performance, and price. High-end competition brands like Eleiko and Ivanko are nice but are a bit of overkill for non-commercial home use – and the price difference isn't very subtle anyway.
Buying bumper plates in sets is the cheapest way to get started. The smallest set is 160 pounds which includes a pair of 10's, 25's, and 45's. If you do buy a set try to plan ahead. Don't just buy what you can lift today or else you may find yourself ordering pairs sooner than you may like, and for more than you would have paid if you bought a bigger set up front. Also don't forget you won't find bumpers for the 2½ and 5 pound plates so you'll have to get those separately in steel or as a rubber change plate package.
I have a post that gives prices and product information for a lot of different bumper plate brands. You can view that post here. I also have a different post that gives prices on bumper plate sets so you can get an idea of who has the best prices on various sets.
#3 – Pull-Up Bar / Power Rack
You can get set up with a pull-up bar a couple different ways. You can buy (or build) a wall-mounted or ceiling-mounted pull-up bar, you can buy certain squat stands that have a pull-up bar, or you can buy a power rack. If you can afford it I recommend going with a power rack. When you have a rack, there is nothing you cannot safely do in your gym. You can go heavy on bench, back squat, rack pulls; the list goes on.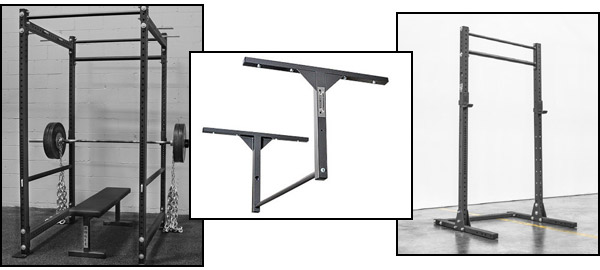 However you end up doing it, you will need something to do those pull-ups and chin-ups from. This is big deal for Crossfit and should be a big deal in any workout program. Working out your back is important and a pull-bar is the easiest way to get it done. A pull-up rig of some sort is also going to be helpful when it comes time to hang gymnastic rings.
You can DIY a pull-up bar, but honestly they don't cost that much to buy and you'd never have to second guess the stability of it. You can pick up any of these options practically anywhere. Rogue has the biggest variety by far, but you already know that. I also have a power rack buying guide that you may find helpful.
#4 – Jump Rope and/or Battle Rope
You'll need a jump rope for your double unders. Everyone should own a jump rope. The nice thing is that everyone can afford a jump rope! Matter of fact, you probably already have one! If not, $10 and you're good to go. Spend $20 and get a speed rope. Either way, very inexpensive.
Battle ropes are an optional item. I know a lot of affiliates have battle ropes since they fit perfectly into a high intensity workout program like Crossfit. I personally think that a battle rope offers one of the most intense cardio workouts you can do anywhere. To me it feels like an upper body sprint. I use my battle rope both for cardio and to help strengthen my shoulders and my forearm strength. Again, it's optional. It's just something to check out.
#5 – Gymnastic Rings

Another must for a CrossFit gym, gymnastic rings are great for upper body strength. You'll need rings for muscle ups, front levers, ring dips, ring rows, and various other movements. Rings can be made of wood, plastic, or metal; it's all about your personal preference. Rings are an inexpensive piece of equipment so there is no reason not to own a pair.
Interesting fact, Rogue's very first manufactured product was the metal Rogue rings. That was only 8 years ago and look at them now. Crazy!
#6 – Kettlebells
Kettlebells are a big part of Crossfit. You're going to want at least a small selection of kettlebells for your gym so you can swing, snatch, and clean. A full set of kettles can be expensive, but you shouldn't need too many at first. Pick up a couple kettles that you're comfortable with and then add more as you get stronger.
A couple things to look for when picking out kettlebells would be to make sure they aren't coated with an epoxy (they'll flake and chip) and to make sure there is no molding or casting seam on the handle. Some cheaper kettles have this seam on the underside of the handle and it will destroy your hands. Additionally, some have larger handle openings than others so if you are a big guy, take that into consideration as well.

The Rogue kettles claim no seam as well and have a nice powder coat finish. The Eleiko kettlebells pictured used to be readily available, but not so much anymore. I don't think anyone was buying them anyway; they were way too expensive. Vulcan Strength has some of the best kettlebells around, both training and comp.
You might be able to find kettlebells used on Craigslist in which case you should see some major savings. Just check for those drawbacks listed above. They're no good at any price if you can't use them.
#7 – Plyometric Box / Squat Box
I love versatile equipment that doesn't cost a lot of money, and plyoboxes are one of those items. You can even DIY these if your budget is really tight (or you just like to make things yourself).

Plyo boxes are available in many varieties: wood, metal, adjustable, angled, etc; and heights vary from 12″ to 24″. Use them for box jumps, step ups, or even for box squats. This is another item you can buy practically anywhere.
There are also countless DIY projects available on the web, but like the pull-up bar they are so inexpensive to buy that it hardly seems worth spending half a day on it just to save $20 – and that's if you already have all the right tools.
#8 – Medicine Ball / Slam Ball
Medicine balls have many uses, but mostly they are used for wallballs. They can also be used for cleans, push-ups, weighted core exercises like the plank, or tossing to a friend. If you have a Rogue rack, you can even buy a wallball target that attaches right to the rig. Slam balls are another option if you want a ball with a dead bounce that won't fall apart after repeating slams.
Dynamax is the go-to brand for medicine balls. They are the brand you'll see the athletes use during the Crossfit Games. They are expensive but they'll last a while.
Here's a quick video that shows a quick workout with only a medicine ball. Some of this stuff is tougher than it looks.

#9 – Weight Bench
While not usually a priority for Crossfit, you should pick up a weight bench at some point. There are numerous things you can do with a bench especially if you own a power rack; bench press comes to mind here. There are also ab workouts that can be done, skull crushers, dumbbell rows, pull overs, seated shoulder press, and the list goes on.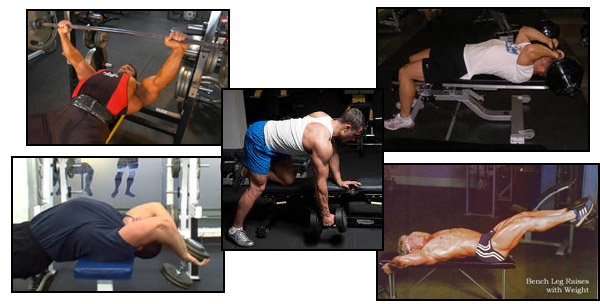 Most people won't really need an adjustable bench, so a flat utility bench should be fine. I personally dropped some decent money on an adjustable incline because I enjoy the incline bench press and I wanted to be able to do heavy seated shoulder presses in my rack. It's just a matter of preference.
A bench is one of those items that you can get away with being semi-thrifty. My best advise is look for a solid looking construction and high-density foam. York makes a relatively inexpensive quality bench and so does Rogue. There is even a bench made by Adidas that seems pretty sturdy for the money (~$85). If you're in the market for a bench, I have a buying guide for benches.
#10  – Glute Ham Developer (GHD)
As the name implies, the glute ham developer is a great piece of equipment for developing the glutes, hamstrings, core and lower back. Sadly, most commercial gyms don't have GHD's so a lot of people are unfamiliar with them. The most common exercises performed on the GHD are the glute ham raises and glute ham sit-ups. It is an amazing piece of equipment that should ultimately be considered for any gym.
I would say the GHD is a moderately expensive addition to a gym but one I do recommend. However, I wouldn't buy it before you got set up with your bar, bumpers, and rack as those items are a much higher priority.
When it comes time to buy your GHD, take a look at Rogue. They sell Legend Fitness GHD's, the Sorinex M2, and of course their own Rogue Abrams GHD. Both the Rogue GHD and the Legend Fitness GHD are nice because they comes with band pegs for adding resistance. The Rogue is also like $200 cheaper, but to be fair the Legend is a commercial piece. Vulcan has a commercial GHD for a pretty low price; that may be worth looking into as well.
Other Suggestions
Concept 2 Rower
Another popular equipment choice for Crossfitters is the Concept 2 Model D Rower. They've been around for some time, but ever since they were used in the Crossfit Games, they've kind of become a thing. I've used the Concept 2 numerous times and it's an awesome rower. If you can afford one, grab one. Expect to pay about a grand after shipping.
Parallettes
Parallettes  are another small, inexpensive item popular with Crossfitters. You can buy steel versions for less than $90 or you can make your own out of PVC. A Google search will yield many instructional articles on DIY parallettes.
Related Posts
If you made it all the way down here, then this article couldn't have been that bad, right? Please consider sharing this post and / or giving me a +1 at the very top of the sidebar on the right side. Thanks!