You have a lot of options when shopping for new kettlebells. You can run down to Wal-Mart or Dick's Sporting Goods and buy some inexpensive, plastic-coated kettlebells that'll hold you over for a little while; you can order some half-decent scrap iron kettlebells from an online fitness outlet or CrossFit shop; or you can spend a little bit more and buy some real kettlebells – and by real I mean kettlebells that are made of high quality materials, accurate to claimed weight, ergonomic & well-balanced, and durable enough to never crack, dent, or fall apart.
Of course, even among the good kettlebells you have many options; many brands to choose from; but there are two brands in particular that I'd like to talk about here: Vulcan Strength and Kettlebell Kings. Both of these companies put out high-quality, professional-grade kettlebells – kettlebells that they themselves research, design, and continually try to improve upon.
Kettlebell Kings does nothing but design and sell kettlebells, giving them a slight edge in the market. While they do indeed offer many of the cheaper kettlebells like those that you'd find in a box-store or at a fitness outlet, they also offer two high-end kettlebell lines – namely their Powder Coated Training Kettlebells, and the Sport Competition Kettlebells. These are the two that I'll be talking about and comparing to Vulcan.
Vulcan Strength, on the other hand, isn't exclusively a kettlebell manufacturer. Rather they are a full strength training equipment manufacturer. In addition to kettlebells, they offer professional Olympic barbells, a massive selection of bumper plates, and even power racks. So while they are not hyper-focused on a single product line like KK, they are indeed huge innovators; especially when it comes to kettlebells and barbells. Matter of fact, Vulcan Strength may be the most committed when it comes to kettlebell R&D, as I personally believe they have the best training kettlebells on the market right now.
In any case, I will be comparing both training and competition kettlebells from these two companies. Again, you do have other options out there, but since these two are currently the most popular for serious athletes and because I have kettlebells not only from both of these companies, but from both product ranges, they are the two that I'll be talking about.
---
Training Kettlebells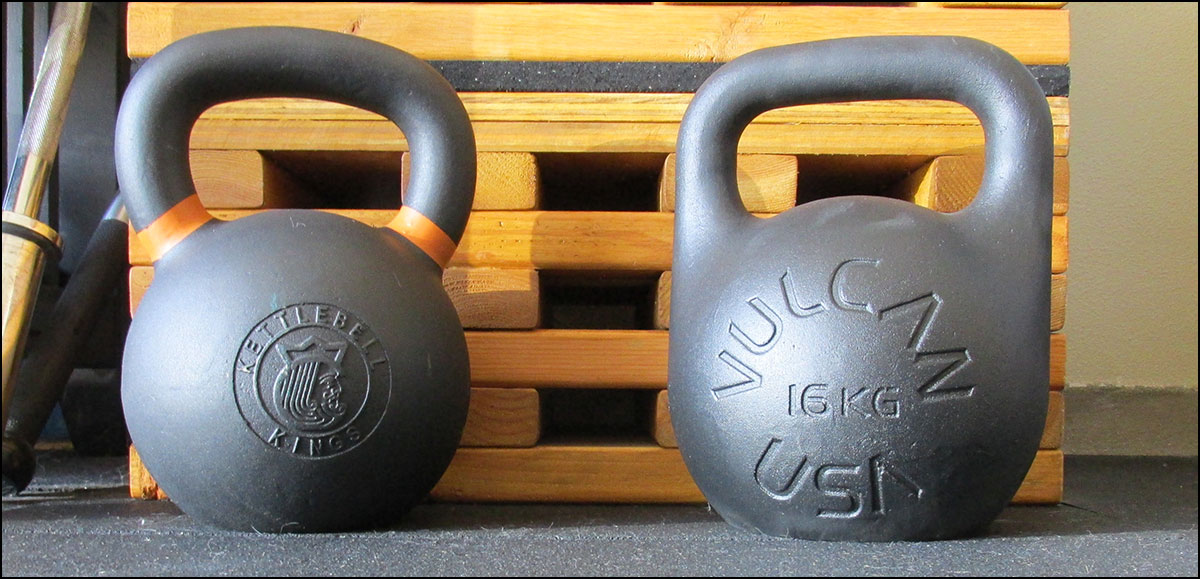 Training kettlebells are just what they sound like – the standard kettlebell model for your workouts. They tend to be made of cast iron rather than more expensive steel, they are typically finished in a black powder-coat rather than being in full color (though often times they'll have a hint of color), and the shape and size of each unit changes with the weight. These are the kettlebells that most of us will own in a garage gym, and what most commercial gyms and boxes will have. In terms of overall quality, features, and of course price, training kettlebells are the way to go 95% of the time.
Kettlebell Kings Powder Coated Kettlebells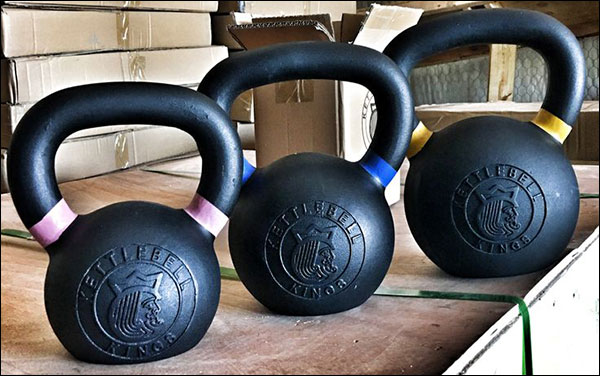 Kettlebell Kings' Powder Coat Kettlebells look very similar to the plethora of other traditional-style training kettlebells out there, but they're actually both different and better.
The most obvious difference between Kettlebell Kings' training bells and the other brands is the overall finish. Kettlebell Kings' are smooth and refined, having no major surface imperfections to speak of. In addition to that, the powder coat finish is the smoothest in the industry, and without any loss of grip security. It's basically a high-quality, comfortable finish that is both secure and smooth enough for extended training sessions.
In addition to the refined surface and great feel of the finish, Kettlebell Kings' training kettlebells are also durable. They are single gravity-cast kettlebells with no welds and no flashing. They are also accurate, color coded for easy identification (colored rings around the base of the handles), and are stamped in both pounds and kilograms.
These are solid kettlebells. There are no imperfections to cut up your hands, the bases are flat and sturdy enough for ground work, they are warranted for life against defects, and the powder coat really is top-notch. Another minor perk is that the logo and the weight identification is etched into the kettlebell, not glued or painted on. We've all seen those cheap kettlebells where the weight was a separate piece that eventually breaks off leaving the bell looking trashy, and possibly missing identifying weight information.
Not only do these make a solid competitor to the Vulcan kettlebells, you can compare these to the likes of Rogue, Dragon Door, Onnit, and more. Check this out if you've got Rogue kettlebells on your list.
KK Sample prices:
8 kg – $55.99 shipped
16 kg – $79.99 shipped
24 kg – $101.99 shipped
32 kg – $131.99 shipped
Vulcan Strength Training Kettlebells

Vulcan has done away with the classic, cast-iron kettlebells even when it comes to their non-competition bells. Vulcan's Training Kettlebells are single piece, gravity cast from steel just like their Absolute Competition bells. They have minimal surface imperfections, no toxic fillers, a fantastic powder coat that offers a killer grip, and best of all; each and every bell in the training line up is the exact same size – just like competition bells.
Prices for Vulcan's Training Kettlebells are pretty low when you consider that you're basically buying uncolored competition bells for the same price that you'd pay for good cast iron bells. You get the advantage of a larger hand opening on the lighter bells, a consistent handle diameter and hull size among all weights, and a more balanced unit due to the use of steel over iron. About all you give up is the colored bands – and that doesn't seem like so much considering the advantages.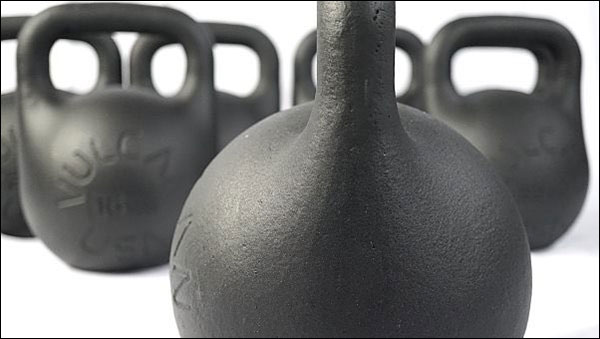 Of course, if you like the scaling sizes of standard training kettlebells (as in you like the smaller size of the lighter bells) then you're going to want to stick with something like the Kettlebell Kings Powder Coated training bells. You will also find that there are no Vulcan Training Kettlebells over 32 kg at this time, so if you need heavier than that you'll need to look elsewhere as well. Still, for standard sizes these are the bomb, and hard to pass up.
Vulcan Sample prices:
8 kg – $47.99 shipped
16 kg – $84.32 shipped
24 kg – $118.45 shipped
32 kg – $139.48 shipped
---
Competition Kettlebells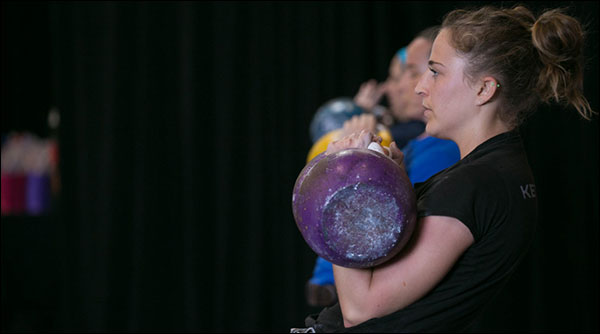 Competition kettlebells have a couple of special features that make them different from basic kettlebells, and the most important of these is that each and every kettlebell in a competition set is the same size; only the weight changes. This means the handle diameter, handle opening, and the overall size of the kettlebell are exactly the same whether you're using 8 kg, 48 kg or anything in between. This uniformity allows you to maintain the same form at all times (same rack position, same resting position on forearm, etc.)
Another fairly obvious difference between training and competition kettlebells is the use of color on the center mass. Just like in Olympic weightlifting, the colors are simply a way to identify the weight of the kettlebell from a distance. This is generally meant for spectators at a Girevoy Sport competition, but the colors can also helpful for easy identification in a gym setting – so much so that even basic training kettlebells are getting color added (usually around the base of the handles).
Vulcan Strength Absolute Competition Kettlebells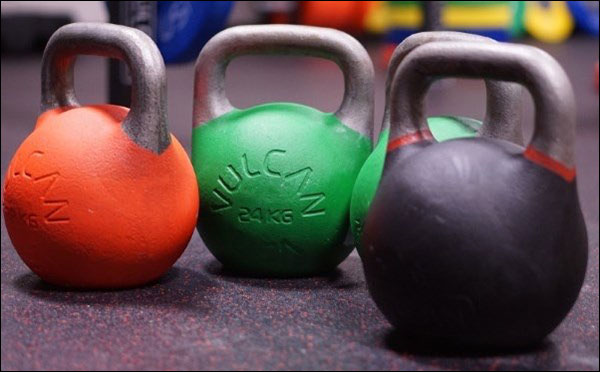 Vulcan's Absolute Kettlebells are probably the most well-designed competition kettlebells currently on the market. They are constructed of high-quality steel rather than being cast from iron, and there are no fillers, no toxic chemicals, and they will never crack or dent. The entire kettlebell is blasted with micro glass beads to create a uniform texture before being painted or powder coated (depending on version – Vulcan has switched from paint to powder coat), and the handle is left as unfinished steel; which provides a great, natural grip both with and without chalk.
As with all competition kettlebells, every kettlebell in the Absolute set has the same exact dimensions – that is to say that the 8 kilogram Absolute is the same size as the 36 kilogram Absolute. The handles are a consistent 35 mm in diameter, the height of each unit is 280 mm, and maximum diameter of the hull is 210 mm. They are sold in 2-kilogram increments from 8 to 36 kg, and with the exception of the 16, 24, and 32 kilogram Absolutes, all are guaranteed accurate to within 1% of stated weight (the 16, 24, and 36 are actually accurate to within 100 grams!)
One of the major advantages of the Absolute Kettlebells is that they are ergonomically designed to increase performance while lowering the incidence of injury to the wrists and forearms. To use Vulcan's words: The design of the Vulcan Absolute Kettlebell allows the handle of the kettlebell to sit further down on the lifters forearm, bringing the majority of the weight proximal to the lifters body. All other designs of competition kettlebell handles fit higher up on the lifters wrist displacing the majority of the weight to a more distal position away from the lifters body.
Of course I have a small collection of Absolutes, and I can say without a doubt that they are among the nicest kettlebells I've ever owned. They aren't cheap, but they're balanced, accurate, functional, and well-refined. As I expand my collection to include more weight variety, it will almost certainly be with more Absolutes.
Vulcan Absolute example prices:
8 kg – $65.79 shipped
16 kg – $109.88 shipped
24 kg – $149.04 shipped
32 kg – $187.02 shipped
Kettlebell Kings Sport Series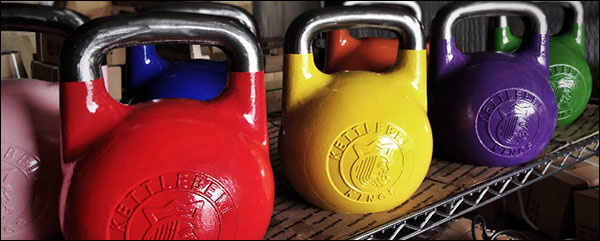 Like the Vulcan Absolutes, the Sport Series Kettlebells from Kettlebell Kings are single-piece steel, gravity cast kettlebells. There is no welding, no fillers like saw dust or ball bearings, and of course all bells in the series have the same dimensions. The handle diameter is the international standard at 35 mm, and every unit is  guaranteed to be accurate to within 0.3 kilograms; which is fairly accurate, but not quite as accurate as the bulk of the Vulcan Absolutes.
The KK Sports and the Vulcan Absolutes look very much alike, but they do have some noticeable differences that you should know about. The biggest difference between the two is the shape and size of the handle opening. Kettlebell Kings went with a smaller, more compact opening, the idea being easier hand insertion, with the goal being a more comfortable hand position in both the rack and overhead position. This is supposed to be a benefit, and it very well may be for athletes with smaller hands, but the larger opening of the Absolutes is better suited for me with my large hands, and probably will be more suited for any man with average-sized or larger hands.
Another difference between the KK Sports and the Vulcan Absolutes is the finish. Up until recently both were painted, but Vulcan is transitioning over to colored powder coat while Kettlebell Kings is still using paint. I guess it's tough to maintain color consistency with paint for some reason, or at least it's easier with powder coating. Doesn't really matter why – finish material isn't really that big of a deal anyway. If the smaller handle opening of the Sports appeals to you I certainly wouldn't abandon them because they were painted versus powder coated.
Kettlebell Kings Sport example prices:
8 kg – $59.99 shipped
16 kg – $96.99 shipped
24 kg – $124.99 shipped
32 kg – $149.99 shipped
Absolute VS Sports?
Both are great competition kettlebells. The Absolutes will probably feel more comfortable to average-sized to large men due to the larger handle opening, but the Sport prices are slightly more affordable (and therefore more appealing) than those of the Absolutes. Both manufacturers are offer an accurate, gravity-cast, steel unit with no welds and no fillers, and both are warranted for life against cracking or denting.
Vulcan Absolutes are offered up to 36 kilograms in 2-kilogram increments while the Sports are offered up to 48 kilograms – making for a higher max weight and a larger possible collection. Truthfully there are arguments to be made for both brands, so you'll have to weigh the pros and cons based on your personal goals and needs.
It's worth mentioning that with the existence of Vulcan's Training Kettlebells, it may not even be necessary for you to buy competition kettlebells at all. Vulcan's training set offers almost all of the advantages of competition kettlebells at a much lower price, only without the benefit of color. Each unit is the same uniform size, they are cast from steel instead of iron, and they offer the same ergonomical advantages. Color them yourself with acrylic paint if you care about that.
To read about a few more brand options, check out my Kettlebell Guide here.