Have you decided to incorporate kettlebells into your workouts? Thanks in large part to Crossfit, kettlebells are very popular these days. Of course it's not just Crossfit that made kettlebells popular. The kettlebell has been a great tool for improving full body strength (with an emphasis on the legs, lower back, shoulders, and core) for some time; so it was just a matter of time until the kettlebell joined the strength training equipment ranks alongside the dumbbell and barbell.
There isn't a whole lot you need to know about the kettlebell itself. It's basically a cannonball with a handle. And while you should seek out guidance on how to safely use them, the process of selecting bells that you will both be happy with and get years of use out of is fairly simple. Having said that, don't just rush out to the nearest Academy or Wal-Mart and buy a kettlebell. I said there isn't much to know, but there is still some stuff to know.
First I'll cover what to look for in a kettlebell, then I'll offer some recommendations based on that.
Kettlebell Handle Grip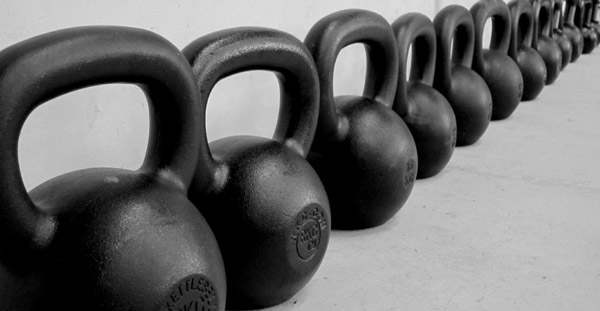 Handle Seam (Flashing)
The process of casting a kettlebell leaves a seam (or flashing) across the middle of the underside of the handle. This seam needs to be filed down before the kettlebell is coated or finished so that there is a nice, even surface to hold on to. Cheaper kettlebell manufacturers will make no real effort to remove this sharp seam, and your hands will suffer for it (and potentially bleed from it).
Make sure before you buy any kettlebell that this flashing has been removed. Run your hands around the entire handle, especially underneath. This shouldn't be a huge issue for kettlebells from reputable companies like Dragon Door, Rogue, Vulcan, etc; but if you're looking for kettles in sporting good stores or box stores like Target or something, take a really good look. Honestly, I don't suggest buying fitness equipment from these stores, but if you must, at least you know what to look for.
Handle Diameter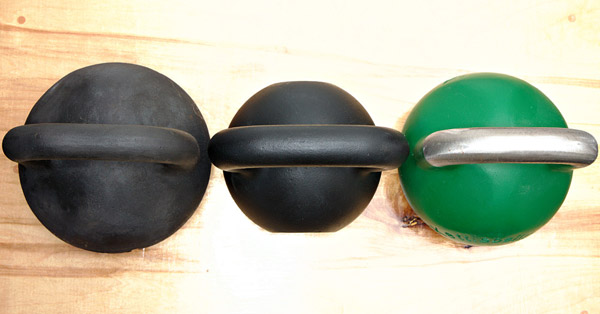 Depending on the size of your hands, you may want to pay special attention to the diameter of the handles. Not all companies publish this number on their websites or packaging, but some do. Expect decent kettlebells to have handle diameters starting at about 30-31 mm and go up to around 38 mm for the heaviest bells. Cheap kettles can have super narrow handles that are nearly impossible to hold on to during kettle swings and are total junk for snatches; so you don't want that.
Most standard kettlebell handles will get thicker as the weight goes up. Competition kettlebells will generally have a uniform handle diameter regardless of the weight (33 mm). These are more expensive, but if you want consistency, these are an option.
The real point here is to avoid kettles that have really skinny, cheap handles. Like with the seam issue, this won't be a problem if you avoid the super cheap box store brands like Gold's and CAP.

Handle Width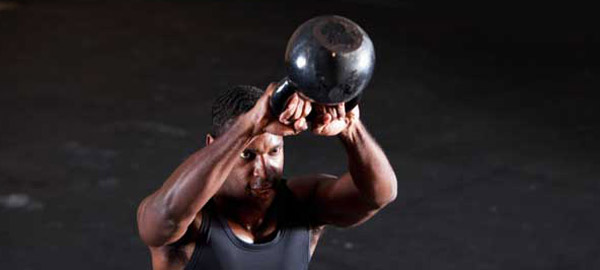 For some movements, you need both hands to be able to fit within the handle without it being too tight or uncomfortable. While the handle tends to get wider as the weight of the kettle goes up, some manufacturers like Rogue and Ader make kettlebells that have handles that extend out past the diameter of the ball in a V shape for their smaller weights (see image directly below). If you have large hands, you might need to consider one of these brands.

Going back to the competition kettlebells, they also have a consistent handle size among all weights. So if you're willing to spend the extra money on competition kettlebells, you can be sure the handle opening is large enough for two hands regardless of weight.
Handle Finish

There are a few different finishes available for kettlebells. The main options you'll run into is enamel, vinyl, powder coating, and bare steel. Powder coating is what nicer standard kettlebells like the Rogue Kettlebells will have; this is great for holding chalk during long sets. Bare steel is what the competition kettlebell handles will have, and it's what I personally prefer. Enamel is fine, but vinyl coating is not really recommended and is most commonly found on the lesser quality brands. The kettlebell on the left in the above picture is a CAP. It's very pretty, but it's junk.
Kettlebell Construction
There are two methods typically used to make a kettlebell: one piece casting or two piece assembly. The latter method involves attaching the handle to the ball, and is not as strong or secure as the one piece casting. You don't want the weighted ball to come flying off the handle during a swing. I'm pretty sure that flying cannonball is going to destroy whatever it hits no matter what weight it is.
Kettlebell Base
If you intend to do any movements that use the kettle as a ground fixture like renegade rows, handstands, or mounted pistol squats, you will want a kettlebell with a completely flat bottom. Again, shouldn't be an issue with a reputable kettle, but some of the cheaper brands do not sit flush on the ground; rather they wobble around. If you buy from a brick and mortar store, check it yourself. If you're not sure of an item you see online, read the reviews.
Stated Weight
A huge problem with cheap fitness companies that make kettlebells, dumbbells and Olympic plates is a huge variance in the weights of their gear. I've heard of CAP dumbbells that were off by pounds. Not grams, not even ounces. Pounds! So if you bought an 18 pound kettlebell that was 2 pounds heavy and a 24 pound kettlebell that was 3 pounds light, what you now have are two kettlebells of practically the same weight. That's no bueno. So stick with reputable companies.
Some Suggested Brands
Vulcan Training Kettlebells
Vulcan's Training Kettlebells are unique for a couple reasons. For starters, they are steel rather than classic cast iron, which means they are of a higher quality and more evenly balanced. Secondly, like competition kettlebells, they are all uniform in size regardless of weight. This uniformity allows for quick and easy progression between weights, and it also means you can get both hands in even the lightest of kettlebells.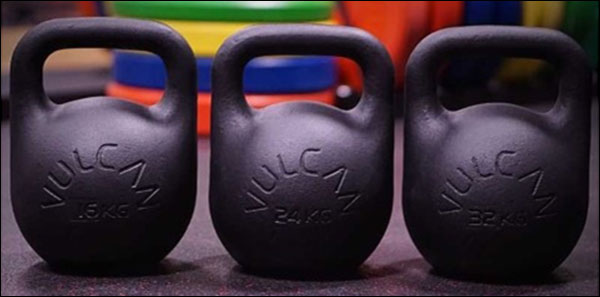 When it comes down to it, these kettlebells are closer to competition kettlebells than training kettlebells. You get just about all the advantages of comp bells, only no color and a more reasonable price. They are powder-coated, have a height of almost 11″, have a diameter of 8.2″, and the handles are 35 mm in diameter. They are available in 4 kg increments from 8 kg to 32 kg. Winner winner.
KettleBell Kings Powder-Coated Kettlebells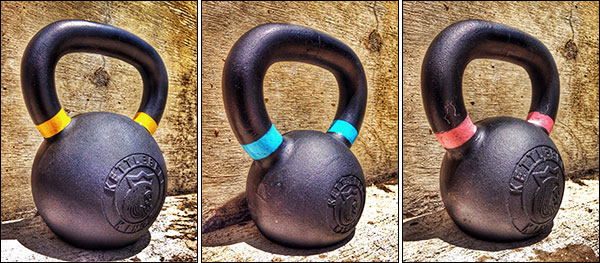 You could say that Kettlebell Kings knows a thing or two about kettlebells, as kettlebells are just about all they sell. Their Powder Coated Kettlebells are basically their version of training kettlebells – very similar to the Rogue kettlebells discussed below. Like the Rogue's, they are black powder coated with identifying colored bands around the base of the handles, they are available in all the same weights (9-203 pounds; or 4-92 kilograms if you prefer), and they are made of a single gravity cast rather than assembled.
The Kettlebell Kings version isn't completely the same though. The powder coat finish is smoother to the touch with less surface imperfections while still being grippy enough to use securely with or without chalk. Kettlebell Kings also guarantees accuracy to within 0.3 kilograms or will replace the kettlebell at no cost. Of course there is also the advantage of buying a kettlebell from a company whose sole goal is to design, improve upon, and sell kettlebells.
Prices for KB Kings' kettlebells already include shipping, so keep that in mind when price shopping and comparing against units that do not yet include the cost of shipping. Here is some further reading for those having a hard time deciding on where to buy a kettlebell.
Rogue Kettlebells & Monster Kettlebells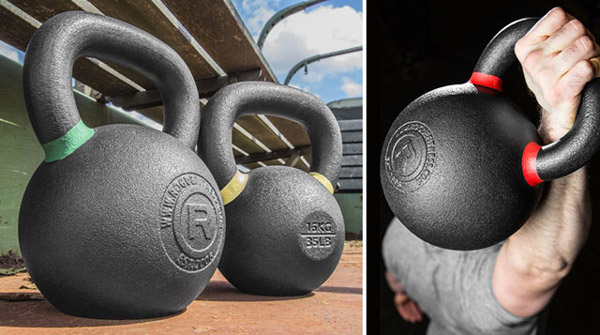 The Rogue Kettlebells are very nice kettlebells. They are completely finished in a black powder coat save for the colored stripe around the base of the handles for quick and easy weight identification. They are offered in 17 different sizes/weights ranging from 9 pounds to a massive 203 pounds (approx 4-92 kg).
Rogue uses high quality ore rather than scraps, and their finishing process leaves a seamless, smooth surface free of defects. They are one-piece castings with a wide, flat base and the powder coat holds chalk very well. These are both functional and classy kettlebells, and they sell for very reasonable prices (starting at $22.)
American Barbell Pro Kettlebells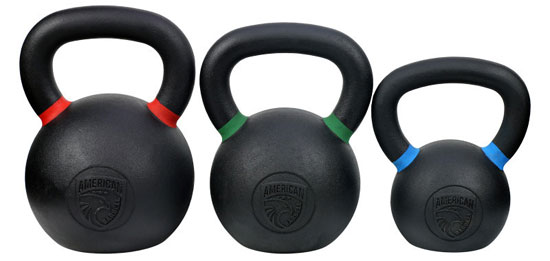 American Barbell kettlebells are colored-coded around the base of the handles just like the Rogue kettlebells. They are cast iron with a textured, chip-resistant surface that works well with chalk, and a large, flat base for extra stability and ground clearance during swings. They also sport the fancy American Barbell logo; easily the coolest logo in the industry.
These are sold in kilograms (2-48 kilograms), but the weight in both kilograms and pounds is etched into the backside of each kettlebell so you kind of get the best of both worlds. Prices start at $22, and they are pretty consistent with Rogue pricing. It's kind of a wash between Rogue and American Barbell.
Vulcan Absolute Kettlebells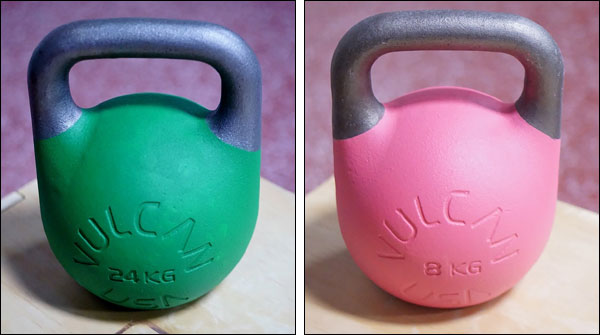 Vulcan Strength is one of the leading sponsors of the sport of Kettlebell Lifting, and they are serious about their kettlebells. The Vulcan Absolute Kettlebells are proof of that. Rather than pumping out just another basic kettlebell and then having a price war with everyone else, Vulcan puts some serious time and effort into the R&D of their Absolute kettles. The Absolutes are made entirely with high quality steel, are guaranteed to not crack or dent for life, don't chip easily like painted bells, and there are no toxic chemicals used as either fillers or in the powder coat finish. I have a couple of these Absolutes and they are the bomb.
Vulcan makes a lot of technical information about these kettlebells available on their website; much more than I can fit here. If you're serious about the quality of your competition kettlebells, this is definitely a unit you should look into and read more about.
Kettlebell Kings Competition Kettlebells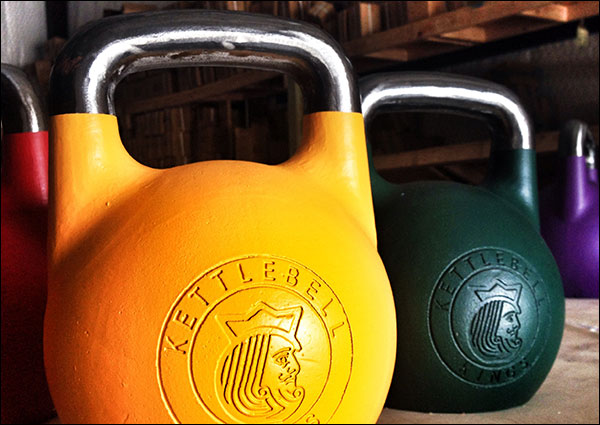 These are very similar to the Vulcan Competition Kettlebells discussed above. Kettlebell Kings Sport Competition Kettlebells are gravity-cast, one-piece, high-quality steel kettlebells with no fillers, no rattling, and no welding. They are accurate to within 0.3 kg, guaranteed for life, and color-coded. Sizing is of course consistent among all weights being that they are competition bells, and the handle diameter is as it should be at 35 mm.
When it comes to choosing between the Vulcan Competition Kettlebells and the Kettlebell Kings Competition Kettlebells, the biggest difference is the size of the handle opening. KB Kings boasts a narrower opening, making for easier insertion with better comfort overhead and in the rack position. The opening on the Vulcan Absolute is simply more standard in size and shape making it probably a better choice for those who are less likely to actually do competitive lifts, or those who just have large gorilla hands like me. Either way you go, I think you've got a kettlebell for life.
Rogue Competition Kettlebells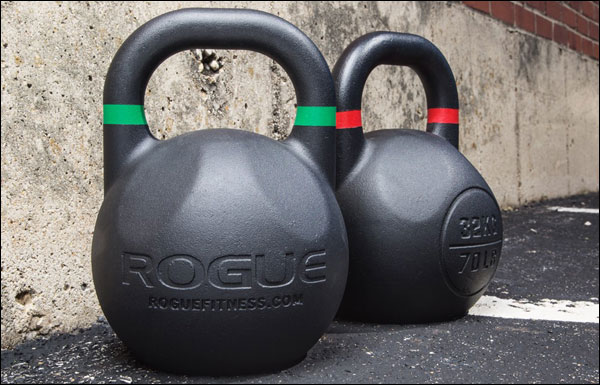 The upgrade to Rogue's standard kettlebells, Rogue Comp Kettlebells are available from 8kg to 48kg, and all weights share the same base diameter (5½"), height (11.1″), and handle diameter (33mm). This allows for smooth transitions when moving up with weight.
Each comp kettlebell also includes a smooth, blemish-free surface with a matte black powdercoat finish and four specially contoured flats—reducing friction and discomfort during overhead presses, cleans, and snatches. Rogue also included the color-coded band around the handle.
Prices range from about $48 (8 kg) up to about $300 (48 kg), so they are much more of an investment than non-competition kettlebells. Like the American Barbell kettlebells, Rogue included the weight in both pounds and kilograms on the backside of the bell. Pretty fancy!
Ader Pro Grade Kettlebells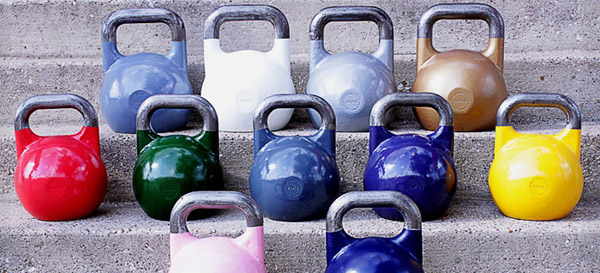 These are competition kettlebells. What that means is that regardless of the weight, they are all the same size; both the casting and the handles. They are color coded and have  bare steel handles 33 mm in diameter. These are nice, more expensive, and shouldn't really be necessary for most people. However, if you like the colors and have the money, go for it. They are also available in a set that ships for free (single units do not ship free).
Thompson Fatbells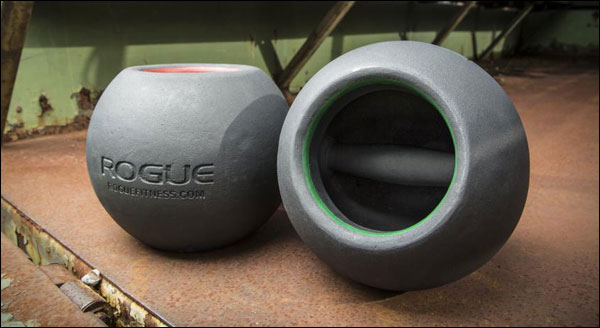 Brand new and already a huge hit, these weighted fist bells are the brain-child of powerlifter Donnie Thompson, and man are they badass. They're called Fatbells, and as you can see, the handle is basically just moved into the bell itself as a way to balance out the whole bell. The result, as Donnie Thompson explains it himself, is a "perfect geometric shape for maximizing optimal performance," as your hand and the bell essentially act as one. The center mass design allows athletes to improve the efficiency and balance of every swing/press while also reducing common kettlebell safety risks.
Fatbells are available in 15 different weights and sizes ranging from 9-pounds to 150-pounds (good luck with that). Prices range from $24 to $195 plus shipping. Check out the product page for individual sizes, measurements, and various applications.
I'm tellin' ya, this is a new product, yet the product page is already piling up reviews, and half of them are constantly out of stock. You'll probably have to sign up for e-mail notifications to get your hands on these (or in these, that is). Pretty damn cool!
Honorable Mentions:
RKC Dragon Door Russian Kettlebells – Very popular kettlebells. The RKC Dragons are slightly more expensive than the Rogue's, but some people swear by them. They're one of the few quality kettlebells available for sale on Amazon, which means often times there are deals on shipping for Prime members.
Ader Kettlebells – These are the non-competition Ader's. Another popular option for basic kettlebells. They are solid, reliable, and no frills kettles. These can be found from many retailers and are available in sets with free shipping from Rogue.
For those not looking to spend a fortune on performance kettlebells, or those who just need a couple light kettlebells for pre/rehab, I would suggest taking a look at the other lines of kettlebells from Kettlebell Kings. Obviously their powder coated and competition kettlebells are their flagship models, but they sell half a dozen other more affordable styles as well – great for those who simply need the weight, not the bells and whistles.
Final Thoughts
There are tons of kettlebells on the market. Many more than I can review here. However, I am confident that I've given you enough information to make an informed decision when shopping for kettlebells.
There are also "fun" kettlebells. Those where the ball isn't ball, but rather is cast to be a zombie, demon, clown or whatever. They are neat, but check for all the same things that you would with a standard kettle. Also, some of those custom kettles have very sharp features, so be careful with them.
If you made it this far down the post, you liked something about it, right? If so, please consider giving me a +1 at the top of the right sidebar, or sharing this on your preferred social media site. Thanks!