Let's face it, not everyone enjoys jogging or biking outside for their cardio. Not everyone is involved in a sport that gets them loads of cardio each week either. There are those among us that prefer to run on a treadmill or an elliptical, or use some other piece of home cardio equipment in the comfort of an air conditioned room rather than go outside.
There is absolutely nothing wrong with preferring your cardio to be indoors if that's what it takes to get it done – especially if you live in a particularly hot or cold part of the world. The downside to that is that most outdoor forms of cardio are fairly inexpensive while training on indoor cardio equipment can be costly. Let's go over some ways to do your cardio and burn those calories at home inside your house or garage.
Last update: December 21, 2017 – minor edits, added Bike/Ski Ergs
---
Nearly Free Home Cardio Equipment
Let's look at some inexpensive ways to get your cardio done at the house before we look at expensive home cardio equipment. Now these might not all be completely free, but they are certainly more affordable than equipment like treadmills, stationary bikes, and rowers.
Jump Ropes and Speed Ropes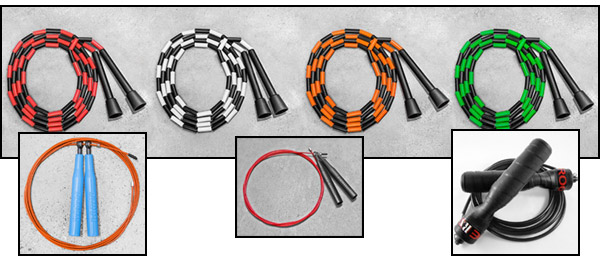 You can get a jump rope for as little as a $5-$10 bucks. Even if you buy a fancy prescription speed rope, you'd be hard pressed to spend over $50 on it. In other words, jump ropes are cheap.
Not only is it affordable, but jumping rope can burn all the calories you'd ever want in less time than it takes on an expensive machine. Additionally, learning to jump rope can be a lot of fun. There's a lot more to do than just jump up and down; even a double-under is just the tip of the iceberg when it comes to jump rope skills.
Punching Bags & Boxing
Another semi-affordable way to get that cardio done at the house is to buy a punching bag and lay in on that for half an hour. Boxing burns a ton of calories, builds muscle in addition to burning calories, and can relieve a ton of stress. Not just that though, your balance and coordination will improve and your response times will go down. There's just a ton of good that comes from beating the shit out of a bag.
Punching bags can be had for less than a hundred bucks and hung by anyone with a ladder and a drill. Gloves are inexpensive as well. I strongly recommend you get a lesson on how to properly throw a punch so that you don't hurt your wrists or hands, but after that it's just smooth sailing to a toner, thinner you.
Dancing?
Yeah dancing. Dancing is definitely cardio. When was the last time you saw a fat dancer? Learn some choreography, buy dance lesson DVD's, or get lessons off YouTube. You can even play games like DDR (Dance Dance Revolution) on your game console. You'll burn calories, tone up, become more flexible and coordinated, and you should have a blast with it. it's a win win, and it's free to do as often as you'd like.
---
Semi-Affordable Cardio Equipment
So okay, you want a piece of real equipment to do your cardio on? Most cardio machines of quality run in the thousands of dollars, but there are some options for less than a grand that will give you great cardiovascular workouts. Let me show you a few of them. But first…
I strongly suggest that you avoid buying your cardio equipment from sporting goods stores or the Wal-Mart type stores. 90% of that stuff is total junk. Even though it's cheaper to buy crap than a quality piece, it's still a lot of money to throw in the trash; which is what you are ultimately doing. Buy it used, buy on sale, or buy something different, but please don't just waste your money on junk just because the price looks nice.
Air Resistance Bikes – The Schwinn Airdyne
Air resistance bikes are not about long, slow cardio sessions in front of a television. These bikes actually take effort to keep going; the faster you pedal, the harder the resistance and the harder they get. If you want to burn some serious kCals and build endurance, air bikes may be for you. On the other hand, if you like the slower, low heart rate cardio for extended periods, this is probably not the product for you.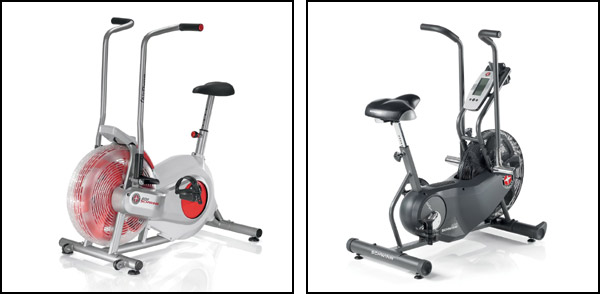 The Scwinn AD2 is the home variant of the Air Dyne, and it is extremely affordable at about $300. The Schwinn AD6 is a heavier-duty version of the bike and sells for closer to $500. While many CrossFit outfitters sell the Airdynes, Amazon has much lower prices on these and offers free shipping to Prime members. If you're on the fence about air bikes, there are so many reviews at Amazon you may find what seals or breaks the deal for you by reading some of them.
Crossfit Cardio – The Concept 2 Rowers
One of the most popular pieces of equipment for improving endurance and burning calories indoors is the Concept 2 rower. They are everywhere these days, and for good reason. The Concept 2 has proven itself time and time again to be a tough, durable, and very affordable rower – the best on the market. Check out my article on the Concept 2 Rowers and to see why rowing is so popular here.

Concept2 offers two other similar products that may be worth checking out; the SkiErg and the BikeErg spin bike. Now I'm a big fan of the Skierg; I actually sold my Model D rower and replaced it with one. The BikeErg is relatively new, but it is basically a normal spin bike only it has Concept2's proprietary flywheel. End of the day, all of Concept2's equipment is A++.
---
Commercial Cardio Equipment
The cardio equipment that follows is all commercial-grade equipment from major equipment manufacturers. This is the kind of equipment that you'd see at the global mega gyms. While expensive, this equipment offers the most in the way of features and warranty and it should last forever.
Commercial cardio equipment is a big commitment, so please research any item you are interested in thoroughly before buying. Read those reviews and scan those features. Make sure it has what you want (incline, heart monitoring, training programs, etc).
Life Fitness T5 Treadmill
This treadmill should look familiar to anyone who's used a treadmill in a commercial gym, as Life Fitness dominates the cardio sections of these facilities. They are popular for good reason; they have larger running decks to accommodate athletes of all sizes, durable and sturdy frames, reliable parts, and more features and options for changing up workouts.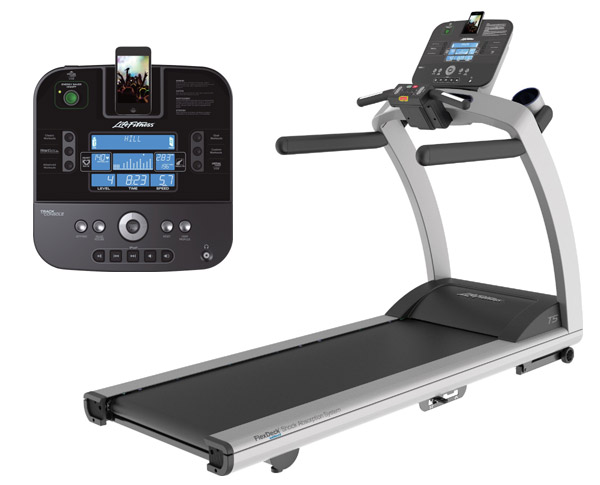 This particular treadmill is a commercial quality unit designed for home. It has an adjustable running surface that allows you to change the firmness of the running deck, a 15% incline, and speeds up to 12 MPH. There are pre-programmed and customized workouts, and you can track your heart rate either with the contact grips or with wireless monitors (the strap is included.)
There are two console options for the T5. The T5 Go and the T5 Track. The Go is standard, and the optional Track allows you to connect to your Android and Apple devices to access personalized workouts, get real-time workout tracking, and connect to and use other fitness apps. Price for the Go is $3999 and the Track is $4399.
Lifespan TR1200-DT5 Treadmill Desk
It was only a matter of time, right? First of all this isn't cardio in the true sense. You are not going to get your heart rate up into the 150's with this. However, if you are overweight and need to burn all the calories you can in the course of a day, this may be ideal for you. This treadmill only goes from .4 to 4 MPH, but that's all you need if the idea is to keep moving for hours on end while you work.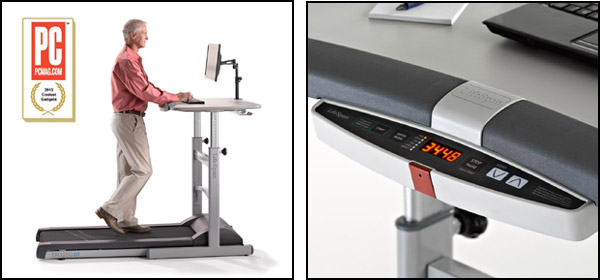 Again, this isn't going to make you look like the girls and guys you see at the Games, but it is a start if you have a lot of weight to lose. It has a lot of nice features and adjustments and can handle a user up to 350 pounds. Amazon has this for $500 less than MSRP at around $1500. If you're interested in this, there is no shortage of reviews and answered questions about this product on the product page there at Amazon. It's highly rated, too.
Precor EFX 5.33 Elliptical Crosstrainer
Another easily recognizable cardio machine for ex-global gym members is the the Precor EFX elliptical. Precor machines are the go-to for low impact, indoor, cross-training. Precor ellipticals have adjustable ramps and variable strides, up to 20 levels of resistance, loads of preset fitness programs, and dual handlebar/wireless heart rate monitoring. While the EFX machines are available both with and without moving handlebars, I have to believe the full-body option is a better choice.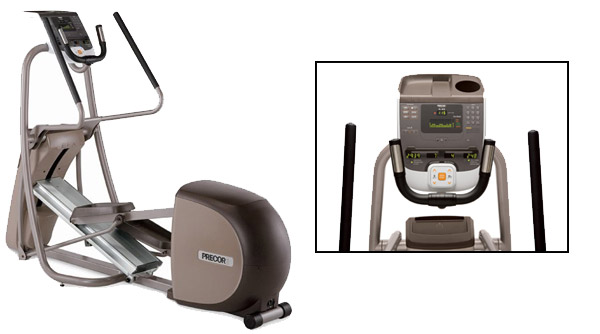 There are many generations of the Precor EFX Cross-Trainers. The EFX 5.33 shown above is $4499. The older EFX 5.25 Cross-trainer is only $2999 but has less resistance and fewer adjustments. The full-blown commercial unit is the EFX 835 and it'll outlive us all. Amazon sells most versions direct which means you can get below MSRP pricing. Alternatively most major cities have commercial fitness equipment stores with sales people that you might be able to beat a deal out of… if you enjoy haggling.
Used is another option. You can find used units at auctions for closing gyms, Craigslist, and even again on Amazon. It never hurts to look and see what's out there. Keep in mind that Precor has a different division of home equipment; cheaper stuff that you'd see at Academy or other box stores. It's not the same quality stuff, so check the model number online before you buy if you're unsure.
The Assault AirBike
This is the more industrial version of the air bikes, similar to the AirDynes mentioned above. It works the same way as the AirDyne in that the resistance is created by a giant fan, and it gets harder and harder to pedal the faster you go. The Assault Airbike has strengthened and improved the frame, crank, pedals, and more to be sturdier than the AirDyne bikes. It also has a slightly better console, although none of the air bikes have 'great' consoles when compared to commercial treadmills and ellipticals.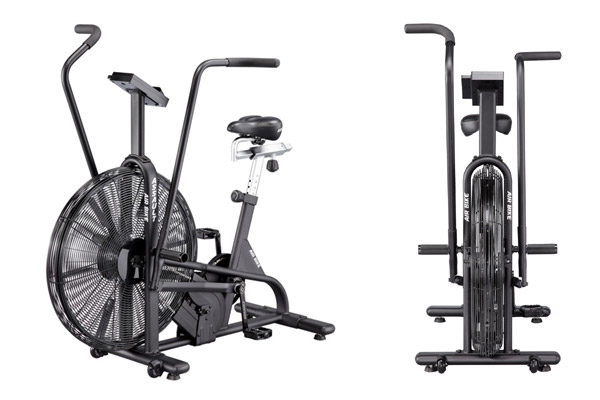 The Assault bike is available from Rogue Fitness for $999 and ships for free. They don't discuss the warranty on their site, so that may be a question worth asking them if you're interested in this bike. The seat is ultra adjustable in that it moves both up and down and front to back to adjust for all kinds of height differences.
Life Fitness C1 Upright Lifecycle
This is the home version of the commercial bikes you see at the gym. While I personally am not a huge fan of indoor bikes, a lot of people love them. You can really get a good workout while being able to distract yourself from what you're doing with a book or while in front of a television. If that's what some people have to do to get the cardio in then go for it.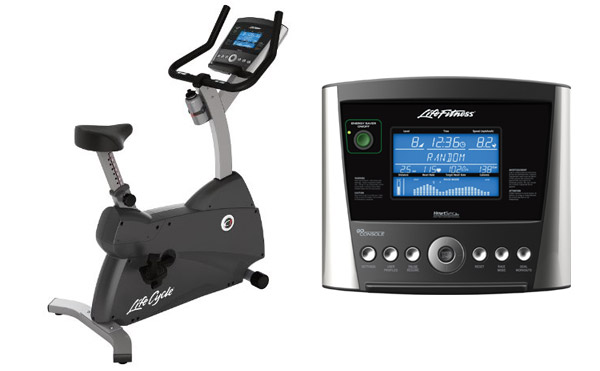 As with the Life Fitness treadmill covered above, this bike is available with the standard Go console or the upgraded Track console. The difference being the Track allows for wireless connections to iPod, iPhones, Android, and other third-party apps. It's a pretty expensive upgrade, but to each their own. The C1 Go is $1399 and the C1 Track is $1799; both ship free from Amazon.
End
If you have a quality piece of equipment you think belongs on this list, leave a comment and tell us why. If you have any of these items listed and you hate or love them, share that with us as well. Please also consider sharing this post with your friends.
---