If you're looking to add a GHD to your garage gym, that's awesome – the GHD is an amazing piece of equipment to have in your arsenal. Having one opens the door to many important exercises that are difficult to replicate without one.
In this article, I'll talk about what those exercises are and why GHD access is important. Then I'll take a close look at some of the GHD's out there so you can see what options exist – a GHD review of sorts. Finally, I'll add videos at the bottom so folks who are new to the GHD can see some of the movements in action.
GHD Review Table of Contents
Why Own a GHD?
I'm probably not telling you anything you don't already know, but the glute ham developer is hands down one of the best tools for developing the posterior chain, building strong glutes, and promoting core-to-extremity power. It's also one of the few efficient ways to isolate and really get at your hamstrings outside of a commercial gym setting (leg curls are rather complicated to pull off without a machine).
The main exercises you would typically perform on a GHD are the glute/ham raise, hip and back extensions, GHD sit-ups, and Russian twists; just to name a few. The videos at the end of this article demonstrate some of these movements for those unfamiliar.
GHD Review & Shopping Guide
Below I'll show you a bunch of different GHD's from a number of manufacturers. Discussing more than just a couple will allow you to get a much clearer picture of how available features and price can vary from model to model. Ideally this will help you pin point the GHD that will best serve your needs and your budget. Since the lower priced models in this list are not stand alone units, I'll start with the most expensive models (true GHD's) and work down from there. Feel free to use the comments to ask any questions.
Rogue Monster Swing Arm Commercial GHD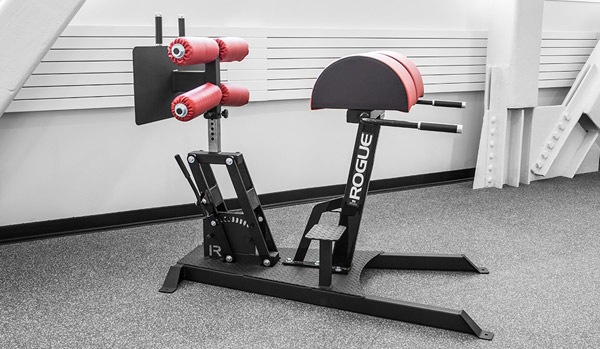 The Rogue Monster Swing Arm GHD is a commercial-quality GHD. It's the both the most expensive and probably the coolest GHD that I'm going to talk about in this article (it's $1350).
Let me first say that I realize this GHD is overkill for personal use and I'm not actually suggesting that anyone should spend this kind of money to get a GHD in their garage gym. I just feel that is too damn cool to not at least show you. I won't go too overboard talking about it, but I will share a few of the unique aspects of this GHD that make it so cool.
The Monster GHD has two step-up decks to make getting into position less of a chore, and a redesigned, fully adjustable rear foot-rest with a larger plate than is typical on the 'standard' models. Additionally, there is an easy-to-use handle (the swing arm) at the base of the machine that allows you to quickly re-position the foot plate back or forward to meet almost any workout requirement. The foot plate can be moved vertically as well.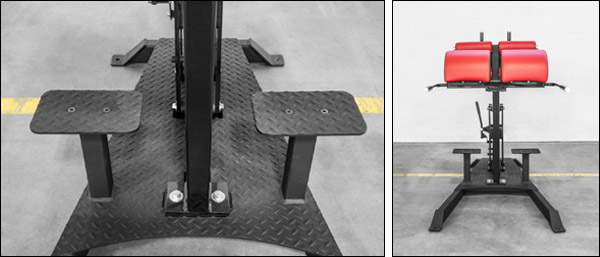 Rogue also re-designed the base and frame for this GHD. The long, triangular shape combined with the weight of the unit itself will make this GHD very stable for both tall and heavy athletes whether you decide to anchor it down or not. Also, Rogue knows not to go small on the pads – big, beefy double pads are the best when it comes to comfort, and they didn't disappoint. Overall this GHD is a tank, but like I said, it's very pricey. You can read more about it on Rogue's site here if you're interested.

Rogue Swing Arm GHD: L 62″x W 34″x H 50″, 11-gauge steel, 250 pounds, black, Made-to-order in USA.
York ST Commercial GHD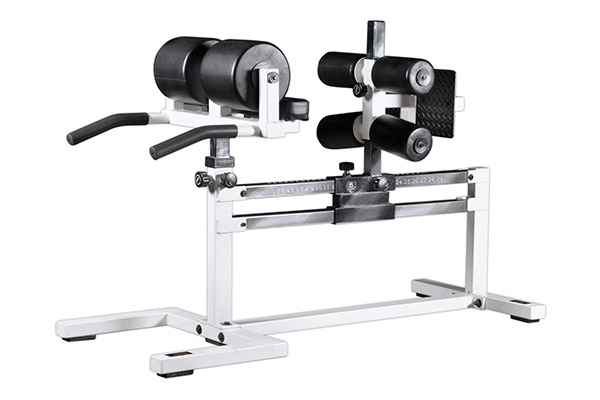 The York ST GHD is another commercial machine, so it's still on the high end of price spectrum. It does however have some features that more than make up for the higher price. The biggest of which is the multitude of adjustments that can be made to fit your height, shape, and exercise of choice. Rather than the foot plate just moving back and forth a dozen or so notches as most GHD's do, the York ST can be moved front-t0-back to 29 different positions. In addition to that, both the front rollers and the foot plate can be moved vertically and independently of one another. All these adjustments make for a whole bunch of positions.
I personally like this GHD. It has a long, sturdy base; rubber feet (but no anchor holes); and super thick pads and rollers. Even the foot plate is of a respectable size. Another convenient feature is that the different positions are laser etched into the frame so you can quickly set the position without counting holes. A trivial feature for sure, but nice nonetheless.
The York ST retails for $839 but it's available at Amazon starting at $699 before shipping (be sure and check the various sellers at Amazon as they don't always show you the lowest priced seller by default). If you aren't an Amazon fan, you can always pick one up from Rogue for retail.
York ST GHD:  68″x W 30″x H 46″, 11-gauge steel, 102 pounds, white or silver, Made in USA.
Legend Standard 3130-S Split Pad GHD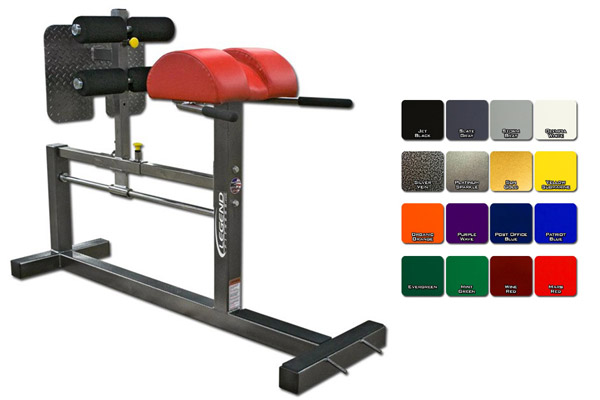 The Legend Fitness 3130-S GHD is an all around great piece of equipment. One of the best features is that fact that it's a Legend product. Legend makes incredibly durable, reliable, and good looking commercial fitness equipment that comes in just about any color combination you can imagine. I personally own Legend Fitness equipment, and while waiting for made-to-order items can be a test in patience, I'm never disappointed when the gear finally arrives.
So first of all, the colors. There are sixteen frame colors and something like 86 fabric colors to choose from. I'm sure that works out to thousands and thousands of possible color combinations. You don't just get to choose the colors, you must choose them as all Legend products are made-to-order. I'll bet you can't guess what colors I choose!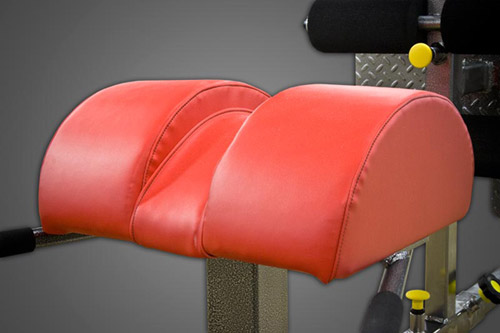 As far as the features go, this GHD has a very well constructed 'man-friendly split pad, adjustments that allow the foot plate to be moved both vertically and front to back, and a very large diamond plate foot plate. It also has the infamous pegs for resistance band training. The only thing that may be of concern is the lack of a wide footprint and lack of optional anchor holes for extra stability. Additionally, the price is a bit above average at $809 before shipping.
Just FYI, there is variation of this GHD out there called the 3130, but with no -S. That model has a single piece pad with no split. I can't imagine why you would want that version; unless you're a woman who never intends to share her GHD.
Legend 3130-S GHD Review:  66″x W 24″x H 47″, 11-gauge 3×3 steel, 263 pounds, many colors, Made in USA.
The Incredible Rogue Abrams GHD 2.0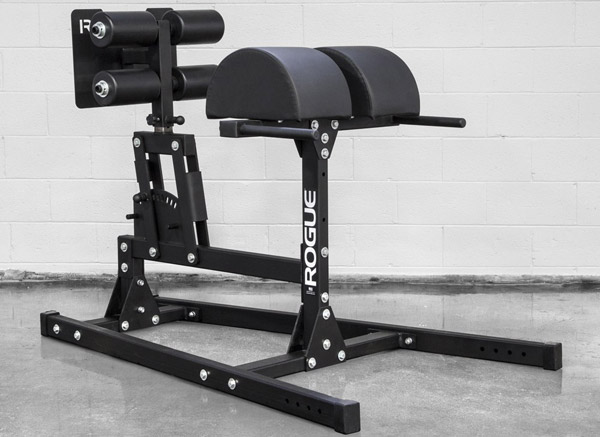 When it comes to building completely bad ass GHD's, Rogue has definitely taken the gold. Between the Monster Swing Arm GHD I already discussed above, and the new Abrams 2.0 here, I think it's safe to say that no one else has created a GHD that even compares in coolness factor, versatility, and ease of use.
The Abrams 2.0 has just about everything you'd want in a GHD… an improved, triangular base and single piece chassis that is much more stable under intense use; convenient wheels and handles for moving it around your gym more easily; 10 quick and easy front-to-back adjustment settings for the foot plate and rollers; vertical plate adjustments in 1″ increments; holes for resistance band pegs; and finally, super beefy double pads.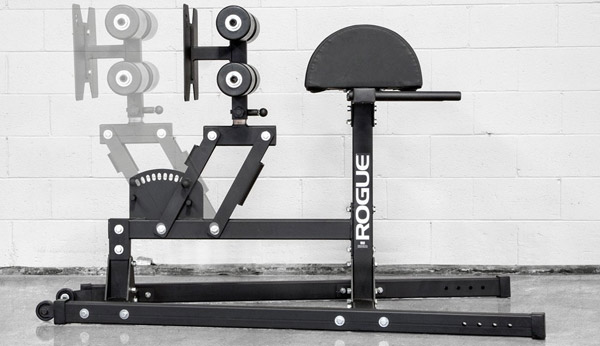 Seriously, other than the super expensive Monster Swing Arm, there is not a cooler GHD on this page. Is it worth the money? Well, that depends. If it's just you using your GHD, you may not care that it moves around easily, or that you can make adjustments more quickly, or vertically, etc. You may weight 145 and not need a GHD stable enough for a 300 pound man to do intense glute/ham raises. Will this last forever and get the job done? Yes! I would wager that this will replace the original Abrams as the most popular GHD on the market. This thing is just 100% bad-ass, and I reviewed it here!
Rogue Abrams 2.0 GHD:  73″x W 44″x H 48″, 11-gauge steel, 200 pounds, black, Made in USA.
Sorinex M2 GHD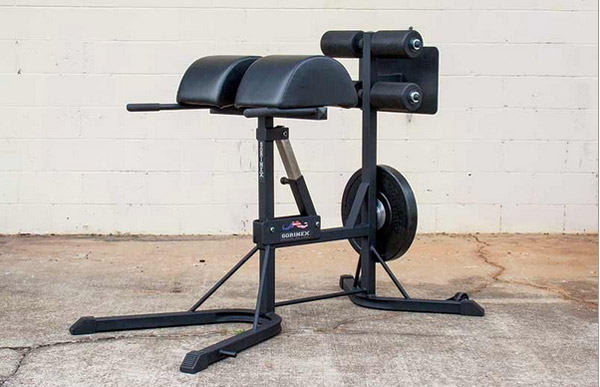 The Sorinex M2 is a very popular GHD that is known to be extremely stable; even with athletes well over 300 pounds. In addition to that stability, I think a major contributing factor to it's popularity is the fact that Sorinex frequently uses customer feedback to improve their equipment, and that certainly includes this GHD. There has been more than one variation of the M2.
The version I'm highlighting here is the most current variation of the M2, and it is impressive. While a lot didn't change, there were many new additions as well. Some new features include a more stable fully welded frame rather than it being a bolt-together. Sorinex also added a horn for Olympic plates to weigh the unit down so heavier users can get crazy intense and not worry about the unit moving. There are wheels now for easy transport, and the adjustments for the pads are on a tilting mechanism that speeds up the process of making those adjustments.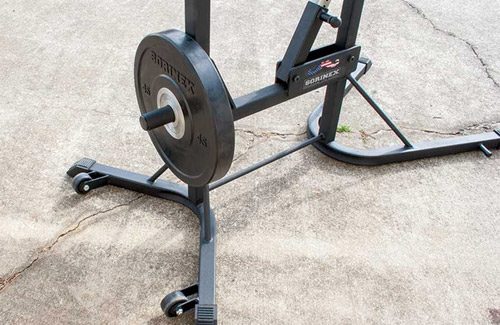 As I mentioned, some things didn't change. The M2 still has the same beefy and super comfortable pads that it's always had, the same high-quality foot rollers, and it still has band pegs for added resistance. Speaking of the beefy pads, those pads are so big that it makes the overall GHD look smaller than it actually is. Use the bumper plate for scale in the first picture; those pads are huge. And yes, for those in the know… it has a foot plate, not a bar.
The new Sorinex M2 retails for $799 and can be purchased directly from Sorinex. I expect Rogue will eventually carry this model as well. If they offer it for less, I will edit this to reflect that better price.
Sorinex M2 GHD:  66″x W 34″x H 50″, 11-gauge steel, ?? pounds, black, Made in USA.
Vulcan Strength GHD
The Vulcan GHD is probably the perfect compromise between price and performance. At only $599 delivered, this GHD had all the features of a premium GHD; including a stable base with wheels, a large split-pad, multiple adjustments, band-pegs, step-up plate and more. It's an imported unit which is why it's not $699 or more, but if you're tight on cash and want a GHD that will last forever without spending close to a grand after shipping, this is the way to go.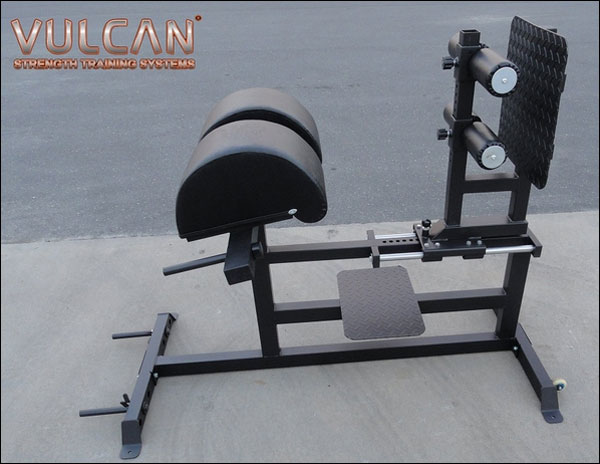 The Vulcan GHD is made with 2″x3″ steel, has a lifetime warranty on the frame, anchor holes, and even has a slightly forward titling pad that is said to be beneficial – but I don't understand that personally since the pad is just as round tilted as it is not tilted. Who cares though – this is a solid GHD for a lot less money than the Abrams or the commercial units from the likes of Legend, York, and Sorinex. And unlike the lesser GHDs that can be had for closer to $400, this one will actually accommodate heavy and tall athletes without feeling like its about to fall apart.
At the time of writing, this GHD has a perfect 5-star rating with over 15 reviews.
Vulcan Strength GHD:  67″x W 36″x H 50″, 12-gauge steel, 180 pounds, black, Imported.
Rogue Abrams GHD (Original)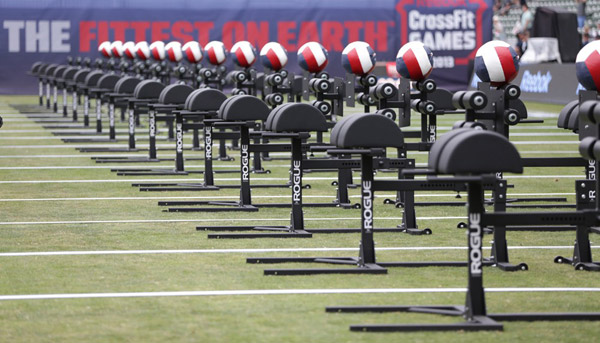 The Abrams has been updated to version 2.0 (discussed above). This was a very popular GHD and it's possible that it can still be found on the used market, so I will leave the specs here.
Rogue Abrams GHD:  70″x W 40″x H 48″, 11-gauge steel, 200 pounds, black, Made in USA.
Rogue Echo GHD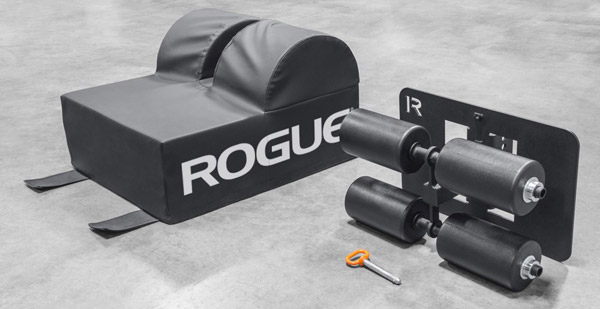 The Rogue Echo GHD is designed to attach to your existing power rack or rig so that you don't have to commit a massive amount of space to owning a GHD. It's also slightly cheaper than a standalone unit. When I first saw this, I didn't see it being a big hit, but it's racking up 5-star reviews faster than I expected. I suppose this is a blessing for boxes and garage gyms that are running out of real estate.
The Echo requires both a rack of some sort, and a plyometric box. There are two variations of the Echo GHD; one for the Infinity 2″x3″ line of racks, and one for the Monster Lite 3″x3″ line of racks. Both versions start at $345 without the box. There are a lot of do's and don't and special circumstances to owning one of these, so rather than try and cover it all here I suggest just going to Rogue and reading about it.
Rogue also just released a Floor Glute… it's interesting, but not a true GHD. Take a look.
GHD Review Summary – Recommendations
It's tough to make a long-distance recommendation for a GHD when there are so many quality models available. However, if you're a big or tall person, you may want to lean towards a model with a larger footprint so you'll feel more secure when things get intense; like the Abrams (I included the footprints of each model for this reason). If your budget is tight and you just want a simple, low-cost GHD, the Echo has been very well received.
Just think about which features you care about, and which features don't change what you intend to do with it, then spend what you're comfortable spending. All of these are reputable brands, so you'll get years and years of use out of all of these GHD's. I didn't list any box-store junk here; nothing I wouldn't hop on myself. You don't have to worry about buying a bad brand, at least not from this list.
GHD Exercises
Here are some videos showing the most common exercises that can and should be done with your GHD. These videos are all from Rogue, and they are all being performed on the original Abrams GHD. Big thanks to Rogue for taking the time to make these videos.
If you're new to the GHD, take the time to learn the correct form, and take it easy at first. Like any exercise, improper use can be dangerous. Keep in mind that the GHD puts a lot of emphasis on the core; specifically your lower back. I'm quite sure you don't want any injuries to this region.
The Glute Ham Raise
Works the entire posterior chain: hamstrings, glutes, calves, and lower back. Resistance can be added via resistance bands or weight plates as needed.

GHD Sit-ups
Works the abdominals. This is an awesome full range of motion sit-up for advanced athletes.

Back Extensions
Works the lower back. Form is everything with this movement. Let Matt show you.

Hip Extensions
Works the lower back and glutes. Not to be confused with back extensions. Matt will clear this up.

That's all folks! If you found this article helpful please share it on your favorite social media site, I would definitely appreciate it. If you have any questions, feel free to leave a comment.