We are only three full months into 2015, but there has already been a lot of really cool new releases in the strength training, Olympic weightlifting, and CrossFit world; especially when it comes to bumpers and weights. Whenever a good half dozen or more cool new pieces of equipment pile up, I like to do a quick post that highlights them just in case anyone missed their release. Most of this stuff is serious equipment, but I tend to add fun things as well.
BTW, I'm not on a Rogue kick or anything, but they have released soooo much cool stuff recently and everyone else seems to be trailing behind a little. So if this article seems a bit Rogue-heavy, you now know why. Enjoy!
Recent Update: January 2018 – spelling and grammar errors, price verifying. 
---
Nike MetCon 1 Men's Cross Training Shoes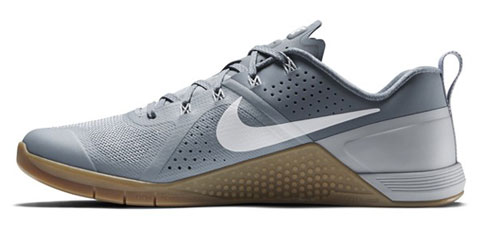 It's no secret that shoes are a hot topic in the CrossFit and strength training world, but the amount of discussion and speculation around the MetCons even before their release was incredible. I've never seen so much male chatter about a shoe before.
The Nike MetCon 1 is an all-purpose men's cross-training shoe. These shoes have a flat firm heel and a grooved forefoot design. MetCons are built to provide stability on heavy lifts, flexibility on sprints and climbs, and optimal comfort for distance runs and daily activities. They provide traction on just about any surface, have a rubber padding on the midsole that reduces friction during rope climbs, and is lined in a breathable mesh.

I don't have my pair yet, but the word is that these are probably a better shoe than most of the Nano models, not to mention that they are a better value than some of the Reeboks at only $120. The downside? Due to their instant popularity, they are a pain in the ass to find in stock anywhere. Between getting the colors you want and the right size, you'll need to be both persistent and patient.
Take a look at this review of the MetCons by Joel at AMRAP if you're interested in these.
---
R3-W Fold Back Wall Mounted Rack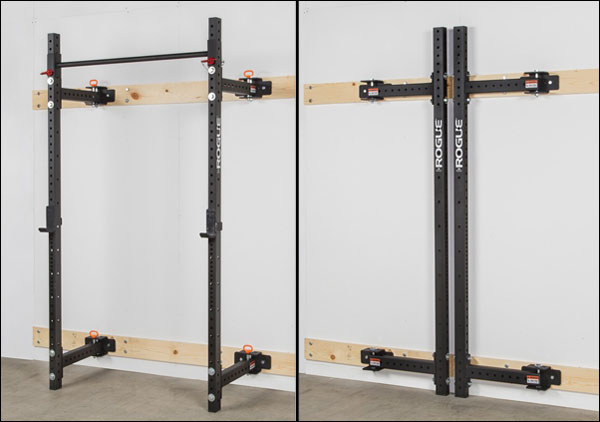 Prior to the release of the Rogue R3-W, there was only one real option for a serious space-saving rack like this; the PRx Profile Rack. Unfortunately, the price of the Profile didn't make it a very appealing rack. I guess PRx figured that since they were the only ones making the retractable racks that they could charge whatever the hell they wanted. Well for those of you who passed on that Profile due to the high price but still dream of a garage that can be both a gym and a place to park your car, this new Rogue rack may be an affordable answer.
The Infinity R3-W mounts to your wall much the same as the W-4 Power Rack, but the R3-W is fully retractable when it's time to pull the car in. When stored away, this rack sits flush against the wall, sticking out only about 5″. When you're ready to use it again, set-up takes mere seconds. This thing is pretty damn cool; for about the same price as any decent squat stand, you get a full size rack, pull-up bar, Infinity compatibility, and even Westside spacing. It also comes in two different depths.
Pricing starts at $475 before any upgrades or accessories, and it now even comes with a stringer so you don't have to make your own. There is also a 3″x3″ Monster Lite version of this rack as well that starts at $495.
---
OSO Barbell Collars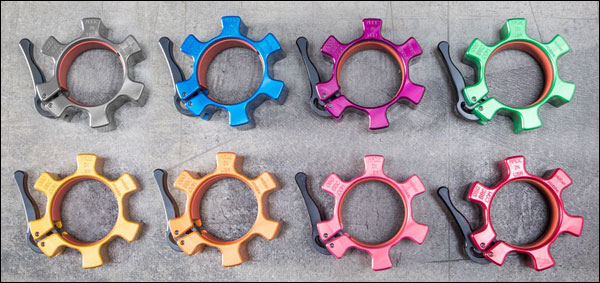 The fanciest collars around for anywhere near $50 are the OSO Collars. I've heard nothing but great things about these both in terms of how they perform, and how they look on the bar. OSO collars are made of aluminum, they hold tight, they are lined with rubber so they won't scratch your bar, and they come in eight different colors.
Sadly, they don't weigh anything significant, but then again neither do Lock-Jaws, Muscle Clamps, or those crappy spring collars.
---
Reebok ZPump Fusion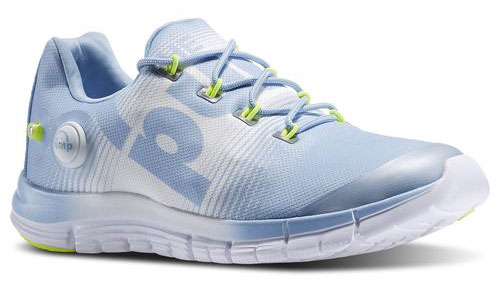 Are any of you old enough to remember the pump shoes? They're back. I mean, everything else gets reinvented so I guess it should come as no surprise that pump shoes would find their way back as well, right?
Reebok says that their ZPump Fusion running shoes conform perfectly to your foot and are ideal for shorter, faster runs. That's called sprinting, right? They're not very expensive for running shoes at barely over $100, and they sure are ugly, but reviews average around four stars so they obviously don't completely suck. Maybe people will think that "P" on the side is for Puma rather than Pump.
---
Spud Inc Economy Tricep/Lat Pulley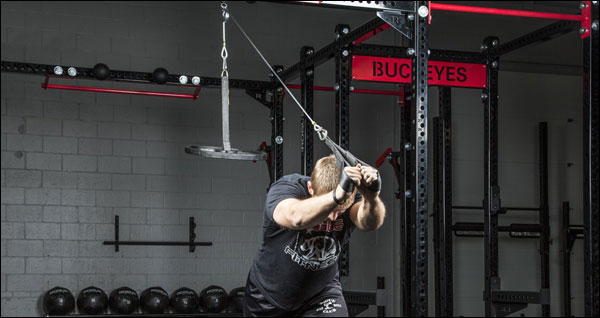 This is actually a pretty cool idea. I know a lot of people DIY pulley/pressdown systems for their garage gym since owning a pin-select station is not only expensive, but also a huge space stealer. I'm pretty sure the rest of us make the best out of resistance bands when it comes to mimicking movements like lat pulldowns, tricep pushdowns, and so forth. I know I do.
Well who knew that for less than $100 you could have a genuine pulley system in your gym, and one that takes up no space whatsoever when not in use even. Using the pull-up bar or crossmember of your power rack and the weights you already own, you can get up to 550 pounds of weight (overkill?) safely loaded. Start busting out those lat pulldowns again.
---
New Plates From Rogue?
Rogue Fitness has been pretty busy with weights lately. They have added more than a few new models to their already massive plate line-up. Let's look at some of those now!
---
-Rubber Coated Kilogram & Pound Change Plates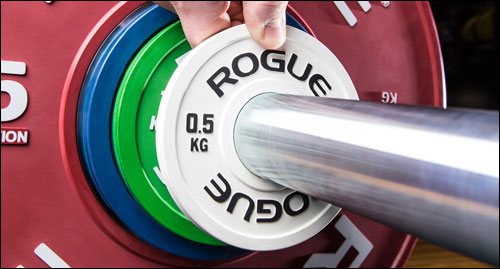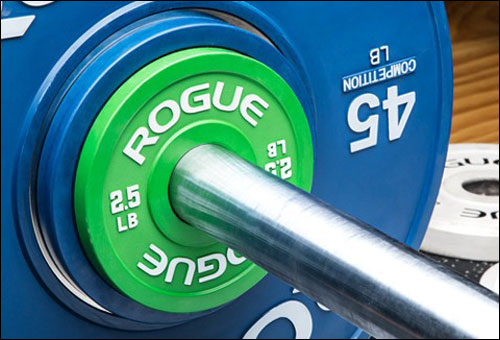 Well it's about time, right? I know that many people have been waiting for these to drop for a long time, and here they are.
Both the kilogram and pound change plates have the standard 50.4 mm Olympic opening, a hard rubber coating, and a matte color finish. The rubber is a nice touch; as it allows the plates to fit very snugly on the bar so that you can use them outside the collars (basically friction plates.)
The kilo change plates are color-coded to IWF specifications and come in six increments from 0.5 kg to 5 kg. They can be purchased in individual pairs or as a a 25 kilo set. The pound change plates are also colored and come in three increments of 2.5 lb, 5 lb, and 10 lb. Again, they can be ordered in pairs or as a set. I have some of these in kilograms and they fit wonderfully. I'm extremely happy with them.
---
-New Training 2.0 Bumper Plates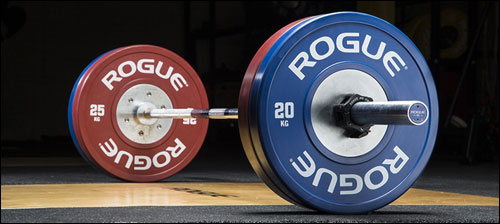 Rogue has updated their training bumpers to version 2.0, and both pounds and kilogram discs are available. I actually own a full set of these in kilos and they are beautiful plates. The colors are vibrant, they fit the bar snugly, have a low, controllable bounce, and the price is extremely reasonable (especially now as they are on sale.) I also like the shape of these much more than the previous version. I guess you could say they look more squared off at the edge and more refined.
When I was shopping for new training plates, the one thing that sealed the deal for me when I bought these (besides the low sale price) is the fact that they are a free shipping item. Not just for sets, but for pairs as well. Paying shipping on bumper plates is the worst, but getting beautiful plates on the cheap and then getting free shipping is the best.
---
-More Rogue Training Bumpers, in Black!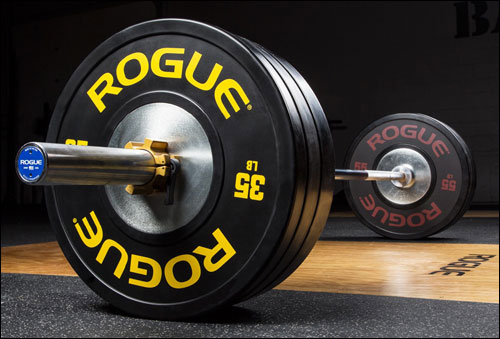 These are pretty much the same plate as the IWF colored training plates that I just talked about above, with the obvious difference being that they are black with colored text. The color of the text corresponds to the weight, of course.
So far the black version of the 2.0 discs are only available in pounds, but I would expect kilos to be right behind these. The original version of the black kilogram training bumpers are long gone though.
---
-Rogue ST Wagon Wheel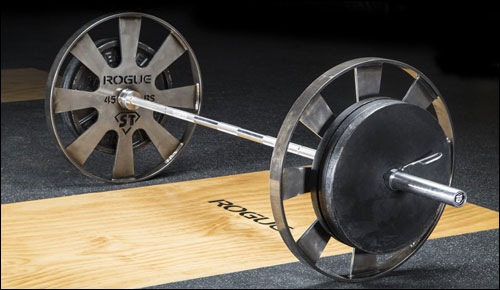 Well this is certainly an interesting plate. The Wagon Wheel is intended to let you do block pulls (deadlifts) without needing the blocks. Each wagon wheel weighs 45 pounds just like a standard steel plate, but has a diameter of 26″ which raises the bar off the ground by about 3″. ST Wagon Wheels are made with 3/8″ steel, are 2″ thick, and are sold in pairs for a hefty $425. Very cool looking, but probably not very practical.
---
-Rogue Colored Echo Plates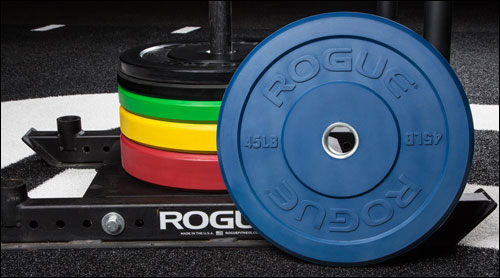 The normal black Echo bumpers are probably the most competitively priced basic bumpers out there, and now you can have them in color as well. Sure, the colored Echos cost more than the blacks, but when compared to other colored basic bumpers, they are competitively priced. Not only that, but you can score free shipping as well.
These are in pounds, but Rogue still matched the colors to IWF specifications (25-lb plates are green, 35-lb plates are yellow, and so forth.) Set sizes vary from 210 to 350-lbs, and prices start at $383. Only sets ship free, not pairs.
---