Looking for some dumbbells? Do you want to find some used dumbbells for sale? Adjustable dumbbells? A complete dumbbell set? Let's see if I can't take some of the work out of dumbbell shopping.
Used Dumbbells For Sale!

Dumbbells can be expensive! Obviously the cheapest way to get your hands on dumbbells is to try and find them used. You won't be able to be as picky, but you will save some cash. Here are some suggestions.
Good ol' Craigslist would be my first recommendation. It's pretty common to find a lot of fitness gear on Craigslist. It's just one of those things people buy then never use (sadly). Their loss is your gain though, right? I'm looking at Craigslist right now and my area is loaded with used dumbbells for sale. Yours probably is too.
Lot's of cities have used sporting goods stores. Where I live, we have Play It Again Sports. Do some Google work and see what you have in your town; I'm sure there is something.
You can also try the busier fitness forums like crossfit.com, bodybuilding.com, nerdfitness.com, etc. Most of them have equipment categories. Crossfit.com has an especially populated forum. I've seen more than a few people trying to sell off gear. The likelyhood of them being close to you is low, but it's worth a shot!
As a last ditch effort to find some used dumbbells, you can try the classified ads in your newspaper, look for garage and yard sales in your area, and also look for auctions of closing fitness boxes. Hey, it happens; I've seen these auctions before. Ebay also has a classified ads section that you can search locally.
New Dumbbells for Sale!
So no luck with finding used dumbbells? That's okay, I'll help price shop the new ones with you.
There are two ways you can buy new dumbbells for your garage gym. You can buy them in pairs as you need them, or you can buy a full set. Sets are typically all of the dumbbells from 5 lbs to 50 lbs in 5 lb increments (pair of 5's, 10's, 15's, etc.). Then there is an additional set that covers the 55 lb to 100 lb dumbbells.
Important! – Unless you buy a commercial set of dumbbells, there is no reason to buy a set other than just the convenience of getting them all at one time and being done with it. There are practically no savings (sometimes literally no savings) for buying them all at once. Additionally, they don't include a lot of the available weights within that 5-50 pound range (the 2½ pound increment dumbbells like 12½, 17½, etc). I suggest that you buy them as you need them and don't buy the ones you'll never use; that's how you really save money on dumbbells.
Standard Dumbbell Options
Iron Hex Dumbbells

Probably the cheapest option for filling up the garage gym with dumbbells is to buy the iron hex dumbbells. This is what you commonly see in sporting goods stores. These are no frills dumbbells – there is nothing at all special about them. They're ugly, they'll crack the floor if you drop them, the flashing from the casting can cut your hands, and the cheap powder coat will flake off – but they weigh what they weigh and you can lift with them.
Important – Really try to avoid CAP iron hex dumbbells (or any CAP dumbbell for that matter). They are notorious for being completely inaccurate with the claimed weight. I'm not talking a few ounces, I'm talking pounds. If you must buy CAP, bring a scale to the store with you and find two of each set as close to the same weight as possible.
Honestly I don't recommend these anyway. They aren't that much cheaper than the rubber coated hex dumbbells and they are as different as night and day in terms of quality, hand comfort, noise, and danger to your floor and feet.
Rubber Hex Dumbbells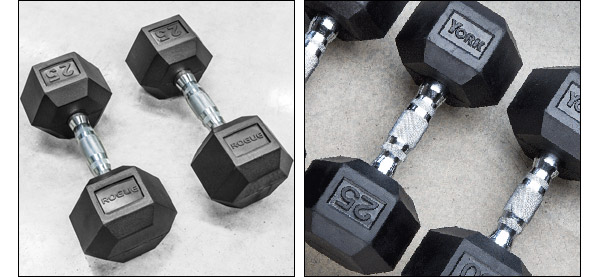 Rubber coated hex dumbbells are the cheapest quality option for getting some dumbbells for your gym. Rather than being casted, these have ergonomic steel handles with a chrome finish; much easier on the hands. They will bounce around if you drop them rather than just smash through anything they land on like the iron dumbbells will. Still probably no good to drop on your foot though.
Like the iron hex dumbbells, there are a lot of manufacturers that pump these out. But again, avoid CAP. I made the mistake of going with some CAP dumbbells because they could be picked up locally, but one 15-pound, both 25-pound, and a 35-pound are coming apart. That's a big percentage of my CAP collection falling apart – very disappointing. I knew better though; I've never heard more complaints about a fitness company than CAP Barbell. Read some of their Amazon reviews or just type CAP into the search box on the bodybuilding.com forums. Total junk.
What brand can you buy? Rogue, American Barbell, or York are all reputable companies. To give you an idea on price, here is what a pair of 25 lb hex dumbbells cost from a few different retailers.
Amazon actually has the best price, but they are X-mark brand which can be a hit-or-miss manufacturer. They are also not in stock with Amazon for the free shipping (Prime) at the time of writing this, but other sellers have them. Other than complaints about the rubber stinking, the X-mark bells have good reviews and will probably fine and dandy for many years. BTW, they're all going to stink; just like bumper plates do. Yeah, it's gross.
York Legacy Dumbbells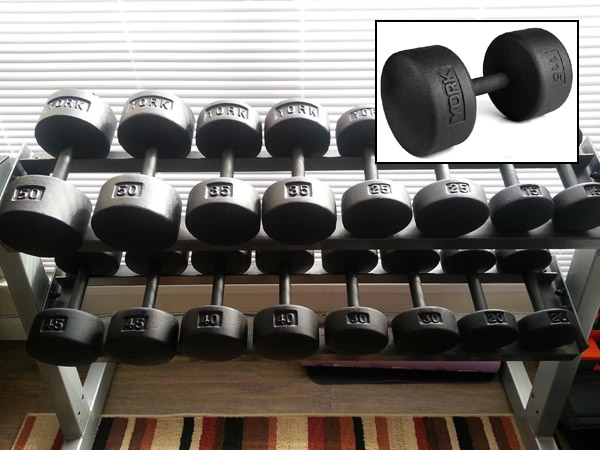 York Legacy Dumbbells are a recreation of York's original dumbbells; hence the name. These are black iron dumbbells with a knurled 33 mm handle that is permanently embedded into the heads. These are really cool and they're about the same price rubber hex dumbbells. So if you wanted to step up the coolness factor of your dumbbells without spending more, this is probably the product for that. These are not rubber though; keep that in mind.
Using the same example as I did for the rubber hex dumbbells to give an idea of price, a pair of 25 pound Legacy dumbbells is $70 (before shipping) from Amazon. What a score that would be to find these used locally!
Rogue Urethane Commercial Dumbbells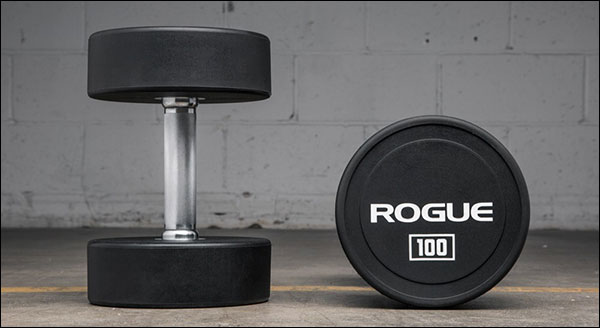 Well these are neat, but who can afford them!? Available from 5 to 150 pounds, Rogue Urethane Dumbbells are probably about as nice as you'll get for fixed dumbbell pairs, but I don't see this happening in a garage gym. Just to give you an idea, the 25-pound pair sells for over $150 – and that does not include shipping. Neat though!
Adjustable Dumbbells For Sale!
Powerblock Elite 90 Pound Adjustable Dumbbells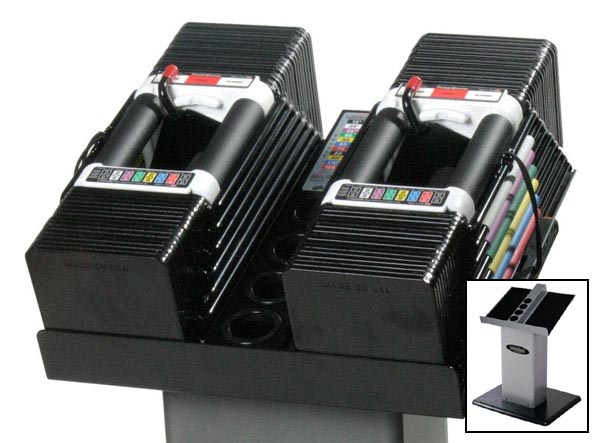 As adjustable dumbbells go, the Powerblock Elite set is quite popular. Each dumbbell has 28 weight settings from 5 pounds up to an impressive 90 pounds. They have a 10 year warranty and a 5-star review on Amazon based on 44 total reviews. Not too shabby considering that not much has to be wrong with a product for it to be blasted with bad reviews on Amazon. There is an optional stand for the set as well.
The product description claims this replaces 2565 pounds worth of dumbbell pairs. If you're not too far along in a standard dumbbell collection this may be the way to go. It's a bit costly upfront but it is cheaper than buying even a fraction of the available weights in standard dumbbell pairs. Price? Approx $550 for the pair. There is also a 5-45 pound adjustable Powerblock.
Ironmaster 75 pound Adjustable Dumbbells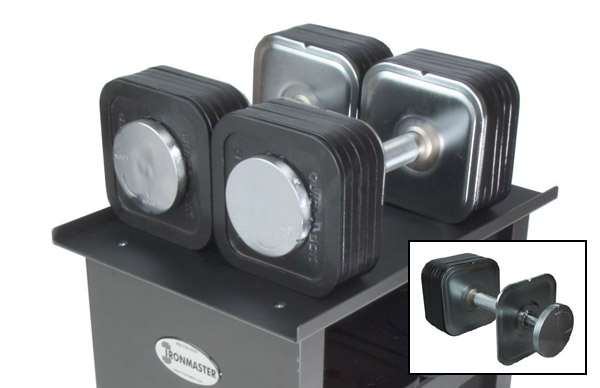 Another well regarded option for adjustable dumbbells is the Ironmaster 75 pound adjustable dumbbell set. It comes with a stand so you don't have to pick the weights up off the ground, and each dumbbell can adjusted from 10 to 75 pounds in 2½ pound increments.
This isn't as quick and easy to change the weight as it is with some of the other adjustable dumbbells, but it is balanced like a true dumbbell. There is an additional package you can buy to raise the max weight to 120 pounds per dumbbell. Price? $529 + shipping; includes the stand. Limited lifetime warranty.
Bowflex SelectTech Adjustable Dumbbells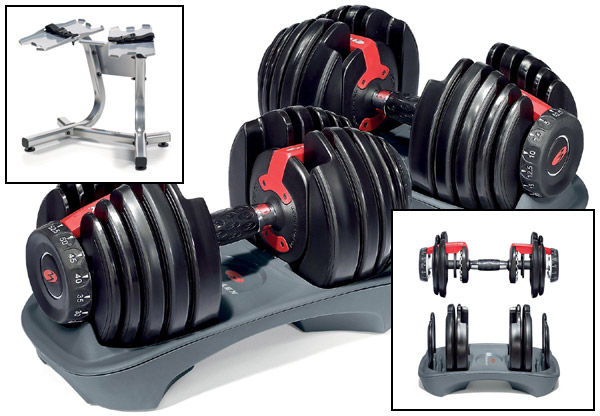 This is probably what most people think of when they hear adjustable dumbbell since you can find these in the stores. I'd personally rather have the Ironmaster set from above, but this set has nearly 1000 primarily good reviews on Amazon so obviously people like these dumbbells.
The price is way lower than the last two adjustable dumbbells I just showed you, but the warranty is only two years. You'll save some money up front, but you may not get the same life out of them; I don't know. There is an optional stand that looks pretty damn fancy. Each dumbbell is adjustable from 5 to 52½ pounds. No way to add to that like the other two. Price? $299 with free shipping.
Edit February 2017: There was a previous version of this product that was recalled for safety reasons (CPSC link). I seriously doubt this issue exists five years later, but on the off-chance any of you try to buy this product used I thought you should be made aware.
Words of Wisdom about Adjustable Dumbbells
Read the reviews! Keep in mind that if you have to send something this heavy back to the seller on your nickle, you'll not be pleased. Triple-check that the price you see if for a pair and not just a single dumbbell. I'm serious, some companies sell them as single units. Lot's of complaints about that in reviews. You'll be pissed off when only one shows up at your door.
So I hope this helps. If you did find this at all helpful, consider sharing this article or giving me a +1 at the top right-hand side of any page. Thanks and good luck!