I've had the Burgener & Rippetoe multi-purpose weightlifting/powerlifting bar in my garage gym for about fifteen months now. This bar has been the primary bar in my gym, and it has been used consistently by two people for over a year now. Since I've had the B&R bar for a good amount of time now and I've have had a chance to put some real miles on it, I want to review it and share my thoughts on it.
Update: this review is no longer valid on new purchases of the B&R Bar. Rogue Fitness has taken production of this bar from York, and Rogue's iteration of the B&R is different enough that the majority of the content in this review just simply does not apply. Since classic York B&R Bars no doubt still exist in the used market, I have decided to leave this review intact. 
---
B&R Bar Review – Introduction
Turns out I got pretty lucky when I bought the B&R bar. Back when I was shopping around for bars I was having a really hard time deciding on which bar to purchase. I knew I wanted a solid, jack of all trades bar; something suitable for both the big three and the Olympic lifts. I also knew not to choose a $100 bar unless I wanted to buy another bar soon, but knowing that fact didn't actually help me pick out the right bar.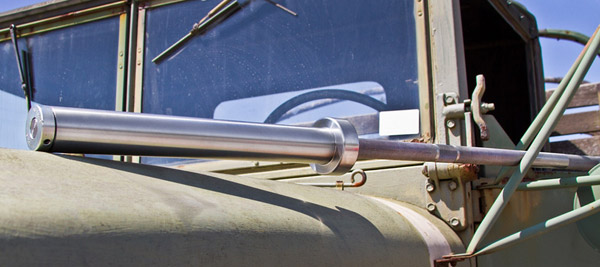 After a bunch of research, I eventually went ahead and pulled the trigger on the B&R Bar. It had fantastic reviews, a fair price, impressive specs, and it also had Rippetoe's name on it. I was familiar with Rippetoe; I had read his book, Starting Strength years before, and found him to come off as a knowledgeable guy, so I said screw it and bought the bar.
Obviously buying a bar just because it has someone's name on it isn't the best idea. Like I said, I got lucky that the B&R was just as good in reality as it was on paper. In any case, if I had known then what I now know about bars the process would not have needed to come down to a random choice. I hope this review takes some of the guesswork out of it for you.
---
How Olympic Bars Differ
There are a bunch of different things to know about bars and how they can differ. There is shaft diameter, knurl markings, knurl depth, tensile strength, yield strength, sleeve rotation, sleeve attachment method, protective coating, bar whip, etc. Then you have the differences in men's bars and women's bars. There's a lot to know!
When you understand what each of these things are and how they work, you can make a much more informed decision when buying a bar for your gym; no matter what kind of bar you're looking for. If you're interested, I go into a lot more detail on things like yield strength, sleeve construction, bar finishes, and technical stuff like that in my barbell buying guide.
---
Burgener & Rippetoe Bar – Specifications
Here are the specs for the York B&R Multi-Purpose Bar. There is a women's version of the B&R bar as well. While this review doesn't have anything to do with the women's bar, I did include all the specifications that differ from the men's bar in this section in case any ladies reading this might be interested.
Bar Weight: 20 kg / 15 kg (women's)
Shaft Diameter: 29 mm / 25 mm (women's)
Knurling Marks: Dual Olympic & Power
Center Knurling: present / not present (women's)
Knurl Depth: Medium
Rotation Mechanism: Sintered Bushings (oil-impregnated)
Sleeve Attachment: Proprietary York End Cap
Shaft / Sleeve Coating: None – Bare Steel
Tensile Strength: 195,000 PSI / 195,000 PSI (women's)
Manufactured by York Barbell in Canada
Price $295 / $285 (women's)
---
B&R Review – What Makes This Bar So Good
Reason #1 – Tensile Strength vs Price
The tensile strength rating of this bar is considerably high by today's standards at 195,000 PSI. What that means is that it takes 195,000 PSI of force applied to the bar before the bar will break. A PSI rating this high is not often found on bars in this price range. Most bars in the $300 range tend to be closer to 160,000 PSI.
Update: keep in mind that when this was written 190k bars were not yet commonplace.
For instance, the Rogue Bar is rated at 155,000 PSI and costs only a few bucks less than the B&R.  The Pendlay NexGen and Pendlay HD bars are both a respectable 190,000 PSI but start at $330 and go up from there. Ivanko has bars in the 200s but prices start at around $1000. The Westside Power Bar does have a 205,000 PSI rating but it's $80 more and is exclusively a power bar; meaning it'll have no elasticity for the Olympic lifts.
Speaking of whip, I've seen it said that this bar is a nice middle of the road bar for Olympic and Power lifts; meaning it has a moderate amount of whip but is still rigid enough to hold onto heavy loads without much bend. My personal opinion is that this bar is more rigid than whippy. If you want a large amount of bar whip, you probably want a 28 mm Olympic bar.
Reason #2 – Excellent Spin
The B&R bar uses bronze sintered bushings for sleeve rotation. This type of construction is super durable and produces a very reliable spin; and for half the price of a needle bearing bar. Sintered bushings are self-lubricating and therefore essentially maintenance free. I've never had to oil the sleeves of my B&R, yet they spin as well as the day UPS dropped it off.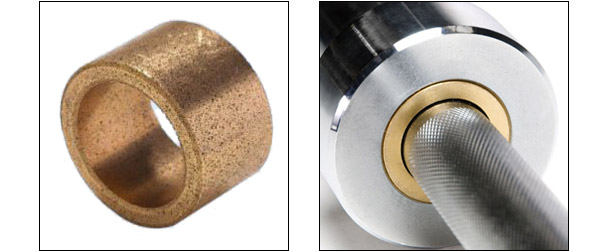 Over the last 15 months I've dropped the hell out of my B&R bar, and the bronze bushings are taking those drops like a champ. I don't care that the sleeves of a bushing bar won't spin for half an hour like a needle bearing bar does, but I do care that they spin reliably and smoothly. This bar offers what I want. Good spin, great durability, and at a reasonable price.
Reason #3 – Pro or Con? Bare Steel
The Burgener & Rippetoe weightlifting bar is a bare steel bar. There is no zinc or chrome coating on the bar. A bare steel bar is a beautiful thing that feels absolutely amazing and natural in your hands. However, it does require a little maintenance.
The bar needs to be oiled and brushed periodically. The climate you live in really dictates how often this needs to be done. While this may be a deal breaker for some, I personally find the feel of bare steel to be worth the little bit of extra effort. It develops a great patina over time, and as Rogue puts it – it matures with your training.
Reason #4 – Price
I've already mentioned this a couple times, but it deserves to be a stand-alone reason for why this bar rocks. This bar is under $300 and I believe that's a steal. It's sturdier than any other bar under $300 and many bars over $300. It's designed by two renowned weightlifting coaches; Burgener and Rippetoe obviously, built by York Barbell; one of the most reputable barbell companies on Earth, and sold by the best equipment dealers in the world; Rogue. I challenge anyone to find a better bar for less money.
Update: again, remember when this was written please!
Reason #5 – Customer Reviews
I'm not alone when it comes to how I feel about the York B&R bar. The reviews left by other customers give this barbell a full 5-star review. There is not a single bad review for this bar.
---
Burgener & Rippetoe Barbell Review – Summary
I hands down recommend this bar. If you've read any of my other bar articles then you've seen me mention and praise the B&R bar before. This is not an opinion I developed just for the sake of this review. I love the bare steel feel, I love the knurling, I love the price, and I love that it hasn't given me any reason to dislike it.
No matter what bar you think that you want, I strongly suggest you at least take a look at the Burgener & Rippetoe Bar and read some of the reviews before you buy any other dual-marked Olympic bar.
If you got this far then the article couldn't have been that bad, right? Please consider liking and/or sharing it. It's much appreciated.
---