Are you interested in joining the Crossfit revolution, but you have no equipment? I can give you some guidance on what gear you need to get started. Are you already into Crossfit but you want to do your WOD's at home rather than at the box, and you want to know the best places to buy the gear? I can help you with that too.
Fortunately, Crossfit uses a minimal amount of equipment so the list to get started is relatively short and there are deals on packages to be had. Still, if you are starting with nothing it may seem like a lot. I'll show you the necessities, the extras, and who has the best prices for quality gear you can trust to last a lifetime. I've included multiple package deals as well as some stand-alone pricing.
Table of Contents
Recommended Crossfit WOD Equipment Checklist
Olympic barbell – 20 kg (44 pounds) or optional 15 kg for women.
Olympic bumper plates – a full set including ranges from 10 to 45 pounds.
Plyometric box – 3 in 1 design preferred for different height options.
Pull-up bar & gymnastic rings.
Medicine and/or slam ball(s).
Kettlebell(s).
Jump rope/speed rope.
Parallettes or a dip station.
Concept 2 Model D Rower
Optional (but still recommended) Equipment.
GHD (glute ham developer)
Climbing rope (if possible to hang, that is)
Bar & Bumper Plates Only Packages
Vulcan Packages
Vulcan offers four basic bumper + barbell packages. Starting at $464 for the 205-pound package (160-lbs of basic bumpers + bar) and going as high as $559 for the Alpha plate package (230-lbs of Alpha bumpers + bar). All packages come with an Olympic barbell (One Basic by default) and spring collars, but in each package both the bar and the collars can be upgraded to whatever you want. This allows you to save a few bucks without having to accept a bar that you're not interested in.
With these package you're looking at about a 10% savings from buying it all separate which certainly beats a kick in the butt. It's not a huge difference, but with packages that can be customized like this to make sure that you get exactly what you want, anything is something.
Rogue Packages
Rogue has a ton of bar + bumper equipment packages. They start at $499 and go up to well over a thousand. Rogue doesn't offer much in the way of discounts on their bar + bumper packages when compared to buying the gear piece-by-piece. About all you're getting by buying a package is free shipping on the bar (bumpers already tend to ship free). Unless you see a package that has exactly what you want and nothing more, price out the pieces you actually want separately and consider that route… or go with another vendor to get what you want.
Many Rogue packages include the Beater Bar by default, and 9 times out of 10 this is not the bar you want, so you'll probably want to upgrade your bar to the Ohio if you do go with a Rogue package.
Minimal Crossfit Equipment Packages
These first two Crossfit packages are intro packages; very basic. They will get you started with your bar, bumpers, a kettlebell and a couple other small things.
Crossfit Package #1 – Vulcan Basics Package – $831
The Basics Package from Vulcan includes a 20 kg Vulcan Standard Olympic Bar (a great bar btw), 230-pounds of black bumper plates, spring collars, gymnastic rings, a 20 kg Vulcan Absolute Kettlebell, and a 20-lb medicine ball. You can upgrade your collars to OSO Collars, and you can upgrade the bumper plate set to 260-pounds. The bar cannot be changed, but in this case that probably isn't going to be a problem.
Crossfit Package #2 – Rogue SoCal Starter Package – $769
This starter package from Rogue includes 160 pounds of Rogue HG bumper plates (a pair of 10's, 25's, and 45's), spring collars, a Rogue Beater Barbell, a set of Rogue Rings, a Dynamax Medicine Ball, and a 24 kg kettlebell. This package has the same core contents as the package from Vulcan above, but the Vulcan package has 70-pounds more of bumpers and a far superior barbell – and for not a big price difference.
What I think…
I think the Vulcan package is a better deal. The Standard is a legit barbell (28.5 mm) while the Beater Bar from Rogue is a cheap, thicker budget bar (31 mm). Yeah the Vulcan package costs more, but you get a lot more weight included (160 will not be enough weight for very long) along with that better bar. Technically the Vulcan bumpers are just a better product as well, especially when it comes to the thinner, light plates – much more durable.
Since both of these are minimal starter packages, regardless of which you prefer, you will need additional equipment, so keep that in mind. You may find that the following packages are a better deal in the long run.
Nearly Complete Crossfit Equipment Packages
The following two package are much more complete packages than the previous two. These packages will get you a lot closer to having everything you need to train at home.
Crossfit Package #1 – One Standard Package – $1140
The One Standard Package includes a Vulcan One Basic 20 kg barbell, 230-pounds of Vulcan bumper plates, an H-Basic Squat Stand, two kettlebells (16kg and 24kg), two medicine balls, a 3-in-1 plyometric box, and spring collars. The bar, the collars, and the amount of weight included can all be customized in this package. Even the medicine ball weights can be changed.
What makes this package so fantastic is that it includes a squat stand. To me this is better than getting a bunch of trinkets that you may or may not use (stuff like sandbells, abmat, and so forth.)
Crossfit Package #2 – Rogue Bravo Package – $1050+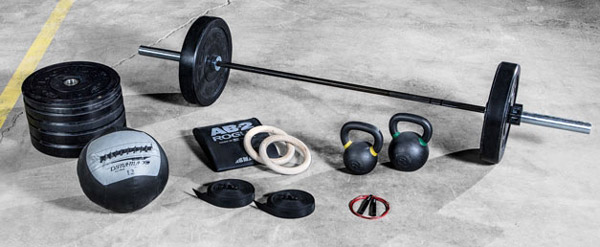 The Rogue Bravo Package includes 230 pounds of Rogue HG bumper plates (a pair of 10's, 25's, 35's and 45's), the zinc coated Ohio Bar (much better than the Beater Bar in the SoCal package), a 35-pound and 55-pound kettlebell, HG collars, set of Rogue Rings, 20-pound Dynamax Ball, an SR-3 speed rope, and an Abmat.
While a much more complete package than the Rogue SoCal, it runs awfully close in price to the Vulcan Standard package while containing no squat stand. You can add an S-1 Squat Stand to this package for $350, but that puts the price way over the Vulcan package.
What I think…
Again I like the Vulcan package more. It's more flexible and you get more equipment for the money. Personally I don't like the idea of paying for an AbMat and a jump rope in a large package like these. I don't like paying for a plyometric box in a package either, but overall that package is still a better buy. Whichever route you go, both of these companies offer great equipment that will last forever, so you'll never have to worry about whether or not you own reliable gear.
The Warrior Crossfit Package from Rogue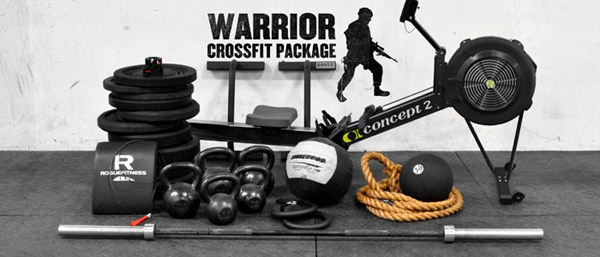 The Warrior Package has just about everything you could ever need for home Crossfit. This package has 320 pounds of bumper plates (10's, 25's, 35's, and two pairs of 45's), change plates, an Ohio Bar, five kettlebells, collars, rings, parallettes, dynamax ball, slam ball, climbing rope, speed rope, and abmat. In addition to all that, it comes with a Concept 2 Rower. This huge collection sells for around $2700 and ships for free.
What really sets this apart from the other packages is the rower. Rower's are a big investment and often the last thing purchased because of the price (even a GHD is cheaper). Get it included in a package like this and you're good to go. The only thing you'd ever need to consider buying in the future would be that optional GHD and a power rack (or squat stands) with a pull-up bar.
Bumper Plate Sets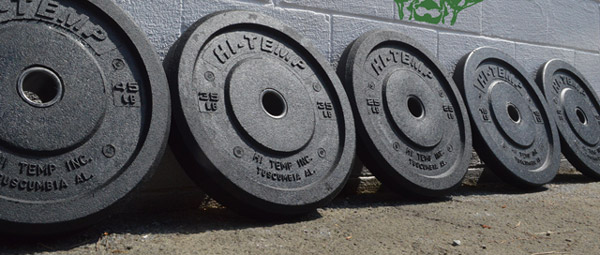 If you're not able to buy a big Crossfit package due to budget and you need to build on your garage gym piece by piece, one of the bigger investments will be your bumper plates. I've written two different posts on bumper plates that include pricing and specifications from various retailers. Rather than rewrite all of that again, I will link to those posts.
For those interested in the TL;DR short-version… if you're buying your bumpers one pair at a time, take a look at the Rogue Echo bumper plates or Rogue HG 2.0 bumper plates, to save money by buying sets, Vulcan plates are the way to go 100%.
Barbell Suggestions for Crossfit
This is another subject I touch on regularly here at Garage Gyms.  Like with the bumper plates above, if you're not looking to purchase a package deal and will be buying a barbell separately, there are a lot of barbells out there to consider. Take a look at this post: Olympic Barbell Review & Shopping Guide. You will get all the information you ever wanted about barbell construction, options, manufacturers, and pricing. This will show you how to shop for a barbell. I also showcase a ton of the better barbells currently on the market.

Rowers
Crossfit frequently uses rowers in the WOD's. The rower is an incredible piece of equipment and one that you will ultimately want to add to your gym as you progress with Crossfit. I don't think you have to run out and buy one right away though, as I think the bar, weights, rings, and all that other stuff is much more important to start with.
When you do decide to add a rower to your gym, just remember that Crossfit uses the Concept 2 Model D rower. Check out this article to find out why the rower is so incredible, why Crossfit chose to incorporate the rower, and who has the lowest price on the whole Concept 2 line.
GHD (Glute Ham Developer)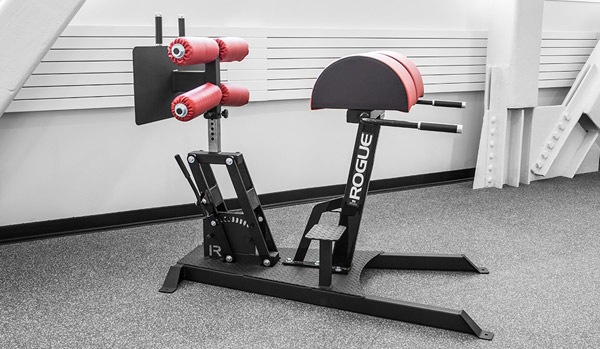 I haven't found any Crossfit packages that include a GHD. This is something that when the time comes you'll need to purchase by itself. Where you buy your GHD is going to depend on how much you're willing to spend and which one seems like it would suit you best.
The major differences are going to be in overall size of the GHD, quality and thickness of the padding, the ability to adjust for height, and the overall stability of the unit. Look for 11 gauge steel or thicker and look for padding thick enough that you'd feel comfortable with your body weight pressing into it.
Expect to pay around $600 or more for a quality GHD. It's a bit of price tag, I know, but it's not something you should ever have to replace. It isn't like a machine with pulleys and a lot of moving parts to break; it's more or less just a different kind of bench. Ask anyone at your box, a GHD is an incredible piece of equipment to own and worth every penny.
I have a guide outlining the pros and cons of just about all the major manufacturers' Glute Ham Developers here.
Everything Else
Check out my Top 10 Equipment Items post for more guidance with the other pieces like the plyo boxes, gymnastic rings, and even some more info on the stuff already covered here.