This is a review of the infamous CAP OB-86B Olympic bar. The OB-86B is a fairly popular lower-end import bar sold at sporting good stores, online fitness outlets, and of course, Amazon. This bar retails for around $140-$150, and it's the least expensive bar currently reviewed on this site.
It's no secret; I am no fan of the imported strength training equipment sold in big box stores (especially bars.) I believe that 98% of what you can buy in chain stores and from their online counterparts is a total waste of money, and I very rarely give reviewing that stuff any consideration; much less a second thought.
Well in the case of the CAP OB-86B, the word has been for some time now that it's an exceptional bar for being a box-store product. That it offers high-end features at a very low cost, and it deserves to be considered a viable option. The OB-86B also has more positive feedback than the average box-store bar, and a lot of that feedback appears legitimate and contains more substance than the usual "this is my first bar, I can bench 135 with no problems; why would anyone pay more for a bar!"
So rather than continuing to stubbornly maintain that it's a CAP so it can't be that good, I decided to buy one and check it out. I had to see for myself whether this bar is worth the $150 price tag, or if that money is better served being put towards a nicer bar. Here is my take on the OB-86B.
Olympic Bar?
First things first; the OB-86B is not an Olympic bar. It's not even a multi-purpose bar. This is a power bar. It has only IPF power marks, it's missing knurl in the snatch zone, and sleeve rotation is very poor. Don't get me wrong; I'm not saying that there is anything wrong with it being a power bar; just know that it's not a good choice for programs that include the Olympic lifts.
I am aware that there is already a variation of this bar marketed as a power bar; the CAP OB-86PB, but if you compare the two you will see that the only difference is the name and the sleeve finish. In terms of function and performance, they are the same bar. Simply put, they are both power bars.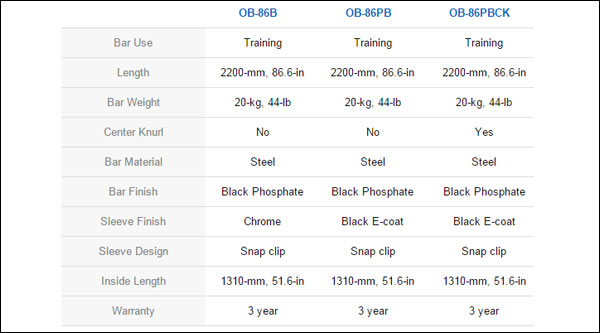 CAP OB-86B Specifications
86″ (7.2′) 20 kg men's power bar.
Shaft diameter: 28.5 mm
Sleeve diameter: 50 mm
Rotation: steel bushing system
Shaft finish: black phosphate
Sleeve finish: bright zinc
Tensile strength: 130,000 PSI
Yield strength: 120,000 PSI
Loadable sleeve length: just a hair under 15″
Imported; China
Warranty: varying reports of 30-days to 3-years. My research leads me to believe that if you receive the bar and have no immediate issues that warrant an exchange, then it's your problem from that point forward.
Regarding the specifications, I will say that I find it very interesting that CAP has made both the tensile strength and yield strength available to us. It required a little digging to find, but it's out there. Anyway, it's interesting because there are many companies that make a far superior product yet they refuse to share the yield ratings with us; a spec that's just as important as tensile strength (if not more.) Just an observation.
CAP OB-86B Finish & Knurl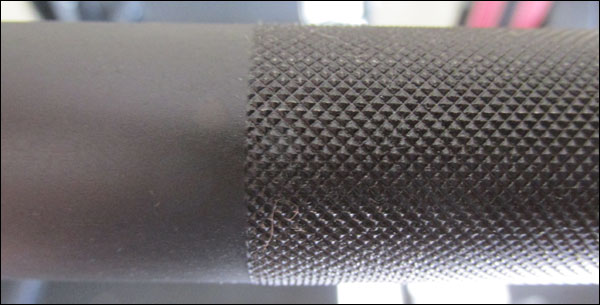 The knurl is surprisingly nice for a bar this inexpensive. It's a tad on the abrasive side; slightly unrefined, but it's comfortable. I've read a couple reviews in which it was stated the knurl is harsh and rough on the hands, but that was not my experience at all. In addition to be comfortable, the knurl is of an adequate depth for keeping a firm grip during even moderately heavy pulls. I have no complaints about the knurl pattern.
Unfortunately, as I touched on above, the knurling falls many inches short of the sleeves. The outer snatch grip area is basically only partially knurled, and that will be a problem for taller folks who insist on using this bar for the snatch. I'm also a little unclear on why there is no center knurl, but it is what it is.
In terms of the finish on the shaft, there seems to be some confusion among both reviewers and vendors on whether or not the finish is black zinc, black oxide, or black phosphate. I'm going to have to go ahead and say that it's phosphate. Black zinc is super shiny, and the CAP OB-86B is a very dull, matte black. I also find that the CAP feels too similar to the black manganese phosphate bars out there to be zinc or oxide. However, who knows how many different ways there are to finish a bar with each material; I could be wrong.
At the end of the day it doesn't really matter one way or the other. Phosphate has the benefit of being more corrosion-resistant, but zinc looks much nicer while also doing a relatively good job of resisting oxidation. Six of one, half a dozen of the other.
Together, the knurl and matte, dry finish make for a decent grip, and adding chalk only increases the security of the grip. Truth be told, the grip is probably the best thing about this bar.
Sleeve Assembly and Rotation
The good news is that this bar isn't pinned. That means no tightening of the bolts between sets is required, and no risk of the sleeve departing from the shaft.
Instead of a pin, the OB-86B uses the more modern horseshoe and snap-ring design; basically what you'd find on a Rogue or American Barbell bushing bar. This is a much more secure way of permanently attaching rotating sleeves, and like I said, it requires no maintenance (other than oiling, as you'll see.) Kudos to CAP for ditching the pin on this bar.
It's not all good news though. A huge issue I found with this bar is a large amount of lateral play in the sleeves. There is a good 2 or 3 mm of movement; enough to be able to slam the sleeve from side to side on the shaft. Not only is this indicative of poor manufacturing tolerances (which naturally makes me worry about the rest of the bar), but it makes for a bar that will experience more rapid wear and tear. It also makes it noisier than it needs to be.
As if loose parts weren't bad enough for the integrity and performance of the sleeves, add in the use of steel bushings and you not only have sleeves with horrible spin, but sleeves that will require constant lubrication just so that they'll spin at all. (For what it's worth, the spin is better than it would be if this bar was pinned.)
To give you an idea of how bad the spin is, while testing the shaft's ability to rotate freely within the sleeves (as you would expect during a lift), I found that having even just one 45-lb plate on each sleeve created enough compression on the loose fitting parts that any rotation of the shaft transferred significant motion to the plates. In other words, at only 135-pounds, spinning the shaft caused the plates to spin as well when they should have remained stationary. Needless to say, this sort of defeats the point of even having rotating sleeves.
No worries though. As I already mentioned, the OB-86B is a power bar, so this hit or miss sleeve rotation is a non-issue. Smooth, quick rotation just doesn't matter much for movements outside of the Olympic lifts. That said, if your non-Olympic program does include power cleans (like Starting Strength), be prepared to oil this bar on a regular basis if you want to maintain any semblance of spin.
On the plus side, the sleeves themselves are grooved. This is a nice feature for bars in general being that it allows change plates to be used outside of collars, but it's even a better feature on an economy bar because owners of economy bars tend to own spring clips. Spring clips lose their ability to cling tight to the bar easily, and having the grooves and ridges on the sleeves help keep those spring clips in place.
Bar Strength / Tensile Strength
I've shown you what the tensile strength and yield rating for the OB-86B is, but you won't find it in most product listings. What you'll find listed instead is the budget-bar alternative to tensile strength; the bar's max capacity; which in this case is claimed to be 1000-pounds.
First let me say that even at this bar's relatively low tensile strength rating of 130,000 PSI, the OB-86B is plenty strong for the masses. Not as many people as we'd like to think can squat over 350 or bench over 225. However, in the interest of safety and not wasting money, it must be mentioned that there is no way that this bar can handle the 1000-pounds that it claims without deforming. It may take going over 1000-pounds to snap the bar in two, but it will bend well before that. Matter of fact, there are many reported instances of this bar failing to manage even 50-60% of that max without bending.
Fortunately; as I hinted at above; the target demographic for this bar isn't going to put anywhere near that much weight on it. We could effectively call this bar a 500-pound max bar and it wouldn't change much. Just understand though that if you already have lifts in excess of 300 or 400-pounds, I would suggest finding a stronger bar. You are already too strong for this one.
OB-86B Bar Whip
Power bar.
Identifying the CAP OB-86B
It seems CAP changed the end caps on the OB-86B. Instead of the steel end-cap with the engraved model number (below image, furthest right), they now have this neon green "Beast" end-cap. It's not the classiest of end-caps, but if you have snap-ring pliers you can pull the end-cap out and use some of that gunk remover to peel the sticker off. I did with one side of my bar (middle image below) and now no one will know that I have a CAP bar.

TL;DR – CAP OB-86B Pros
Obviously the low price is the biggest upside to this bar. It's highest online price is $100 less than the Rogue Bar 2.0 and $50 less than the recently released Echo Bar.
The combination of knurl and the matte finish make for a surprisingly solid grip. It's aggressive, but not sharp enough to be painful. Folks with smaller hands may not care for it though.
CAP went with corrosion-resistant finishes for the OB-86B rather than the useless and messy decorative chrome typical of box-store bars.
The OB-86B is not a pinned bar. No bolts to tighten, and no worry of sleeves falling off the shaft.
Grooved sleeves help basic spring clips stay in position; less re-adjusting of plates and clips
TL;DR – CAP OB-86B Cons
No center knurl; passive or otherwise. The only bars that should be missing the center knurl are CrossFit bars, and nothing about this bar is "CrossFit."
There is an excessive amount of lateral play in the sleeve assembly. This amount of movement is a major sign of poor build quality.
By today's standards, the tensile strength is really low, and you can find complaints galore of this bar bending well, well, well before reaching its "1000-pound limit."
Steel bushings will require more maintenance on your part. Avoid this bar if you are unwilling to maintain it.
The low-quality spin, missing snatch-grip knurl, and lack of whip make this a bad choice for training the Olympic lifts.
This bar has less loadable sleeve length than the average modern day 86″ Olympic bar.
CAP's shipping tubes are very light-duty; higher chance of damage to bar during transit.
The Verdict!
While there are certainly aspects of the CAP OB-86B that are far superior than most other box-store bars, nothing about the bar is particularly impressive. The features that make it stand out as a good box-store bar are things that any other mid-grade bar already has; accurate specifications, corrosion resistant finishes, quality knurl, no pin assembly, etc.
Also consider that along with these "mid-range bar features", you still get some of the classic "box-store problems." You still have the issue of a loose sleeve assembly, a low strength shaft that will bend under much lighter loads than even the cheapest of mid-range bars, and spotty sleeve rotation. You also forego any real warranty with a bar like this.
All that said, it is about as good as you'll get for this kind of money, and I still think there are a handful of people that this bar could be appropriate for; specifically beginners and those with a very low budget.
Beginners are the least likely to have any issues with the lackluster performance, while at the same time being the most likely to get a lot of use out of it before an upgrade is required, and when it comes to someone with budgetary limitations just getting into strength training, this $150 bar may be the difference between getting to lift or not. I'd much rather someone takes up weight training with a less than ideal budget bar than to not take up weight training at all. A year or so down the road when no longer a beginner, a more specialized upgrade can be chosen, and ideally money will have been saved for that purchase.
So if you're relatively new to weight training and your budget is tight, then by all means buy this bar. It is the lesser of countless evils in the budget-bar world, and I prefer this bar over any of the $99 pinned bars you'd find in a Dick's or Sports Authority, or on Amazon. I even prefer this bar to the Rogue Beater, not only because it has normal barbell specifications with no pin, but also because it's like $50 less with shipping.
For the rest of you; anyone with aspirations to improve in the Olympic lifts (including CrossFitters), or more experienced lifters with respectable numbers in the big three; you should expect to pay a bit more that $150 for the most important piece of equipment in your gym. To even risk limiting or delaying your progress with a bar below your skill level just to save $100 is just silly to me, and I'll just leave it at that.