In need of some new bumper plates for your garage gym or affiliate? Whether you're just getting started and buying your very first bumper plates set, looking for an upgrade to your existing weights, or you just need access to more weights than you currently own, this post should help. I have scoured the net for the best prices on sets for standard black bumpers, training bumpers, and competition bumpers from reputable vendors. I have considered bumper plates sets from all the major manufacturers and found what I believe to be the best prices on the most durable bumpers.
For a primer on bumper plates, including the difference in the types of bumpers, the advantages of bumpers vs steel plates, and average prices per pound by brand, see my original bumper plate guide.
Table of Contents
Basic Black Bumper Plates Sets
The contenders: HI-Temp, Rogue HG 2.0, Vulcan, American Barbell Sport, Rogue Echo, Eleiko XF, and Pendlay bumper plates.
Brands left out – but not forgotten: There is no shortage of other basic bumper brands; Kraiburg, Again Faster, Ader, York, and all the small CrossFit shops that get their names stamped on versions of these very same bumpers. In an effort to keep the black bumper plate section of this article even remotely easy to read, brands not offered in sets, redundant brands with higher prices, brands with inferior or no warranties, and brands known to be poor quality (box-store brands like VTX, RAGE, etc) have been left out or even omitted from this post.
Weight sets: I've priced out the following sets: 160 lbs (pairs of 10's, 25's, and 45's), 260 lbs (pairs of 10's, 15's, 25's, 35's, and 45's), and the 350'ish range (included plates vary slightly in this range). There are many other sets of varying weights available, but these three were the most common and therefore easiest to compare. This should be more than enough to give you a solid idea of how each brand is priced.
The specifications: When it comes to black bumpers, these brands are all very similar; some are even made in the same factory. With the exception of HI-Temps, all of these plates are the IWF standard 450 mm diameter plates with 50 mm steel inserts (HI-Temps are 17.5″, or 444 mm.) When shopping other brands, avoid plates with brass or bronze inserts; buy plates with steel or stainless steel inserts only.
The width of each size can vary slightly by brand. Most are generally in the same ballpark, but the crumb rubber brands (Eleiko XF and HI-Temps) are super thick. On the other hand, the Vulcan plates are probably the narrowest non-competition bumpers available. Of course the only reason the width matters is so you can fit more plates on the bar. There are other minor differences, and I'll summarize each brand briefly below.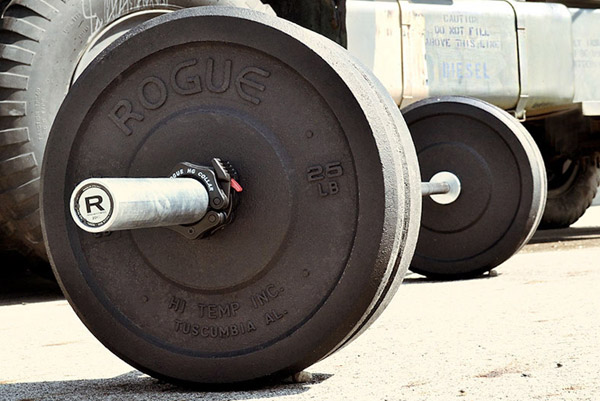 The HI-Temps are significantly thicker and more resilient than the virgin rubber brands, but they produce more bounce. These are great plates, and they are one of the few bumper options suitable for outdoor use (the other being the colored Vulcan Alphas). They are also one of the only brands of black bumpers that are made in the USA. Drawbacks include higher cost, and a slightly smaller overall diameter than pretty much every other single plate on the market (17.5″ vs IWF 450 mm.)
Vulcan Strength bumper plates are currently my favorite. Not only are they priced competitively (especially in large sets), but the plates themselves have a number of design innovations that improve their durability so that you never have to replace them.
While there are many, the most important improvement is addition of steel rebar to the insert. Not only is the plate molded around the insert, but the rubber also gets molded around this rebar. This pretty much eliminates any chance of insert separation. In the image below, you can see a cross-section of a Vulcan 10-pound plate. Even with half the plate cut away, the insert still won't come out of the plate.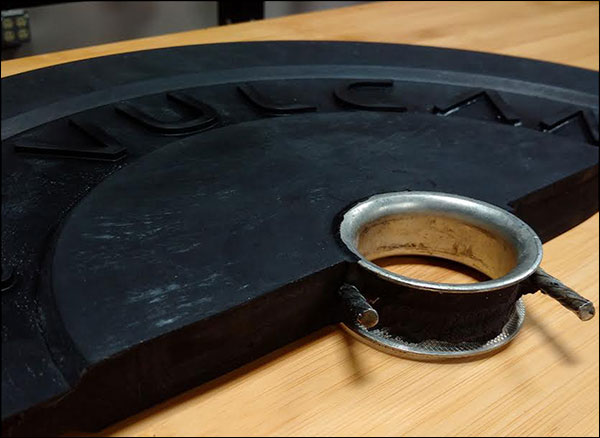 The combination of improved durability, competitive set pricing, long warranty, and low bounce make the Vulcan plates about the best choice for CrossFit and Olympic WL training; both garage gyms and boxes alike.
FYI: Vulcan Strength has an inventory reduction sale – 10% off all basic black bumper plate sets starting July 19 2017 and running until… they reduce inventory sufficiently? The best basic bumper design around is already competitively priced, so 10% off that is pretty solid. Just FYI! I'm told discount is applied in the cart.
The American Barbell Sport Bumpers are AB's version of the basic black bumper plate. These are really no different than any other basic brand, but they have the advantage of having the lowest base (non-sale) starting price of all the major players. Shipping is free to the West Coast and Midwest, and a small fuel surcharge is added to East Coast orders (as you can see this surcharge is standard practice for retailers when it comes to bumper plates. These are a solid deal, but like most of the other plates on this page, the lighter plates lack the added durability of the Vulcan style. [review]
The Rogue HG 2.0 is the standard basic black bumper model. This is the plate design that most of us are familiar with, and the ones you see in most CrossFit boxes (the older HG plates had the grenades on them). The HG was recently improved and is similar in appearance to the Vulcan version, but unfortunately the Rogue plates lack the anchored insert. I have no problem with these plates, but they are best for lifters looking to add some big plates to an existing collection, as the 10's and 15's are not the most durable option.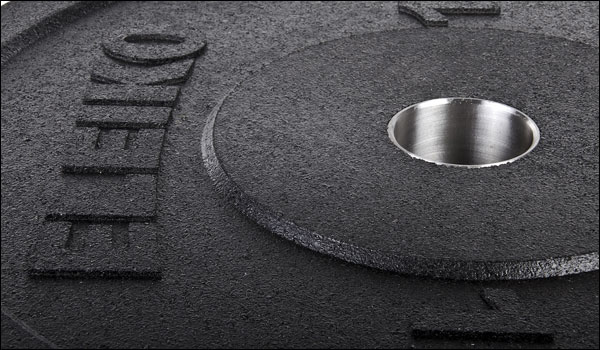 The Eleiko XF is Eleiko's idea of economy basic bumpers. They are the thickest basic bumpers around, and also the most expensive. Set variety is non-existent; XF plates are only offered in a 370-pound set or 100 kilogram set. You'll have to buy pairs if you want less weight than these sets, but I don't recommend building sets of any brand of bumpers in pairs. An unfortunate drawback to these (aside from price) is the fact that the steel inserts are not seamless like all other plates, and the seam will do a number to the finish of your barbell. That said, these are some the quietest plates on the market, so if that noise dampening is important to you, these may be the plates for you.
Alternatively, the Vulcan Alphas are just as quiet as the XFs, but they're colored so they aren't in this list. However, they are less expensive, thinner, and the inserts have no damaging seam. If noise is an issue in your home, garage gym, or affiliate, I strongly suggest looking into the Alphas if the Eleiko's are out of your comfort zone price-wise. You can also read a review of the Alphas here.
♦ ♦ ♦
160 lb Bumper Plate Set
The 160-pound set is the smallest available set and it contains a pair of 10's, 25's, and 45's. This set is small, and I would suggest at least a 260-pound set if you're starting from absolutely nothing. Having said that, it is the one set that just about every merchant offers so I have included it anyway. Just remember that the larger the set is, the less you pay per pound, and the more time that you have before you need to add more weight to it.
♦ ♦ ♦
260 lb Bumper Plates Set
The 260-pound set is a well rounded intro set that includes pairs of everything from 10 to 45 pounds (10's, 15's, 25′, 35's, and 45's). Vulcan's and Echo's sell for the same price, but the Vulcan is a more innovative plate. If you plan to toss around your 10's and 15's alone on the bar, definitely go Vulcan. If not, then the durability of the smaller plates matters not.
♦ ♦ ♦
350(ish) lb Bumper Plates Set
These big sets are not as easy to side-by-side compare as the previous two due to the difference in total weight and difference in plates offered in the packages. They range from 340 pounds to 370 pounds depending on the vendor, but in all cases these are the most economical (cost per pound) sets offered. Free shipping is available to various parts of the country from all of the listed vendors below except Eleiko.
** The 405-lb Eleiko XF bumper set is the 370-pound set with 3 pairs of Vulcano change plates included – a pair of 2½-lbs, 5-lbs, and 10-lbs.
♦ ♦ ♦
Basic Bumpers in Kilograms (KG)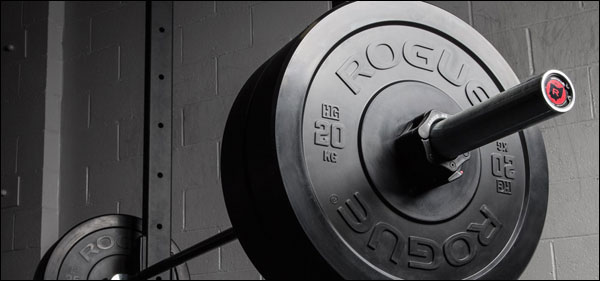 Finding basic bumper plates in kilograms is not as easy in the states as it is in the rest of the world, but selection has gotten better over the years. Rogue offers black HG bumpers in kilograms, Vulcan offers colored basic bumpers in kilograms, and American Barbell offers both. Finally, York makes black kg bumpers, but the price doesn't appear to be very competitive regardless of retailer.
♦ ♦ ♦
Basic Color Bumper Plates
Colored basic bumpers are a compromise between basic black plates and training Olympic discs. Getting IWF colors on your basic plates raises prices somewhat, of course, but no where near what professional large-hub plates cost.
The Alphas are the real leaders of this group, though the colors are speckled rather than solid. Alphas are quieter than basic plates, can be used indoors or out, have all the same durability features of Vulcan's black plates, and they just blow other basic color plate prices out of the water. Read my review on Alphas here if they are on your radar.
Rogue Echos are almost always out of stock – they may even be discontinued for all I know. The American Barbell shields just got a massive price reduction, as I assume they just weren't selling at their previous price point. Vulcan offers their solid colored plates in bulk which is the way to go if you're looking for color for a gym or box.

♦ ♦ ♦
Olympic Training Bumper Plate Sets

Training Olympic bumper plates are the non-certified, non-calibrated version of Competition bumper plates. They have a much larger steel hub than basic bumpers, they are usually color-coded, and they offer a dead bounce when dropped. The weight tolerances are generally much stricter than they are with basic bumpers as well. The majority of training bumpers are sold in kilograms, but finding them in pounds stateside is pretty easy (Rogue, American Barbell, even Eleiko.)
Many manufacturers call their training plates competition bumpers despite the fact that they aren't certified to be used in any sanctioned events, nor are they calibrated. Ignoring this fact, I still categorized bumpers below based on their given label (by the manufacturer, that is). Just keep in mind that unless a bumper plate is actually IWF certified, it's really just a training bumper. Rogue Competition Bumpers are sort of an exception to this rule as while they are not IWF certified for Olympic WL events, they are the official bumper of the CrossFit Games.
140 kg sets of Training Bumpers (or 320 pounds)
The 140 kg set includes a pair of 10's, 15's, 20's and 25's. The 320 lb set includes a pair of 25's, 35's, 45's, and 55's. You will find that Rogue and Vulcan have the best prices on training bumper plates, and you should always double-check Vulcan for a sale. If you like a smaller hub, you'll want to look at either the Eleiko Sport Trainers or the American Barbell Trainers for kilograms, and the Rogue Urethane Bumpers for pounds.
Rogue almost always has a multitude of basic, training, and competition bumper plates in the Closeouts section of their website, including used plates from the 2014-2015 CrossFit Games.
♦ ♦ ♦
Competition Bumper Plates Sets

While I initially did price out all of the major brands and multiple weight sets, I have decided not go into too much detail with the competition bumpers since so few people actually require them. However, in order to give a general idea of prices for various brands, I will list the current pricing for a handful of 140 kg sets and then provide links for each brand so you may research them further if you would like.
Note: As I mentioned above in the Training Bumper section, it can be argued that most of these bumpers are actually training bumpers as only a handful are actually certified, but I'll play along with the manufacturers and call them competition plates. If you are buying plates for an event, research very thoroughly which discs/brands are approved for your event.
140 kg Competition Bumper Sets
140 kg sets include a pairs of 10's, 15's, 20's, and 25's. Standard Olympic plate colors are green (10's), yellow (15's), blue (20's), and red (25's). As you'll see, the only included discs that are certified are the Eleiko's and the Uesaka's.
† – IWF-certified
* – Warranted
♦ ♦ ♦
If you have any feedback about any of these bumper plates, please leave a comment. If you feel I neglected a particular brand that should have made this list, I welcome your comment on that as well. Tell me which brand, and why it should be here.