Looking to buy some new bumper plates for your garage gym? Whether you're buying bumpers for the first time, looking for an upgrade, or just ready to slap more weight on the bar, I can help. I have looked far and wide for the best set prices on standard black bumper plates and training bumper plates from reputable vendors. I have considered bumper plates sets from all the major manufacturers readily available in the USA and found what I believe to be the best prices on bumper plate sets.
For a primer on bumper plates, including the difference in the types of bumpers, the advantages of bumpers vs steel plates, and even price per pound when purchased in pairs, see my original bumper plate guide. If you're looking for full bar + bumper starter packages, I've covered packages here.
Table of Contents
Basic Black Bumper Plates Sets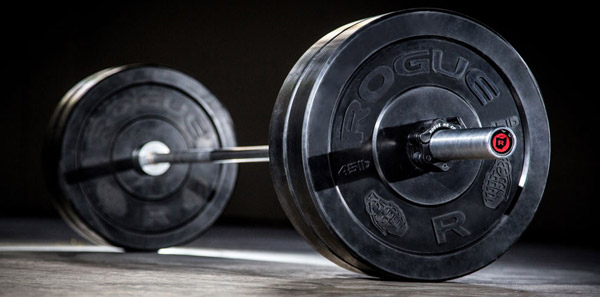 The contenders: HI-Temp, Rogue HG, Fringesport OFW, Pendlay Econ, and Troy VTX.
Brands left out – but not forgotten: Due to higher prices, redundancy, or no compatible weight sets (pairs only), Kraiburg, York, and Ader have been left out of the basic bumper plates category. Variations of these same bumpers that other companies get their name stamped on have also been omitted to further reduce redundancy.
Rogue Echo bumper plates are currently completely absent from this guide. Rogue has had supply issues since their release. As of this edit (3/12/14) they are still back ordered and over a month out from their projected arrival date. I will add them when they're actually available to buy.
Weight sets: I've priced out the following sets: 160 lbs (pairs 10′s, 25′s, and 45′s), 260 lbs (pairs of 10′s, 15′s, 25′s, 35′s, and 45′s), and the 350′ish range (included plates vary slightly in this range). There are many other sets of varying weights available, but these three were the most common and therefore easiest to compare.
The specifications: In this category, these brands are all very similar; some are even made in the same factory only with different company names molded into them (gasp!). The only really unique bumpers in the bunch are the HI-Temps and the OFWs from Fringesport.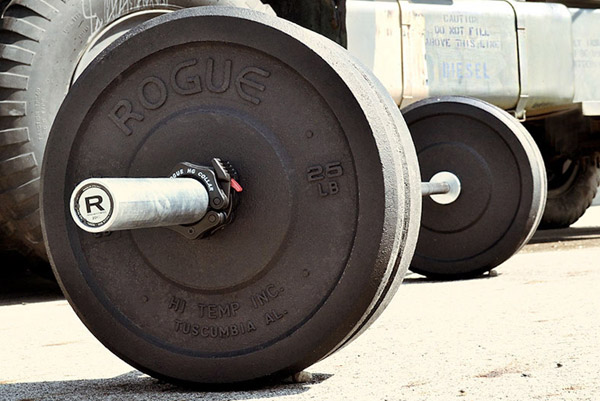 The HI-Temps produce a lot more bounce, are extremely resilient, and are significantly thicker than other plates, and the OFWs are a new, recently improved design that is meant to hold up better against typical Crossfit abuse (read more about the OFW plates here). All of these plates are the standard 450 mm diameter with steel inserts (no brass). The HI-Temps are the only brand in this category that is manufactured in the USA (just in case that matters to you). All the others imported.
160 lb Bumper Plate Set
The best price I found for a 160-pound set including shipping was at Fringesport. Their OFW black set costs only $269 and includes free shipping anywhere in the continental US. Not only are the the OFW bumpers super affordable, but the 10′s and 15′s are much more resistant to bending than the HG, Econ, and VTX plates. Honestly, I'd probably still recommend the OFW plates even if they cost 20% more than they do; at least for CrossFit because of the abuse they'll go through.

I originally had the brands below listed in order of set price since they were all free shipping, but because of constantly changing prices and shipping policies (see the update below), let's just say that they are now in no particular order. 
**Update – May 2014: Rogue lowered the price on all HG bumper plate sets but removed the free shipping. However, they are now included in the '3 Ships Free' program. That means you have to buy 2 additional items that qualify for the '3 Ships Free' program to receive free shipping. This set was originally $298 with free shipping and is now $275 before shipping. To add to the confusion, Rogue still offers free shipping on VTX and HI-Temp IF you live within certain shipping zones. What a mess!
260 lb Bumper Plates Set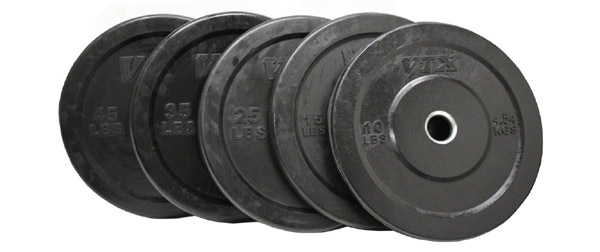 The Troy VTX bumpers are the front runner by over $20 if you live within Rogue's free shipping zone. If not, the cheapest is going to be the OFW plates from Fringesport. Again, the OFW plate is a much better plate anyway, at least with the 10′s and 15′s.
**Update – May 2014: See the Rogue shipping update above, it applies here as well.
350(ish) lb Bumper Plates Set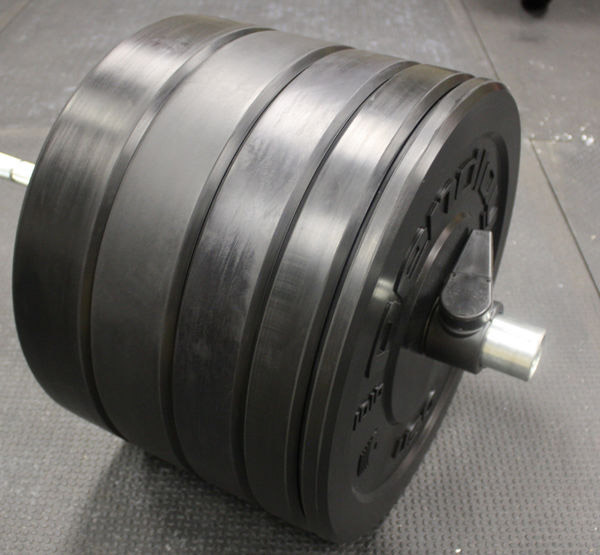 These big sets are not as easy to side-by-side compare as the previous two due to the difference in total weight. They range from 340 pounds to 370 pounds depending on the vendor. Fringesport's sets are bigger since they include 3 pairs of 45′s; which I personally think is pretty cool. Then again, MDUSA includes a pair of 55′s which is also nice. You're kind of on your own with these sets, just pay attention to the total weight as well as the price.
Basic Color Bumper Plates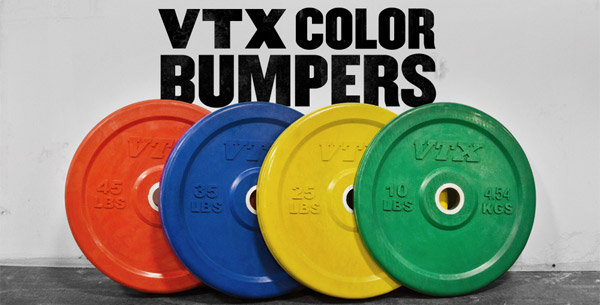 The VTX and OFW bumpers are also available in colors. It's a little more pricey to buy them this way, but that option is available if you'd prefer. Here are some prices to give you an idea of cost difference. FYI, the quality differences between the OFW and the VTX are the same as with the black bumpers.
Training Bumper Plates Sets

The contenders: Rogue, Eleiko, Pendlay, and Werksan.
Weight Sets: 210 pounds (pair of 25′s, 35′s, and 45′s) & 140 kilograms (pair of 10′s, 15′s, 20′s, and 25′s).
The Specs: Training bumper plates are a non-calibrated version of competition plates. They have a dead bounce and have much stricter weight tolerances. The standard for plates of this caliber is +/- 10 grams. They are typically color coded as well, with the exception of the Pendlay black and white Elites. Both training and competition bumpers are much thinner than standard black bumpers, and the collar opening is reinforced with a much larger steel insert.
210 lb Training Bumpers Set
Rogue has the best price on training bumper plates. However, the Pendlay Blacks are calibrated, and at only $15 higher than the Rogue's, it may be worth it to you to have that. Fringesport has better pricing on Pendlay than the Pendlay store does; go figure. Notice that the Werksans are in kilograms, not pounds, which makes it closer to a 200 pound set.
Ivanko and the standard Eleiko Trainers were too expensive to bother comparing to the more reasonably priced Rogue and Pendlay bumpers. Again, this is about Crossfit and $1300+ is too much for three pairs of bumper plates.
140
kg

Training Bumpers

It's easier to find training bumpers in kilograms than in pounds so the next set will in fact be in kg. The 140 kg set includes a pair of 10′s, 15′s, 20′s and 25′s. Again you will find that Rogue has the best price on training bumper plates with the calibrated Pendlays in close second. I've included the Eleiko Training Bumpers this time for fun.
Competition Bumper Plates Sets

While I actually did price all of the major brands, I have decided to leave full competition plates out of this price guide. The cheapest set I found is the Rogue competition bumpers, and those are $1000 for the 140 kilo set. It only gets worse for the sets from Eleiko, Werksan, and Ivanko. (Eleiko Competitions are $2000 for the 140 kg).
99.9% of us won't ever own or need to own a full competition bumper plate set. The training bumpers discussed above are already way nicer than any garage gym or affiliate requires. So rather than write up another thousand words on the subject for the .1% who may be interested in these discs, I'll provide links to where you can go research and buy them if you'd like.
If you have any feedback about any of these bumper plates, please leave a comment. If you feel I neglected a particular brand that should have made this list, I welcome your comment on that as well. Tell me which brand, and why it should be here.