This is a review of what is now officially the most beautiful Olympic bar in my garage gym, the American Barbell Stainless Steel Olympic Bar. Not only have I taken a very close look at this bar myself over the last month and a half, but I have asked American Barbell a lot of technical questions about its construction as well. I am hopeful that you will finish reading this review knowing all that there is to know about this Olympic bar.
Just so you know what kind of bar we are talking about here, this is a 28 mm Olympic bearing bar that's designed to be used for training heavy snatches and cleans. This bar is a very unique alternative to the high-end, imported training bars.
I realize that the elite Olympic weightlifting bars don't fit into everyone's garage gym theme, but keep in mind that many aspiring and hardcore Olympic lifters train in their garages too, and it's nice (and fun) to get some quality WL bars reviewed for them from time to time as well.
AB Stainless Steel Olympic Bearing Bar Specifications

First up, the specifications. As always, these specs can be found on the bar's product page.
IWF standard men's 20 kg bar, 2200 mm in length
IWF-spec Olympic markings with passive center knurl
IWF-spec 28 mm shaft
Stainless steel, corrosion-resistant shaft
Hard chrome 50 mm sleeves, 16.3″ loadable length
Minimum tensile strength rating of 190,000 PSI
Minimum yield strength rating of 175,000 PSI
Medium knurling on stainless steel offers an incredibly secure grip
Proprietary high-load bearings with internal chalk/dust guards
Double snap-ring sleeve assembly
$799 including shipping – Lifetime warranty
Stainless Steel
I suppose that I should begin with what I think is the coolest aspect of this bar; the stainless steel shaft.
Seriously, this shaft is really cool. I like it because stainless steel is the only material available that offers that superior, raw steel feeling, but without all the maintenance that comes along with owning an actual bare steel barbell. You don't have to worry about constantly brushing and oiling to prevent and remove rust because stainless is corrosion resistant, and since it's not a finish, it can't be chipped and nicked away like any of the applied finishes can (zinc, manganese, and even chrome.) Plus, it's just a beautiful material.
So you might be wondering, if stainless steel is so amazing, why are there so few stainless steel barbells?
Well, price! To give you an idea, the American Barbell SS Bar is about $200 more than its chrome-only counterpart. It sounds like a lot of money, but that's actually fairly reasonable by comparison… Ivanko Barbell offers a couple stainless steel bars; their professional Olympic bar (OB-20KG), and their IPF Power Bar (OBX-20KG). You can get either of these Ivanko bars in black oxide for about $600, or you can get them in stainless steel for about $1100 (not a very subtle price difference.)
So the question becomes, is stainless steel worth the extra cost? If you can afford it, I think it is.
Raw steel shafts have the best feel, but the fact is that you have very few options for bare steel and stainless steel Olympic WL bars. None of the IWF manufacturers offer stainless or bare steel Oly bars (Eleiko actually has one bare steel bar; but it's a power bar), and neither does Rogue. You're left with only Ivanko and American Barbell, and Ivanko is far more expensive. So much so that you can buy a solid second bar with the difference in cost!
Bearings / Sleeve Assembly
The American Barbell SS Olympic Bar has a slightly different bearing system than other Olympic bars. Rather than having high-speed bearings that spin erratically for many minutes at a time with little or no weight on the bar (as most bar reviewers; myself included; are usually quick to demonstrate), this bar has proprietary bearings that American Barbell claims are the largest, high-load, precision bearings in the industry (42k PSI per sleeve vs. the industry standard of 25k PSI.) These bearings are designed to allow the sleeves to spin smoothly, quietly, and reliably under any amount of weight.
This bar should never lose spin. No amount of weight that you can physically put on the sleeves should ever be enough to compress the bearing cartridges and create drag. Of course I tested this (below), and found that I was indeed unable to slow or prevent sleeve rotation.
Since any decent bushing bar can be used for Olympic lifts (up to a point), the reasoning for dropping extra cash for an Olympic bearing bar is get access to sleeves that still rotate smoothly as you get under progressively heavier weights. When you're still learning and you're cleaning 40 kilos, go ahead and use your bushing bar. When you're cleaning 100 kilos or more, you want reliable sleeves that can rotate that 180 degrees without transferring any inertia to the plates, and this bar does that.
Regarding the video… since I cannot clean the amount of weight I loaded onto the bar (awww), I needed a creative way to demonstrate how these bearings would spin under an extreme load. By placing the loaded bar (455 pounds) on my spotter arms, I can roll the shaft across the spotters and look for any transferred inertia simply by watching the plates.
If the plates were to spin along with the shaft, that would mean that the bearings are being compressed and cannot spin freely within the sleeves. If the plates remain motionless (as they do), then the bearings are doing their job. No matter how quickly, slowly, or abruptly I rotate the shaft, the plates remain still. These are nice bearings, and I'm pretty sure this is more weight than you'll be cleaning or snatching.
If you want to see the other extreme, grab one of your bushing bars and try this test yourself. I did, and with multiple bushing bars. In every case, the bushing bars could not be rotated without applying enough force to rotate the shaft, sleeves, and every plate on the bar. Clearly not ideal for Olympic lifts (and your wrists.) You can also try this with your favorite bearing bar to find out at what point the bearings fail to spin smoothly. Not all bearings are created equal.
Interesting Sleeves
There are a couple of other minor things that I find interesting about the sleeves; aside from the bearing system, that is. For starters, this bar has a very attractive, recessed weld joining the sleeve shaft to the sleeve collar/shoulder. Yeah, it's cosmetic, but I think it's extremely cool looking and gives the bar some unique flavor.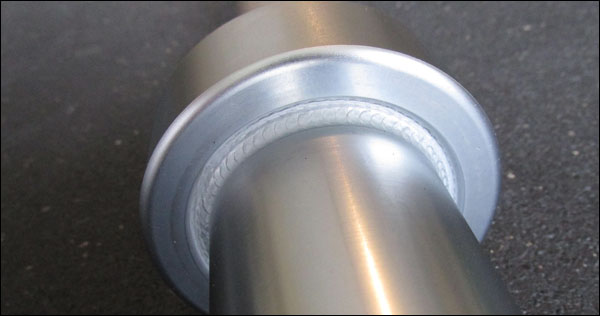 Second, there is a extra thick layer of hard chrome applied to the sleeves to help ward off scratches and help eliminate the chances of knocking off chunks of chrome as you load/unload plates. Chrome is already more resilient than zinc and oxide, but more has to be better, right?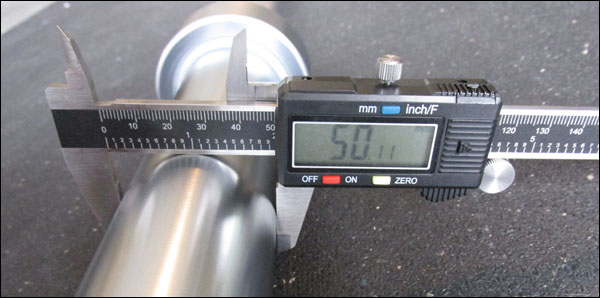 There is another really cool side effect of this extra thick chrome, and that is that the sleeves end up being slightly thicker in diameter. How is that good? Well, the standard opening for bumper plates (both basic black and competition) is 50.40 mm. With this gap between bar and bumper closed a little bit more, bumper plates fit more snugly, and that helps to eliminate rattling on the bar. Sure, it's only a tenth of a millimeter, but it makes a huge difference!
Bar Whip
If you're worried that a bar with a stainless shaft is going to feel any different than your normal steel bar in terms of elasticity, worry not. This bar feels the same as any other 28 mm Olympic bar at or around this PSI and yield rating (190k/175k). I wouldn't consider it to be the whippiest bar I've ever touched, but it's certainly not stiff or rigid. It takes about two wheels before whip becomes obvious, and just gets better as the weight goes up; pretty standard stuff.
I mentioned this already, but I'll mention it again; this Olympic bar was designed for heavy lifts. Everything about it just responds very well to a lot of weight.
Knurling
Ahh, the joys of explaining knurling…
The knurling of this stainless bar feels finer and more refined than would be considered typical for a premium Olympic bar. It doesn't have the obvious aggressive sharpness to it like you would find on an imported training bar, but it still offers a very secure grip. It's a great grip without chalk, and an ever better grip with it.
Of all my bars, the actual knurl itself (without factoring in the unique feel of the steel) feels closest to the Rogue Chan. It's very grippy, but not sharp to the point of being uncomfortable. Couple the good knurl with the stainless steel and you have a bar that doesn't slip and just feels really good. I still consider it a medium knurl since it isn't quite to the point of being aggressive, but I like it.
I know I've said this before, but knurling is getting much more sophisticated. Manufacturers are able to get very small cross-hatches on their bars now. Each "point" can have slightly less of an edge to it since there are so many more per square inch. While it may be nice (or shall I say, "familiar") to have thousands of super aggressive points stabbing at your hand when you're on the stage, that doesn't mean you need that discomfort in order to have a secure grip when you train.
So, will this bar feel like an Eleiko, WerkSan, or DHS competition bar? No, but that doesn't mean you can't hold on to it.
Cons!
The obvious con is the price. I don't think it's an unjustified price, but $799 for a non-certified bar is a lot. This bar is stage worthy, and it meets all IWF standards, but unfortunately it could not be used at a sanctioned event unless it becomes certified at some point down the road.
What you have to consider is that were it not for the stainless steel, this would be a $599 bar. You have to really appreciate the benefit of lifting with raw steel in order to justify the added expense. Having said that, I do think that American Barbell offers stainless at a much better price point than the other brands that make stainless available. I gave you Ivanko's prices already, and the raw steel Eleiko Power Bar is just as much as the Ivanko (and it's just bare steel, not stainless.)
Another con is that the sleeves do not have pronounced grooves that help keep change plates on the bar when collars aren't used. This could be one of the bigger oversights with this bar considering it's being marketed strictly to Olympic lifters who, quite frankly, all tend to lift in kilos and therefore must use change plates. The sleeves are beautiful, but they are smooth as can be.
I don't really have any other cons. It's a functional bar, it's a beautiful bar, it has the ultimate shaft, and it's American made with a lifetime warranty. So long as you can afford it and still afford your macros, it's one hell of an Olympic bar.
American Barbell SS Olympic Bearing Bar – Summary
I'm not always sure how long I'll keep any given bar, but I know that I'll never get rid of this bar; it's just too damn nice. It has a feel unlike any other Olympic bar I own, and it's practically indestructible. Interestingly enough, this is the first bar that I've reviewed that could still pass as new after lifting on it and testing it for over 30 days. The shaft looks the same as the day I got it, and so do the sleeves. It just cleans up so well, and the thick sleeves have nothing more than a few micro scratches from steel change plates (which I shouldn't even be using anyway.)
Is this bar for you? Maybe. This is a bar intended for serious intermediate to experienced Olympic weightlifters, and elite CrossFitters who favor the Olympic lifts aspect of CrossFit. If your program revolves mostly around standard strength training and static power lifts, this isn't a great fit. You gotta love those snatches and cleans to own this bar.
Having said that, if you are a serious Olympic lifter, and you're about to drop a grand on one of the imported IWF trainers or comp bars, I suggest you at least track down a buddy or local club with either this bar or the chrome version and get under it a few times. I think you'll be pleasantly surprised. I know it's fun to tell people that you have an Eleiko or a WerkSan, but there are plenty of high performance, stage-worthy bars that aren't certified, and that IWF sticker is a big chunk of those bar's prices.
Interestingly enough, this bar is about to have some major competition in the marketplace. Stay tuned for more info on that.