This bar has been updated and has been much improved over this older version. See an updated review here.
In this review I'll be taking a look at the OFW Wonder Bar, an entry-level, import WOD bar. This is version two of the Wonder Bar (W2), and while it is much improved over the 1st gen Wonder, it still screams lower-end bar. Some of the more notable improvements include an increase in shaft strength, twice as many bearings, upgraded zinc finish, and flashier metal end caps (noisier too). Of course, the price has changed too; upwards that is, from $189 to $219.
As entry-level bars go the Wonder Bar is decent. It is a low-cost, functional CrossFit WOD bar, and even with the price increase it's still relatively affordable. Sure it's no premium bar by any means, and it doesn't belong in the hands of even an intermediate lifter, but when it comes to newcomers to the Olympic lifts it's a nice compromise between the cheap, poorly crafted box-store bars and the tried-and-true, mid-range bars that run closer to $300. It's a viable option for novice lifters on a tight budget.
Update February 2018: This is not a new review, it got pushed into Review Mode for some reason and needed to be republished – just in case you received a new post notification.
---
Wonder Bar v2 (W2) Product Specifications

20 kg, 28 mm men's bar
Tensile strength: 200k PSI (20 kg)
Rotation: bushing or bearing
Sleeve assembly: snap-ring.
Knurl: mild, no center knurl, (dual-marked.)
Elasticity: low to no whip.
Finish: black zinc
Loadable sleeve length: ~16″
Warranty: one year
Origin: China
Price: $209-$219
---
Knurl
The Wonder Bar has mild knurl. It's not the softest I've seen, but it's not even close to being aggressive. I'd say that the knurling is ideal for unconditioned hands and high-rep sets. Any slippage you experience say in a long WOD can be partially mitigated with some chalk.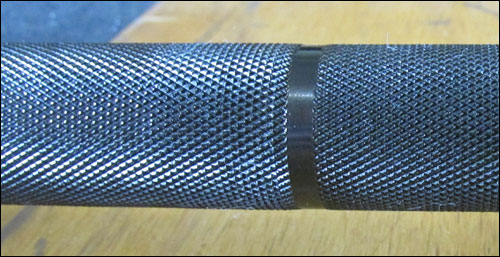 The original Wonder was only IWF marked, but the current version of the Wonder Bar is a dual-marked IWF/IPF bar. There is no center knurl on the W2.
---
Sleeve Assembly & Rotation
The original Wonder Bar had only two economy bearing cartridges per sleeve assembly – one at either end of the sleeves, much like a bushing bar. This shortage of hardware (both quantity and quality) made the Wonder somewhat fragile at heavier loads, and it was a big part of the reason – though not the only reason – the Wonder was considered to be such a low-end bar.
The Wonder Bar 2 is more inline with standard bearing bars in that it has four bearings per sleeve for a total of 8 – twice as many as before. Since bearing cartridges have a maximum amount of force they can handle before deforming or breaking, doubling up on these allows for heavier and more frequent drops, and goes a long way in increasing the life of the bar. They are still very cheap bearings though, so again, intermediate and advanced lifters with heavy lifts should shy away from this bar.
In terms of the quality of rotation, well being that this is a bearing bar it should come as no surprise that the Wonder has a lot of spin. Turnover is reliable and excessive, and there is a small amount of lateral play in the sleeves. Now I certainly wouldn't make the claim that the Wonder is the smoothest, quietest bar around, but it's $219; you get what you pay for.
---
Shaft & Whip
The shaft of the W2 is alloy steel. It's 28 mm in diameter, and for a bar this low-cost it has a high tensile rating (about 200k PSI.) The steel is probably of a low quality considering that the rating is so high and the price so low, but the previous gen bar was the same low quality steel with only about a 130k PSI rating, so technically more is better.
As you might expect of a low-cost, high PSI bar, the shaft lacks any real elasticity. It is just not a whippy bar at all. Being that this is still somewhat of a beginner bar, this lack of whip is a non-issue.
Finally, the product description makes the claim that the Wonder has a maximum capacity of 1600 pounds. Please ignore this specification; it means nothing.
---
Finish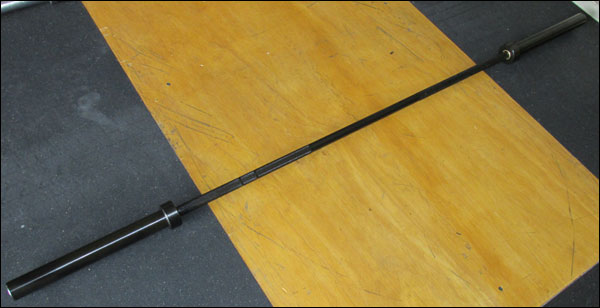 The original Wonder had black oxide, which is a very grippy, very natural feeling finish. For the W2, black oxide was ditched for black zinc. Black zinc looks nicer at first, and it does a much better job of protecting the steel from oxidation, but oxide is a better finish for actual lifting, while black zinc is just nice to look at when it's new.
Another downside to black zinc is how easy it chips away. Any metal-to-metal contact will remove some of that zinc (think plates). It sucks, but it is what it is. Actually you'll find that almost all budget bars are black zinc these days, so you either accept it, or you spend more money for a better finish.
One other thing about the sleeves is the new end caps I hinted at in the article intro. These new end caps are metal, and they are heavy. They are also very loose fitting in the bar. As the sleeve turn over, the caps bounce around in the housing and make a crap load of noise. Only one of my sleeves did it, the other didn't. So maybe you'll get lucky and get a bar that doesn't do it at all. Or, you get unlucky and get a bar where both caps clang around.
---
Wonder Bar Review Summary
I think the Wonder Bar 2 is sub-par overall. It's pretty inexpensive at only $219, but it's still a lease. What I mean is that you will replace this bar in a year or two, so by dropping $219 on a bar that you know you won't keep rather than buying one that will last forever, you are just renting.
If the Wonder Bar was in the $125-$150 range I'd say that it's a hell of a beginner's bar and sure go to town; however $219 is just too close in price to the Vulcan One Bar or the Rogue Bar 2.0, both of which are infinitely better bars and better buys.
---