A few months back I was looking to pick up a new trap bar for the gym. I wanted something basic, but not something cheap. I was willing to put some money into this new hex bar, but I wasn't trying to see how many [mostly-unnecessary] bells & whistles I could cram into it and have to pay for. I simply wanted a new trap bar that had virtually no weight limitations, could be racked for shrugs, and was relatively easy to store; at least as far as hex bars go. I didn't care about open-ended models, dual-handles, build-in jacks, etc.
I considered many different trap bars – Rogue's TB-1, the Intek Modular Bar, and of course, the Vulcan Prime Trap Bar; among a few others. I ultimately settled on the Vulcan Prime (in case the title of this article didn't give that away.)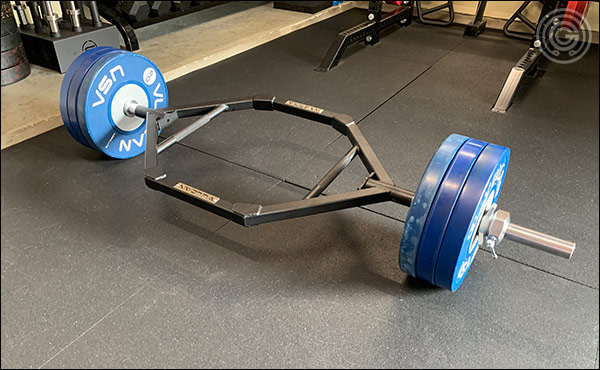 I chose the Prime over all the others for a number of reasons, and I'll get into those reasons later in the review, but suffice it to say for now that the Prime met all of my criteria, and it did that for the most reasonable price.  I didn't have to settle for not getting what I wanted, and I didn't have to pay for something extra I didn't really care about.
Am I happy with my purchase? Read on!
---
Vulcan Prime Hex Trap Bar Specifications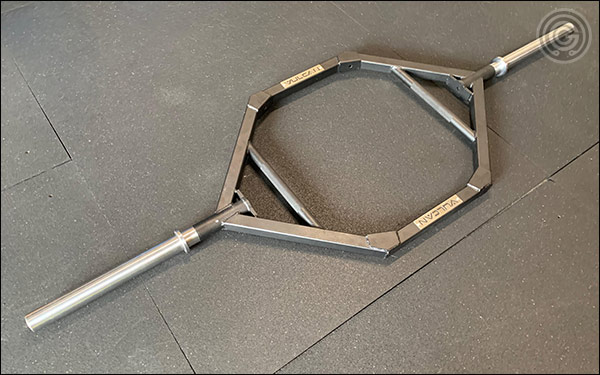 frame:

1.5″ x 1.5″, 11-gauge steel tubing
thick reinforcing plates at corners
total weight unloaded: 60 lbs
weight capacity: virtually none
finish: textured black powder coat

dimensions:

absolute dimensions: 85″ long x 3″ thick x 28½" wide
inner hex dimensions: 25″ between handles x 25½" deep
handle length: 15½" with center 7½" being knurled (moderately aggressive)
handle diameter: 33 mm (1.3″)

sleeves:

50 mm, solid Olympic sleeves
loadable sleeve length: 16″
finish: hard chrome
rotation: N/A

miscellaneous

stainless steel Vulcan logos on either side of hexagon
rackable in most power racks (confirmed for 49″ racks)
meets Army Combat Readiness Test (ACRT) specifications
price: $379.99 including shipping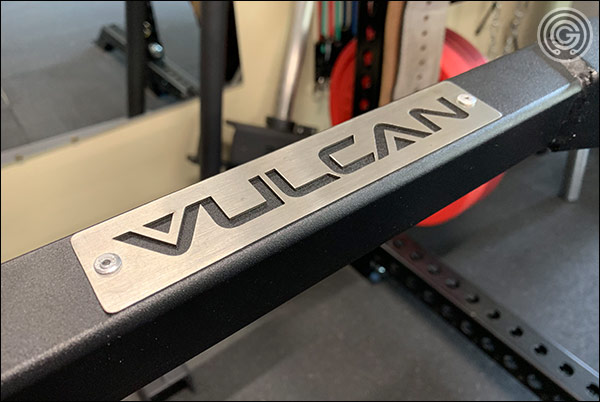 ---
Vulcan Prime Hex Bar Review
I am extremely happy with my purchase. The Vulcan Prime Trap Bar is an impressive piece of equipment; an almost overwhelmingly big piece of equipment that isn't done justice by a handful of images – but I suppose that's the case with a lot of trap bars. They are huge after all!
The frame is thick, strong, and well balanced. I simply cannot imagine this trap bar bending or breaking under any kind of weight a human being could lift. Even without those massive reinforcing plates around the corners I think this bar would survive any pull, so I'm definitely confident it will survive any pull with them.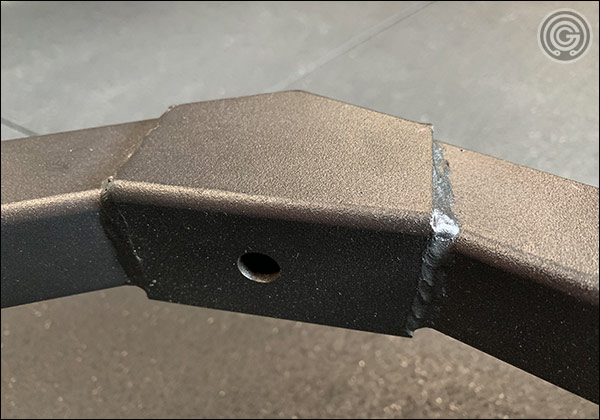 The presence of 50 mm, chrome-finished Olympic sleeves is a very nice touch. They offer a ton of loadable sleeve length, I can use my normal Oly collars, and the chrome both adds a certain level of attractiveness to the bar, and a high level of resilience. This thing will age far more gracefully than a bar with powder-coated sleeves.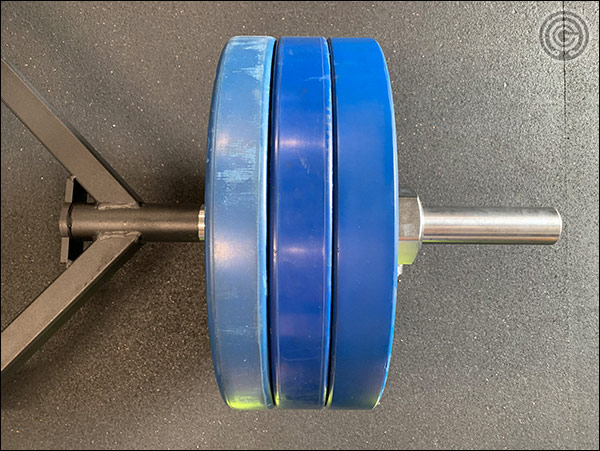 In terms of dimensions everything is as it should be. 25″ between handles is pretty normal – not too far, not too close. There's adequate space inside the hexagon; the bar is rackable in my Rogue Monster Rack; and as previously mentioned, the sleeves offer more than enough loadable length to handle your max of today, and your max of tomorrow.
View this post on Instagram
As far as the weight goes I'm just content with it being a round number. It doesn't matter to me if it's 45-lbs, 55-lbs, or the 60-lbs that it happens to be.  Maybe 55-lbs would have been a bit more convenient for me since my plates are in kilograms, but the 60-lb weight was no accident, as it's what required for the new Army Combat Readiness Test.
As far as the handles go, the knurling is solid – not too aggressive but definitely not weak. I like the textured powder coat, as it contributes slightly to the overall feel and grip of the bar. The handle diameter is pretty typical at 33″, but honestly the handle could have been made anywhere in the 28-35 mm range and it wouldn't have made much difference to me. Maybe handle diameter makes a difference to you though.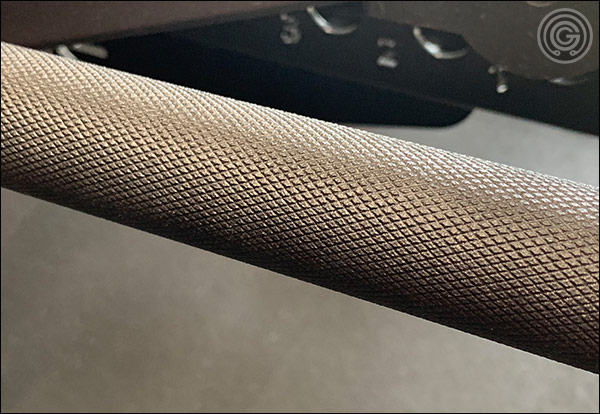 So what's wrong with the Vulcan Prime Hex Bar? I literally have no complaints. There is not a single aspect or feature of this bar I'm unhappy with. Matter of fact, I am pretty convinced at this point that I couldn't have done better for the money.  Maybe I could have done 'okay' for less money, but for less money I'd be introducing weight capacities, shorter sleeves with decorative chrome or powder coating, and almost certainly a bar that wasn't rackable. No, I have no regrets about this purchase. I'm very happy with it.  It does exactly what I want and it does it well.
Wait! I did notice in the product description after already receiving this bar that it was to ship with collars. I did not receive any collars. I'm sure they were just spring clips, which I'm sure would have ended up in the trash anyway, but I still didn't get them. It was probably a fluke.
---
Other Trap Bars I Considered
Since there isn't a whole lot to say about a trap bar in a review – at least when compared to an Olympic bar where we need to be concerned with spin, whip, steel quality, and so forth; I will briefly talk about the one other major contender on my short list,  the TB-1 from Rogue.
I'll briefly mention why some of the other more popular trap bars did not make my short list following that (Kabuki, Eleiko, and Intek.)
Vulcan Prime Hex Bar vs Rogue TB-1 Trap Bar
The TB-1 and the Prime appear to be nearly identical at a quick glance. They're both made from a very strong 1.5″ square tubing with reinforcing plates (giving them virtually no weight capacity); they both sport the same handle distance and approximate handle diameter; and they both have the exact same loadable sleeve length.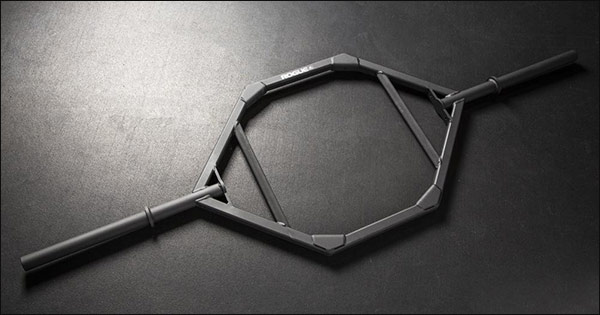 Either of these bars were clearly going to handle any amount of weight and last forever, but I still went with the Vulcan for a number of reasons. Here they are, in no particular order.
Price – even if all other things were equal, the Rogue TB-1 is $450 shipped to me while the Vulcan Prime was $379 shipped.
Sleeves – the Vulcan has 50 mm Olympic sleeves with a chrome finish while the Rogue has 1.91″ Schedule 80 sleeves with black powdercoat. Not only will the chrome sleeves age better, I can use normal collars on the Prime rather than needing axle collars.
Weight – the Vulcan Prime is listed as 60-lbs while the TB-1 is listed as 58-lbs. Honestly, as an OCD person, I like the round number of the Prime.
Believe me I have absolutely no problem with the Rogue TB-1. Both will handle any amount of weight, both are rackable, and they are more or less the same overall size. That said, the Vulcan Prime just seemed like a better buy to me and it is the bar I ended up buying.
---
And The Others?
In case you're wondering, and I know some of you will be, I did not consider Eleiko's Öppen Deadlift Bar with any seriousness. With an $800 pre-shipping price tag, there's just no way.
I very briefly considered the Kabuki Strength Trap Bar, but it didn't matter to me if the bar is open-ended or not, and it's not rackable. The built-in jack of the Kabuki is neat enough, but I was not willing to pay a $300+ premium over what the Vulcan Prime costs for that feature, especially considering I'd lose the ability to rack the bar for shrugs. So while certainly not as over-priced as the Eleiko Öppen, the Kabuki still is a bit on the high side ($700+ delivered.)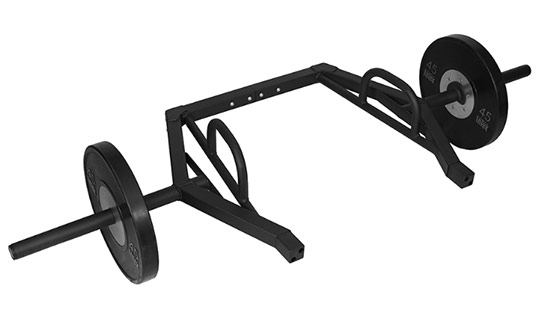 Finally, I did give some decent thought to the Intek Modular Bar. For about $100 less than a Kabuki Trap Bar, the Intek was still a bit too expensive; and too big with those dual handles. I really, really like the optional Roll Bar that can close the Mod Bar back up, and I love that it is rackable (and about as versatile as a trap bar can be), but I just wasn't ready to spend six bills. Not yet. I may still some day.
---
Vulcan Prime Hex Trap Bar Review – Summary
Again, I'm very happy with this purchase. I realize the Vulcan Prime Trap Bar is just a beefy version of the standard hex bar, but truth be told, I just want to deadlift and do some shrugs and get on with it. If I were providing a trap bar for a commercial gym I would probably take into consideration the dual-handles, but I can't see spending $700-800 for the incorporation of built-in deadlift jacks. If anything, I'd upgrade from the Prime to the Vulcan High Hex Trap Bar, or the Rogue TB-2 Trap Bar.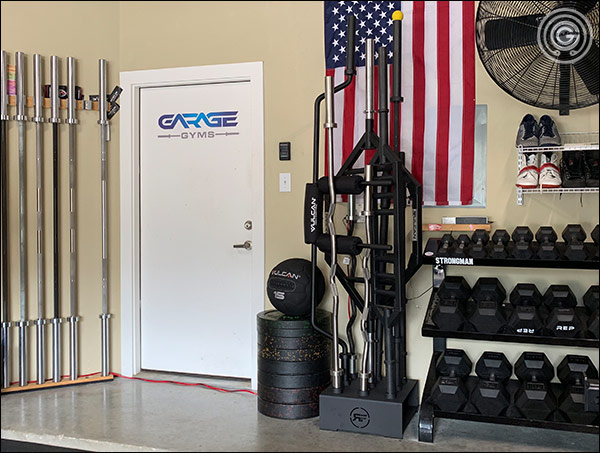 Lord knows I'll review other trap bars in the future, but the Vulcan Prime will always be part of my collection because it's indestructible, functional, easy to store (again, as trap bars go) and offered at a very competitive price. It has true, 50 mm, chrome-finished sleeves, it uses regular Olympic collars, has virtually no maximum weight capacity, and it is rackable. It has good knurl, a solid finish, and acceptable dimensions. What's not to like for $379 delivered?
Yes, I would absolutely recommend the Vulcan Prime Hex Trap Bar.
---