Athletes who focus their training around the two explosive Olympic lifts have a tendency to buy higher performance, more dependable training equipment than athletes who don't Olympic lift at all; items like whippy, 28 mm bearing bars, competition-style bumper plates, and $200+ shoes. They buy this expensive equipment not just because of the edge that it can give to performance, but also because premium equipment is expected to last longer than the cheap stuff. But is this necessary?
Yes and no. Wanting an edge when it comes to performance pretty much speaks for itself. Sure, getting extra percent or two on your max snatch may not matter much if you're working with small amounts of weight or you're training alone in your gym with no desire to be competitive, but the performance of your equipment should matter to you if you're a more experienced lifter, or even slightly competitive.
What about the increased durability of premium equipment? How critical is that? Well when it comes to Oly lifting, I'd say that the equipment's ability to withstand abuse is fairly important if you don't want to be replacing bent bars and damaged bumpers every couple of years. Remember that both of the Olympic lifts end with the loaded bar being dropped from overhead. You don't need to be a physics major to see how the 7 foot free fall and subsequent crashing down of a few hundred pounds could be hard on the equipment; especially when this process is repeated thousands of times over the years.
So does all this mean that you have to spend $1000 on a bar and $7-15 or more per kilogram on bumper plates to be serious about Olympic weightlifting? Absolutely not. Matter of fact, in this article I'm going to compare the very durable yet very reasonably priced Vulcan Absolute Competition Bumpers (about $7 per kilo) to the new Vulcan KG Training Bumpers (only about $4 per kilo); the latter being an even more affordable option for those of you who want durable, low bounce, IWF-colored bumpers in kilograms.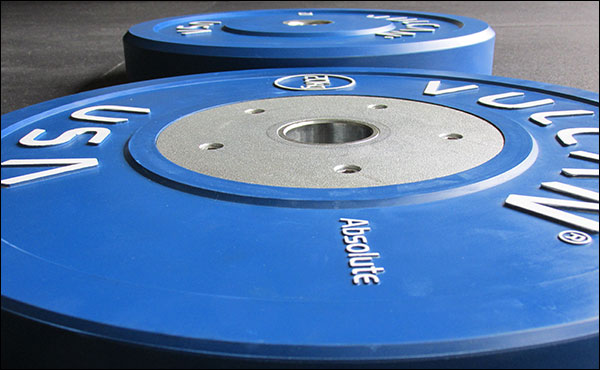 I will compare pricing, specifications, and features of both of these plates, and I'll list the pros and cons of each as well. Following that I'll try to give you an idea of who I believe each style of plate is best suited for, and even make a couple suggestions for those of you who don't need either.
With any luck, you'll find that the less costly Trainers will serve your Oly-training purposes quite well and allow you to either buy more total weight for your money, or put that money saved towards some other needed equipment like shoes or V-Locks. If you do end up needing competition-style plates, at least by the end of this you'll know all that you need to know about the Vulcan Absolutes.
---
Let me quickly just say that Vulcan is definitely no stranger to the Olympic WL world. They already offer quite an impressive selection of high-end Olympic WL equipment even without factoring in the new KG Trainers. For instance, Vulcan's Professional WL Bar has specs that rival those of NxG, Ivanko, and Rogue Fitness (and for a lot less money), and the Vulcan Absolute Comp Bumpers that I'll be discussing in this post are in my opinion one of the best comp discs currently available. I personally have a lot of confidence in them as an equipment provider, and I know that I'm not alone on this.
---
A Summary of Competition Bumper Plates
Competition plates
are primarily for the stage. They are thinner than basic bumper plates, far more accurate to claimed weight (+/- 10 grams), and are colored (the idea being that with a coloring scheme, onlookers at an event could determine at a quick glance how much weight was being lifted.) Additionally, competition bumpers also have less bounce and a longer life expectancy than other plate styles, and they are not prone to insert separation issues and warping like basic bumpers are.
What allows competition plates to be so much thinner and more durable than basic bumper plates is the use of a large, 2-piece steel hub instead of a thin steel insert. The steel hub is obviously denser and heavier than the rubber portion of the plate, so less material is needed to achieve the proper weight and diameter. The primary benefit of thinner plates is the ability to load more weight on the bar, but as an added benefit (especially in the case of the heaviest plates) this compactness allows for easier handling of the plates around the gym.
As previously mentioned, competition bumpers are manufactured to much stricter weight tolerances than other bumper plate styles. Even brands that aren't certified for sanctioned use by the IWF tend to still be guaranteed accurate within 10 grams of stated weight. This accuracy is nice of course, but to be fair just about any bumper from a reputable source will be more accurate than is needed for a non-professional setting like a box or garage gym. Still, there is something to be said for knowing that you're actually lifting what you think that you're lifting.
Finally, competition plates are almost always color-coded using the IWF coloring scheme (green, yellow, blue, red). Colored bumpers do feel more professional, and it's hard to not be proud of owning a full set or more of colored competition plates, but off of the stage the colors are just an aesthetic bonus (it's hardly a necessity to have colored bumpers in a garage gym after all.)
At the end of the day, competition bumpers are the nicest and most dependable bumper option, but that doesn't mean that their cost is justifiable for home gyms. If you're training is primarily Olympic weightlifting with very little in the way of big-3 movements, they might be worth the investment, but if your Olympic training ends with CrossFit WODs and the bulk of your workouts still involve the bench, squat, and some accessory lifts, you might buy a less expensive plate and put the difference towards some other equipment.
Comp Plate Pros
Extremely durable design.
Guaranteed to be accurate within 10 grams of state weight.
Contrasting white ink on bright IWF colored plates.
Slimmer profile than other bumpers, allowing more weight to be loaded and easier transport to the bar.
Good Shore durometer rating for minimal bounce when dropped.
5-year warranty on Vulcan Absolute Comps.
Comp Plate Cons
More expensive than all other plate styles.
Not recommended for cheap barbells.
---
A Look at the Vulcan Training KG Bumper Plates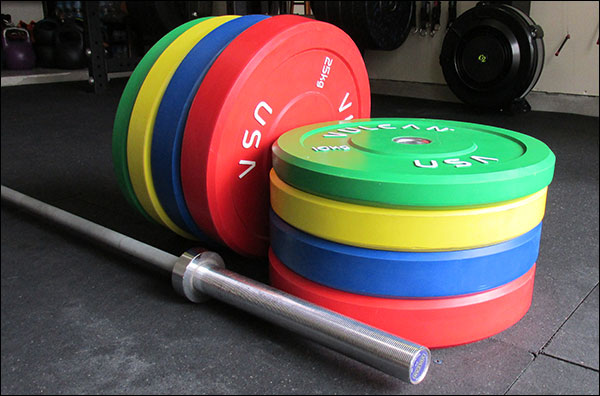 Now let's look at Vulcan's Training KG Bumpers. These plates are basically an IWF-colored version of the basic bumper plate; much like the Vulcan Basics or Rogue HG. They have a normal steel insert instead of a large steel hub so they are wider than competition plates, but the majority of these Trainers are still narrower than basic black bumpers – all but the 10 kg plate actually.
Below I've included a chart to illustrate the differences in plate width so that you don't have to jump from browser tab to browser tab yourself. I've even included basic kilogram bumpers.
* Rogue HG 2.0 KG Bumpers were used for comparison as Vulcan offers no basic black plates in kgs.
So yes, with the Trainers you lose the large hub and slim profile of the competition discs, but you retain the full IWF color scheme while still having access to an accurate, durable, low-bounce set of Olympic plates. Even the inserts of the Trainers are slightly recessed to prevent excessive metal-on-metal contact (an ever-present issue with many cheaper brands.)
Most importantly though, Vulcan KG Trainers are way, way more affordable than any competition plate set (which you'll see in a chart towards the bottom of the page.)
KG Training Plate Pros
Extremely competitive pricing for colored kg plates.
Same contrasting IWF color scheme as comp discs.
High Shore rating (88-89) for a dead blow when dropped.
Recessed steel insert helps with plate and insert longevity.
Long, 3-year warranty.
KG Training Plate Cons
Thicker than competition plates by about 30%.
Accuracy is not guaranteed to same tolerances as comp plates, though accuracy is still very good.
Which Plate is Best For You?
I believe that in most cases the KG Trainers are going to be a smarter buy. The extra durability of large-hub competition discs will be mostly meaningless in a low-usage garage gym. Even if you share your gym with a handful of your buddies or you train the occasional client, you couldn't possibly inflict enough damage or abuse to these plates to truly test the limits of their durability. Additionally, there are very few athletes among us who need the extra 25-30% of loading capacity that competition plates offer, at least not for Olympic weightlifting/CrossFit.
That said, if you use your bumpers for back squats or deadlifts that exceed 200 kilograms, you will definitely want to consider a slimmer plate than the Trainers. That means that you'll either want competition plates after all, or a second set of steel powerlifting discs. Obviously it's cheaper to own a few hundred kilograms of competition plates than it is to own a good-sized training bumper set for Olympic lifting and a few hundred kilos of real powerlifting discs.
Below you'll find some examples of prices for various competition plates and the Vulcan KG Trainers. For those of you who may be outfitting a CrossFit box or small WL gym, I've included some bulk prices so that you can see how big the spread actually is between the various plate styles and brands.
| | | | | |
| --- | --- | --- | --- | --- |
| |  NxG Comps |  Rogue Comps | Vulcan Comps | Vulcan Training |
|  140 kg set |  $2412 |  $1035 | $1001 | $591.49 |
|  per kg |  $17.22 † |  $7.40 † | $7.15 † | $4.22 † |
|  per 500 kg |  $8614 † |  $3700 † | $3575 † | $2110 † |
|  per 1000 kg |  $17228 † |  $7400 † | $7150 † | $4220 † |
† Based on 140 kg set pricing. It's likely that given a large enough purchase you could negotiate these prices.
For bulk purchases, you can see that by going with Vulcan KG Trainers over the Vulcan Absolute Comps (the least expensive comps on the list), you can either save a little under $1500 per each 500 kilograms that you buy, or you can apply that nearly $1500 in savings to to an additional 350 kilograms in plates. Either way, that's pretty huge for a plate that serves the same purpose and gets the job done nearly as well.
If you don't have any aspirations about being a competitive Olympic lifter or the Fittest on Earth, and you're not trying to impress your friends with colored weights, you may just want to stick with a solid set of basic black bumpers. For comparable performance in a black KG bumper, you'll have to go to Rogue and their HG 2.0 KG Bumpers. If you prefer (or don't mind) training with pounds, the Vulcan Basic Bumpers are the most durable on the market because of their unique, anchored insert (this insert prevents separation from the rubber over the years).
I've got a whole article for helping choose black bumpers if you decide to go that route. You can see that here.
What About the Vulcan Alphas?
I wish Vulcan Alphas were available in kilograms, but currently they are only sold in pounds. If ever Vulcan goes that route with the Alphas, I will absolutely (a Vulcan pun) get them in the mix because they are fantastic plates!