This is a comprehensive review for the Strength Shop Bastard Power Bar, a mid-range bar that can be purchased both in the USA and in most of Europe from one of Strength Shop's many domains. The Bastard Power Bar retails for US$275 but it can be found on sale fairly regularly (at least that is my experience with the USA store anyway).
The Bastard Power Bar lacks much in the way of unbiased feedback and reviews. There is only one review on the Strength Shop USA website, and the reviews that can be found on the European domains all seem to be the same reviews. Hopefully I'll be able to shed some light on this product, and answer any questions you may have about it.
---
Bastard Power Bar Review – Specifications
Below are the specifications for the Bastard Power Bar. A lot of these specs aren't listed on the Strength Shop USA website, but rest assured that I received the missing pieces directly from Strength Shop USA. Additional measurements can be seen following the bullet points.
IPF standard men's 20 kg bar, 2200 mm in length
IPF power marks with very aggressive 6″ center knurl
Knurling: very aggressive
Shaft diameter: 29 mm
Finish: nickel phosphorus plating
Tensile strength: 205,000 PSI
Loadable sleeve length: 16.25"
Rotation: jumbo brass bushings
Warranty: 3-years
Price: $275 (US) | 419,95 CHF (CH) | €299.99 (DE) | £269.99 (UK) | €315.89 (IE)
None of the specifications are out of the ordinary, save for the use of brass bushings and the presence of a wider-than-normal center knurl.
---
Bastard Power Bar – Knurling
The knurling is the best feature of the Bastard Bar in my opinion. It's very reminiscent of the Absolute 2.0 Power Bar in that it's pretty aggressive, but it isn't painfully sharp. The Bastard has enough of a bite to it to prevent slipping during heavy deadlifts, but it's not so sharp that it becomes uncomfortable during those longer sets of pulls, or when it's smashing into your palms during heavy set on the bench. It is close to be overly aggressive, but an Ohio Power Bar it is not.

You can clicky on the above image to see more detail, but I realize that's not always entirely helpful to look at knurling. It may be helpful to say that if there was an aggressiveness scale of 1 to 10 and the Ohio Power Bar is a full 10 and the Vulcan Absolute is an 8, the Bastard Power is likely an 8.5, or maybe a 9. All three of these bars are aggressive, but it's the Ohio that has that extra edge to it.
The center knurling of the Bastard Power Bar is the same knurl as the rest of the bar, much like the Ohio. This feature I could do without, as I prefer the semi-aggressive center on the Vulcan. I just don't see any benefit to an overly aggressive center knurling. All of the grip on the back that you'd ever need for a back squat can be accomplished with a passive knurl – one that doesn't have to hurt.
I'd still give the Bastard a 10/10 score for outer knurling though.
---
Bastard Power Bar – Sleeve Rotation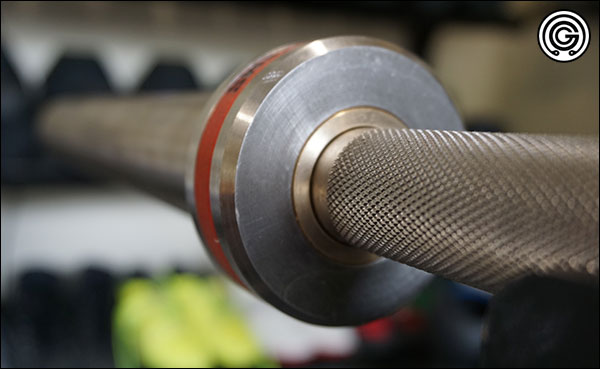 The Strength Shop Bastard Power Bar has a brass brushing system, something I generally advise avoiding. Why? Because brass sucks compared to bronze and the newer composite bushings. Brass is weaker than both brass and composite, is more susceptible to corrosion, and offers the worst performance of the three. Interestingly enough, the Bastard proves this point in a very dramatic way; it only takes a single wheel to begin locking down the sleeves.
The Bastard Power Bar may as well be a fixed bar with no rotation system whatsoever. The sleeves literally do not spin with even moderate weight loaded. I am not exaggerating. With only one wheel on each sleeve, the plates actually spin around the sleeve itself rather than the sleeve spinning around the shaft. In other words, there is more friction within the sleeve than the metal on metal contact of plate to sleeve (which is mind boggling).
Now this is a powerlifting bar so we don't really need a high speed system, but the sleeves should still be physically capable of spinning under load. If you were thinking you could use this power bar as a multi-purpose bar, or even for some power cleans, you are gonna want to look at a different power bar.
The Vulcan Absolute 2.0 has mediocre sleeve rotation, and I praised it for that because this mediocre spin prevented the bar from spinning erratically during heavy bench presses and squats. However, the Absolute sleeves do still spin. That door wasn't completely nailed shut like it is with the Bastard Power Bar here.
---
Bastard Power Bar – Finish
The Bastard Power is completely plated (both sleeves and shaft) in nickel phosphorus. This finish is attractive and uniform, and it ranks up there on the oxidation & abrasion resistance chart.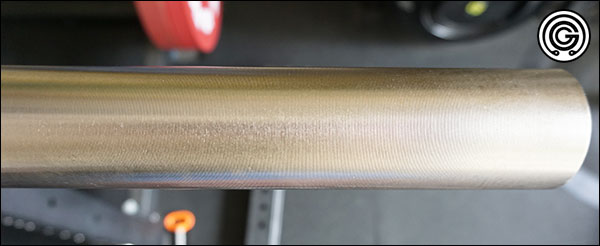 In terms of overall feel, the nickel phosphorus plating on the Bastard Bar is fine. I don't think it compares to bare or stainless steel (or even black oxide) in terms of grip assist, but I don't think it negatively impacts the grip in any way (like the zincs tend to do.) I have no problems with this finish. It may even feel grippier than the polished chromes, but who has a polished chrome power bar anyway?
You don't hear about nickel phosphorus finish being used all that much, but I think it is used way more often than we know about. I'm of the opinion that many companies do use nickel phosphorus, only they claim that it's hard chrome in their product descriptions. Oh the joy of imported barbell shopping. 
---
Bastard Power Bar – Pros and Cons
Pros
The knurl of the Bastard Power Bar is very nicely done. It's pretty aggressive but it lacks sharpness, so it is not uncomfortable. You'll feel the knurl, and it'll hold, but it won't hurt.
The Nickel Phosphorus plating is consistent and attractive, and it offers a good level of corrosion and abrasion resistance. The feel of this finish is neutral in my opinion though. That is to say it doesn't exactly enhance the feel or grip, but it doesn't negatively impact the feel or grip either.
The Bastard Power is a rigid barbell. It performs as a power bar should. Many imported power bars out there don't really feel the part; especially if you've handled your share of real power bars. This one does.
The wider 6″ center knurl is one of those features that some may really appreciate, but nobody else would even notice. I think that makes it a good feature.
When this bar goes on sale it's not a bad buy at all. I personally picked this up for $190, and while I think the normal $275 price tag is a bit on the high side, I do think that $190 is a steal.
The Bastard can be purchased from any of Strength Shop's online stores, meaning it is easily available all over North America and Europe. It is actually a more competitive bar overseas than in the United States; at least in my opinion.
The Bastard is surprisingly quiet to drop, though considering how tight the bushings are around the shaft I guess that's not surprising. There's nothing to shift around.
Cons
The bushing system offers almost no spin when loaded with even light weights. This is fine for the big three (and I even praised the mediocre spin of the Vulcan Absolute 2.0), but this bar's spin is worse than mediocre, and it's a total no-go for power cleans.
Warranty is pretty bad for a bar that costs nearly $300 shipped. 3-years could be worse, but it could be much better.
As mentioned in the Pros the finish is great, but it is nickel. Some people do have nickel allergies, and contact with this finish could lead to dermatitis for those folks.
The center knurling could stand to be toned down a bit, but this is a subjective con.
I could do without the rubber bracelets in the collars. I find this practice to be somewhat tacky outside of WOD bars.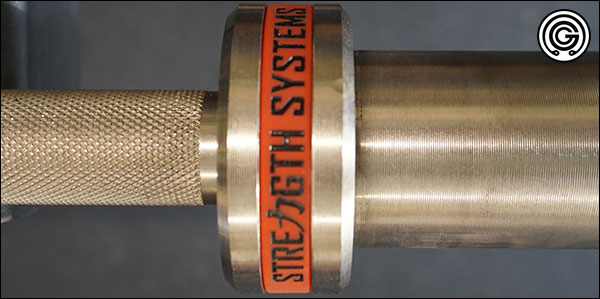 My biggest issue with the Bastard Power Bar is the pricing. It's $25 more than the Ohio Power Bar and the Grizzly Power Bar; two American-made power bars that offer almost nothing but pros and very little in the way of cons. These are two extremely difficult bars to compete with in this price range (especially if your sleeves won't spin).
---
Strength Shop Bastard Power Bar Review – Summary
I had fairly low expectations for the Bastard Power Bar. I knew that it was an import, I knew it had brass bushings, and I knew there wasn't much in the way of feedback for it.
Well I admit that I was surprised by the Bastard. I don't dislike it, and I even think it hits the mark in many regards. The shaft is rigid and the knurl is fantastic, and it really does feel like a power bar. That having been said…
I do think the price is a bit on the high side for having such an inferior and useless bushing system. Using brass instead of bronze is a decision that saves a buck on production costs, but literally removes the ability to do any movement that benefits from sleeve rotation – like the power clean. It's also an unnecessary challenge to roll the bar around inside the J-cups when in order to do that you have to spin the shaft, the sleeves, and hundreds of pounds of plates.
I hate having to be negative about a product, but I think the sleeves need to be fixed for this to be a $275 bar. At the very least the price needs to get below that of the Ohio Power to be a true contender; at least in the United States where the Ohio is only $250.
---