About a year ago, Vulcan released a new version of the black rubber-coated hex dumbbell; an innovative new dumbbell that abandoned the partially knurled steel handle found on the vast majority of hex dumbbells, and replaced it with a textured, highly tactile, rubber-coated handle.
These rubber-grip handles not only offer a far superior grip to classic steel handles (even in high humidity, or with sweaty hands), they are also infinitely more comfortable to hold on to; especially if you're sporting calluses. And with no exposed metal they'll also never rust.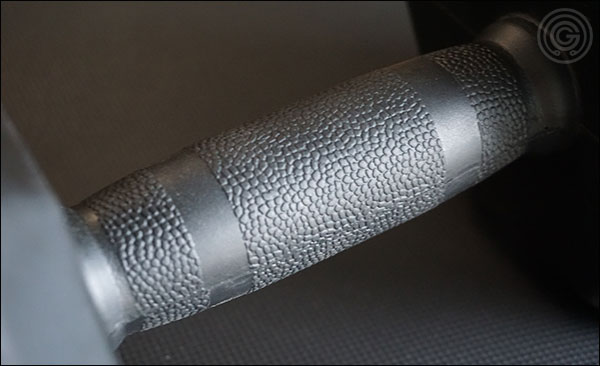 I reviewed Vulcan's Rubber Grip Pro Dumbbells back in November 2017 so I won't totally re-review them here, but you can read that review here if you want to learn about more of this product's perks (and there are more of them.)
Enter Rep Fitness
As it turns out Rep Fitness recently released their own take on this very same product, and a few of you have asked me how their rubber grip dumbbells stack up against the originals from Vulcan. Well since I own pairs from both vendors I thought I'd take a minute to answer that very question. Are you ready for it?
They are exactly the same product.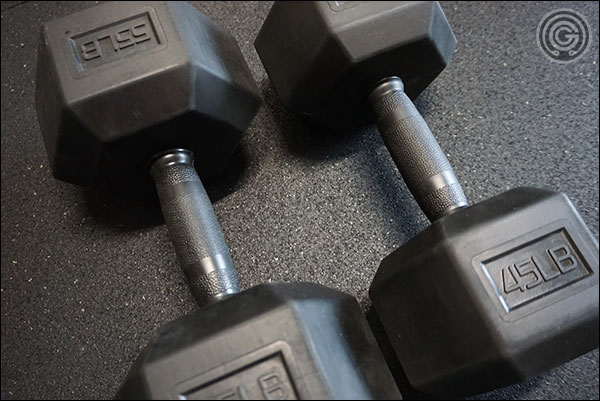 That's right, these two hex dumbbells are absolutely identical. Their handles have the same textured "knurl" pattern, the heads have the same soft, rounded edges and the same layout & font where the weight of the dumbbell is molded in, and they are both more compact than their standard, metal-handled counterparts.  They are even both assembled using the same method (heat interference.) The only difference is the brand name stamped on the heads.
Incidentally, the Vulcan review I linked to above would apply just as well to Rep's version of this product – everything except for the pricing, of course.
So which one do you buy?
So if they're the exact same product why pick one over the other? Well there are a number of factors that may impact where you choose to buy. Here's a list of the most noteable:
Price, of course (see the chart below for pricing specifics.)
Availability. Neither Rep or Vulcan ever seem to be fully stocked, so you may be forced to use one over the other depending on when you need/want your dumbbells.
Set variety. Both Rep and Vulcan each offer a set configuration that the other does not.
Dumbbells over 100 pounds. Vulcan offers 105 lb – 120 lb dumbbells; Rep does not.
Rubber Grip Dumbbell Pricing – Rep & Vulcan
* Comparing prices on pairs using retail prices alone won't work because Vulcan includes shipping in their pair prices while Rep does not. You are going to need to get a quote from Rep using your zip code to see how pair prices compare. You can do this simply by adding pairs to the cart and using the shipping quote feature found on the shopping cart page.
Pre-shipped set prices are pretty close between these two, with Vulcan being just a tad less expensive. That having been said, Vulcan is on the East Coast while Rep is in the Midwest, so your best price is probably going to be based nearly entirely on which vendor is closer to you. Those of you who do happen to live on the East Coast will likely get the best set prices overall because you benefit from both a lower retail price, and from being relatively close to Vulcan's distribution center.
Whether you're interested in pairs or sets, you should always price both manufacturers out regardless of where you live because you never know who'll give you the best price to your door.  And remember, embedded shipping is not always the most cost-effective way to pay for shipping, so avoid making any assumptions (see this article on shipping.)
At the end of the day…
Since the Vulcan and Rep rubber grip dumbbells are precisely the same product, and since most of you won't be after 105lb+ hex dumbbells, it's going to come down to price in almost all situations with the decision maybe sometimes coming down to availability. This is a good situation for us to be in as customers.
You really can't go wrong either way though.  Both vendors are reputable and both offer a warranty. Just get those shipping quotes, and before you know it you'll have the best home and garage gym dumbbells on the market.
---