I bought something like 230 kilograms of the Rogue Calibrated Steel Plates back during the 2017 Black Friday sale, and aside from realizing almost immediately that I didn't order quite enough weight I have been completely happy with this purchase. I wanted to take a couple minutes and write a short review on these plates for any of you who are on the fence about buying any of the nicer steel powerlifting plates for your gym.
I'll cover all the specifications, make a case for why calibrated plates are worth considering, how much they cost compared to the competition, whether I think they're worth the money, and then I'll summarize them into a pros and cons list. Please enjoy, comment, and share.
---
Rogue Calibrated Plates Specifications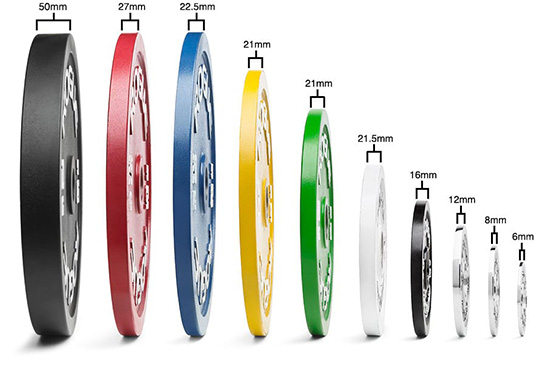 Cast iron plates; machine calibrated for accuracy.
Dual calibration plugs all for increased precision (+/- 10 g).
Precise 50 mm collar opening (incompatible with cheap bars).
Kilogram variant is IPF-certified.
Available in pairs and multiple set sizes.
Low gloss, colored powder coat; IPF color theme.
Diameter: 450 mm (50, 25, & 20 kg), 400 mm (15 kg), 325 mm (10 kg), 228 mm (5 kg.)
Diameter: 450 mm (55 & 45 lb), 400 mm (35 lb), 325 mm (25 lb), and 228 mm (10 lb.)
---
Why Calibrated Powerlifting Plates?
Easy answer – because they are accurate to within 10 grams of their stated weight, and 10 grams may as well be no deviation at all.
Look at it like this, each calibrated plate is accurate to 1% of 1 kilogram. That means that a 25 kilogram plate is accurate to within 0.04%. That's 10 grams out of 25,000 grams! Even a machined 25 kilogram disc that is guaranteed to be within 2% of stated weight can be off by up to 500 grams. That's 50 times more allowable deviation.
With this kind of weight accuracy you not only know exactly what you're lifting, but you also have a perfectly balanced barbell. You'll never have an 41-lb plate on one side and a 46-lb plate on the other, or some similar scenario in kilograms. Maybe a total novice with 135-lbs on the bar doesn't care about accuracy, but when you PR 315 on the bench press wouldn't you want to know that you actually pushed that 315 and not something like 302? Or worse, have a 325 bench but only be giving yourself credit for a 315 bench?
I could also mention that you can get more weight on the bar with calibrated plates because of how razor thin they are, but I personally do not know anyone that's not currently prepping for the Arnold Strongman Classic that runs out of sleeve space with 1″ wide steel plates.
Also they look cool, and let's be honest… that's worth something.
---
Cost Comparisons
Here are the prices for all four major brands of calibrated plates; for comparison purposes.
| | | | | |
| --- | --- | --- | --- | --- |
| | Rogue | Vulcan | Sweden | Ivanko |
|  25-kg pair | $218 | $221 | $258 | $367 |
|  50-kg pair | $375 | – | – | $651 |
|  55-lb pair | $218 | – | – | – |
|  159/160 kg set | $860 | $865 | $956 | $1333 |
Rogue has the best price in all cases and they are the only option if you train in pounds, but shipping a number of pairs or the larger sets will be expensive so don't dismiss Vulcan. Get multiple quotes.
---
Are Calibrated Plates Worth the Cash?
Calibrated Powerlifting Discs are a premium product, and as such they cost quite a bit more than cheap cast iron plates. Interestingly enough though, they don't cost all that much more than machined cast iron plates, and sometimes they cost less!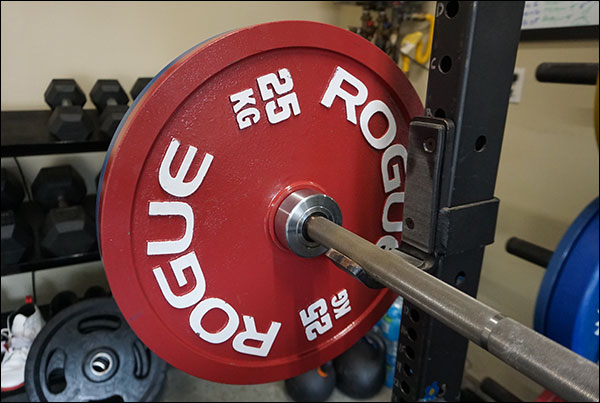 Now obviously those on a tight budget should not be buying premium weights, or really any premium pieces of equipment for that matter. However, if you are not on a budget, and you were planning to buy some machined plates anyway (which I believe a serious lifter should be buying over box-store cast iron), then I see no reason to not upgrade to calibrated discs. Look at these prices below:
The prices for machined plates are definitely less in most cases, but not by as much as you may have thought. The Rep Equalizers, and to a lesser extent the Rogues, are less enough per pound that some decent money would be saved on a large quantity of plates (say about 25%), but if you were eyeballing Troy or Ivanko, well that's a pretty simple upgrade decision to go from 2% accuracy to 10 g accuracy for a few percent more money, or less in the case of Ivanko.
So to simplify all this, if you care about accuracy you should at the very least be looking for machined plates. If money is tight buy some basic machined plates like the Rep Equalizers for $1.45 a pound. If you can afford the upgrade consider calibrated plates for $2 a pound. If you do not care about accuracy at all (which seems weird) or you don't have more than a couple hundred to drop on a set, you should look for used machined plates before you buy the cheap, box-store cast iron plates (which won't be accurate at all).
At the end of the day, if you have the money to spend I think calibrated plates are worth the investment for your gym, but for most people's purposes the machined discs will technically suffice.
---
Rogue Calibrated Steel Plates – Pros and Cons
Pros
Extremely accurate to within 10 grams. Know exactly what you're lifting all the time, and with no imbalances from one side to the other like with box-store cast iron plates.
Same quality and accuracy as Rogue's predecessors, but for substantially less cash.
Calibrated plates are significantly thinner than non-calibrated cast iron plates. Much less storage space is needed and you can load more on the bar (up to 700 kilograms.)
Very snug fit on 50 mm sleeves reduces rattling on the bar, and reduces opportunity for plates to slide around between reps.
Available in pounds; not just kilograms like other manufacturers.
Certified for sanctioned use by the IPF (kilogram variant).
The calibration plugs are secure and do not rattle around. This is a known problem with Ivanko Calibrated plates.
Colors are vibrant and classy. Plates look beautiful in the gym.
Cons
The paint/powder coating does chip easily, but since we're talking about steel on steel action it's a little unreasonable to expect that they wouldn't; especially around the collar opening and raised edges/lettering. This is barely a con.
With lifts that require loading and unloading of the bar while it's on the ground (deadlifts, basically), plates can be hard to get on or off the sleeve. A deadlift jack or wedge is very helpful.
Expensive compared to generic cast iron plates.
Change plates selection is weird. I personally chose to use the rubber-coated change plates that offer five different change plates size under 5 kilograms (0.5 kg, 1 kg, 1.5 kg, 2 kg, & 2.5 kg) rather than just four (0.25 kg, 0.5 kg, 1.25 kg, & 2.5 kg.)
Calibrated plates won't fit cheap bars, but I doubt this comes up often.
---
Rogue Calibrated Steel Plate Review – Summary
Personally I'm happy with the purchase, especially considering I purchased during a nearly-free shipping event. Matter of fact, I want to expand my collection, and will either do so with more Rogue plates, or the new Vulcan plates.
You may not feel like you need calibrated plates and that's totally acceptable, just don't be overwhelmed by the price because they just are not that expensive compared to machined plates or competition bumpers. Matter of fact, 140 kg of Rogue's Training Bumpers sells for $6.53 per kilo shipped, while 140 kg of Rogue's Calibrated Plates sells for exactly $1 less a pound shipped (to me in Texas), or $5.53 per kilo. Pricey? Yes. Ridiculously so? No.
---