In the last couple months I've been asked about the American Barbell Stainless Steel WOD Bar more that I've been asked about any other bar. Why? Simply because the price for this bar is just stupid low. Stainless steel bars are never sold for $299, and people want to know whether this bar is legit or not.
Truth be told, I've know of the SS WOD Bar for a while, but I originally had no intention of buying or reviewing one. I simply didn't want to invest my time, money, and energy into a very limited time bar, nor did I want to get people excited about a bar that could sell out at any moment. Of course it didn't help that I was more than slightly apprehensive about a $299 stainless steel bar; a bar that even ships for free. Seemed a little too good to be true.
Well I finally buckled. After all of the questions and not having any answers, I checked with American Barbell to see exactly how "limited" the SS WOD is. I decided that if there was a decent inventory left, I'd go ahead and grab one and check it out. As it turns out, there are still plenty of them available. So now I've got one, and I'm going to answer all the questions I've been getting.
Since I don't know exactly what plenty means in terms of actual numbers, I'm going to bust this review out faster than I normally would (hence a Lightning Review.) I want all of you to get a chance to grab one of these while they're still around; assuming that you want one.
Update 2016: this bar is gone, and the closest thing that American Barbell carries to the SS WOD is the 28 mm Precision Training Bar at $450. Alternatively, Rogue offers the SS Ohio Bar for $350
---
American Barbell Stainless Steel (SS) WOD Bar Specifications
20 kg, 2200 mm, men's bar.
28.5 mm stainless steel shaft.
Tensile strength rating of 190,000 PSI.
Composite bushing system.
Sleeves finished in hard chrome.
Olympic hash marks, no center knurl.
Lifetime warranty.
Made in California, USA.
$299
---
SS WOD in a Nutshell
This section should answer the bulk of the questions that I have received about the SS WOD Bar within the last month or so.
Is the $295 price tag a steal? Yes, the price is ridiculously low for stainless steel bar. No, it's not a pricing mistake, nor is it a fancy shaft wrapped in garbage sleeves; this is the real deal. But again, it's a limited run bar. When they're gone, they're gone.
Why so cheap then? It's my understanding that American Barbell had a major surplus of stainless steel, and limited warehouse space to store that surplus. Since the $500 and $800 performance SS bars don't exactly fly off the shelves like the $250-$300 multi-purpose bars do, I guess it made more sense to offer a mid-range stainless bar at a price low enough that it could sell reasonably fast, yet high enough to cover costs. The SS WOD is that bar.
What would this bar cost under normal circumstances? Based on the pricing structure on AB's website, I'd guesstimate that this bar would sell for about $450 or so were it not for the desire to move them out quickly. If you look at their current bar line-up, for all stainless steel bars, there is a version of that same bar with a steel, chrome-finished shaft. The price difference seems to be a consistent $150-$200.
The closest bar to the SS WOD is the Precision Training Bar, and that sells for $450. Other than the Precision Training Bar having a 28 mm shaft versus the SS WODs 28.5 mm shaft, these bars are the same. In other words, take a Precision Training Bar, add 0.5 mm to the shaft diameter, then take $150 off the price and you've got yourself the SS WOD Bar. Pretty silly, eh?
Is this the same stainless used in AB's premium SS bars? Yes it appears so. I have the SS Professional Bearing Bar [review], and unless you're hands can differentiate 28 from 28.5 mm, you wouldn't even notice a difference (strictly speaking of the shaft, the Pro is a bearing bar.) Both of these bars are 190k PSI shafts that offer the same amazingly secure SS grip, which I'll cover below when I talk about the knurl.
---
The SS WOD Bar Review
Here's a brief rundown on the bar itself.
SS WOD Bar: Knurling

I really want people who have handled this bar to comment on this section so that those of you who have not handled it (or any American Barbell stainless steel bar) will not think I'm exaggerating, or simply full of shtuff.
I'd rate the overall grip of the SS WOD as an easy 10/10. The knurl is a compact, medium-depth pattern that feels surprisingly soft to the touch. The combination of this refined knurl and the natural, firm feel of the stainless steel makes this bar feel incredibly secure. With no harshness or sharpness, the stainless shaft clings to your hands without any slipping or sliding. Adding chalk to this already secure grip is like gluing the bar to your hands. It's not going anywhere.
Like I said, I own both the SS WOD Bar and the AB Professional SS Bearing Bar, and I can tell you that both of these bars have a very soft initial feel to them and yet they offer holding power that chrome and zinc coated bars with twice as much aggressiveness can't touch. Do not get me wrong, by no means am I saying that the SS bars are the only bars that feel this secure in the hands, but I am saying that they are among the handful of bars that do.
SS WOD Bar: Sleeve Rotation
Sleeve rotation is just fine. I'd say that it's right about average when it comes to bushing bars. The rotation is consistent and smooth, and it won't let you down during a lift, it's just not anything that would make your jaw drop.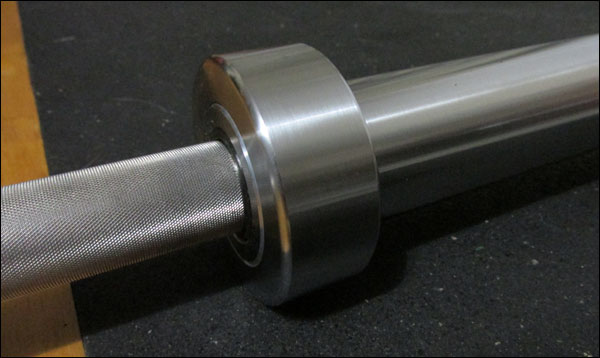 American Barbell uses composite bushings rather than bronze. In my experience, bronze just spins a little faster. I'm not even talking about a big difference, but I get to dick around with a lot of bars so I start to notice these things.
Would the lack of bronze bushings make me re-consider buying this bar? Hell no. The spin is more than adequate for a bushing bar, the bar turns over just fine, and the price is still too ridiculous to ignore.
SS WOD Bar: Whip
This is a 190k PSI 28.5 mm bar that is on par with all 190k PSI 28.5 mm bars. These bars whip when they're loaded up, and not before that. Remember, this is a WOD bar, not a professional 28 mm Olympic bar.
The up-side to these moderate whip bars is that they make excellent multi-purpose bars. They can go from a WOD to the rack with no problem. The American Barbell SS WOD is clearly packaged as a CrossFit bar considering that it lacks a center knurl and is called a 'WOD' bar, but this doesn't change the fact that this bar can be deadlifted and benched just as easily as any other multi-purpose bar like say the Chan, Ohio, Standard, and so on.
SS WOD Bar – Finish
Well the only part of the bar with a finish is the sleeves, and those are finished with hard chrome. Hard chrome is quite nice; very consistent, durable, and pretty. It's not polished to a reflective sheen, but really who cares; it still looks fancy-pants.
The stainless steel shaft looks cool just the way it is, and unlike bare steel, zinc, and oxide, it will always look new. It won't oxidize unless you submerge in the ocean, and any gunk you get in the knurl easily comes out with a wire brush. Don't use the wire on the sleeves though please. That's no bueno.
---
SS WOD Bar – Summary
Yeah, it's a steal. We're not going to get a chance to buy a stainless steel bar at this price again, and I feel pretty confident about saying that.
If you're currently considering any bushing bar in the say $250 to $350 range (maybe even more), you should probably seriously consider this bar. It may be worth raising your budget in order to get twice as much bar for half as much more money. If your budget is higher than $299, you may find that you can get just as much bar (or more) for less than you were planning to spend. I mean hey, it's worth considering; just weigh those pros and cons. 
Don't think about it for too long though. Once they sell out, you're back to paying $450 for the Precision Training Bar if you want the stainless steel shaft.
---
Shipping Kudos
American Barbell gets a gold star for having the absolute best barbell packaging. Everyone uses the hard tubes now, and just about everyone screws or staples the steel end caps into the tube at this point, but American Barbell not only uses rivets (yes, rivets) on the ends of the tubes, but they also wrap the hell out of both ends of the bar with foam and tape. Gone are the days of seeing half of your bar sticking out of a tube when UPS drops it off… finally.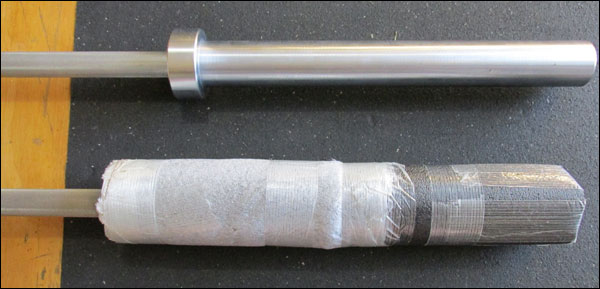 That's all I got! In my rush to get this article published I may have overlooked something that you specifically wanted to know about this bar. If so, feel free to ask questions in the comments. As always, I appreciate social shares. They are quite helpful.
American Barbell SS WOD Bar
---