I've been getting a good number of questions about American Barbell lately; namely about their Urethane Bumper Plates and an issue regarding rust on American Barbell bar sleeves. I wanted to tackle these two questions as well as just make you aware of an opportunity to get a blemished AB bar for a bit less cash. This should be a quick read.
---
Are American Barbell Urethane Bumpers Different?
I get asked this one a lot… are American Barbell's Urethane Bumper Plates different from all the other urethane bumpers on the market? The answer is yes.

American Barbell created and holds the patent for all the urethane bumper plates you see being sold everywhere. To my knowledge, every version of the urethane bumper plate you see today is a copy of the original American Barbell Urethane Plate.
That said, American Barbell has a newer version of their Urethane Bumper Plate; a version that is supposedly 12 times more durable than the original model; withstanding upwards of 120,000 drops before fatigue starts to become apparent. The word is that no other vendors have this new version of the urethane plate because American Barbell took manufacturing in-house rather than outsourcing production to 3rd party factories. With no incentive to sell the design and no indiscriminate factories being able to back-door the design, this disc will likely remain exclusive to AB for at least a little while.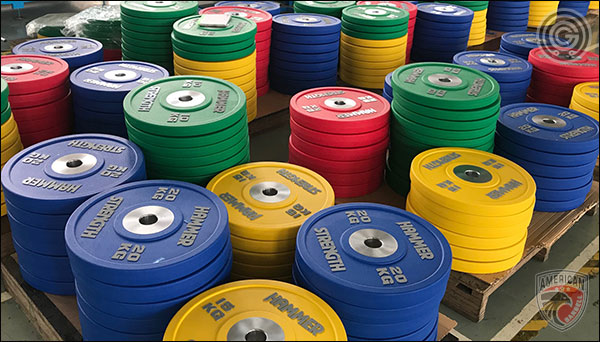 Now whether or not any other manufacturers have reverse engineered this new plate or not is beyond me, but I certainly haven't heard any indication of that.
---
Do American Barbell bars rust?
It was recently brought to my attention that the equipment reviewer who once crowned the American Barbell Training Bar as "the Rogue Bar Killer" actually retracted that title because, and I quote,
"The [American Barbell Training] bar has developed surface rust and despite the bar employing composite bushings is one of the slowest spinning barbells we tested…"
If you have been considering buying an American Barbell bar and you have stumbled upon this rust complaint, well I want to put your mind at ease – American Barbell bars do not rust. Their stainless steel and Cerakote shafts will not rust, nor will their industrial chrome shafts or sleeves. Short of rubbing on your bar with a wire brush or steel wool, or throwing it in the Gulf of Mexico you will not have rust issues with an American Barbell bar. Now if you live in an extremely wet climate and don't take care of your equipment, you'll eventually have rust issues regardless of the manufacturer, but that's not exclusive to AB at all.
I do not know what this individual did to his AB Training Bar – there were never any pictures shown to give us an idea – but if he was getting rust on an industrial chrome-finished bar in a garage gym setting I can only assume it was brushed with a steel wire brush or simply left out in the rain for weeks (or both!) Either way, my point is that you have to seriously neglect or straight up mistreat a finished, garage-kept AB bar to experience even light rust.
In case you're wondering, I have no issue making these statements because, a) I've owned no less than eight different AB bars – six of which I still own; b) I live in nasty, humid Central Texas and I frequently have visible, heavy condensation on my equipment. Yes I have seen rust on my black oxide and unfinished equipment (my Ohio Deadlift Bar is half brown) but to this day not a single AB bar has had oxidation issues. Not a trace.
So no, there is no reason to avoid American Barbell over these rust claims.
And what about those bushings?
There is nothing wrong with American Barbell bushings. AB uses high-load, incredibly high-quality, self-lubricating composite bushings. They won't spin like a 15¢ needle bearing while unloaded in a rack but they can handle an excessive amount of weight before slowing, and they will last forever. End of story.
In any case, the bar that lost it's Rogue Killer status is a fantastic Olympic bar, and AB bars in general are among the best on the market.  I'm not sure if a bias was developed at some point after original publication, but the negative comments and the subsequent retraction of that title is very misleading, and while I don't normally get into other blogger's business I do think these comments are harmful to a reputable company and warranted being refuted.
---
American Barbell Blemish Bar Sale
Just about every bar in American Barbell's line-up can currently be found in their closeout section as either blemish bars or open-box bars; which I assume means returns. The level of discount varies by bar, of course, but there are definitely some savings to be had.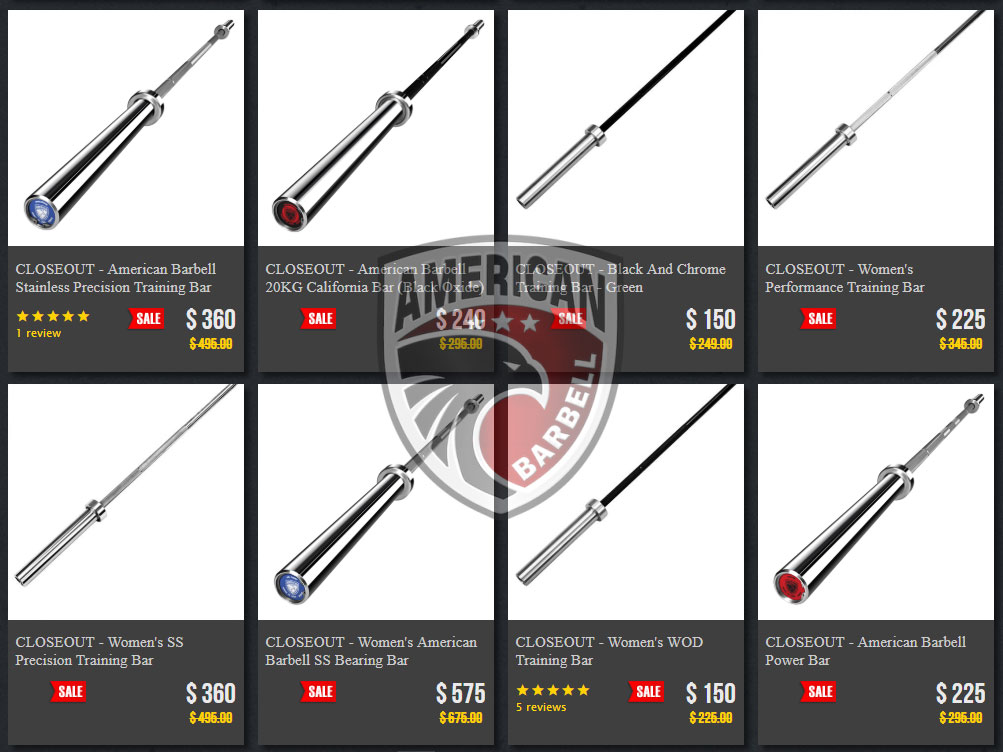 American Barbell makes some of the best bars in the industry so they are by no means the cheapest bars out there. This may be the perfect opportunity to get an amazing bar with an insignificant cosmetic blemish for a really good price.
---