In an effort to control the length and size of my original barbell buyers guide, I've decided to create a separate guide for powerlifting bars. In this way I can cover a larger variety of bars and offer more information about each individual bar.
If you would like a refresher course on the basics of barbell construction; including rotation mechanisms, sleeve assemblies, finish options, and so forth; refer to the beginning section of my original guide.
---
Table of Contents
Economy Power Bars ≤$250
Mid-Range Power Bars ≤$500
Premium/Professional Power Bars >$500
---
Power Bars Defined
Feel free to skip this section.

Power bars are intended for the big-3 lifts; the bench press, back squat, and deadlift. Due to the high amounts of weight used in these three lifts, and the fact that no one wants a lot of springiness (whip) in the bar when performing these lifts, power bars are designed to be much more rigid and stiff than Olympic WL bars. This rigidity is achieved by using very high tensile strength steel and larger diameter shafts (29 mm versus 28 mm.)
Power bars are always bushing bars; they have no need for high-spin needle bearings. This is one of the reasons a good power bar is less costly than an equally good Olympic WL bar. Power bars are also more aggressively knurled than the average Olympic bar. They have a center knurl and their own unique set of hash marks (in powerlifting, these marks indicated the maximum legal hand position for the bench press.)
To sum it all up, power bars are thick, rigid bars with little-to-no flex even under the heaviest of loads. They have sharp, aggressive knurling, a center knurl, and bushings for rotation.
---
Power Bar Guide – What's Included, What's Not
In order for a barbell to be included in this guide, it must be a legitimate power bar. It cannot just have 'power bar' in its name while having none of the characteristics of an actual power bar. Each bar must also be of a high enough quality that it won't easily permanently deform, and it should be safe when used with both light and heavy weights.
As is typical of most the guides on this site, my minimum quality standards tend to exclude the cheap, box-store quality barbells. I have however included a single, very low-cost option for those who refuse to spend more cash on their bar than they'd spend on a pair of kicks.
---
---
---
Power Bars <$250
There are not many quality options in the $250 or less category. Matter of fact, there is only one; the bare steel Rogue Ohio Power Bar. If your budget is low and you can't afford it new, buy it used. If you can't afford it used, keep saving. If you refuse to buy a Rogue product for some reason, I have listed the only box-store bar that I'd even consider recommending to a friend. You are my friend, right?
---
CAP OB-86B 20 kg Power Bar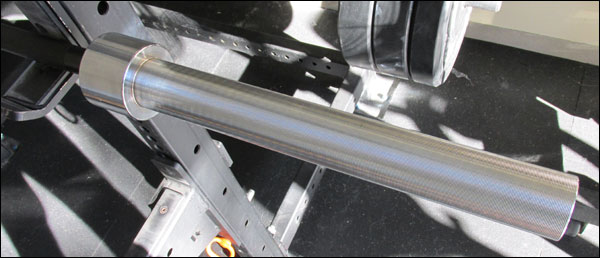 I am not a fan of CAP Barbell products; not one bit. The vast majority of their products are just plain cheap. I also feel the same way about X-Training, Titan, XMark, Weider, and just about any barbell brand that you can buy in a Sears, Wal-Mart, Target, or Dick's.
That being said, I've included in this guide the one cheap barbell that I believe is your best option among all the low-end imports, and that barbell is the CAP OB-86B Olympic Bar. I realize that CAP didn't name it a power bar, but this bushing-based bar has IPF markings, aggressive knurl, a rigid (although weak) 28.5 mm, 130k PSI shaft, and black oxide finish. Other than having no center knurl, it's definitely a power bar.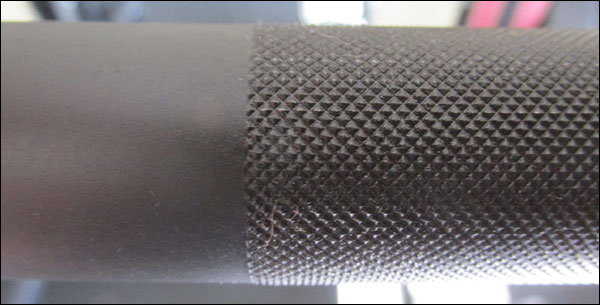 The reason I prefer the CAP OB-86B over the other cheapo bars is because it has a normal shaft diameter, a good, firm knurl with the proper markings, no hex bolts, and it will actually survive a novice strength program. The lack of center knurl is not the biggest of deals in this case because the black oxide finish is super grippy; it sticks to shirts pretty effectively.
20 kg, 28.5 mm, 130k PSI, aggressive, made in China, $139 [review]
---
Rogue Bare Steel Ohio 45-lb Power Bar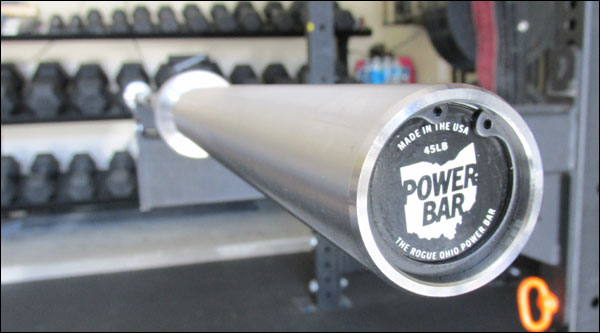 The Rogue Ohio Power Bar is easily the most accessible, high-performance power bar on the market. At only $250 for the bare steel variant, you simply will not find a power bar this well-built for less money.
The Ohio Power Bar is a 45-lb, 29 mm, 205k PSI tensile strength bar with incredible and I dare say perfect [aggressive] knurling. The shaft is incredibly grippy as it is, but the lack of finish makes this bar feel even more secure in the hands; very natural.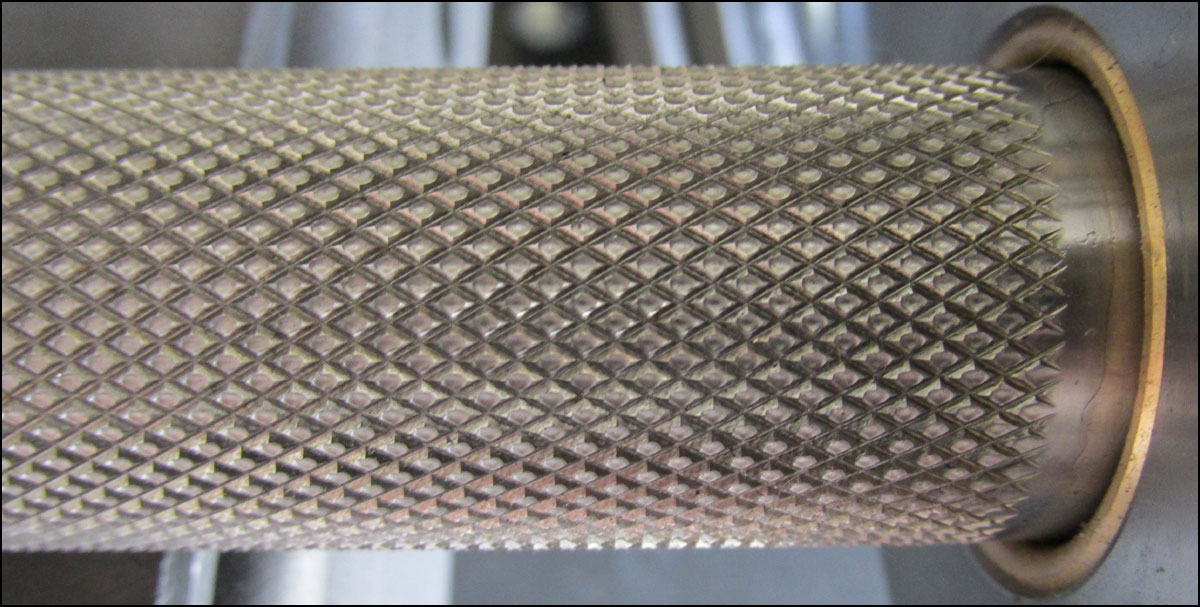 The Ohio is a cast bronze bushing bar – the sleeves spin well enough for a power bar; not too fast, not too slow. It is kind of loud when set down, but unless you are concerned with noise in your gym because of sleeping babies or whiny neighbors, I think it's a minor thing that's worth overlooking since everything else is on point.
If your budget is limited and you're going to go the "economy" route and you're not wanting a kilogram bar, this is the bar to get. You'll need to oil and brush it unless you choose the $275 zinc version, but it's worth it. There is also a 20 kg, zinc-finished version that I'll cover in the next section.
45 lbs, 29 mm, 205k PSI, aggressive, made in USA, $250 [review]
---
---
---
Mid-Range Power Bars $250-$500
Obviously more feature heavy than the economy bars, these mid-range bars are where the majority of people will find a good match. These will all last a lifetime if cared for. Only very experienced, deep-pocketed athletes should consider venturing into the premium range of power bars in the section following this one.
---
Buddy Capps Texas Power Bar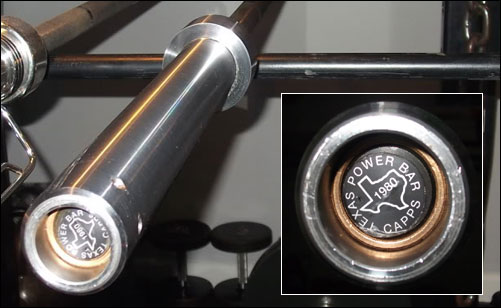 Even after all these years, the 20 kg Buddy Capps Texas Power Bar is still one of the better bar options for lower to mid-range budgets. It features a 186k PSI tensile strength shaft that is 28.5 mm in diameter, aggressively knurled, and finished in a black zinc. The sleeves are raw steel, and they are a tad shorter than average at 15″. The TPB is a bushing bar.

Rarely will you hear anyone speak poorly of the Texas Power Bar. It's a legendary barbell that still sells for under $300. Now it is true that its shortcomings have been brought more into the light by the introduction of the Ohio Power Bar, but it's still a solid bar.
What shortcomings? Well the tensile strength rating is actually pretty low by current power bar standards, and the bar's overall rigidity is not helped by the narrower shaft. Black zinc is also not a very popular finish, and the shorter sleeves have the potential to be problematic if you're using bumpers. Powerlifters generally don't use bumper plates, but if you recently transitioned from CrossFit into powerlifting, you may.
I don't see this as often anymore, but there used to be a problem with companies like Troy using the "Texas" name for power bars when it wasn't really a Buddy Capps TPB. This led to people buying a bar that they thought was the Capps Texas Power Bar, but really wasn't. Like I said, don't see it much anymore, but be aware of it nonetheless.
20 kg, 28.5 mm, 186k PSI, aggressive, made in Texas, $289
---
American Barbell Power Bar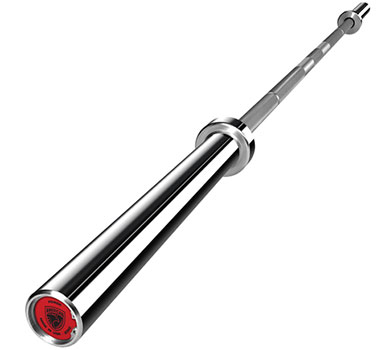 The American Barbell Power Bar is a very reasonably priced, feature-heavy power bar. It's built around a 190k PSI, precision-grade alloy shaft. That shaft is 29 mm in diameter, has a mild to moderate knurl with center knurling, and standard IPF hash marks. The sleeves spin on industrial composite bushings that are both durable, and reliable under any load.
This bar is unique in that it has a hard chromium finish on both the sleeves and the shaft. I say unique because the overwhelming majority of powerlifting bars are either a raw steel of some sort, black oxide, or in a few cases bright zinc. Chrome is just not a common finish on power bars like we see with Olympic WL bars.
The benefit of raw steel and black oxide bars is simply the feel. Not only is no neutering of the knurl done by applying a heavy finish over it, but the bar just feels much more natural in the hands; rough and grippy. Of course the trade-off for this improved grip is the oxidation, and not everyone wants to deal with the maintenance required to own raw bars or pay the premium for stainless steel. If that's you, the AB Power Bar is definitely worth considering.
The AB Power Bar is $155 less than the AB Elite Power Bar, and aside from the nicer feel of the Elite's stainless steel shaft these two bars will perform the same. I believe American Barbell makes some of the nicest bars in the industry; bars that will outlive all of us.
20 kg, 29 mm, 190k PSI, moderate, made in USA, $295
---
Vulcan Elite Powerlifting Bar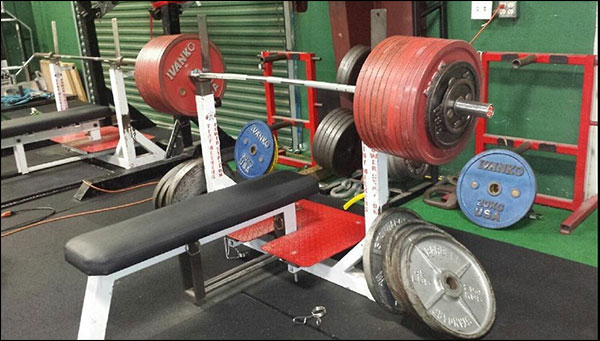 Like the AB Elite Power Bar, The Vulcan Elite Power Bar is another $295, American-made, rust-resistant power bar. It has a 29 mm, 196k PSI shaft that displays almost no elasticity, a bright zinc finish that is much more corrosion resistant than black oxide, and sleeves that spin beautifully on Oilite sintered bronze bushings.
Other than a few points of extra tensile strength, the big difference between the American Barbell Elite and the Vulcan Elite is the knurling; the AB is considered moderate compared to the Vulcan's aggressiveness. Of course some athletes just prefer a milder knurl, but the Vulcan't knurl is more akin to powerlifting bars and will probably be the preference for most.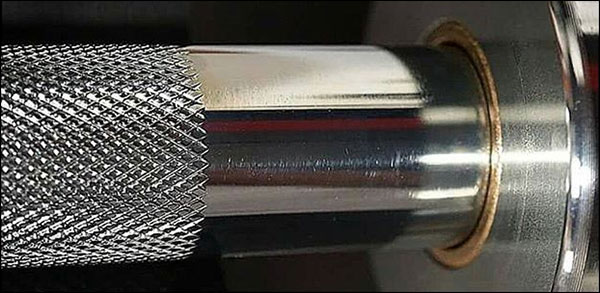 Additionally; and I don't understand this at all; but the Vulcan Elite is dual-marked. I have no clue why a super rigid, 29 mm bar would have IWF marks, but it does. It doesn't matter, but it does create a small level of confusion for anyone who picks this bar up not knowing what it is. So it's not bad, it's just weird.
Overall this is one hell of a power bar. It's incredibly rigid, has the premium Oilite bushings, and priced very well for a domestic power bar. Never dismiss Vulcan Strength for barbells.
20 kg, 29 mm, 196k PSI, aggressive, made in USA, $295
---
Burgener and Rippetoe Barbell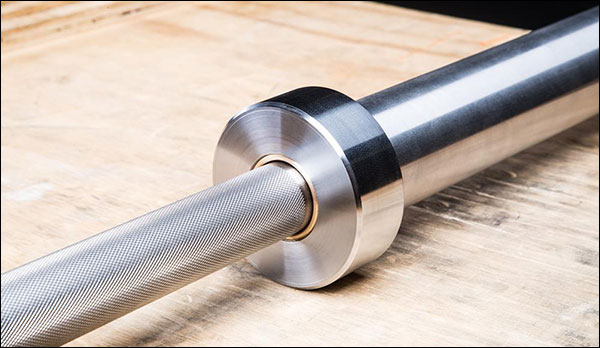 The Burgener and Rippetoe Bar (or B&R Bar) is another dual-marked power bar. Neither Rogue or York (the original manufacturer of this bar) called it a power bar, but it absolutely is and always has been a power bar.
The B&R features a very stiff, 29 mm shaft rated at 205K PSI. It has cast bronze bushings, moderate knurling, a center knurl, and no finish whatsoever. This bar has a very old school feel to it – this is partially due to the specs and mostly because of the raw steel. Despite it not being as aggressive as something like the Ohio Power Bar, the natural feel of the bare steel and the quality of the knurl makes it very easy to grip – very secure in the hands.
I personally liked the sintered bushings and old school end cap of the York variant, but that bar is gone so it matters not. If you can find a used York B&R don't hesitate to pick it up; it's a fantastic bar, and one that will last a long damn time. Hell both of them will.
Rogue: 20 kg, 29 mm, 205k PSI, moderate, made in USA, $295
York: 20 kg, 29 mm, 190k PSI, moderate, made in Canada, $295
---
Rogue KG Ohio Power Bar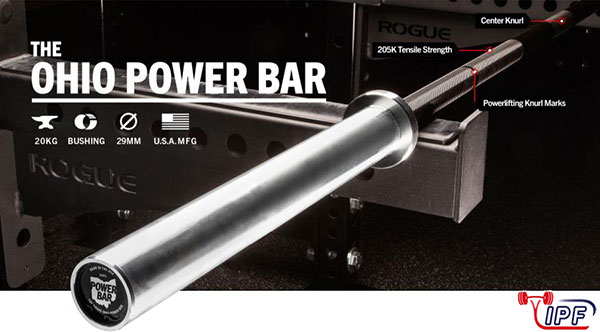 This version of the Rogue Ohio Power Bar is the IPF-approved, kilogram variant. While it uses the same 29 mm, 205k PSI shaft as the standard 45-pound variants, it does have a slightly different sleeve assembly.
Rather than being a single-piece sleeve, the Kilo Ohio has friction welded sleeves. Friction welding is just a fancy and precise way of bonding steel components. I don't think it has any major impact on life expectancy or anythign like that, but it does provide about an additional ½" of loadable sleeve length over the pound version.

The Rogue Kilogram Ohio Power Bar is offered only in a black zinc shaft/bright zinc sleeve finish. The knurl is still aggressive, the bushings are bronze, and like I mentioned the bar is certified for IPF-sanctioned meets. I personally prefer the price tag on the 45-pound variant, but if you need kilos or you plan to take the bar to a meet, this is the way to go. Also as you probably guessed, this is by far the least expensive IPF-approved bar available.
20 kg, 29 mm, 205k PSI, aggressive, IPF-approved, made in USA, $325 [review]
---
Westside Power Bar 2.0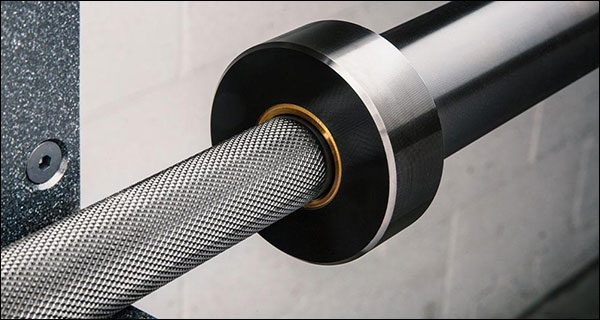 The Westside Power Bar 2.0 is basically the Westside Barbell-branded version of the Ohio Power Bar. It shares all the same specifications as the 45-pound variant; that is same shaft diameter, tensile strength, knurl depth, bronze bushings, and so on. About all that makes it different is the custom end caps the totally blacked-out zinc finish.  At $325 I still prefer the standard Ohio Power Bar, but this is a cool way to support Louie Simmons and his gang of elite powerlifters.
45 lbs, 29 mm, 205k PSI, aggressive, made in USA, $325
---
Vulcan Absolute Powerlifting Bar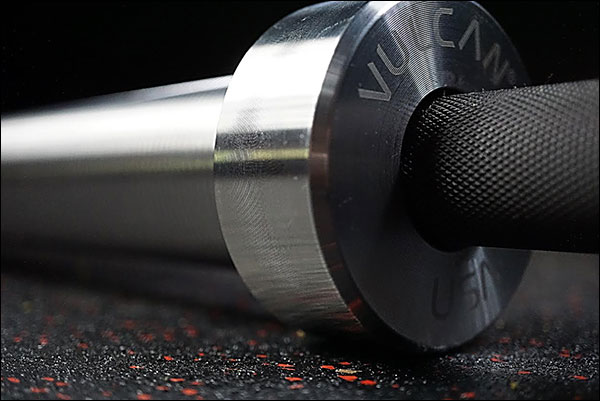 The Vulcan Absolute Power Bar is one of the strongest and most rigid power bars available. At 221k PSI, I think only the $600+ Kabuki Strength Power Bar offers more tensile strength. Obviously the difference between $339 and $600 is worth paying attention to. I'd say that a few hundred bucks easily makes owning just the 'second strongest power bar' seem like an okay thing.
The Absolute Power Bar is a legitimate power bar in every sense of the word. It has a black oxide, very aggressive 29 mm shaft, bare steel sleeves, center knurl, and bronze bushings. What makes it stand out from the crowd is its classy, beveled shoulders and laser etched Vulcan USA logo.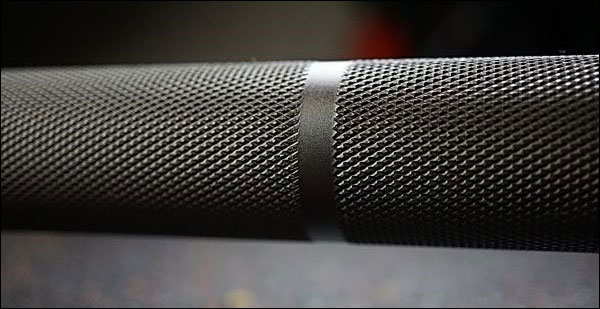 I personally own this power bar and can attest to its feel, rigidity, beauty, and value. Keep in mind though that with a black oxide finish and bare steel sleeves, this bar will require some upkeep ir order to prevent oxidation. Absolutely worth it though.
20 kg, 29 mm, 221k PSI, aggressive, imported, $339 [review]
---
Troy Power Bar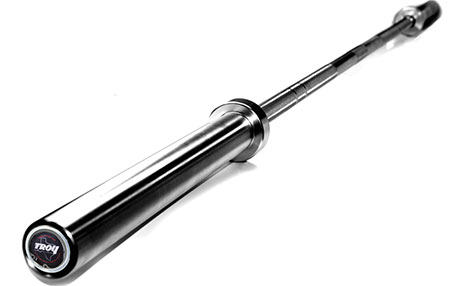 The Troy Power Bar is a power bar, but it's quite weak in the tensile strength department considering the nearly $360 price tag. At only 177k PSI, it's the lowest rated barbell on this page save for the Chinese CAP OB-86B that sells for only $139. It also has a 28 mm shaft, which is a peculiar move from a company that's been making bars for so long.
The Troy Power Bar has an aggressive knurl, a center knurl, and oil-impregnated bronze bushings, It even has a grippy, black oxide shaft finish, but I think this bar is worth ignoring at its current price point. It just doesn't have enough going for it with bars like the Vulcan Absolute selling for less, and bars like the Texas Power Bar and Ohio Power Bar selling for much, much less.
20 kg, 28 mm, 177k PSI, aggressive, made in USA, $359
---
York Power Bar #32004

The #32004 York Power Bar is kind of reminiscent of the original B&R bar in terms of both design and specifications. It's built around a North American (Canadian), 29 mm, 190k PSI steel shaft. It has oil-impregnated bronze bushings, moderate knurl, and the classic bolt-on end cap. Unlike the B&R though, the 32004 is chrome finished, and has York's famous split sleeve. It also sells for a bit more than the B&R sold for.
It's not an awful power bar, but it doesn't really stand out either. The York version of the B&R was not only more affordable, but it was bare steel. Bare steel is just so appropriate for a power bar, whereas chrome may be great for oxidation protection, but it doesn't feel as good in the hands. It doesn't matter anyway, this bar is too expensive for the specs.
20 kg, 29 mm, 190k PSI, moderate, made in Canada, $380
---
Titex Competition Powerlifting Bar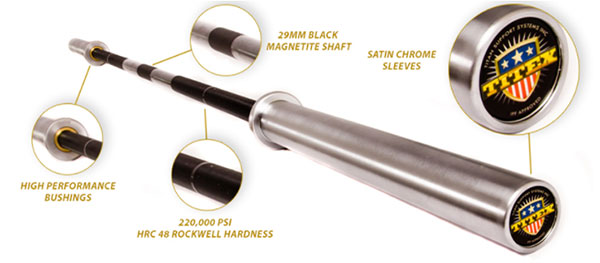 Much like the Rogue Kilo Ohio Power Bar, the Titex Competition Power Bar is yet another reasonably-priced, IPF-approved competition power bar.
For $399, you get a 220k PSI tensile strength shaft (29 mm), sintered bronze bushings, and chrome finished sleeves. Because it's IPF-approved, it has the center knurl and IPF marks. The finish on the shaft is black magnetite; which I'm pretty sure is just a fancy way of saying black oxide (correct me if I'm wrong); and the knurling is more mild than other IPF bars like the Rogue Ohio.
The Titex Comp is a great choice if you need a certified power bar with milder knurl then the Rogue Ohio, and lower price than the Swedes. The specs are solid and the price is very fair. For training purposes I still think the Ohio Power Bar is a better deal overall, and that $399 price tag really is pushing into stainless territory, and stainless is tough to ignore. The Titex does have chrome sleeves, which is nice.
20 kg, 29 mm, 220k PSI, moderate, made ?, $399
---
American Barbell Elite Power Bar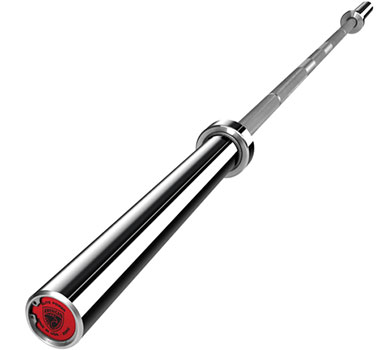 The American Barbell Elite Power Bar is a precision-grade stainless steel power bar. It has a 190k PSI stainless shaft, good rigidity with minimal flex, mild to moderate knurling typical of an AB bar, and hard chrome-plated sleeves that spin on high-load composite bushings. The shaft is 29 mm; it has IPF hash marks, a center knurl, and it's made in the USA.
The Elite Power Bar is similar to the old AB Super Power Bar. Other than the Super having a 28.5 mm shaft that was heated treated and sort of purplish in appearance, it's the same bar. Well one other thing makes the Elite different from the Super, and that's the price tag. The Elite Power Bar is $450 while the Super was $595.
The Elite is a beautiful and functional barbell. It lacks the higher tensile strength of some of the other power bars discussed here, but the fact that it's stainless steel makes up for that. Truthfully the only disadvantage of the 190k tensile strength versus say a 205k bar is that it will flex more at extreme weights. It's certainly not that the Elite can't handle anything you can throw at it.
The AB Elite Power Bar has 23 reviews; 22 of which are 5-star ratings. The 23rd is a 4-star rating that would be 5-star if the reviewer understood sleeve finishes. I'd say that's a pretty solid track record. This is a very nice power bar.
20 kg, 29 mm, 190k PSI, moderate, made in USA, $450
---
---
---
Premium and/or Professional Power Bars >$500
The following power bars are expensive, premium power bars. With all of these bars you are paying for higher-grade steel (like stainless steel), precision manufacturing, calibration, certification, or all of the above. For all but the most of experienced athletes, these barbells should be considered a luxury; not a necessity.
Excluded from this list are some of the less-common IPF competition powerlifting bars that are not easily accessible in the United States. This includes bars made by Pallini (France), Leoko (Finland), and Zaoba (Japan). Uesaka is also on the IPF-approved list, but even the Uesaka website doesn't list any power bars. If anyone knows anything about Uesaka power bars, feel free to educate me on their whereabouts in the comments.
---
American Barbell Mammoth Power Bar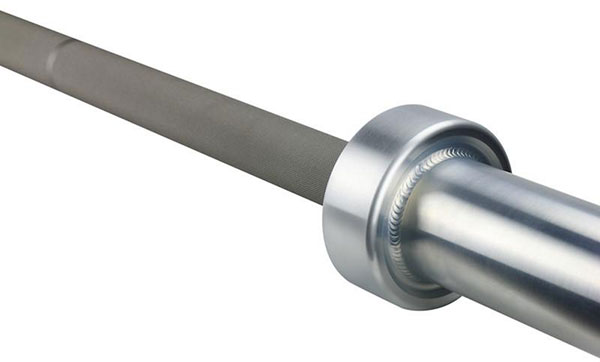 The American Barbell Mammoth Power Bar is the bar that replaced the infamous Super Power Bar; a personal favorite of mine. In a time when your only stainless steel power bar option was a $1200 Ivanko or a $1000 Iron Wolfe, the $600 price tag of the Super Power Bar seemed like a no-brainer. The Super was amazing; it's a shame that it's gone.
In any case, we now have the Mammoth. It sports a very rigid 210k PSI stainless steel shaft with a Savage Stainless Cerakote finish. Cerakote offers good grip and corrosion resistance that is more effective than any other applied finish. The shaft is 29 mm in diameter, it has a mild-moderate knurl, a center knurl, and IPF hash marks. The sleeves are two-piece with a unique, recessed weld, and they spin on industrial-grade composite bushings.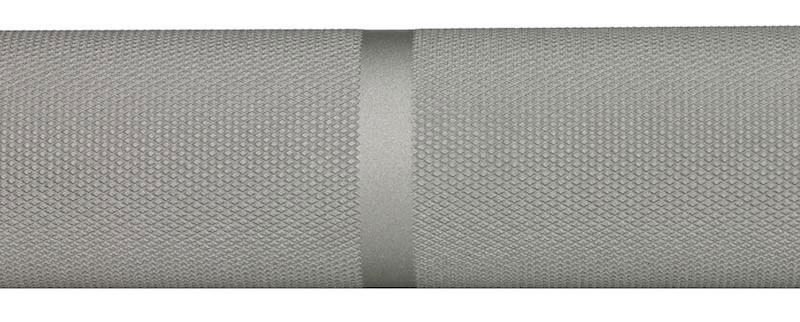 The Mammoth Power Bar is a beautiful piece of equipment. AB's assembly tolerances are so tight, and you'll notice this instantly when you pick one up. There is no lateral play in the sleeves and the bars make hardly a peep when dropped. I dare say that no other American barbell manufacturer makes a nicer, quieter, or more precise barbell.
Unfortunately, where the Super Power Bar was all pros and no cons, the Mammoth Bar has a con, and it has everything to do with the price. American Barbell took the most expensive shaft material available; stainless steel – with its perfect grip and great corrosion resistance; then applied a finish to it. Now as good as Cerakote may be, in my personal opinion it still falls short of stainless.
With the Mammoth Bar you pay for both the stainless steel and the Cerakote finish, but you don't get any benefit from the stainless (the more expensive of the two) save for some extra oxidation resistance IF you blow through the Cerakote finish somehow. I'm of the opinion that the Mammoth should have been alloy steel if it was going to have that Cerakote finish, as the bar would cost closer to $400 rather than the $550 it currently sells for.
Truth be told, I absolutely love American Barbell. I think the Mammoth is an incredible bar, I just think that it's far too costly being that you'll be gripping the Cerakote and not stainless steel. Fortunately, AB offers the Elite Power Bar which is unfinished stainless steel. It's not the same 210k shaft, but it is a 29 mm power bar that is almost exactly like the old Super Power Bar only without the heat-treated, purplish steel. The Elite is $100 less than the new Mammoth, and $150 less than what the Super sold for.
Mammoth: stainless/Cerakote, 20 kg, 29 mm, 210k PSI, moderate, made in USA, $550
Super: heat-treated stainless, 20 kg, 28.5 mm, 190k PSI, moderate, made in USA, $595
---
Kabuki Strength New Gen Power Bar

By all accounts, the new Kabuki Strength Power Bar is going to be a beast of a bar. It's not currently released at the time of this writing, but it looks like it will be retailing for about $600 to $700 depending on the finish. Finish options will include zinc, black oxide, and nickel.
The Kabuki Power Bar is a 20 kg, 29 mm power bar with firm, aggressive knurling typical of power bars. It has a tensile strength is excess of 250,000 PSI, a center knurl, and bushings of an unknown type; I assume bronze. This bar is made in the USA and is no doubt a solid bar, but the price is quite high. We'll see soon enough.
20 kg, 29 mm, 250k PSI, aggressive, made in USA, $600+
---
Eleiko Performance Powerlifting Bar NxG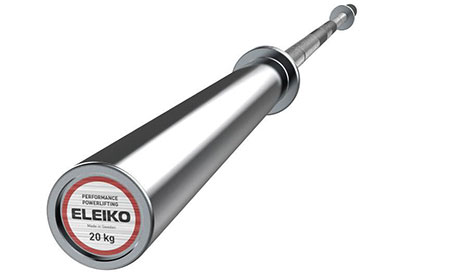 The NxG Performance Powerlifting Bar is just a new name for the classic Training Powerlifting Bar. The name changed, but none of the specifications changed. It's still a 29 mm, 20 kg power bar built around a 215k PSI Swedish steel shaft. This bar has very aggressive knurl, a center knurl, bronze bushings, and a galvanized zinc finish. This bar adheres to all IPF specifications.
20 kg, 29 mm, 215k PSI, very aggressive, made in Sweden, $849
---
Ivanko OBXS-20KG Powerlifting Bar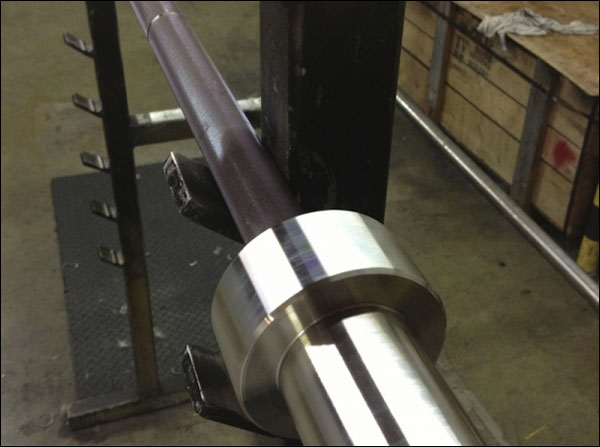 The Ivanko OBXS-20KG is another stainless steel power bar; a very expensive one at that. Part of what makes Ivanko bars so expensive is that they put each and every bar through a number of tests before shipping them out. They go through a mag test, an ultra-sonic test, and a straigthness test. They do this to ensure that each barbell leaves the factory without a single imperfection.
The Ivanko OBXS adheres to all IPF specifications. The 218,000 PSI stainless steel shaft is aggressively knurled and then left unpolished as to not take the edge off that knurl. It's a very aggressive bar, and it has a very unique blueish/purplish color to it because of how it's worked and left unfinished. Beautiful, but extremely expensive.
20 kg, 29 mm, 218k PSI, very aggressive, made in USA, $1259
---
---
---
Fake Power Bars
At the start of this article I discussed what makes a power bar a power bar. It's important to note that there are a lot of bars out there that are called power bars, but really are not. This means that unless you are paying attention to those product specs, you may end up buying a bar that won't meet your needs. Here are some things to look for:
power bars should have bronze or composite bushings, not needle bearings.
power bars should have IPF hash marks, not IWF.
power bars should have a center knurl.
power bars should be 29 mm in diameter; 28.5 in rare cases.
power bars should have fairly aggressive knurling.
power bars should have at the very least a 190k PSI shaft.
No power bar description should have the words "snatch" or "jerk" in it.
In some very rare cases, one of these specs may be off. Like the Vulcan Elite is very much a power bar, but it has dual-marks; or the American Barbell bars tend to have milder knurl, but are in every other way legitimate power bars. But if you stumble across a 28 mm bar with no center knurl or a 165k PSI bar with a 32 mm shaft, move on. I mean you're free to buy it, but it's not a power bar.
---
---
---
Power Bar Guide – Summary
I'd love to give some recommendations, but so much of selecting a power bar comes down to personal preference; mostly the finish/feel, and the aggressiveness of the knurl. Then of course your options are dictated by your budget. I will say though that for the typical budget of say a few hundred bucks, the Vulcan Absolute really stands out. It's incredibly strong and stiff, has a solid knurl, and an extremely grippy black oxide finish. The laser etched sleeves are a nice touch too.
For lower budgets I think the Rogue Ohio Power Bar in bare steel is the obvious choice. It's just so much bar for the money. High tensile strength, great knurl and feel. Like I said in the beginning, if you can't afford it new, I'll bet you can find it used. Trying to get much cheaper than the cost of this bar is probably a mistake in the long term.
My least favorite bars in this guide are the York and Troy because of features vs price, the CAP because it's just not a very good bar in general, and the Ivanko; which I believe is just ridiculously overpriced considering the availability and price of other power bars.
It's possible I've overlooked a bar or two. Did I leave your favorite power bar out? Leave a comment and let me know. I also appreciate those shares.
---
---
---
* image no doubt belongs to Mark Bell. Just trying to show some love – I will remove upon request.