We survived another year, and there's nothing wrong with that. Welcome to 2018! Have you resolved to do anything different or special this year? Did you set any training or diet goals? Maybe work or relationship goals? I wish you luck in all cases!
So what's new, and what's happening in the near future? Take a look.
---
Upcoming Events Happening Early-Mid 2018
2018 Arnold Classic
The 2018 Arnold starts March 1st and runs through March 4th in Columbus, OH. Events will include weightlifting, strongman, arm wrestling, powerlifting, Highland games, & of course, bodybuilding. There is definitely no shortage of bodybuilding categories and events.
USAW 2018 National Championships
The 2018 USAW Nationals are being held in Overland Park, Kansas May on 24th-27th. The qualifying period ends April 22, 2018, and the registration deadline is April 26, 2018.
CrossFit Games Qualifying
Qualifying for the CrossFit Games starts with the CrossFit Open, which runs February 22nd through March 26th. There are many stages of the qualifiers, including Regionals. See the CrossFit Season Schedule for all dates.
The actual CrossFit Games runs from August 1st to August 5th in Madison, Wisconsin.
---
New Strength & Conditioning Equipment Releases
Rogue Echo Air Bike
Step aside Assault and Airdyne bikes, Rogue is in the game now.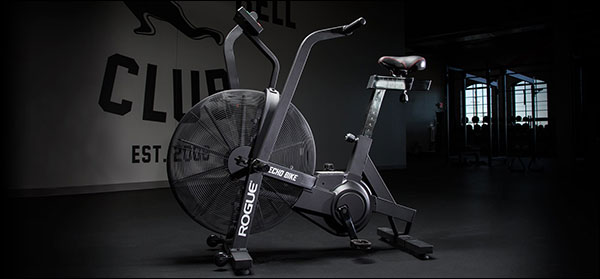 I do not see much in the way of feedback on the new Echo Bike yet, but it looks to be quite the beast from reading the product description. At $750 and 150-lbs, I can only assume that the Echo is indeed a very heavy-duty and sturdy bike.

Regarding some of the Echo's features, it is portable (wheels), quiet (belt-driven), smooth and stable, and it features a battery-powered LCD console for tracking intervals, distance, calories, heart rate, and more. The seat is adjustable for height and front/back settings, the bike has rubber feet and a black power coat finish.
Have you tried the Echo Bike? How does it compare to the Assault Bike or the Schwinns? Leave a comment below.
---
Genesis Jack
Say goodbye to the big space-stealing deadlift jacks that work, and the space-saving mini deadlift jack that doesn't work well beyond a few hundred pounds, and say hello to the new Genesis Jack.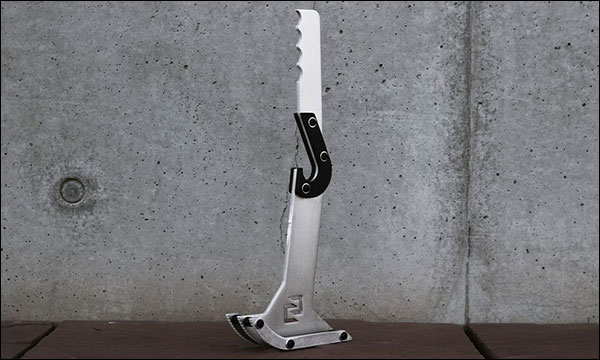 The Genesis Jack is a lightweight but strong, aluminum deadlift jack that is small enough to throw into a gym bag (not that us garage gymers go anywhere), but designed well enough to create ample leverage to prop up any amount of weight on the barbell. It's simple to use, requires no assembly to speak of, and can be stored out-of-sight when not needed.
The Genesis Jack sells for $90; which I'd say is kind of pricey save for the fact that I think they are being hand-made. Gotta respect that it's not an import, right?
---
Vulcan "Titan Smasher" 3×3 Power Rack
The new 3″x3″ Vulcan Flat Foot is an economy rack offered as an affordable alternative to the RML Flat Foot models, and as a comparably priced but much higher-quality upgrade to the Titan X-3. While still more expensive than the Titan X-3 ($650 versus $515), the Vulcan isn't made with scrap iron and it includes in the price a multi-grip pull-up bar; which does a lot to balance out that price difference.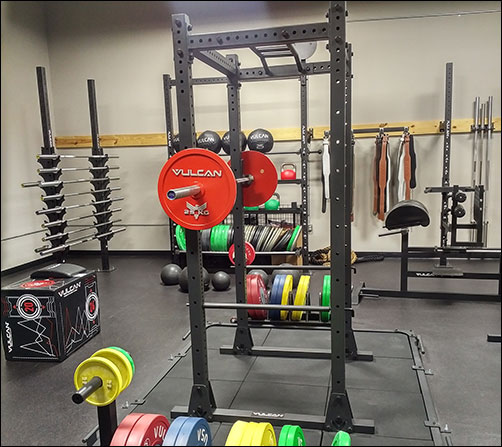 The Vulcan is made with the same 11-gauge, 3″x3″ high-quality steel as the RML line. It has 10 mm thick gussets at the base and uses quality 5/8″ hardware. Unlike the Titan, the steel is not B-scrap pig iron, the hardware isn't the cheapest possible brass stuff, and the welds are professional. This Vulcan rack is the perfect compromise between expensive and junk.
Absolutely worth mentioning is that you can add this rack to a bar+bumper set at a heavily discounted price; $100 actually. By doing so you actually are paying Titan prices, only on a much better rack. Additionally, you get a real bar and the best plates in the industry, and it all ships for free. No more settling on a budget.
---
Mark Bell's MB3 STrong Knee Sleeves
Smelly's MB3 STrong Knee Sleeves are third generation sleeves, and while they are they same great level 3 neoprene sleeves as standard STrong Knee Sleeves, they do feature a new, limited edition, USA-themed color print.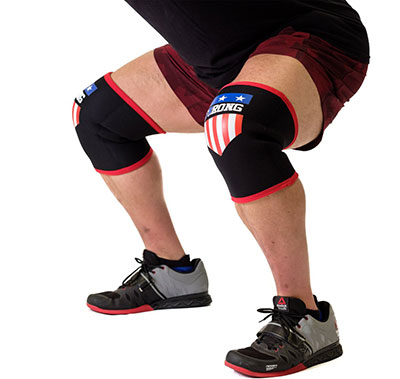 MB's STrong Sleeves are comparable in strength and elasticity as knee wraps, only you can leave them on for the entire workout and squeeze out an extra 20+ pounds of weight. They offer support like any knee sleeves, keep your knees warm, they stay in place during your workout, and there are no irritating seams rubbing against the front or back of your knees.
The MB3 STRong Sleeves are 7 mm thick and are sold in pairs for $80. Sizing ranges from XS to 4XL, so they will have your size. Check out the MB3 Elbow Sleeves as well!
---
Rogue Competition Fat Pad
In an effort to make the massive Thompson Fat Pad feel more like a standard-sized bench pad, Rogue is now offering it in a narrower, 12.5″ wide version. The Rogue Competition Fat Pad still has the same 4.5″ thickness, the same 50″ length, and the same grabber vinyl cover, but it will now feel more familiar to those of you who lack the thickness or broadness that makes the original Fat Pad such a treat to bench on.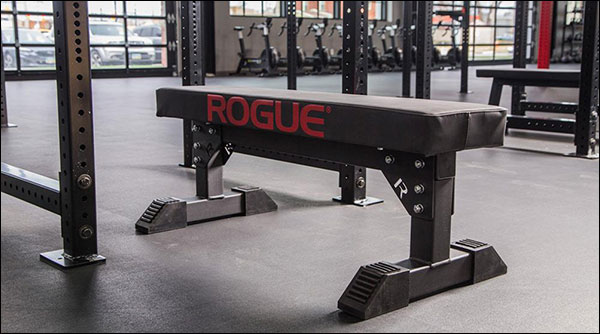 I guess technically this isn't a 'Donnie Thompson' product as it was that 14.5″ thickness that made it as such, but aside from that one change it is the same thing. You'll still be about 19″ to 20″ off the ground if you install this thick pad onto a standard frame, so keep that in mind. For the record, the Thompson pad is easily the best bench pad option on the market today, and since this is just a narrower version of that pad I see no reason to think this isn't also a perfect product.
---
Rep Fitness Competition Flat Bench
Speaking of Fat Pads, the Rep Fitness FB-5000 is the first non-Rogue Fitness bench frame to be released that accepts the Donnie Thompson Fat Pad (or all Rogue pads), and it's the only bench frame to be released at all that takes into account the added thicknesses of the various Fat Pads, and has a lower height to offset that extra thickness.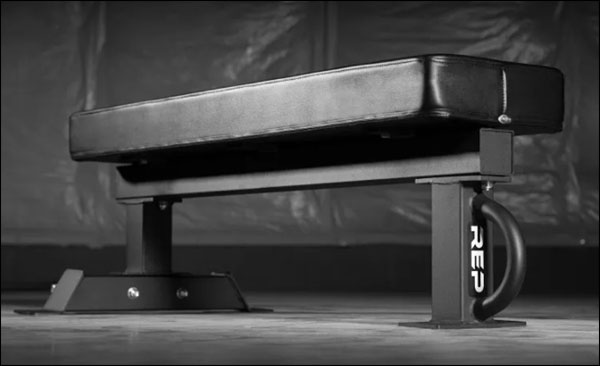 With the Donnie Fat Pad installed, the total distance from floor to top of the pad is going to be 17.5″. That's a perfect (and IPF approved) height. With Rep's included pad the height is 17″. 17″ is still a good height, but you will absolutely want to replace the pad with one of the Rogue Fat Pads as intended, as the included Rep pad does not have the grabber vinyl, and that's a huge chunk of what makes the Fat Pads so damn awesome.
This is a very affordable yet sturdy bench. It's made of 3×3 11-gauge steel, and the design is very minimalist; having only three legs. This set up is quite stable for flat utility benches, and you also get the added bonus of not having the front-facing bench frame legs interfere with your foot positioning. $119 before shipping (Rep doesn't do free shipping, which could really inflate pricing if you're multiple zones away from Colorado.
Finally, Rep is intending to offer a fat pad with grippy vinyl. Jury is still out on that, but Rep seems confident enough to have asked me to review one, so when I know, you'll know.
---
Onnit Han Solo Yoga Mat
You may have heard that Onnit has some officially-licensed, Star Wars-themed equipment about to be released, and yes it's true. Included in that collection is a yoga mat of Han Solo frozen in carbonite.
Other items in the collection include kettlebells shaped like Vader and Fett, and a slam ball that looks like the Death Star, but I think this yoga mat is the most clever and original idea of the bunch.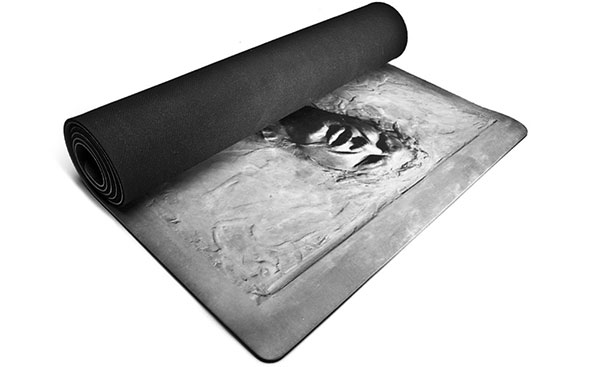 The Han Solo Yoga Matt measures 650 mm x 1800 mm (25.6″ x 70.9″) and is 5 mm thick. It's a reversible, non-slip, moisture wicking mat constructed of high-quality urethane rubber. It's not cheap at $64.95, but Disney has to be paid too you know.
---
Garage Gym Owner Women's Alternative Eco Racerback
Shameless plug for my own product here, I know. Please forgive me this as I have bills to pay too. =)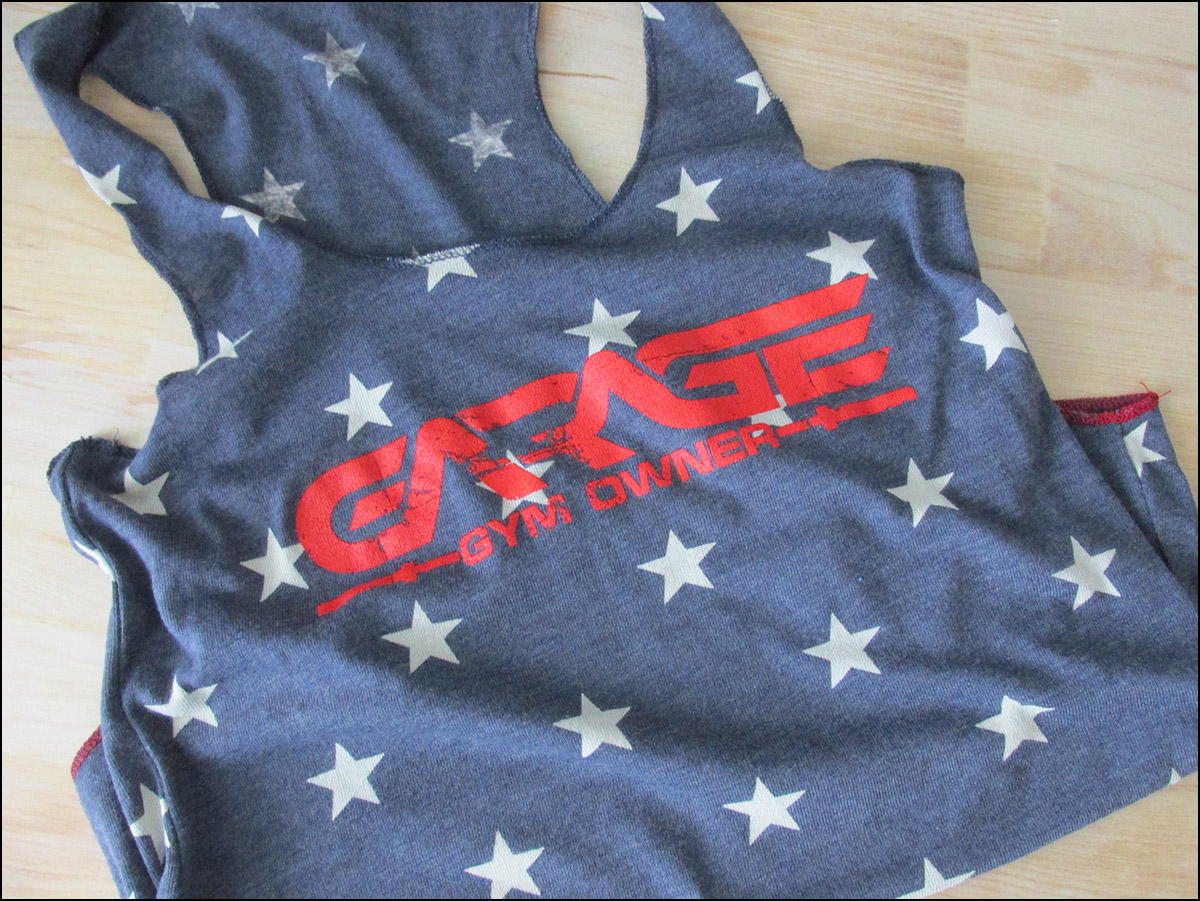 The Garage Gym Owner Women's Racerback Tank is a premium, tri-blend, fashion print by Alternative Apparel. This blue and white stars theme is from Alternative's Eco-line, and it is made from recycled and organic materials. The fabric is super soft and lightweight, and the red print and hem give this tank a very patriotic look. This is a very high-quality, nice looking tank – if I do say so myself. $25 with free shipping.
---
Want to add a National event to that list of upcoming events? Leave a comment. Please share this article, have a great 2018, and thanks for your support.