Every once in a while I like to write an article just showcasing some of the random exercise equipment, new fitness gear, and accessories I find while trolling the web. Some stuff is just for fun, but some of it can potentially be helpful or beneficial to your training program. For the most part I do this for entertainment, and I usually don't include a lot of necessities like bars, racks, and plates – so don't take it too seriously =)
---
Design your own training & CrossFit Shoes
So customizing shoes isn't like brand new or anything; lots of mainstream shoe companies offer design-your-own shoes. What's cool enough for me to mention here is that Reebok offers customization for all of their lifting and CrossFit shoes. That's right, all of them… the Nano 2.0 and Nano 3.0, the CrossFit Lifters, CrossFit Lites, and CrossFit Sprints can all be customized.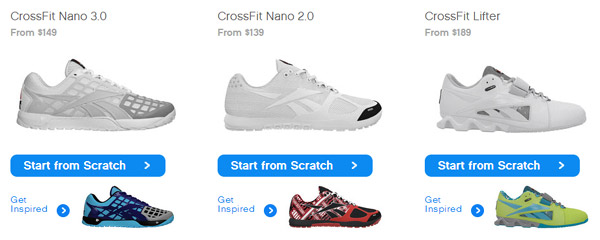 Considering that you won't find any customization options for the Adipowers, PowerLifts, Romaleos, or Inov-8 weightlifting shoes, it's pretty nice that Reebok offers it. Obviously it's not going to make you lift any heavier or improve your times to customize your shoes, but if you're going to go with Reeboks anyway, why not customize them? I mean hey who doesn't want their shoes to match their track suit? Am I right, or am I right?

Below is a screenshot of me messing around with the customization. Don't let my lack of creativity fool you, you can go pretty crazy with all the colors. I was actually rather surprised at how many colors are offered, and how many little details of the shoe you can change. Anyway, you don't have to buy anything to play around with it. Give it a shot; it's kind of fun for a minute.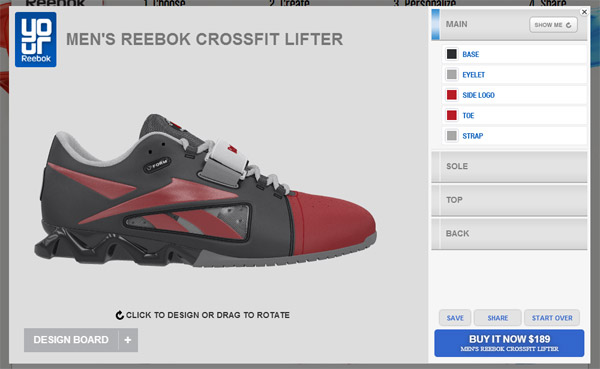 ---
New Fitness Gear – The Butcher V2
This is version 2 of Rogue's Butcher sled. I didn't realize there was anything wrong with the previous Butcher, but I guess Rogue thought it could be better. Improvements over the last generation include powder coated steel for a better grip, low and high hand positioning, and removable weight-bearing bars for easier storage and transport (the irony). The bolt on feet are also replaceable and have optional UHMW plastic for those who have the space in their facility to push a sled indoors.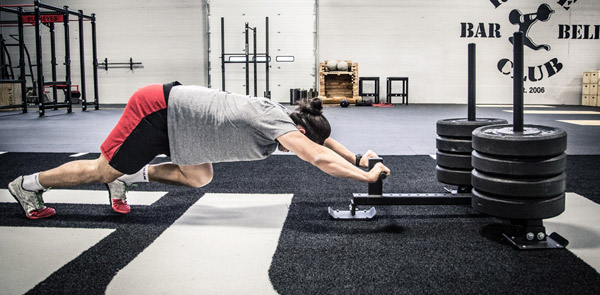 Sleds are intense. If you've never had the pleasure of spending a few minutes with a sled, I highly recommend you find one and give it a shot. I think you'll be surprised how much work it is. Max weight capacity for this thing fully loaded is about 575 pounds. It's also relatively affordable at $265, though you obviously need to own some plates to load it up. If you'd rather pull a sled behind you, check out the E Sled for under $100.
---
Trueform Runner – Motorless Treadmill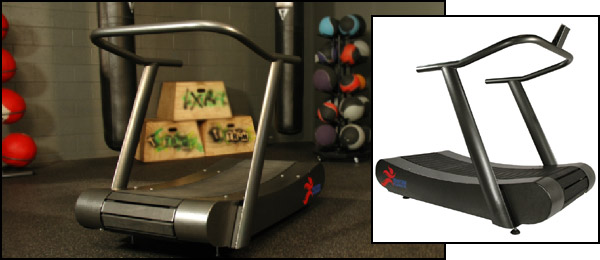 While snooping around in the 'New Products" section of Rogue Fitness, I noticed that they just started selling a treadmill called the Trueform Runner. I had never seen or heard of this thing before, but because Rogue seems to be pretty selective about what third-party gear they sell, I looked into it.
So basically, this is a treadmill that has no elevation settings, a curved running platform, and no motor whatsoever. It's 100% self-propelled. The claimed benefit of this treadmill is that it teaches perfect running technique. To quote the description, it helps train and reward technically-sound posture, balance, and cadence. It's credited as being the closest thing you'll get to true road running, and that seems reasonable.
The manufacturer claims this is the best treadmill for your joints since the machine absorbs shock at the point of impact. They also maintain that this treadmill has the lowest cost of ownership; requires virtually no maintenance; and is the ideal treadmill for athletes of any size or height and can handle any speed you can throw at it. How much does it cost? A lot!
---
Cable Crossover Solution for Garage Gyms!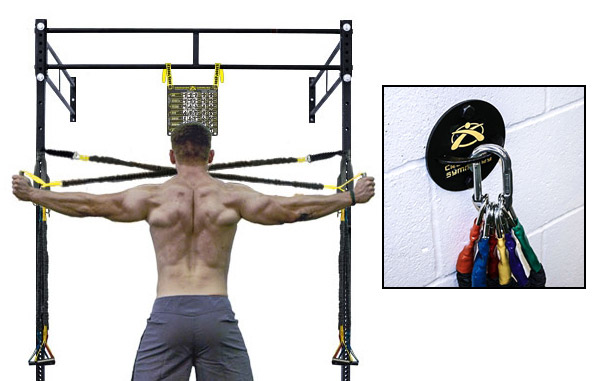 Here's a product that actually fills a void in most home and garage gyms. This resistance band system provides a way to do the type of shoulder work you would normally need a cable crossover machine for. Very few people actually have a crossover machine in their garages, and for good reason. They're huge and take up a lot of floor space, and they're expensive as hell.
This product, the Crossover Symmetry System, costs a couple hundred bucks and offers an alternative to the crossover machine. This system allows you to perform a number of shoulder movements that facilitate safe and efficient shoulder mechanics, reduce the risk of shoulder injury, and improve overhead performance. In other words, this system was developed for shoulder health; both safe development and protection from future shoulder injury. It also functions as a rehab tool for those who have previously injured their shoulders.
This is a pretty neat system in that it can attach to your wall or power rack. Buying standard resistance bands will accomplish the same thing, but I'd wager these are slightly better as the length was designed specifically for this purpose. Still, both this and standard resistance bands will do the trick. Do what you gotta do to work those rear delts – muy importante.
---
Ende
Have any suggestions for products other garage gymers might find useful or interesting? Leave a comment. Also, if you find any of my posts to be particularly useful or interesting, please share them on your social media site of choice. I appreciate it greatly. Happy lifting!
---