I don't know if you've noticed or not, but there a ton of new bumper plates hitting the market that claim to be made in the USA. Companies like Rogue Fitness, Sorinex, Wright's, Fringe Sport, and more now have their own branded version of the recycled, crumb rubber bumper plate. What's the deal with that? Where are all these plates coming from suddenly?
In this article I am going to talk about the different American-made bumper plate options, of which; when it really comes down to it; there are three in total. I'll go over the features, pros, and cons of each style, and then tell you what I think about these offerings. You may just be surprised by what I think.
---
USA-Made Bumpers – Table of Contents
---
The Original USA Bumper Plate – Hi-Temps
Who is not familiar with Hi-Temp Bumper Plates? Raise your hand. Anyone?
For well over a decade now, Hi-Temp has been manufacturing bumper plates in Tuscumbia, Alabama using recycled vulcanized rubber (old car tires). Even to this day, they remain one of the few weight plate manufacturers of any kind in the United States, and that's taking into consideration both bumper plates and iron plates. The vast majority of weight plates are still being shipping in from China.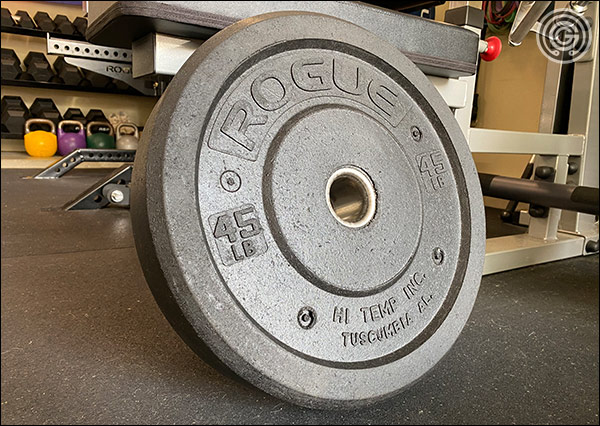 Hi-Temp Bumper Plates are available in 10-lb, 15-lb, 25-lb, 35-lb, and 45-lb pairs,  which all feature a recessed, 2″ stainless steel insert and boast a weight tolerance of +/- 0.5 lbs.
There is no 55-lb plate like there is with most other weight sets, but there is a 65-lb Hi-Temp option called the Gorilla Plate. It's not offered in any sets that I've ever seen, though. You'll have to order Gorilla Plates separately in pairs.
Hi-Temp bumper plates are definitely unique in many ways.  In addition to being a domestic product that is relatively affordable and reasonably accurate, they are also resilient enough to be taken outside and used on asphalt; a major selling point for CrossFit fans.  Of course, there are a couple of negatives on that list of features as well.
Hi-Temps have an extremely low durometer rating of 75; making them one of the (if not the) most bouncy bumper plate on the market; and these are weightlifting plates after all, so that excessive bounce is definitely going to be noticed. If you're looking for a dead blow bumper plate, Hi-Temps are not for you.
They are also extremely wide, which really limits the amount of weight you can load on the bar. But again, Hi-Temps are weightlifting plates. It doesn't make much sense for a strength athlete or powerlifter to buy Hi-Temps (or any crumb rubber bumper plate for that matter.)
Hi-Temps, for some reason, are a different diameter than all other brands of bumper plates. Rather than being the IWF-recommended 450 mm in diameter, Hi-Temps are 445 mm. It's a small difference, but one you will absolutely notice on the bar if you're mixing brands.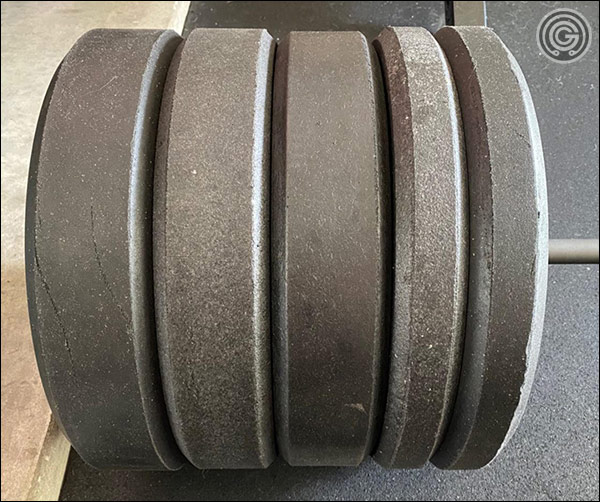 Finally, Hi-Temps offer the mediocre warranty of just 1-year; compared to up to 3-years with some of the virgin rubber imports. Considering the fact that crumb rubber bumpers have the worst track record when it comes to insert separation (that is, the steel insert popping out of the rubber over time), this low warranty is a bummer.
Now, having said all that (and I know cons listed out like that can make a great product look bad), Hi-Temp Bumper Plates are a solid plate for Olympic training and CrossFit. They're an extremely durable, versatile plate that is made in the USA, and that doesn't cost too much. I have no problem recommending Hi-Temp plates to any gym owner that intends to use them primarily for the Olympic lifts.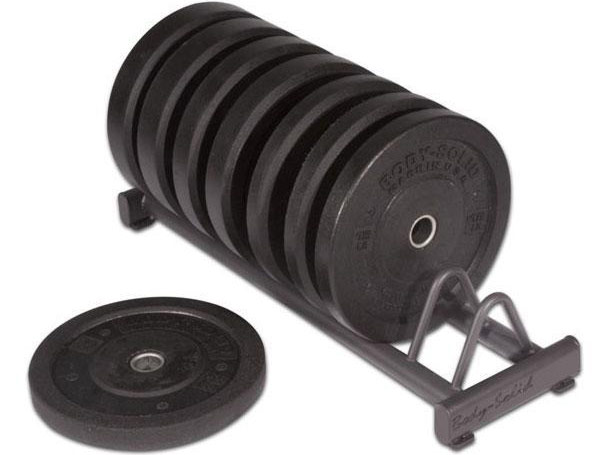 Another benefit of Hi-Temps is that you can buy them almost anywhere.  Rogue offers their own branded version of the Hi-Temp bumper, as does Body Solid and FringeSport. You can buy unbranded Hi-Temps from most major equipment suppliers (REP Fitness, for instance.)
---
The Alternative – Diamond Pro Bumper Plates
Diamond Pro Sport is another USA-based bumper plate manufacturer that just so happens to be just down the road from HI-Temp; in Decatur, Alabama. Diamond Pro has been in the equipment game for about a decade as well, manufacturing their own version of the crumb rubber bumper plate; one that is really quite similar to the Hi-Temps.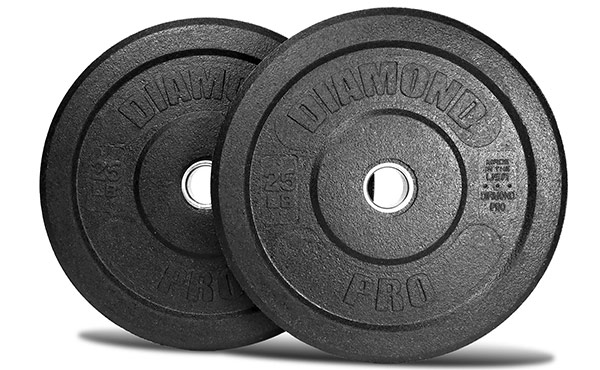 How similar are they? Well they are both black, crumb rubber bumper plates manufactured from a bunch of recycled tires. They both have stainless steel inserts, about the same level of bounce (high when compared to virgin rubber plates), comparable tolerance levels, and I would say they even look the same.
Similar as though these two brands of bumper plates may be,  there are some differences that are worth mentioning.  First off, Diamond Pros are marginally narrower than Hi-Temps, while also being a true 450 mm in diameter (versus Hi-Temp's 445 mm in diameter). There is also a longer warranty to be had with Diamond Pro; up to 3-years on the heavier plates.
Like Hi-Temp, Diamond Pro also offers a difficult to find kilogram collection. They also offer a 55-lb bumper plate and even a 100-lb bumper plate. You can grab the 55-lb plate directly from Diamond Pro, and the 100-lb plate from Fringe Sport.
---
Re-Branded USA Bumper Plates
There's a large and quickly growing list of American-made, crumb rubber bumper plates out there today. Rogue Fitness, Fringe Sport, Wright's, and Sorinex (to name but a few) all offer their own branded, USA-made bumper plates.
So what's the difference between each of these American-made bumpers?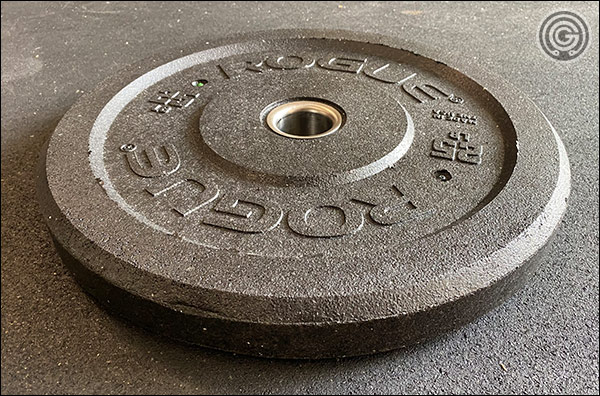 Other than the branding stamped into the sidewall of the plates, the only two differences are which manufacturer is being used to make the plates, and how much the retailer is charging you to buy them. That's pretty much it.
It appears that most of these US-made, crumb rubber bumpers are shipping from Diamond Pro. Sorinex is using a company called Fluorotek; a company that I not only know very little about, but also have been able to discover very little about (I have been unable to get even the simplest question answered from either Sorinex or Fluorotek regarding these bumpers)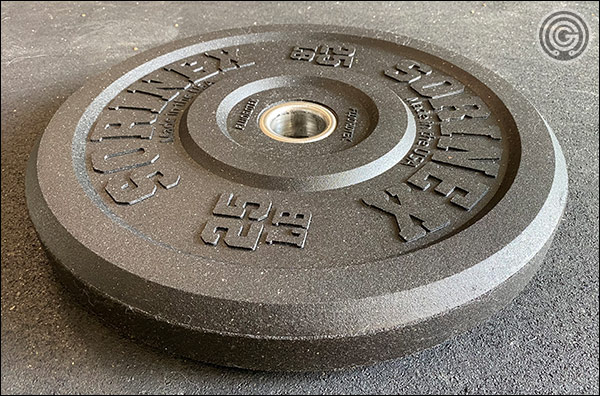 In any case, I may not be able to discover anything about the Sorinex Recon Lite Bumpers from Sorinex or their manufacturer, but I do own a set, and I can safely say that they aren't really any different than the crumb rubber bumpers we already had. Fluorotek bumpers are still black, recycled bumpers of the same width, tolerances, feel, and bounce. They may be better somehow, or they may be worse!  We'll know once they have been on the market for more than a month or two and we get to see how they're holding up.
Anyway, here are the current prices for four different brands of non-Hi-Temp bumpers; both pair pricing and a couple of set prices when applicable.
| | | | | |
| --- | --- | --- | --- | --- |
| | FRINGE | ROGUE | SORINEX | WRIGHTS |
|  10-lb pair | $76 | $35 | $30 | $48 |
|  25-lb pair | $140 | $88 | $76 | $83 |
|  45-lb pair | $234 | $158 | $138 | $149 |
|  100-lb pair | $490 | – | – | ? |
|  shipping included | yes | no | no | no |
|  160-lb set | ? | $335 | N/A | N/A |
|  260-lb set | $700 | $525 | N/A | N/A |
|  shipping embedded | yes | varies | N/A | N/A |
|  tolerance | 2% | 2% | 2% | 2% |
|  diameter | 450 mm | 450 mm | 450 mm | 450 mm |
|  warranty |  1-3 yrs | 1-3 yrs | 1 yr | 1-3 yrs |
Sorinex has the best prices on pairs before shipping, but they also have the worst warranty; at only 1-year across all pairs. All the other dealers offer 3-years on 25-lb plates and higher. Again, Sorinex; to my knowledge; is the only one using Fluorotek for production, and I don't know if the warranty is shorter in an effort to keep the price lower, or if it's just not as good a product as the Diamond Pro and HI-Temp variants.
Fringe Sport is the only manufacture offering "free shipping" on pairs and sets. As you know already (and what is made very obvious by the price), shipping is never free; it's embedded. As much as I love Fringe for bumper plates,  there is a good chance that you'll find the price to your door to be less from a company that does NOT embed their shipping.
Rogue has the best prices overall when you consider you'll probably by buying a set. This is because Rogue offers heavily discounted shipping on their sets. It's not free; even when the order falls into their "free shipping zone"; as there is still shipping embedded, but it is cheap. That is, cheaper than Fringe and cheaper than the other dealers that don't even have sets.
Fringe Sport and Wright's both offer 100-lb discs, but good luck finding those in stock.
Wright's has something interesting that none of the others have, and that's American-made crumb rubber bumpers in kilograms. You'll probably never find them in stock either, but they do exist!
Did you find PRx crumb rubber bumpers in your search? They are not made in the USA, so they are no included in this article.
---
What do I think about crumb rubber bumper plates?
Personally; outside of the fact that they're American-made; I don't see the appeal. I feel like the drawbacks of recycled crumb rubber bumpers outweigh the pros; especially when they are compared to the imported, virgin rubber bumpers. Here is a list of those pros and cons:
Crumb Rubber Bumper Plate Pros
Made in American (at least in terms of the brands discussed in this article).
Relatively affordable, low cost-per-pound.
Less odor than virgin rubber bumpers.
Better for outdoor use than most virgin rubber plates (though there are even alternative options in the virgin rubber department for outdoor use.)
Crumb Rubber Bumper Plate Cons
Crumb rubber plates are extremely thick. This limits how much weight can be loaded on the sleeves. This may be fine for a CrossFit affiliate, but not for a strength training gym.
The softness of recycled tire rubber makes for a soft (low durometer) and super bouncy plate. That softness also leads to the weakest, least rigid 10-lb and 15-lb plates around.
The aforementioned softness of the rubber also makes crumb rubber bumpers the plate most likely to experience insert separation. The lighter the plate the more likely this is.
In the case of HI-Temps you also have the issue of the plates not matching the diameter of practically every other plate in existence; including every other crumb rubber brand.
Truth be told, I think the biggest problem with crumb rubber is the physical size of the discs. They are just so much wider than any plate has to be. Crumb rubber is like 30% wider than virgin rubber, and almost twice as wide as competition bumper plates. Keep in mind that the width not only limits how much weight you can load on the bar, it also increases the amount of space it takes just to store the things.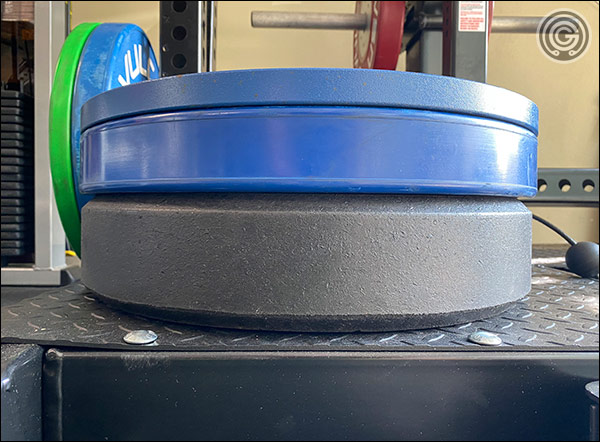 The durability issues are less likely to surface in a garage gym. You just can't put the kind of miles required to destroy any plates in a one or two-user, small gym.  Maybe you can bust a pair of 10's up if you try hard enough, but that's about it. Of course, if you're in buying for an affiliate or large gym, that's another story.
Unless you are just vehemently opposed to buying anything not manufactured in the United States of America,  I suggest sticking with virgin rubber bumper plates for your garage gym. I prefer to see you buy competition-style plates for their longevity, low bounce, and slimmer profile, but if you are looking to get into a set of bumpers as cheaply as possible then at the very least pick up some basic, feature-rich, black, virgin-rubber plates. My favorite bumpers to recommend are the following:
Why these particular plates? Because these three brands all utilize a hooked steel insert in their design rather than the classic featureless insert. This improved style of insert anchors itself into the rubber, all but eliminating the possibility of insert separation. The 10 and 15-lb plates in these sets are also intentionally wider and more rigid than they would otherwise be in an effort to increase their durability. Better still, these minor but significant upgrades don't make the plates any less competitive in terms of price. They're all still very affordable.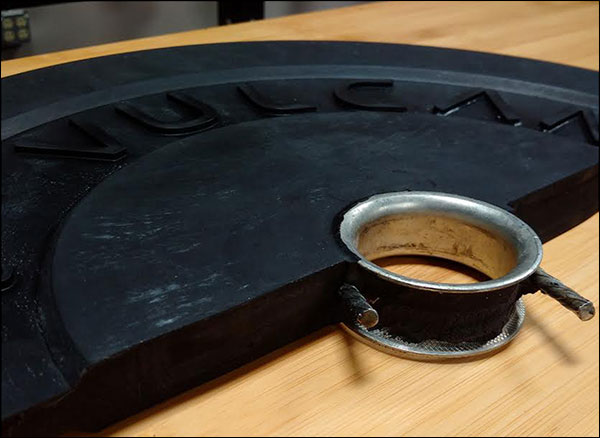 The Rogue Echo Bumpers are another solid option in terms of price, but Rogue doesn't put the hooked insert into any of their bumpers. They'll still last in a garage gym setting, and the warranty is just as long, but technically the other three I mentioned are a better product.
Perhaps at some point we will get some US-made, virgin rubber bumper plates to compete with all the imported bumper plates. As it stands, it's just not cost-effective. I don't know if it is a supply issue (does China have all the rubber?), wage issue, or what, but I suppose that if you think that you can solve the issues then there is probably money to be made. Though it is interesting to note that we are finally getting some American-made iron plates.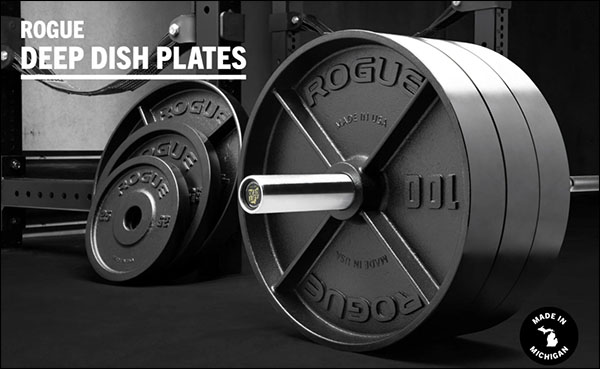 I've got some of these beautiful and surprisingly affordable plates coming, and I'm definitely excited to check them out and share my thoughts on them with you soon.
---
My Official Recommendation
About the only thing I'd recommend crumb rubber bumpers for is CrossFit, and if I had to go with a particular brand/style for a recommendation, I think it'd be a Diamond Pro variant due to their relatively low price, true 450 mm diameter, and good warranty. These include Rogue Fitness MIL Specs, Fringe Sport Crumb Rubber, and Wright's Crumb Rubber.