This is a simple and brief DIY guide on how to convert your anchored power rack into a lat tower using the Spud Inc Econo Pulley and some basic rack components. This conversion is very simple to set up, yet it gives you access to heavy lat pulldowns and cable rows; just to name a couple. This DIY set-up is much cheaper than owning an actual cable machine or lat tower, and it requires no floor space commitment when not in use. Many of you might even to be able to set this up without spending a penny.
So why do you need this rack conversion? You don't! Your program probably doesn't call for lat pulldowns or cable rows, and unless you're a bodybuilder it's likely that no program ever will. I just happened to miss the lat machine from my commercial gym days and figured that I wasn't the only one who did.
Of course another completely valid reason for wanting a lat tower is if you lack the strength to do a pull-up, or if you still have excess weight that makes doing true pull-ups difficult. Lat pulldowns can absolutely help develop the strength to allow for pulls and chins.
The Spud Inc Pulley system alone reintroduced access to a lot of those pulling movements. Unfortunately, without the leg braces of a lat machine (below), what we can pull down with any semblance of good form is limited. As the weight being pulled starts to exceed 50-75% of our body weight, it becomes harder and harder to keep your butt glued to the seat. This simple rack conversion addresses that.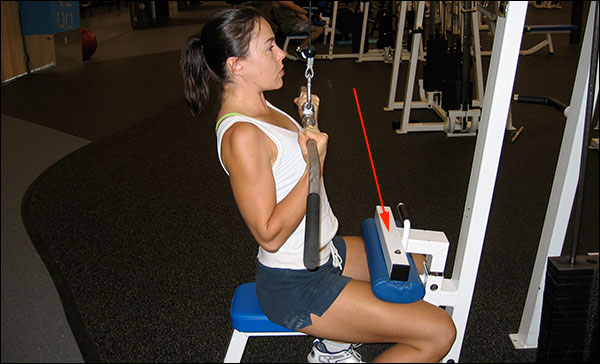 So no, you probably don't need a lat machine, but if you enjoy all the different pulls and can put this conversion together without spending a lot of money (or perhaps even no money), then why not? That having been said, if you do not even own the right kind of rack to begin this conversion, I certainly wouldn't go out my way to try and make this work.
---
DIY Garage Gym Lat Tower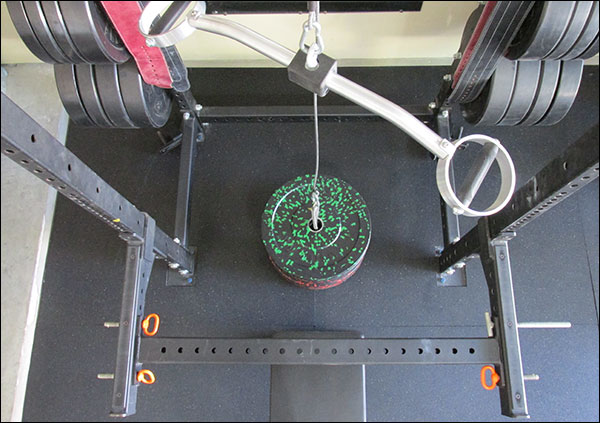 Before I get into what components you need for your DIY lat machine, let me comment on something:
I reference Rogue parts specifically in this article because those are the components that I happened to have on-hand, and they are the components that I know will work.
What makes these Rogue parts work so well is the consistent 5/8″ diameter holes and the consistent 2″ spacing between these holes across all of Rogue's components. Both Infinity and Monster Lite spotter arms have 2″ spacing on the side of the arms, and the 43″ Infinity cross-members have mounting holes exactly 6″ apart (see below images.) I have no doubt that other manufacturers' parts could be used for this project but you'll have to confirm that for yourself. Here are the parts:
Infinity-compatible or Monster Lite-compatible power rack, half rack, or rig; anchored
Rogue Infinity or Monster Lite safety spotter arms
Spare 43″ Infinity cross-member/stabilizer/pull-up bar †
Flat utility bench
Any combination of (4) total band pegs and/or detent/hitch pins †
Optional cable attachments (the Spud system only comes with the one)
† The 43″ R4 cross-member (the same piece used as a horizontal rack stabilizer) and the orange detent pins are not offered on the Rogue website for individual sale, but they can be ordered over the phone. You should already own at least 2 detent pins just from owning spotter arms, and you probably own a set of 4 band pegs already from when you bought the rack; so you shouldn't need to buy any of these anyway. If for some reason you do, I would maybe look at 5/8″ detent pins on Amazon. Just make sure that they are long enough to pass through all components.
As you can see, the beauty of this set up; other than being far more affordable than formal lat pulldown machines; is that it assembles and disassembles in seconds, it's completely adjustable for any height, and it doesn't require you to commit any floor space when it's not in use.
---
FIY!
There are a couple of things that I've learned as I've used my lat machine conversion. For starters, Thompson Fat Pad-equipped benches are not ideal for this conversion. They are just too damn high even for tall people (I'm 6'3″ and I couldn't make it work).
Also, since it's unlikely that you'll be using that 43″ cross-member for anything else, you can string tie some form of padding around it if you find the sensation of pressing bare leg into it uncomfortable. It's actually not uncomfortable if you set it up correctly (level), but I can see how padding would be a nice touch.
Some folks have used a pull-up bar instead of crossmember, and wrapped it in one of those foam pool noodles. Pretty solid idea.
---
My Attachments (in case you were wondering)
Most of the attachments that I use regularly are from American Barbell. AB offers both steel and aluminum, but I chose the aluminum attachments because they are lighter, made in the USA, and comfortable in the hands. The aluminum attachments are a little more expensive than the classic steel attachments that they offer but not by much, and considering these are pieces that I'll never have to buy again, I was okay with a slightly more expensive and nicer variation.
Amazon
has a plethora of attachments that you can get on the cheap – I own a couple of those as well. They don't compare to the AB attachments obviously, but they do get the job done all the same. I've actually retired all of my non-AB attachments except for an Amazon tricep rope and the included nylon attachment from the Spud Inc Pulley (which happens to be a very versatile attachment by the way, and one that I like very much).
I'm not a cable attachment 'expert' by any means, so I'm not going to pretend to be and tell you where to buy your attachments. Nor will I suggest that you have to spend a fortune on high-end attachments to get strong. It's very likely that you'll be used to some very specific attachment types and brands from your global gym days and you'll want to go with those – by all means, do that.
On a different note, if you happen to own the tricep pushdown attachment or the multi-grip cable attachment from Rogue, I'd love to get some feedback on them. Leave a comment.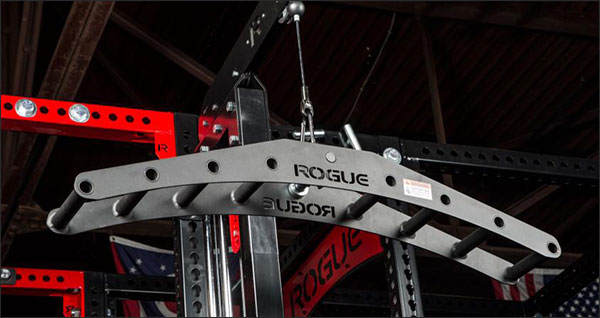 ---
DIY Lat Pulldown Station – Summary
It's not the fanciest thing, but it gets the job done. I have a back day that rolls around every four workouts, and I set this up every time. None of the cable-based pulls are primary lifts for the day, but I do a pretty good job of burning out my back during my tier 2 and tier 3 set. Again though, if you don't own the proper rack or any of the rack components, you can certainly still row with a barbell. Don't go out of your way to put this together if it's going to cost you a small fortune.
---