This is a review for the California Bar, American Barbell's first multi-purpose (dual-marked) Olympic bar. The California is basically a WOD bar; American Barbell's version of the Ohio Bar. It's an American-made jack-of-all-trades; and it's one of the best-built bars in its class.
This particular review is for the original California Bar; the zinc-plated version that has since been replaced with the Cerakote California. While I have also reviewed the newer version, I will leave this version intact for those who are interested
Updated January 2018. 
---
California Bar Review
Prior to the release of the California Bar, American Barbell only sold Olympic bars, power bars, and training bars; no multi-purpose bars. With the CrossFit and home gym community buying up so many multi-purpose bars from other vendors, I suppose it was only a matter of time before AB got into the game with the dual-marked California Bar. But is it any good?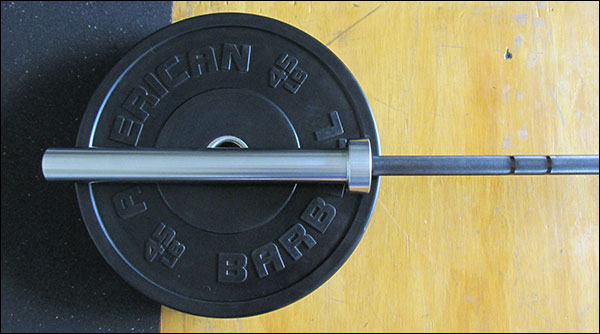 In this review I'll try to tell you everything that you'd ever want to know about the California Bar so that you can decide if it's a good bar for your training and your goals. I'll compare it directly to its biggest competitors, and of course I'll be sure to include all of my thoughts and opinions along the way. As always, if you have specific questions regarding something that I've failed to address or if you own the California Bar and want to contribute feedback to the review, please leave a comment at the bottom of the page.
---
California Bar Specifications
Keep in mind that these specs apply to the discontinued zinc version of the California Bar, though really only the shaft finish and price has changed on this list.
20 kg Olympic bar (or 15 kg women's Olympic bar)
28 mm shaft diameter (women's is 25 mm)
Tensile strength: 190,000 PSI
Sleeve assembly: high-load composite bushings
Loadable sleeve length: 16 3/8″
Whip: moderate/average
Knurl pattern: dual IWF/IPF, no center
Knurl depth: mild
Finish: black zinc shaft, hard chrome sleeves
Made in USA
Lifetime warranty
Price: $275
---
Sleeve Assembly & Rotation
I have a few of American Barbell's bars, and all but one of them are bushing bars. Of these bushing bars, they all have composite bushings (acetal) rather than bronze bushings, and while there is certainly nothing wrong with bronze, composite has a few small advantages over bronze.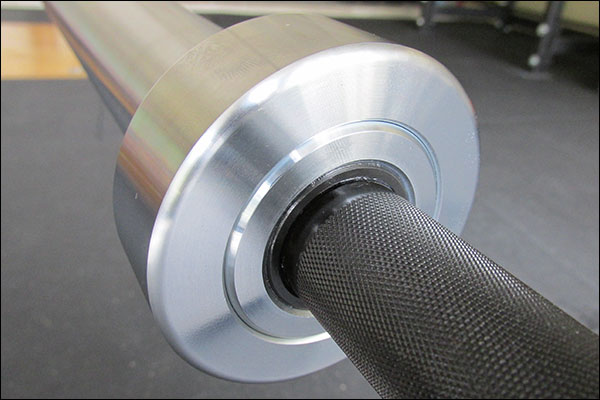 For starters, composite bushings are stronger and more impact resistant than bronze – they can simply handle more weight before seizing, and they are less likely to crack. Of course I am not saying that bronze bushings are out there cracking and falling apart, but the high tensile strength of composite does matter when it comes to consistent rotation under higher loads. The more weight you stack on a bushing bar, the more the sleeves drag. It just takes a lot more weight to experience this problem on a composite bushing bar.
Another advantage of composite over bronze is a reduction in noise from bar drops. Having what basically amounts to plastic separating the steel shaft and the sleeves rather than just another metal component does wonders to reduce the clanging and banging of a dropped bar. This may not seem like a big deal, but noise is a huge issue for a lot of people; namely garage gym lifters with sleeping families and close neighbors, and gym/box owners in retail spaces that share a wall or two with other stores. Combine a composite bushing bar like the California with quiet plates like the Alphas, and your ears and neighbors will thank you.
In terms of actual California spin performance, it's great – no issues whatsoever. American Barbell bars are built to very high tolerances, and the California is no exception. Everything fits together flawlessly, spin is very smooth and reliable under both light & heavy loads, and as I previously mentioned, noise is non-existent.
---
Knurling
The California is a dual-marked barbell; having both IWF and IPF hash marks. There is no center knurl, and the outer knurling extends all the way to the sleeves.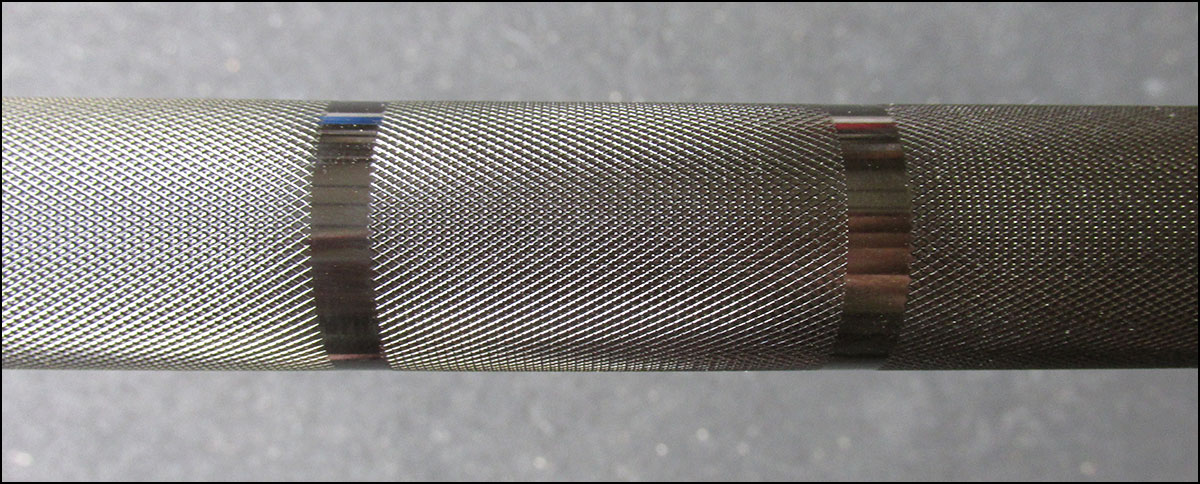 In terms of knurl aggressiveness, the California is on the mild side. It's extremely consistent but it's definitely on the lighter side. That said, the overall grip and holding power of the bar is decent despite it not feeling very substantial, and a little chalk goes a long way.
If I were to compare the knurl of the California to another barbell, I'd say that it's firmer than than the Team Bar 2.0, but a little softer than something like the Vulcan Standard or Rogue Bar 2.0. At the end of the day it's great for a WOD and general training, but not what you'd want to pull 600-lbs with. Then again, it's not a power bar anyway.
---
Whip
The California is a multi-purpose CrossFit bar with fairly decent whip. Elasticity is actually a little bit better with the California than with other multi-purpose bars simply because it's one of the few to have a 28 mm shaft versus a 28.5 mm shaft. I don't know that it matters really, but it certainly doesn't hurt.
---
Finish
The California Bar has black zinc on the shaft. Black zinc is a ridiculously common material to use these days because it protects the steel from oxidation better than black oxide while also keeping production costs down. Black zinc is not my favorite finish, but putting chrome on a bar (real chrome) costs a lot of money. Plus, bar manufacturers believe that you folks think black bars are cool looking. So until one of these two things change, black zinc will be commonplace.
The great news is that the sleeves of the California are coated in a nice, thick layer of hard chrome. Hard chrome isn't as bright and shiny as decorative chrome is (the crap that flakes and chips), but it does an amazing job of preventing rust and shrugging off scratches. Hard chrome is the real deal.
I consider the hard chromed sleeves of the Cali to be one of the features that separates it from the competition. It's a nice touch that takes a moderately-priced, mid-ranged bar and makes it look, feel, and even age more like a higher priced bar. Kudos to American Barbell for keeping the black grunge off the sleeves – even if it raises the bar price a few bucks.
---
California Bar vs Rogue Ohio Bar
So which state produces the best multi-purpose CrossFit bar? Ohio or California? This is the million dollar question, right?
Update: This comparison is less accurate now that the California went to Cerakote, but it would be reasonable if compared to the new Cerakote Ohio Bars.
On paper, the California Bar and the Rogue Ohio Bar look very much alike. Both these all-American barbells are 190,000 PSI bushing bars with dual-markings and black zinc shafts. They're both designed to be versatile enough to go from a high-rep WOD to a heavy set of squats or presses while performing admirably for both. They even retail for about the same price. For all the similarities, there are a couple of significant differences between the Ohio and California Bar, and your own preferences regarding these differences will likely dictate which is the better bar for you.
The first difference is shaft diameter. The Ohio has Rogue's standard 28.5 mm shaft, while the Cali has a 28 mm shaft; that being the size specified by the IWF for weightlifting bars. Novice lifters will be hard-pressed to feel the difference between the two, but experienced lifters will likely appreciate the narrower and slightly whipper shaft of the California. Now I don't know that the 28 mm shaft automatically makes the California superior, but if you do intend to transition from CrossFit into Olympic Weightlifting and you'd like to keep on going with the same bar, this may be a selling point for you.
The second difference between the California and the Ohio is the finish on the sleeves. The Ohio Bars sport zinc sleeves (your choice of bright zinc or black zinc) while the California Bar has hard chrome. I talked about the finishes in some detail further up the page, but I'll repeat here that the use of chrome makes the California a much more appealing bar to me personally.
Finally, American Barbell uses high-load composite bushings in the California Bar, whereas the Ohio has cast bronze bushings. There is nothing wrong with cast bronze bushings from a performance standpoint, but they can be loud and need frequent oilings. I like American Barbell's composite bushings because they don't require constant lubrication, they spin just as well as bronze, and the material makes no noise when the bar is dropped.
As far as price differences go, the California sells for $275 while the Ohio sells for $282. Not a huge difference in price, and neither of them ship for free, but when you consider factors like the chromed sleeves, that $275 just looks like a good deal.
So, which is better? From a quality of construction or durability standpoint I don't think one is significantly better than the other. Both are American-made barbells being manufactured by companies that know their business inside and out, and both will last forever if cared for. From a performance standpoint I think it's pretty close as well – I don't think you'll have a higher max clean or snatch using one over the other or anything like that. However, for my money, I'll take the chrome and 28 mm where I can get it.
Of course if zinc is okay by you, there is the Rogue Bar 2.0 $255. It's basically an Ohio Bar.
---
California Bar vs Vulcan Standard
The Standard is the Vulcan bar that is most similar to the California. It too is an American-made, dual-marked, bushing bar that sells for about the same price as the California. The Standard has some advantages over the California, but it also has its disadvantages.
Update: Again, less relevant now that the Cali is Cerakote and more expensive.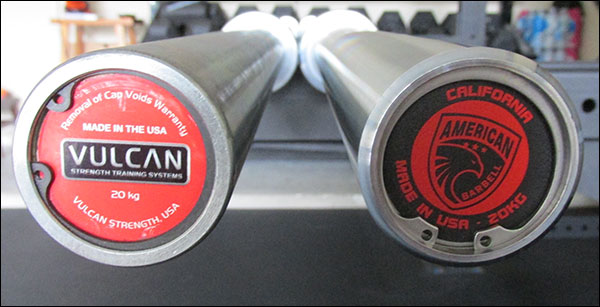 The first thing the Vulcan has going for it is free shipping. Free shipping effectively removes about $25 from your total price making it cheaper than the California. The other advantage is the fact that the Standard includes no black zinc whatsoever. The entire bar is bright zinc – both the shaft and the sleeves.
On the other hand the California still has the 28 mm shaft that feels more like a true Oly bar (less rigid), and the hard chrome sleeves that in my opinion still one-up the zinc sleeves of the Standard. The knurl depth of these two bars differ with the Vulcan being just a tad more aggressive, but the difference isn't huge by any means. This is neither a good or bad thing anyway; it just gives us options.
I own a Standard and it's a solid piece of equipment. Assembly tolerances are tight, knurl is solid, and the zinc has so far not really aged (shown any signs of fading or rubbing off.) As with the Ohio, the differences aren't so huge that there is a clear front-runner. Again though I think the chromed sleeves and 28 mm shaft give the California a slight edge. The biggest argument for the Vulcan in this case would be for those used to more substantial knurl.
---
California Bar vs x Bar
I can go on all day with comparisons. I've got no shortage of dual-marked import bars in the garage to compare the California to, but there really is no comparison. The three American-made bars in this review just blow away the Chinese imports in terms of both performance and quality, and to start direct comparing the California to the Team, Stealth, Bomba, or so on is really just comparing apples to oranges.
---
California Bar – Review Summary
Truthfully I have no issues with this barbell. The California has no shortcomings that aren't simply a direct result of it not being a more expensive bar. The sleeve rotation is better than average, shaft diameter is 28 mm, knurl quality is flawless, and the sleeves are finished in hard chrome rather than zinc. The only thing I am not 100% fond of is the knurl depth, but that's the one thing that's actually subjective, and CrossFitters will love it.
I like the California Bar, and while I'll never just straight up say go buy something because I like it, I do suggest that you at least compare it side-by-side to your current front runner.
---