Is it time to pick out some Olympic weights for your home or garage gym? Are you not sure which type of plates to buy? Should you buy bumper plates or metal plates?  Where should you buy them? Should you buy your plates brand new or used? Are they expensive to ship, or should you expect free shipping on large weight sets or even pairs?
Well I've done all of the research and I know the answers to all of these questions, so let's see if I can be of some help.
Last Update: November 2018 (extensive rewrite to bring review current; added brands).
---
So What are Bumper Plates?
"I already know all this – show me all the plate prices!!"
Bumper plates; or just bumpers; are Olympic-sized plates (450mm diameter with 50.4mm inserts) that are made of thick, dense rubber.  They're designed to allow an athlete to safely drop a loaded Olympic bar from an overhead position (i.e.  the snatch or the clean and jerk) without any risk of damaging the lifting platform, the bar, the or the plates themselves.
Bumper plates are offered in both kilograms and pounds in the same weight variety as you would find standard Olympic and powerlifting plates in. Most basic bumper plates are black, but colored varieties do exist. The more expensive large-hub competition-style bumpers are almost always color coded, but they too can be found in black.
---
Bumper Plates or Steel Plates?
So do you go with bumper plates or classic steel plates for your garage gym?
Well that's going to depend on your programming. Bumper plates are really only needed for the Olympic lifts where the bar is dropped from the hips, the rack position, and/or overhead. Normal strength training or powerlifting that consists of the squat, deadlift, various presses, and the row do not require bumper plates. Many people prefer to use bumper plates for the deadlift because they greatly reduce noise and vibration, but when using basic bumpers for this purpose there are weight limitations because of how thick rubber plates can be.
Even if you just prefer bumper plates over cast iron for general strength training (that is, not CrossFit/Olympic lifting), you still have to consider pricing. Bumpers tend to cost more cash per pound than steel. This is even more true when you consider how easy it can be to grab cast iron used (versus the difficulty in finding bumpers used.) Of course, it never hurts to do a search for used bumpers in your area (Craigslist, for instance). You may find a great deal.
At the end of the day, for Olympic lifts you'll want bumpers. For everything else, iron will do.
---
Rubber / Urethane Coated Steel Weights
Another option for general strength training is the urethane-coated plates. These plates are typically what giant commercial gyms have. They choose these because they are quieter, a bit cleaner and more professional looking than old school iron, and they're easier and safer to move around the gym.
The cost for coated plates is closer to bumper plate pricing than cast iron prices but they're definitely not bumpers. They are definitely not intended to be dropped from overhead like a bumper plate is, so they are useless for CrossFit and Olympic weightlifting. Because of that and the fact that they aren't really any cheaper,  there really is no need for this style of plate in a personal gym. If you can afford these, and like the clean look and lack of clanging, then by all means get some.
---
Are Bumpers a Better Buy Than Steel?
Maybe. Bumper are safer than steel. That is,  they won't smash through your foundation or crack and chip if you accidentally drop them. Consider that if you cannot safely drop a 45-lb steel plate while just transporting it to and from the bar without having to worry about what it would do to your floor,  you obviously cannot safely drop a bar loaded with steel plates from an overhead position, or ditch it the bar in a failed squat or power clean.
With so many athletes becoming interested in the Olympic lifts again (thanks to CrossFit), it makes sense to just go for the bumper plates initially so that those lifts are an option for you down the road,  even if you're fitness level or current workout doesn't necessitate them right away. Bumper plates really are not that expensive when compared to new steel plates. 
There is another reason so many prefer bumper plates over steel. It may seem a little trivial, but it's the noise (or lack thereof). Iron is crazy loud, even on relatively smooth movements. When you drop that bar from even a couple inches above the ground or rack, it's obnoxious as hell. Bumpers don't clang and bang like that.
---
Technique Plates – the other bumper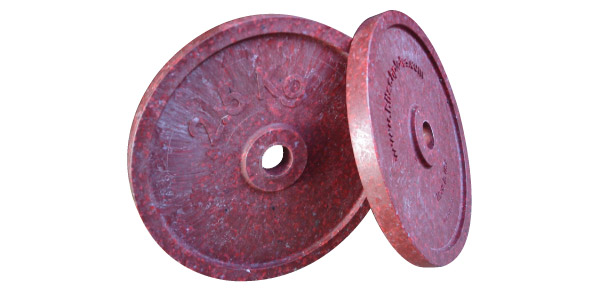 Just briefly, one other option for Olympic training purposes are technique plates. These are one-piece, solid, plastic plates meant to teach form. They are mostly commonly available in 5 and 10 pound plates, or 2.5, 3.75, and 5 kilogram plates. If you're new to the Olympic lifts, these allow you to get your form down with very little added weight but still have the feeling of plates on the bar. They're not cheap per pound,  but you shouldn't need more than a pair or two.
---
---
---
---
The Bumper Plates Review
Below I'll go over the different types of bumper plates and the features of of each. Following that you will find suggestions on where to buy each brand/style based on best price, cost of shipping, and availability. In most cases you simply buy the brand you prefer direct from the manufacturer for the best pricing.
◊ ◊ ◊ 
Basic Black Bumpers
There are a number of manufacturers out there for basic, non-competition bumpers, but I've narrowed this down to a handful of different brands to keep things relatively simple – Rogue HG, Hi-Temp, Vulcan Alphas, American Barbell Sports, Vulcan Strength Bumpers, and then FringeSport Bumpers. I removed any mention of Troy VTX due to some serious complaints about them cracking and showing very early signs of insert separation,  and I also removed Pendlay/MDUSA as they are no longer in business.
There are literally dozens of off-brand bumper plates out there. Many of them are the same, and even more of them just look the same.  Like anything else, there are levels of quality in this industry. No one is making you buy any brand I discuss here,  but I do strongly suggest that you research any off-brand plate thoroughly. Saving 10% on plates that you'll replace in 6 months isn't saving money at all!

HI-Temp Bumpers are decent plates, and the slightly higher prices are tolerated being that they are one of the few plates made in the USA. They are a little on the thick side but if you are not expecting to put more than 400-pounds on the bar it won't matter.
Many equipment vendors offer HI-Temps, but Rogue tends to have the best prices on them, may possibly offer you free shipping (depending on your location), and they maintain a very reliable inventory. The biggest advantage of HI-Temps is that they can be used outdoors on rough, abrasive surfaces like asphalt – while the biggest disadvantage is the unusually high and unpredictable bounce.
Vulcan Alpha Bumpers are the all-around, most versatile, basic bumper plates that I know of. They offer the same indoor/outdoor option as HI-Temps, they are 30% quieter than other basic bumper plates, are among the thinnest of non-competition bumpers, and are in color.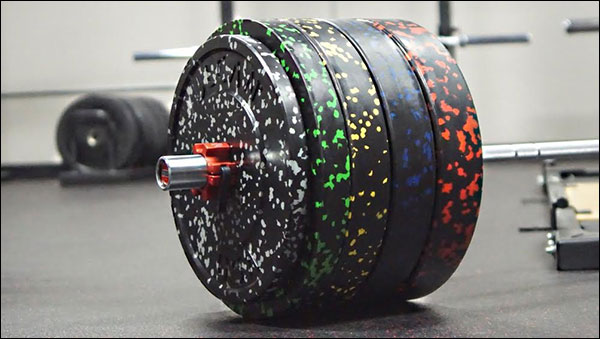 Alphas have durable, hooked inserts that stay put, low bounce, low odor, and are just a hell of a reliable bumper at a great price. Free shipping is also available to many regions. These are exclusive to Vulcan Strength.
Vulcan's Bumper Plates are probably the best choice for basic black bumper plates.  Not only does Vulcan have very competitive prices on sets, they have the most innovative basic bumpers currently on the market. The steel insert has a pair of hooks that are anchored into the rubber portion of the plate; preventing insert separation. A new rubber compound is also used that helps to eliminate the common warping and bending of the smaller plates. Pricing on the Vulcan Strength bumpers great too, and free shipping is available as well.
FringeSport Bumper Plates are an acceptable alternative to the Vulcans, as they have all of the same durability features like the improved rubber compound and the anchored insert. Free shipping and great prices can be found on these too.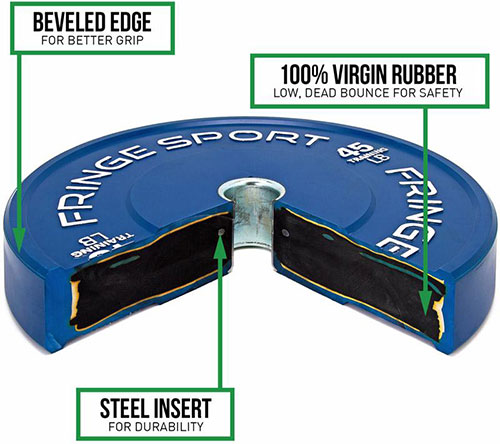 Rogue HG Bumper Plates used to make up the bulk of my collection before I switched to kilograms, and I was generally very happy with them. I wasn't a huge fan of the 10- and 15-lb plates but they're fine if you don't use them alone on the bar regularly. HG's are a bit less expensive than the HI-Temps, and they are a bit thinner as well.
These plates are fine for home use, but for equipping a CrossFit box or Olympic center, the hooked insert style of bumpers (like the Vulcans or FringeSports) will last longer.
American Barbell Sport bumpers are essentially the same as Rogue HGs.  They have a "unique to AB" look to them but they are still functionally the same plate. AB Sports are also available in IWF colors and in kilograms; which is uncommon. Shipping is free (included) for the lower-48 rather than just certain zones.
◊ ◊ ◊ 
Competition & Training Bumper Plates
Competition discs like the Rogue Olympic plates are thinner, more durable, and significantly more expensive than basic bumpers. These plates have but one purpose, and that's for Oly lifting on a professional level. If you are not serious about the clean and jerk and the snatch, these are probably not the plates for you.

Many manufacturers also offer training versions of comp plates. They're basically the same plate as the competition plate only not "calibrated for accuracy", and in the case of the IWF-approved brands, the training plates are not considered to be certified. In some cases there can be minor discrepancies with the SHORE rating, but it's not even worth thinking about.
Be it training or competition discs, these are still professional-level discs, and you will spend a lot more money on these than basic bumper plates – and you probably don't need to.

If you are willing to spend the money required to own competition plates, one of the benefits to you using these plates over standard bumpers is the reliability of the claimed weight. The tolerances are so tight that you know you're lifting the stated weight; usually to within 10g or less. Comp plates are also more durable than basic bumpers.
When it comes down to it, the extra durability and reliability of comp plates versus standard bumper plates is going to be meaningless in a standard garage setting, especially after you factor in price.
---
---
---
---
Olympic Plate Pricing Summary

Below is just some pricing to give you an idea of what you will spend to get your hands on some new plates. Last updated December 2017.
!! You'll need to buy your bumper plates in sets to get to the lower end of these pricing windows, and the bigger the better. Buying in pairs is not a very economical way to gather a bumper plate collection. Fear not though, I have a bumper plates sets guide!!
Steel / Cast Iron Olympic Plates

Price: Approx $1.00 a pound (new). Definitely shop for used; very easy to find. Used price can be as low as $.25-.50 a pound! Expect inaccuracies of up to 5% in claimed weight with box-store brands though.

Craigslist (used) | Rogue | Amazon | more

York Legacy Precision Milled Iron Plates

Price: Approx $1.50 a pound, sold in pairs. More accurate than off-brand cast iron plates, but not by much. 100-pound plates available.

Rogue 45-pound Wagon Wheel

Price: $425 a pair. An extremely pricey yet remarkably classy way of pulling deadlifts from the same height as 3″ pulling blocks. Not at all economical, but about as unique as it gets. Thanks Mark Bell!

Available only at Rogue

Vulcan Strength Bumper Plates

Price: Approx $1.50-$1.75 per pound. Free shipping is possible on sets. These are the most innovative basic bumper model available – only the Alpha is a better basic bumper.

Available only at Vulcan Strength

FringeSport Bumper Plates

Price: Approx $1.50-$1.75 per pound. Free shipping is available on sets and pairs. These are the same innovative basic bumper model available as the Vulcans.

Available only at FringeSport | Contrast variant

Rogue HG 2.0 Bumper Plates

Price: Approx $1.60-$1.75 a pound. Best price on basic bumpers when purchased in pairs rather than sets, but price does not include shipping. Very mid-grade level bumper plate, but warranty is nice.

Available only at Rogue Fitness

HI-TEMP Bumper Plates

Price: $1.60+ a pound. Rogue has best HI-Temp price, and sets may receive free shipping depending on shipping zone. One of few plates suitable for outdoor use.

American Barbell Sports

Price: $1.50+ a pound. Set prices are extremely competitive. 55-pound plates are available. These are rarely in stock, but the prices just blow away Vulcan, Rogue and the other guys when they are. [review]

Available only at American Barbell

Vulcan Alpha Bumpers

Price: Approx $1.50-$1.90 a pound. Indoor/Outdoor use, 30% quieter, slim profile, anchored stainless inserts, low odor, and more. Amazing plates! I dare say the best plates. [review]

Available only at Vulcan Strength

Colored Basic Bumpers

Price: Approx $1.50-2.00 a pound. Slightly more expensive than black, but a nice compromise between black and competition plates.

Colored Kilogram Bumpers

Pretty much the same deal as the basic black Sport bumpers from above, only in kilograms and in colors.

Technique Plates

Price: Approx $5-15 a pound depending on the brand. The original HITECH Plates (AB) are very pricey, but indestructible.

Training/Comp Olympic Bumpers

Price: Approx $3-$5 a lb for sets, more for pairs. These are offered in both pounds and kilograms, and prices have really come down over the years. At least consider these over basic bumpers.

Vulcan | Rogue | Rogue (lbs) | Werksan | Ivanko | Rep | Rep (lbs) | FringeSport (lbs)

Urethane Training Bumpers

Price:  Approx $3-5 a lb for sets. Urethane has a dead bounce, and the new Pro models (American Barbell/Vulcan) are very durable. AB developed these, but Vulcan has the best pricing. These are usually in pounds in the USA.

American Barbell | Rogue | Vulcan | American Barbell (kg)

Competition Olympic Bumpers

Price: Approx $3 -$8 or more per pound. Generally sold in kilograms, but Rogue offers pounds for the CrossFit Games.
♦ ♦ ♦
I hope this article has been helpful. I realize that there are a ton of other brands and places to buy bumper plates, and I considered literally dozens of alternatives. I dare say that 90% of home and garage gym owners will find exactly what they need either at Rogue, Vulcan, Rep, FringeSport, or maybe even on Craigslist. If you want to add your two cents, comment below. Thanks for reading my bumper plates guide and please share this article – it's much appreciated!
---