Original Post, November 2013 – Updated July 2016 
Often times when I review training equipment, a good portion of that equipment leans more on the mid-range to expensive side than the budget side. My goal has never been to imply that you simply must spend a fortune and have the absolute best equipment on the market to get solid, productive workouts at home. No, I have chosen to review the equipment that I do because I think that quality is important, and quality just costs more money.
You'll rarely catch me referring a reader to the box-stores for fitness equipment. I feel that buying gym equipment from these stores is risky because so much of what they sell is low quality. Like, the lowest quality possible.
Those who have worked out consistently at a commercial gym know what well-designed, solid equipment looks and feels like. However, those who don't have that experience might not realize the difference between quality equipment and the junk. I believe that if you go out and buy cheap exercise equipment, either you won't use it because it sucks, or you will outgrow it so fast that it would have just been better to buy the quality stuff in the first place.
Having said all that, spending a couple grand or more on commercial-quality equipment to start a gym at home isn't an option for everybody. If you don't have that kind of money lying around, it may just make sense to keep paying your gym dues on a monthly basis. I mean, $50 a month is more affordable than $2000 out of pocket now, so if the monthly fee is what keeps you training and in the gym then by all means keep paying it.
I wanted to see if there was another alternative though. I wanted to see for how little money you could get set up at home or in the garage and still have quality exercise equipment – like, what is the best exercise equipment you could get for the lowest possible price. So I looked into it.
---
Best Exercise Equipment on a Budget
My goal was to make a gym with the following essential pieces of high-quality equipment:
Olympic Barbell
Olympic Plates (I will show bumper plates and cast iron plates)
Weight Bench (flat utility bench)
Squat Stand with pull-up bar
With these four items, you can front squat, back squat, deadlift, clean and jerk, snatch, row, pull-up, curl, bench press, and shoulder press (just to name a few). This equipment is more than enough for anyone to get a great, intense strength workout at home. You can add the accessories later as you need them and can afford them.
---
Olympic Plates (Steel and Bumper Plates)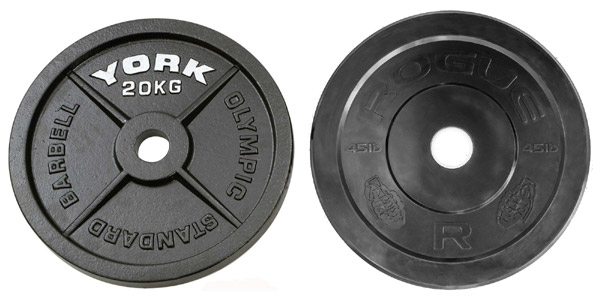 You have two good options for getting some plates on a budget: basic black bumper plates or standard steel plates. Which to choose will depend on how much money you can spend and whether you need bumper plates for your program or not. I recommend bumper plates if your budget allows it as they are more versatile and will give you access to the Olympic lifts, but should you not intend to snatch or jerk, steel is much cheaper.
Steel Plates: Steel plates run about $1 per pound new. To save money, find some used steel plates. So many people impulse buy weight sets from Academy and Dick's and then never use the damn things, so there is always lots of them for sale. I checked Craigslist myself and found you can buy used steel plates for about $.50 a pound in many cases. At half the cost of new, 50 cents per pound is a steal.
Bumper Plates: Bumper plates are slightly harder to find used, but it is possible. Search Craigslist for these just like you would steel plates. Also consider the used sporting goods stores like Play it Again.
If you can't find them used, don't worry. They can be had new for pretty cheap if you know where to go. The best new bumper plates for the money are the Echo bumper plates. At $245 for the 160-pound set with free-shipping included or $385 shipped for the 260-pound set, you cannot get a better bumper plate for the money.
---
Weight Bench (Flat Utility)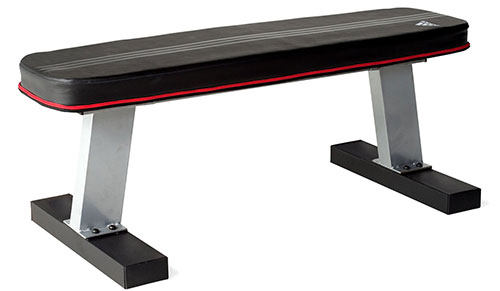 Now we need a flat weight bench. The cheapest, quality bench that I know of is the Adidas Dumbbell Bench; found on Amazon. It has almost a 5-star rating, is available in two colors (yay?), ships for free, and is usually less than $90 (Amazon prices fluctuate so give or take $5.) This bench is about 10-20 pounds lighter than every flat bench I looked at, so count on this being thinner steel than the commercial benches. It may not last forever but according to the reviews it will last a while. The pad is 2.5″ thick, and it's rated for 600-pounds.
---
Olympic Barbell
A good barbell will cost you between $200 and $300. The only way around that is to buy a piece of junk or to buy used. I strongly recommend you watch this video from Rippetoe on buying used barbells before you search for used. The video will seem as though it's only about finding straight bars in the beginning of the video, but it's not. Watch it all.
If you're going to go with a new barbell, I'm going to suggest a York bar designed by Mark Rippetoe and Mike Burgener. It's the B&R Men's Bar. It's a great commercial bar that has a 205k tensile strength, is marked for both power-lifting and Olympic lifting (and actually up to either task), and is an amazing deal at only $295. I own this bar and I love it – seriously, it's a lot of bar for the money.
You may also want to consider The Rogue Bar 2.0. This is the same bar that is used in the CrossFit Games. It's a 28.5 mm dual marked bar with no center knurling that is really just a great all purpose weightlifting bar. It's a little cheaper than the B&R bar at $255, and like the B&R, it's a great bar at a great price. The 15 kg women's version is called The Bella and it sells for even less at $215.
A barbell is the most important piece of equipment in your gym. Do not buy your bar at Wal-Mart or off Amazon. Those $100 bars have max loads of 250, 300, or 600 pounds. That's a joke to only handle a few hundred pounds. Think about this – it is not at all unreasonable to squat 300 pounds, or even bench 300 pounds. If you're on a thin budget, buy a shitty bench and rusty steel plates before you go cheap on your barbell.
To learn more about barbell construction and see even more barbell options, read this.
---
Squat Stand with Pull-Up Bar
The Rogue S-2 is still one of the most durable and competitively priced squat stands with a pull-up bar on the market. At $425 you get leveled UHMW lined J-cups, an adjustable pull-up bar (up to 88″ off the ground), Westside hole spacing (1″), and optional spotter arms for benching and squatting safely.
The S-2 has a smaller footprint than most of the competitor units (48″x48″), is a total of 92″ tall, and is made with 11-gauge, 2″ x 3″ US-steel. It is powder coated, uses 5/8″ hardware, and Rogue simply makes the best racks that 'not a lot of money' can buy.
If your budget does in fact allow you to spend more than the cost of this squat stand and you'd prefer a power rack, I suggest either the R3 or R4 rack depending on your available space. Take a look at my power rack guide to get a more in depth look at squat stands and power racks.
---
One More Option – Package Deals
Most of the major retailers offer package deals. The most common is the bar and bumper packages where you'd buy an Olympic barbell, a set of bumper plates, and spring collars for a lower price for buying them all at once.
They also have larger packages that have additional gear, but those are generally aimed at CrossFit. Take a look at this post if you'd like more information about packages. While it was written more for CrossFitters, the section on bar+bumpers should be helpful to anyone starting a garage gym.
---
Summary
The cheapest you can do if you diligently shop for used is about $695 for a fully equipped gym. That's with paying $425 for the new squat stand, going with the cheap Adidas bench, but finding used the Olympic plates and the bar. If you searched for and managed to find a used power rack or squat stand, you could bring that price down some more. It may sound like a lot, but we're talking about everything you need to cancel a gym membership.
Even if you buy all the alternative new equipment like the Echo bumpers and the new bar, you're still coming in under $1200 for a full set up. That's not too bad for a new gym with bumper plates. Especially when you consider some of the racks I reviewed cost twice as much as this whole set up… before weights and the bar and everything else.
While none of this equipment would be considered the greatest exercise equipment in the world, it's all still respectable equipment that you can rely on to take some abuse and not fall apart around you. You can always upgrade years down the road. But it should be nice to know there isn't any reason that you would have to since you didn't buy junk gear.
I hope you found this helpful in your quest to start a garage gym. If you did, or if you just want to be nice, please share this article on your social media site of choice.
---