This is a comprehensive review of the new Bells of Steel Open Trap Bar. In this review I will be addressing all of the specifications and dimensions of this new bar, and discussing all of its major features. I will even begin my briefly tackling a few of the reasons you may want to consider an open-ended trap bar over the more traditional hex bar.
---
Why an Open-Ended Trap Bar
I'm of the belief that every gym owner should own a trap bar. It's an incredible, versatile bar that can be used to supplement deadlifts and perform heavy shrugs and farmers walks. The trap bar can also be a great training tool for novice lifters, or  those athletes with an existing low back injury.
Of course, you probably aren't here to learn the pros and cons of the trap bar, as there are plenty of resources out there for that already. Rather, you are already in the market for one and you just want to read this review, right? Well fair enough! Let's get to that.
First though, let me just address a few reasons why you may or may not want an open trap bar vs a traditional, closed trap (hex) bar.
First, the open trap bar is even more versatile than a traditional hex bar. Having one side of the bar free of obstruction allows a couple different types of lifts; namely seated movements like the seated deadlift, and lunge-style movements like Bulgarian split-squats.
Will you perform any of these new lifts with your trap bar?  If you aren't already doing these movements with some other implement as part of your programming, then probably not, but hey, you could! The option is there for you down the road.
Secondly, open trap bars tend to have a built-in bar jack. This is just a fantastic feature that really makes the task of loading and unloading plates so much easier and quicker. Sure, it's not as though bar jacks don't exist already (you may already own one), but it is really damn convenient when it's built into the bar.
Finally, why not own an open trap bar? No, really! Is there a reason not to? Well yes maybe one. Price.
Up until recently,  if you wanted an open-ended trap bar of any worth you had to spend like $700 at Kabuki Strength, and that's just insane!  Bar jacks and lunges are not worth spend-ing that kind of money. I'm sorry, but it's not.
Today though,  with companies like Bells of Steel and even Vulcan offering more affordable open trap bar options, getting a built-in jack and at least having the option to do more exotic exercises with your trap bar doesn't require you to skip a couple of car payments, and that's certainly nice.
So whether you want an open-ended trap bar or a traditional hex bar is still up to you, but at least there are reasonably-priced options available in both categories now (and I am certain that there are even more coming.)
---
Bells of Steel Open Trap Bar 3.0 Specifications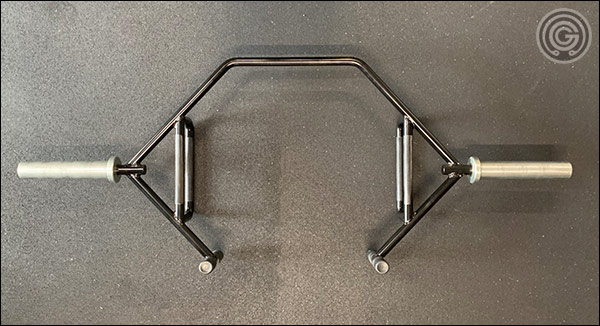 frame:

25 mm diameter, welded steel frame
total weight unloaded: 46-lbs
maximum weight capacity: 700-lbs
built-in bar jacks
finish: black zinc

dimensions:

absolute dimensions: 59″ long x 23″ wide x 7″ deep (150 cm x 58.5 cm x 18 cm)
inner hex dimensions: ~24″ between handles x 23″ front to back (60 cm x 58.5 cm)

front opening: 16½" (42 cm)

handle length: 12″ (30 cm) with moderate knurling
handle diameter: ~1″ (25 mm)
dual handle distance: 4½ on center (11.5 cm)

handle distance from floor: ~9″ and ~13½" (23 cm and 34 cm)

jack stand / feet dimensions: 7″ (18 cm) long, rubber coated.

sleeves:

50 mm rotating Olympic sleeves
loadable sleeve length: ~9.5″ (24 cm)
finish: bright zinc
rotation: bronze bushings

miscellaneous

bar jacks: yes
rackable: no
ACRT spec: no
dual handled: yes
warranty: 30 days
price: $249 USD / CAD
---
B.o.S Open Trap Bar 3.0 Review – Frame / Body
Length
The Bells of Steel Open Trap Bar is a fairly compact bar at just under 60″ in total length. It is about the size of any economy trap bar like the Synergee or Body Solid trap bar that can be found in the local box stores, or on Amazon. If you are used to using full-sized trap bars like the Rogue TB-1 Trap Bar or Vulcan Prime Trap Bar (both of which are about about 2′ longer in length) then the B.o.S. trap bar is probably going to feel pretty small to you.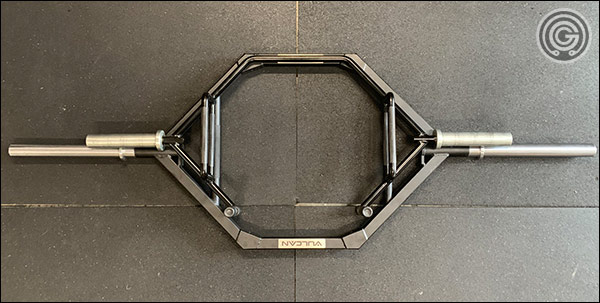 Does the overall length of the bar matter? It doesn't and it does. It doesn't in the sense that the inner dimensions of the bar (that hex area you position yourself in) is still large enough to accommodate even a large human. Where it does matter is that a large portion of overall length reduction comes from there being very short sleeves, which I'll address further down in the review.
Frame Construction
The Bells of Steel Trap Bar is built almost entirely from 25 mm, solid steel tubing. The shaft that supports the rotating sleeves is 28 mm but the rest of the bar is 25 mm. To help you in visualizing what 25 mm looks and feels like just remember that the 15 kg women's Olympic bars (like your gym's Bella Bars) have a 25 mm shaft.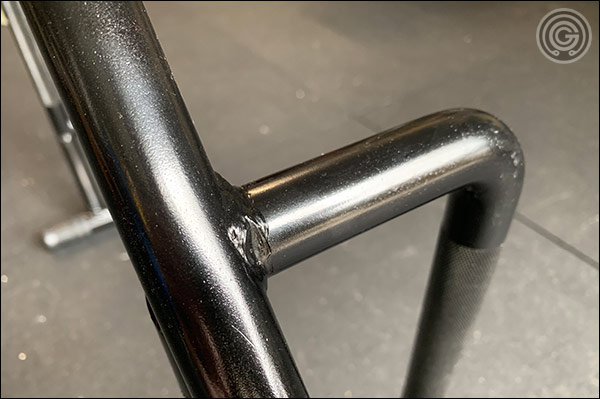 25 mm solid steel is a good material for an economy trap bar, even an open-ended trap bar like this one, but it does limit the amount of weight that can be safely loaded on the bar and it does allow for quite a bit of flex in the bar at heavier weights. Keep in mind that the B.o.S. Open Trap Bar does have a 700-lb maximum weight capacity,  a restriction that you'll rarely find on the premium trap bars that are made from 1.5″ square tube or 2″-diameter schedule 40 piping (like the aforementioned Rogue and Vulcan trap bars, and many others.)
Does the lower weight limit and bar flex mean this bar should be avoided? Absolutely not. I have seen economy trap bars in commercial gyms, and plenty of you already have a basic trap bar made from this very same material. Should you buy the B.o.S. Trap Bar if you have a 500-lb deadlift that is continuously going up? Probably not. Should you buy the B.o.S Bar for your raw iron powerlifting gym?  Again, probably not. Can the average weekend warrior get away with owning a bar with a 700-lbs weight limit when you consider that it costs $250 rather than $400 or more? Absolutely. 700-lbs is still a very respectable deadlift, especially when pulled with a trap bar (at least in my opinion anyway.)
Bar Jack
I'll cover these points again further in the review, but I wanted to just mention briefly that the Bells of Steel Open Trap Bar does have a built-in bar jack as part of the frame. This feature is great, and it's not included on any of the beefier trap bars in the under-$400 range. You'd have to spend $500 or more to get this feature on a beefier, open trap bar.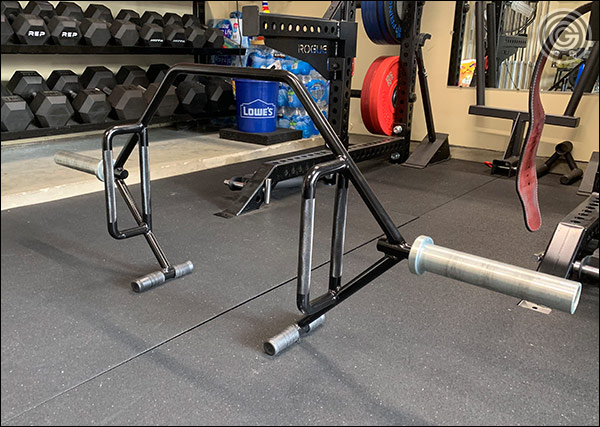 In other words, for $250 the the size of the bar and the type of steel used in its construction is perfectly fine for a great many lifters, especially when you consider the features that this bar does have, and what it would cost you to upgrade to a nicer open trap bar. You do need to not have a massive deadlift already, and as you'll see in the next section, you do need to own plates that are appropriate for this bar's shorter sleeves; otherwise you'll probably want to pass.
---
B.o.S Open Trap Bar 3.0 Review – Sleeves
I have a love/hate relationship with the sleeves of this bar. I appreciate that B.o.S. went with proper, 50 mm Olympic sleeves that don't require special collars, and I'm all about applying an actual [resilient] finish to the sleeves rather than using a powder-coat,  but these sleeves are lacking in one very crucial department; overall length.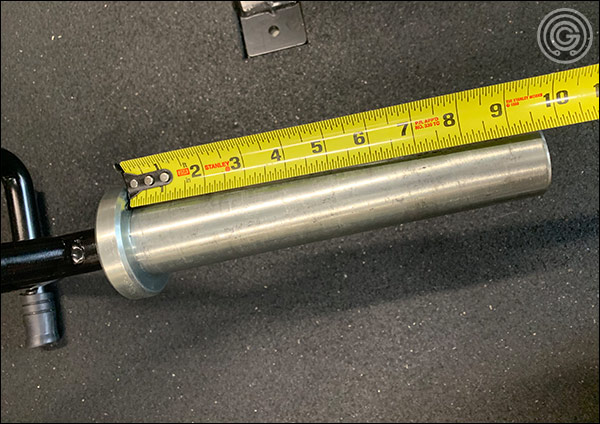 The Bells of Steel Open Trap Bar has sleeves that are only 10″ long. 10″ is nothing for a bar that will be used for deadlifts and shrugs nine out of the ten times that it's pulled out for use. Matter of fact, they aren't even a full 10″ long, rather they are closer to 9½".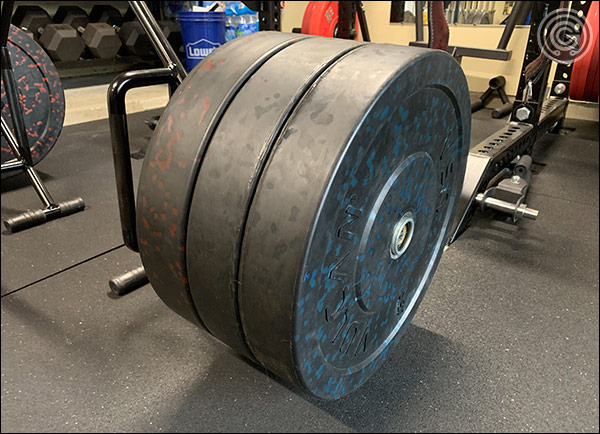 If you own the Bells of Steel Bumper Plates (or any basic bumper plates, really) you can get a maximum of three 45-lb plates on the bar, and that's if you don't use your collars. That's a deadlift of around 315-lbs, and that's not a very impressive deadlift, is it?
If you own competition bumper plates you can get four 45-lb plates on the bar, and you may even be able to use collars if you own narrow enough collars. That's better, but that's still an unimpressive deadlift for most at just over 400-lbs. Well maybe not unimpressive, but it's no where near the majority of the populations ceiling or the bar's maximum capacity.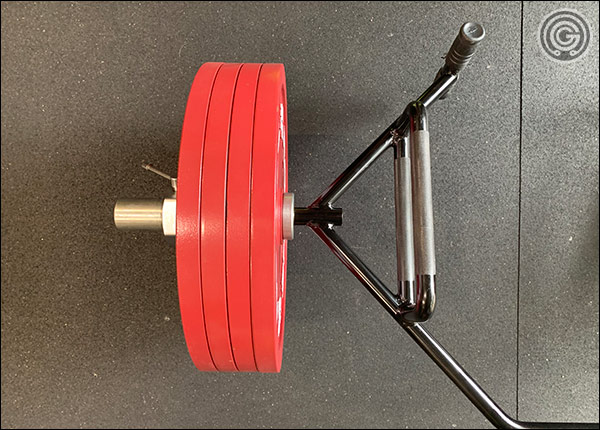 In order to make full use of the Bells of Steel Trap Bar, you need to own metal plates; either simple cast iron with a plate thickness of less than 1.5″ per 45-lb plate, or the thin calibrated steel discs. Calibrated discs are best as each 45-lb disc is less than an inch thick, but really, having to own these premium plates to use a $250 trap bar shouldn't be necessary. When it comes down to it, these sleeves need to be longer by like another 5″ or more.
So why are these sleeves so short?
The only logical reason I can see for this is to keep the cost of the bar down; way down. It's not that adding a few inches of length to the sleeves would do much to the production costs of each bar, but it probably does crazy things to the total cost of shipping it; both the cost of shipping the bars from the production facility to the Bells of Steel warehouse, and especially in terms of the cost of shipping each bar to customers.
To put that another way,  adding significant length to each sleeve may only add a few bucks to the production cost of each bar, but it may very well force Bells of Steel charge a lot more than the $250 it currently sells for. Remember, Bells of Steel utilizes embedded shipping, so additional costs to ship each bar will get worked into the price you pay.
Still, I personally think that this bar would be superior with 16″ sleeves at $300 than it is with 10″ sleeves at $250 unless you already own narrow, iron plates. If you own bumpers of any kind, these sleeves are not going to cut it for you no matter how affordable it is.
Rotating Sleeves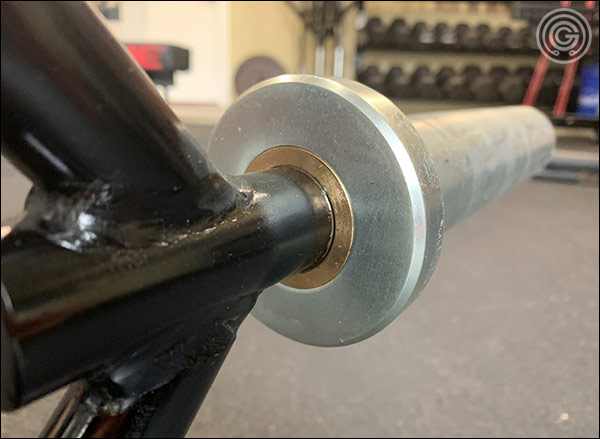 You may have noticed that the sleeves of the B.o.S. Trap Bar rotate on bushings. This is an interesting feature to have on a trap bar, and one that I'm completely indifferent about. I can think of no reasons why this feature would be necessary,  but since it does not interfere with the function of the bar and it's probably what led to this bar even having 50 mm sleeves, I'm okay with it.
---
B.o.S Open Trap Bar 3.0 Review – Handles / Knurl
The Bells of Steel Open Trap Bar has dual handles,  a very convenient feature to have on a trap bar as it allows you to do block pulls by simply turning the bar over,  which can even be done loaded since the Open Trap Bar has a built-in jack.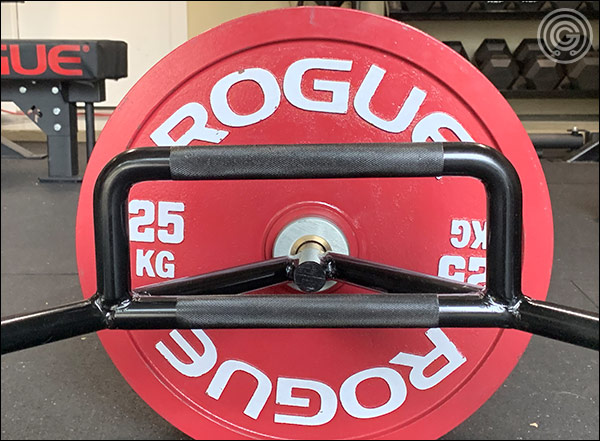 The distance in height between the standard handles and the raised handles is 4½". This is going to put the raised handles about 13½" (on center) from the floor with standard 450 mm plates loaded (the typical starting position for a pull using 450 mm plates is just under 9″.)
Both sets of handles are 25 mm in diameter (roughly 1″) and about 12″ long. Handle length is mostly irrelevant so long as they're not overly short, but I believe that different people are going to have very different thoughts on the 25 mm diameter,  as pretty much all other bars and implements for pulling (power bars, pull-up bars, dumbbells, and even lat attachments) have a diameter ranging from 29 mm to 33 mm, or more. How you feel about about that 25 mm diameter is going to have a lot to do with the size of your hands,  and what you're used to.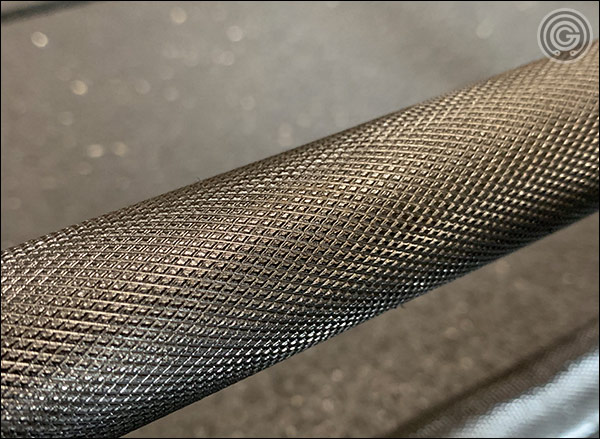 The handles are also textured with a fairly moderate knurling. It's neither too aggressive nor too mild. It's a decent enough knurling that feels adequate enough for this bar. Trap bars do not typically have a super aggressive knurling so to expect an economy bar to have coarse, shark-tooth knurling is probably an unreasonable expectation anyway. The knurl works.
---
B.o.S Open Trap Bar 3.0 Review – Built-in Jack
The new Bells of Steel Trap Bar has a very exciting feature – a built-in bar jack. This feature allows your to tilt the entire trap bar 90º up onto a pair of rubberized feet. Doing so gives the plates just enough clearance from the floor to permit easy loading and unloading of the bar. No longer do you have to lift one whole side of the loaded bar in order to slide a plate on or off the sleeve.
View this post on Instagram
This is a fantastic feature for what is essentially a deadlift bar.  It's merely a convenience as you work up to your working set, but it's a damn blessing when you finish with your sets and it comes time to remove each and every plate you've loaded off of the bar and get them put away.
If you think about it, stripping down a loaded deadlift bar may very well be the worst part of deadlifting. You are tired as hell after multiple, heavy deadlift sets, but you've got eight, ten, perhaps more weights to remove and re-rack. The built-in jack makes that process a hell of a lot simpler.
The built-in bar jack is a wonderful feature. No complaints from me.
---
B.o.S Open Trap Bar 3.0 Review Summary
When it comes to open-ended trap bars, the Bells of Steel Open Trap Bar is easily the most budget-friendly option out there. At only $250 delivered, it undercuts all other open hex bars on the market; the Vulcan Open Hex Bar at $500,  the Kabuki Trap Bar HD at $650, and the Eleiko Öppen Deadlift Bar at $800.
Now, that is not to say that a $250 trap bar compares to a $500 or $650 trap bar in terms of specifications and features.  It does not, and I wouldn't insult you by suggesting that it does. There's no doubt about it; you get a lot more bar for $500+; stronger frames, more loadable sleeve length, premium finishes, interchangeable parts in some cases, and a higher level of refinement.
The truth though is that you aren't gaining anything in the way of functionality when spend-ing two or three times the money on an open trap bar. If you don't need a bar that can have more than several hundred pounds loaded, or you don't care about interchangeable handle grips and stuff like that and you just want to do some shrugs, deadlifts, or lunges for as little cash as possible, then there is nothing wrong with not having a $500+ trap bar.
Of course, it should be mentioned that the Bells of Steel Open Trap Bar is not without some bells and whistles of its own. You are getting quite a bit for your $250. You get dual-handles, true 50 mm Olympic sleeves, and a built-in bar jack. The sleeves are short, but so is the bar itself; it will actually be easier to store being a full two feet shorter than all the others. Those hex dimensions are solid as well, and the knurl is decent enough.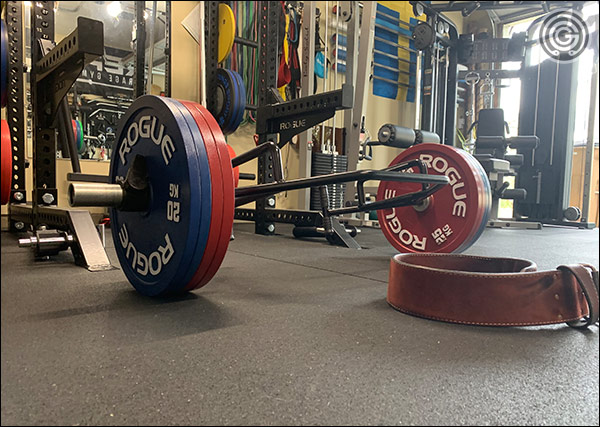 At the end of the day, you know if you need a trap bar that can handle an unlimited amount of weight. You know whether you need a $500+ trap bar, or just want a $500+ trap bar. I am not personally a fan of budget bars and there are a handful of things I don't really like about the B.o.S. Trap Bar, but it's still a pretty solid piece for the money. It will get the job done for those who aren't pulling a ton of weight (and who won't be for the foreseeable future.)
So sure, I can get behind the Bells of Steel Trap Bar, and give a recommendation for those who are either on a strict budget, or who just know they don't need a bar with 16″ of sleeve length or a weight capacity in excess of 700-lbs. Even if you do not care about the fact that this bar is open-ended, it's pretty damn nice to have a dual-handled trap bar that features a built-in bar jack. It really does simplify the loading/unloading process.
---
Bells of Steel Open Trap Bar 3.0
Pros
Aggressively priced.
Shipping is included in the price.
Features dual-handles.
Knurl is good. Not too mild/sharp.
Features a built-in bar jack.
Sleeves are true 50 mm.
Bright zinc finish is resilient.
Short overall length makes it easier to store than traditional trap bars.
Improved shipping container reduces risk of damage in transit.
Cons
Sleeves are way too short.
Not rackable in any power rack.
Bar weight is random (46-lbs.)
25 mm frame flexes at high weights.
Black zinc requires more aggressive knurling, as black zinc has a slippery feel to it.