This is a review for the Vulcan 28.5 mm Training Bearing Bar – which is practically identical to the previous Vulcan bar that I reviewed, the Vulcan One. The primary difference between these two bars is that the Vulcan One Basic is a bushing bar, and the 28.5 mm Training Bar is a needle bearing bar.
I strongly suggest that you take a look at my Vulcan One Basic review if you're interested in this particular bearing bar because the majority of that review applies to this barbell as well. As a matter of fact this review will merely summarize the features that apply to both of these bars, and only go into more detail where they differ.
Update 2017/2018: The Vulcan 28.5 mm Training Bar has received some updates since the publication of this review. Rather than being a black zinc bar, it is now chrome finished. It is also now a 28 mm bar rather than 28.5 mm bar. Not only are these both massive upgrades, but the bar is $20 less than it was in the past. This is a great starter bearing bar at $319.
Please note that other than what's in red here, I have left the review intact because I do not have the newer version to review. Just keep those changes in mind as you read. 
---
Vulcan One Basic Review Recap
Despite my suggestion to read the other review, I'll briefly summarize my thoughts on the Vulcan One Basic here anyway.
In a nutshell, I really liked the One – I found it to be a lot of bar for the money. It displays a good amount of whip, and it has an above-average tensile strength rating for an economy bar. The Vulcan One also has fantastic sleeve rotation for a bushing bar, and a moderate knurling that's perfect for high-rep CrossFit sets; and general training sessions. It is a bar that I have recommended numerous times since publishing that review.
The Vulcan Training Bearing Bar offers all the same features and the same great feel, but with high-speed sleeves for those who train with higher reps and at higher weights. It costs a little bit more, but bearings do come with a higher price tag, of course.
---
Vulcan Training Bearing Bar Specifications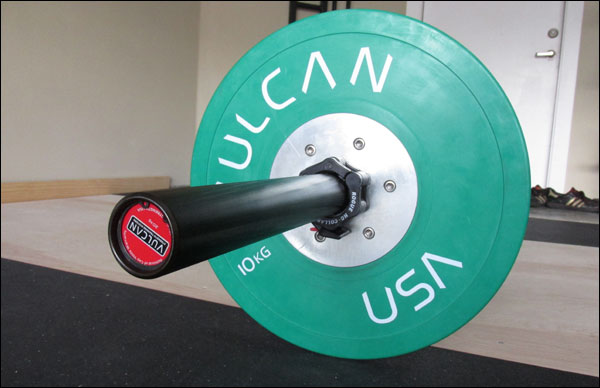 Standard men's 20 kg
Dual-marked, 28.5 

28 mm

shaft
Black zinc coating 

chrome

(sleeves and shaft)
Lab verified minimum tensile strength rating of 190,000 PSI
Moderate knurling; knurled to shoulder; no center knurl
50 mm sleeves (49.98 mm), 16¼ in. loadable length

4 needle bearings per sleeve

Snap-ring assembly
Good whip for 28.5 mm bar

Lifetime warranty

$339 

$319

including shipping
Like I said, the feel of the Vulcan One and the Vulcan Bearing is very much the same. Actually, they are the same except for the three items that I listed above in blue: price, warranty, and sleeve assembly. The $100 price difference gets you 8-needle bearings instead of bronze bushings, and a full lifetime warranty.
---
Vulcan Bearing Bar – Sleeve Rotation
I don't really consider this bar to be an economy bar in the same sense as the Vulcan One. Once you get beyond the $250-300 mark, it feels odd to claim "economy." However, it is a reasonable price for a needle bearing bar, so I suppose it's fine to say that it's "economical." After all, $339 for eight high-speed bearings on a 190k PSI shaft is a sweet deal, and these are decent bearings. The sleeves spin quick and turnover is smooth, making this bar super easy to get under.
In addition to the obvious lifting I did with the Vulcan Bearing Bar, I also put it through all the standard spin tests. I found no reason to be anything less than impressed with the rotation. The sleeves spin smoothly and quietly both with & without plates, and also the shaft spins freely within the sleeves as well.
(I don't get great natural lighting due to the direction my garage is facing, so pardon the long shadows in the video.)
In the video below, I cut it a little short because the sleeves just wouldn't stop spinning. I think after the first 30-60 seconds, you get the idea anyway. Plus it's a dumb test.
This bar spins exceptionally well for a bar at this price point (or any, really.) Actually, these sleeves spin longer than any other bar I currently have, including the Klokov.
Do you need all this spin? Typically no; but there is nothing wrong with having it. If you work short sets or work with average weights, solid bushing bars like the Vulcan One or Vulcan Standard will probably serve you well for a very long time. If you're doing a lot of high-rep Olympic lifts, it may be worth the extra money to buy a bearing bar since they are a lot easier on your wrists, and they won't seize up or slow down over time like bushings and ball bearings tend to do.
When it comes down to it there is only so much I can say about the bar's rotation, and that is because the bar simply spins well. There aren't any red flags or anything else alarming to point out. Thumbs up on the spin.
---
Vulcan Bearing Bar – Shaft
The shaft is identical to the Vulcan One's; same 190k PSI steel, dual markings, black zinc finish, and same shaft length and diameter (28.5 mm.) As you probably know, the 190k PSI rating is a very respectable number for an Olympic bar, and one that offers both strength & elasticity.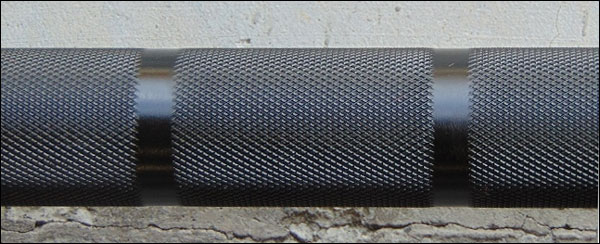 Speaking of PSI ratings, many people are just fascinated with some of the new budget bars that boast ratings in the 200,000's. Sadly, more often than not, these 210-260k PSI ratings are merely a marketing strategy. It takes a lot of expertise and money to safely and properly craft a barbell shaft with an exceptionally high PSI rating that still has any useful elasticity to it. So much so that bar manufacturers that even possess the skill to do it would not sell you a bar with this attribute AND high-quality needle bearings for $200-300; not if they wanted to stay in business anyway.
It wasn't that long ago that a normal bar would be 130-165k PSI, and no one thought much of it. This new and relatively common 190k PSI steel is no doubt stronger than any bar your pappy worked out with in his entire life, and I'll wager that he never bent a bar. Look at it like this: if 190k is good enough for the $500-600+ Rogue Olympic WL Bar and even some of the IWF training bars, then it's certainly good enough for a budget bar.
190k PSI shafts are perfect for any CrossFitter or off-stage Olympic weightlifter. They're strong, they whip, and they are affordable. You are not going to permanently bend 190k+ shafts. Besides, excessive PSI ratings lead to rigidity when not done properly, and that's definitely not what you want in a CrossFit/Olympic bar.
So before you let a crazy high PSI rating in a product description be the deciding factor for your next barbell purchase, ask yourself this. Do you really think anyone is selling a barbell with all the same specs and attributes as a $1200 Ivanko for $200-300? I don't think so.
---
Vulcan Quality
Vulcan Strength really knows their stuff when it comes to barbells. I get to talk with lots of different bar manufacturers and there is definitely varying levels of knowledge among them. I've had enough discussions with the boss-man at Vulcan to know that he knows the in's & out's of barbells. Not only Vulcan bars, but the competition's bars as well. I am completely confident in Vulcan's ability to develop affordable, quality barbells.
It's safe to say that after working with these two Vulcan bars that Vulcan will always be in the mix when considering a new bar; either for review purposes or my own personal use. I hope to eventually lift on and review the majority of the Vulcan Bars actually, especially the Professional Olympic Bar.
---
Downsides?
I went into some detail on this when I reviewed the Vulcan One Basic so I'll just mention it and move on – I'm not the hugest fan of black zinc. I get it that it's used rather than chrome to keep the price down, and it's definitely very cool looking when it's new, but I just don't like how easy it is to scratch it. Clearly not a huge deal with all other aspects of a bar being top-notch, but it is one of those things. Oh and it has a tendency to turn green over time.
Also, and this is more of a personal preference thing, but I like semi-aggressive knurl, and this bar's knurl is moderate. I know it's not a competition bar, and most CrossFitters are not looking for a cheese grater anyway, but this is a review, and it's not a review if I leave off my cons.
Based on the feedback I get from people on bar knurl preference overall, it sounds like the majority of people would like this bar's knurling. I guess I'm the weird one.
---
Random Things
Shipping
There seem to be some companies out there who are doing a not-so-great job of shipping barbells to their customers. That is to say, they are using low-grade tubes that fall apart during transit, or sometimes even just normal corrugated boxes. When a barbell slides out of a tube or box in transit, it gets scratched, smashed, and looks like shit by the time it gets to you.
Due to the frequency of complaints I hear about this happening, I thought I'd let you know that after having two different Vulcan bars shipped to me, both bars showed up in strong, sturdy tubes with the ends still intact and the bar still looking new.
Yeah, barbells experience wear and tear. I'd like to be the one to "wear and tear" my own bar, thank you very much.
Warranty
The Vulcan Bearing Bar has a lifetime warranty versus the 4-year warranty on the Vulcan One. While I don't think there is anything wrong with a 4-year warranty on an economy bar, it's still nice that the bearing version is lifetime. There is definitely piece-of-mind that comes with knowing your bar is covered for as long as you own it. Most major IWF brands don't even offer lifetime warranties, and 4-years is still longer than 1-year.
---
Vulcan Training Bearing Bar
So there you have it. Another solid Vulcan bar. If I could change any single thing about the bar, I'd wrap it in hard chrome (well go figure, it is now). Otherwise, it's a solid CrossFit and Olympic training bar; a great mid-range bar for a garage gym.
---