It's almost time for the second annual Garage Gym Competition. For those of you who don't know, the Garage Gym Competition is a virtual powerlifting meet organized by Mr. Joe Gray of Gray Matter Lifting. Last year's Garage Gym Competition was very successful, so the list of sponsors has grown significantly, and the quantity and quality of the prizes has also seen an improvement this year.
In this article I'm going to briefly summarize the details of this year's virtual meet, list out all of the more notable prizes and explain how they are awarded, and then go into some detail on one of the top prizes; a product that I got my hands on; the Body Solid Chicago Bar.
---
Garage Gym Competition – Rules & Details
The second annual Garage Gym Competition takes place the week of May 12-19.  To enter, simply perform (and record) a successful 1-rep max squat, bench press and deadlift to your Instagram account using the hashtag #GarageGymCompetition.
Below are the criteria for your lifts, and they are not very strict. Keep in mind that this event is meant to be fun, so your submissions are based almost entirely on the honor system.
Squat: You should break parallel. Gear is allowed (wraps, belt, etc) Use a real bar, real plates, and squat to a valid depth and you're good.
Bench Press: The bar should be un-racked, lowered to your chest (actually touch your chest), pressed back up, and re-racked. Gear like wraps and a belt are allowed, but you must keep your feet and butt on the bench throughout the entire lift.
Deadlift: The bar starts on the floor and should be lifted to lockout. A belt, suit and even a deadlift bar is fine, but straps are not allowed. You must lockout the lift.
Again, these rules are not at all strict. The use of gear and an honor system should more or less confirm to you that this is supposed to be a fun, lowkey event designed to bring garage gym owners together and get some free equipment and gear out to those in the community. Be honest with your lifts (and your fellow participants) and all will be well.
For more detailed rules and to be notified of any updates to the meet, be sure to follow Joe on Instagram (@gray_matter_lifting).
View this post on Instagram
Garage Gym Competition Prizes
There are a couple sets of prizes. The first set is for the ten top totals (five prizes for men and five for women) and the 10 most improved totals from last year's meet. Prizes in this category include:
The second set of prizes is massive. It includes large prizes, small prizes, and everything in between. These prizes are available to all participants. That's right, simply participate in the meet and you are registered to win any of these raffled prizes. These include:
---
The Body Solid Chicago Bar
The Body Solid Chicago Bar is one of the top prizes available to all participants. It's a $329, dual-marked, general-purpose Olympic bar. Here are the specifications:
20 kg men's Olympic bar
28.5 mm shaft diameter
dual IWF-IPF hash marks
170,000 PSI shaft
moderate knurl
no center knurl
bronze bushings
black zinc shaft
bright zinc sleeves
16¼" loadable sleeve length
made in the USA
lifetime warranty
$329
I've had a Chicago Bar in my gym for a couple of months now. I got my hands on one about the time I first learned of the prizes for the Garage Gym Competition.
In terms of specifications it's a pretty standard, American-made, multi-purpose bar. It has an average tensile strength rating, the typical black zinc/bright zinc finish configuration, bronze bushing rotation system, and a safe, moderate knurl depth. It is dual-marked, has no center knurl, and carries a lifetime warranty.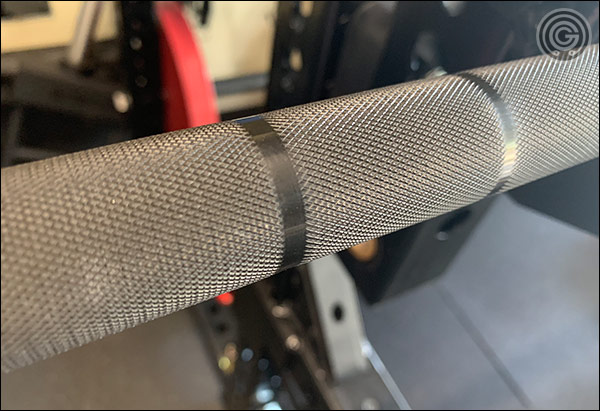 The Body Solid Chicago Bar is a solid garage gym bar.  It has the sort of specifications that allow it to appeal to a fairly large audience. Body Solid didn't get carried away with the knurl depth, the bar doesn't require any special maintenance, and the color scheme is what most people are used to. They played it very safe with this bar; not too much, not too little.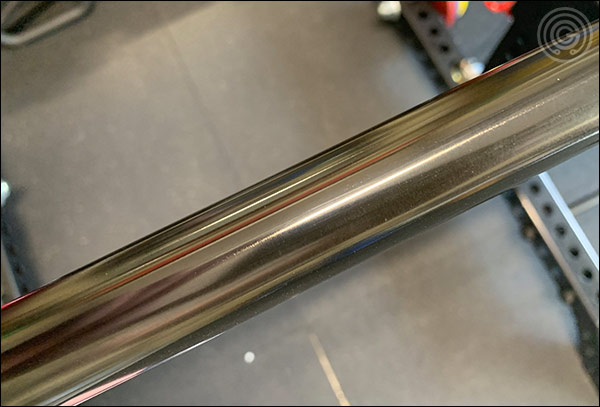 I like this bar for what it is; I've had no issues with it whatsoever. I tend to prefer a bar with a more aggressive knurling and as a powerlifter I do want a center knurl, but I made it a point to put this bar through the ringer over the last couple months and I never had any functional issues with it. I haven't bent it, the sleeves spin fine (comparable to any Rogue bushing bar) and the finish still looks great. I've handled nicer bars, obviously, but I've also handled many bars that were far worse.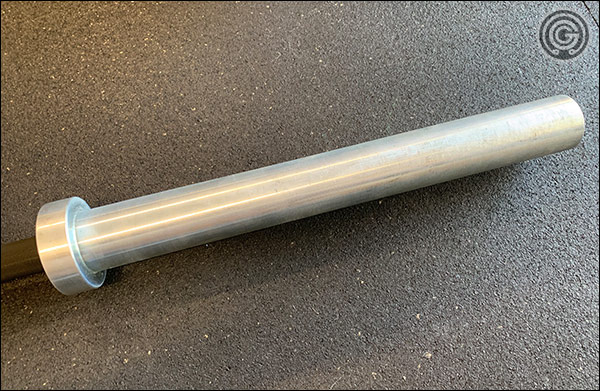 The only real issue I have with this bar from a reviewer's perspective is the price. In today's market a $329 bushing bar that isn't somehow specialized seems excessive. The shaft isn't a 28 mm shaft, the finish is not considered a premium finish, and the tensile strength would be considered low for a bushing bar in this price range.  There are a multitude of other bars with slightly higher specs and better finishes for less cash, and that will probably impact the number of Chicago Bars that Body Solid sells to the educated, garage gym owner.
Having said that, you have the opportunity to win this bar for free by participating in the 2nd Annual Garage Gym Competition. That means that this pricing drawback is not a drawback at all if you don't have to pay for it. I can think of no reason not to be excited about getting a Chicago Bar for free, or any of the other prizes for that matter.
---
A Word About Body Solid
I personally have very little experience with Body Solid.  I've always sort of thought of them as a box-store brand so I had pretty low expectations when picking up the Chicago Bar. As it turns out, I wasn't giving Body Solid enough credit. I mean sure they have some low-cost home equipment options that you couldn't give me, but they also have a lot of commercial-rated products that truly are worth a second look.
I guess what I am getting at is that I was pleasantly surprised by the Chicago's construction and performance. I seriously expected it to be much less bar than it is. Yes, I still take issue with the relative high cost of this particular product, but I am happy to report that it is a solid, American-made bar, and that my opinion of this company is changed for the better.
As a matter of fact, after having a good experience with Body Solid, I've decided that I want to take a look at a few of their light-commercial products; those larger pieces of equipment that many of us miss from our global gym days; things like the Lat/Row Tower, Leg Press, & so on. It will be nice to expand beyond the standard bar, power rack, and bench reviews on this site.
So check back for that and don't forget to participate in the 2nd Garage Gym Competition in May!
---