Having a high protein breakfast is easier said than done. Thanks to biscuits, waffles, cereal, pancakes, and potatoes (to name a few), Western breakfast tends to be a very carb dense meal. As delicious as all these carbohydrate heavy dishes may be, most of us don't want to start our days with so much sugar and processed flour and so little protein.
Many athletes who require large amounts of protein each day resort to repetitive dishes like bacon & eggs, ham & cheese omelettes, oatmeal, and perhaps even a protein smoothie if they're in a hurry. Not very exciting. I'm here to tell you that a high protein breakfast doesn't have to be boring. If your daily protein requirements are higher than the average bear, read on. I'll show you five recipes to help you load up for breakfast.
---
High Protein Breakfast – Protein Pancakes for Men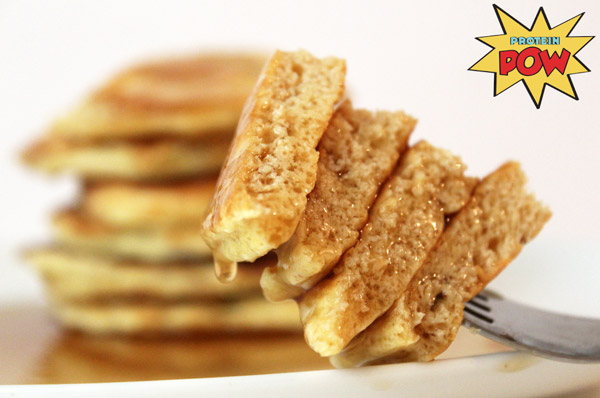 This recipe is from Protein Pow, and you will have to read the article to understand why it's "for men." I suggest that you do, as you get not only a great recipe for a delicious dish that is normally loaded in carbs rather than protein, but you get a quick, entertaining read as too – well I thought so anyway.

So, are you wondering how much protein can you possibly get in pancakes? Try 75 grams per stack, and that's with only 34 grams of carbohydrates. So guess what – you may not have to avoid pancakes anymore.
---
High Protein Breakfast – Healthy Beef & Egg 'Barn Raiser' Bake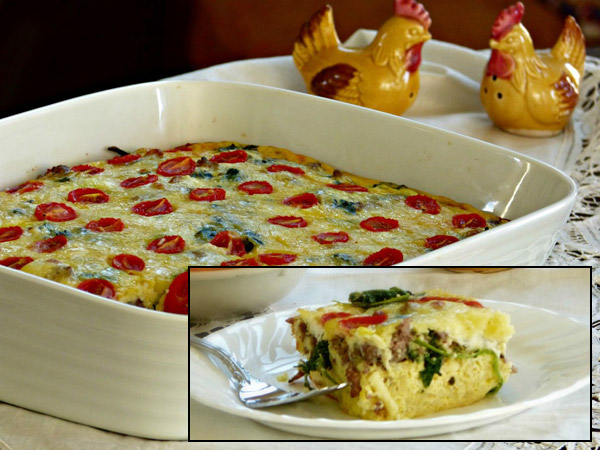 This casserole-style dish from The Fit Fork is made with lean ground beef, spinach, eggs, low fat cheeses, tomatoes, and milk. This dish is packed with both energy and protein, and yields enough to get you through an entire week of morning meals.
Each serving has nearly 30 grams of protein, 20 grams of carbohydrates and only 15 grams of fat. This is a well rounded, delicious, high-protein breakfast using very common breakfast ingredients. It's a nice way to mix things up.
---
High Protein Breakfast – Chicken and Waffle Sandwich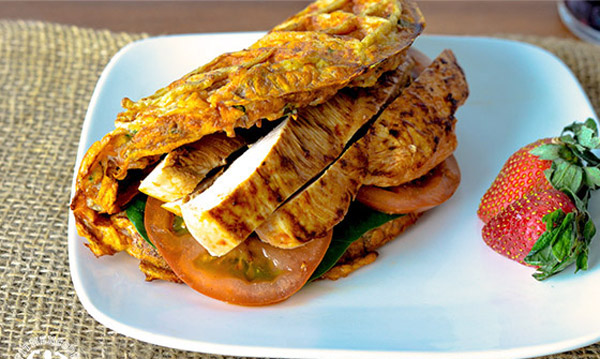 This recipe is from bodybuilding.com and was contributed by Kevin Alexander. Wow, right? How'd you like to say you had chicken and waffles for breakfast and not feel bad about it? Potatoes, onions, spinach, tomatoes, eggs, and chicken all rolled up into a tasty sandwich that doesn't look very good for you, but actually is. Here's the best part: 375 calories, only 2 grams of fat, 41 grams of carbs, and 45 grams of protein.
Kevin has a lot of fantastic recipes that anyone who cares about macro-nutrient intake will enjoy. He contributes to bodybuilding.com and has his own website with tons of recipes at fitmencook.com.
---
High Protein Breakfast – Skinny Crustless Quiche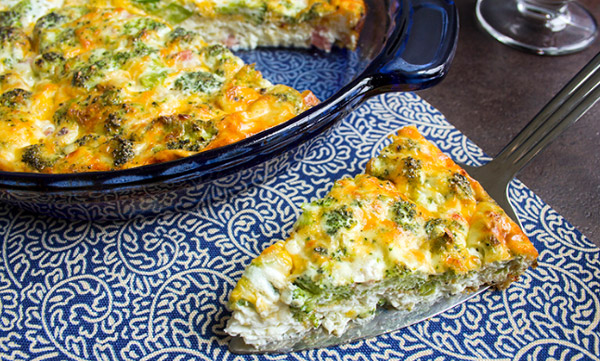 I found this quiche recipe at skinnymom.com. It's quiche, so cook time is a bit longer than a standard egg breakfast; which means you may need to cook this the night before, but other than that it's a simple, delicious, high protein breakfast.
This quiche has no crust, so it has less carbs and more protein than your standard quiche. To be more specific, each slice has 15 grams of protein vs. 3g of fat and 3g of carbs. The recipe says it yields 6 slices, but I'll wager it's more slices than that.
---
High Protein Breakfast – Gluten Free Turkey, Egg, and Broccoli Muffins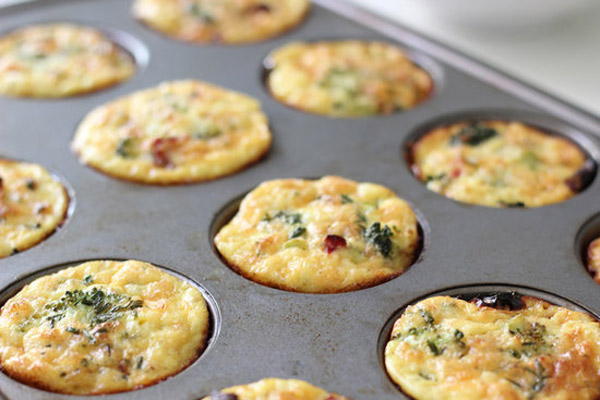 This recipe is from fitsugar.com. I didn't specifically look for gluten free anything, but it is a nice bonus for those who may need to avoid gluten since none of the other recipes I listed are gluten free. Frankly, I don't think the lack of white flour will make these muffins any less delicious.
Having said that, this recipe requires more ingredients than the other recipes, but I think it'll be worth the extra work. Turkey, eggs, cheese, broccoli… so much tastiness. Take a look at the nutrition facts too! 150 calories per muffin, 12 grams of protein, and only 2 carbs.
---
5 High Protein Breakfast Ingredients
Just in case you feel like getting all creative in the kitchen, here is a list of 5 high-protein ingredients you can use in your own dishes to get in some more protein. They're not big secrets and they're not exotic, but maybe you forgot about them and haven't been using them.
Greek Yogurt – 170 grams serving (unflavored) has 100 calories and 17 grams of protein. Greek yogurt can be used to make dips, dressings, and sauces. It can be used in shakes and smoothies, can be eaten as is like any other yogurt, and can even be used as an ingredient for baked foods. Greek yogurt is very versatile.
Kashi Instant Oatmeal – 1 package has 150 calories and 8 grams of protein. Hey, it's instant oatmeal with more protein than other instant oatmeals, and it tastes pretty good too. I use it for protein shakes sometimes to add fiber. You'll find recipes out there that use oatmeal, which means you could use this for some extra protein.
Ground turkey – 82 grams serving has 190 calories and 22 grams of protein. Turkey is a very low fat alternative to ground beef or pork. Make a turkey and cheese omelette rather than ham and cheese and bring that fat content down. No different to prepare than any other ground meat.
Spinach – 30 grams of spinach has only 7 calories. It has 1 gram of protein, and one gram of dietary fiber. There is no fat and no other carbs beyond the fiber. If you take into account all the vitamins and minerals in spinach and how it's practically flavorless in most dishes, you have maybe the best ingredient for any dish period.
Parmesan Cheese – If you're going to use cheese, try to work in Parmesan. It has one of the highest protein densities of any cheese at around 40%. So for each ½ cup you're looking at about 215 calories and 20 grams of protein. Keep in mind though that almost every calorie in cheese that isn't protein is going to be fat. Cheese has almost no carbohydrates.
I know very well how repetitive meals can get super boring when your diet is very strict and structured, so I hope you got at least one good idea from this article. Throwing new meals that help meet your daily intake requirements into the mix can make things a little more exciting and rewarding. Have some high protein breakfast recipe ideas you'd like to share? Please do so in the comments.
---