Welcome to the Women's Olympic Barbell Guide. This article is more or less an extension of my original Barbell Guide, only the focus here is on women's 15 kg barbells instead of what is mostly 20 kg bars in the original.
The original guide has a very thorough opening section that explains the basics of barbell construction including explanations of rotation mechanisms, finishes, tensile strength ratings, and so on. If you're looking for your first barbell or you just want a refresher, I strongly suggest taking a look at that section so you know what the various bar specifications mean when you see them below.
The first section will be women's Olympic weightlifting bars, followed by multi-purpose/CrossFit bars. Women don't get their own power bars (power bars are considered to be unisex), so I have none to show you. Either use your Olympic/CrossFit bar for your static lifts, or buy a power bar. If you do aspire to be a powerlifter, you'll need to get used to using those 28-29 mm barbells because those are the rules (IPF.)
Women's Olympic Weightlifting Bars

The following 15 kg bars are designed exclusively for the snatch and the clean & jerk. These bars will all strictly follow the specifications set forth by the IWF; the knurl will have only Olympic hash marks, shaft diameter will always be 25 mm, sleeve diameter will be 50 mm, the length will be 1310 mm between collars, and there will be no center knurl.
Most of these Olympic bars will be needle bearing bars, but a small handful of them will be bushing-based training bars. The few manufacturers that offer these bushing versions simply do so as a way to make it possible for folks with smaller budgets to still get their hands on a true Olympic bar. I'll list these bushing Olympic bars first rather than mix them in with the bearing bars. Other than that, the bars in no particular order. 
Rogue 25 mm Olympic Training Bar (bushing)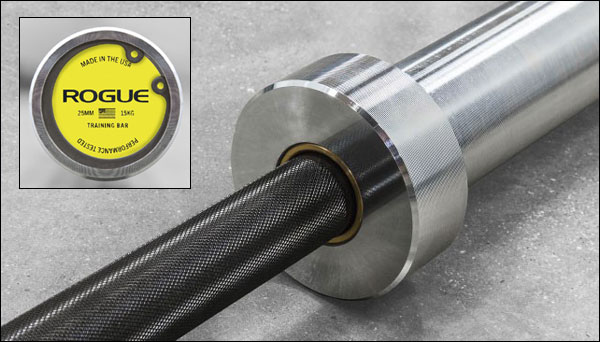 This is Rogue's version of the bushing-based Olympic training bar for women. This bar has the same 190,000 PSI, US-steel shaft as the Rogue 15 kg Women's Olympic WL Bearing Bar (included below), but it has a pair of bronze bushings in each sleeve rather than needle bearings.
The Rogue 15 kg Trainer is IWF-standard; it has a 25 mm shaft with 50 mm sleeves, no center knurl, and a lifetime warranty. The finish on the shaft is black zinc, the sleeves are bright zinc, and the knurl is moderate (slightly milder than the bearing version.) Made in the USA, $305 before shipping.
American Barbell 15 kg Precision Training Bar (bushing)

The last of the bushing-based Olympic bars that I'll talk about is this American Barbell Precision Training Bar. The sleeves of this very pretty bar are hard chrome, but the shaft of this bar is stainless steel, a rarity (and gem) in the market right now. Stainless steel feels absolutely amazing in the hands; very much like bare steel, only without the maintenance requirements of bare steel. Unfortunately, it's the stainless steel shaft that puts the price of this bar near $500!
The specifications are good; about the same as the above Rogue Trainer. 190,000 PSI, bushing system, no center knurl, and it too is made in the USA. It's a great bar, but the question is whether or not you're willing to drop $500 on a bushing bar just because it's stainless steel when that kind of money puts you within range of a true Olympic bearing bar. Probably not; it defeats the purpose of buying a bushing bar in the first place. Beautiful bar though. $495.
Rogue Women's Olympic WL Bar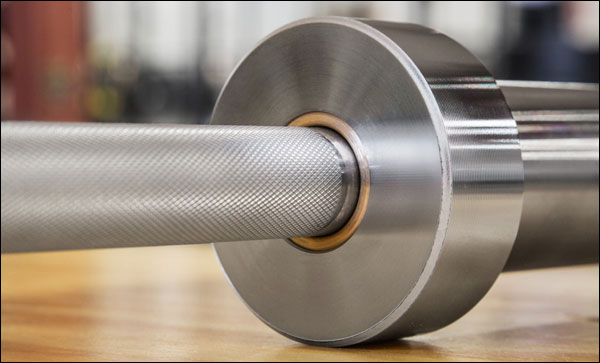 Both the men's and women's version of the Rogue Olympic WL Bar were the official bars of the 2014 CrossFit Games, and they may very well be used again this year.
The Olympic WL Bars are Rogue's first truly premium weightlifting bars, and so far they have been highly praised in both the CrossFit and weightlifting communities. They have specifications that rival some of the IWF-certified training bars, yet they do so at a much lower cost (zinc version is $525.) Not only does this bar make a great, reasonably priced Olympic trainer, it's a huge upgrade for advanced CrossFitters that still train with multi-purpose bushing bars.
The Women's Oly WL Bar has the usual 25 mm shaft, weighs 15 kg, and has a tensile strength rating of 190,000 PSI. This is a true Olympic bearing bar. Each sleeve has five high-quality needle bearings that deliver a very smooth, consistent spin. The knurling on the Rogue Oly is moderately aggressive. It's no cheese grater, but it'll have a tad more bite than Rogue's dual-marked, multi-purpose bars like the Bella and Ohio. There is no center knurl.
One of the advantages of going with Rogue for your Olympic training bar is that there are currently three finishes for you to choose from; zinc, satin chrome, and polished chrome (priced $525, $585, and $635 respectively.) This range of options allows a larger variety of budgets to pick up this bar.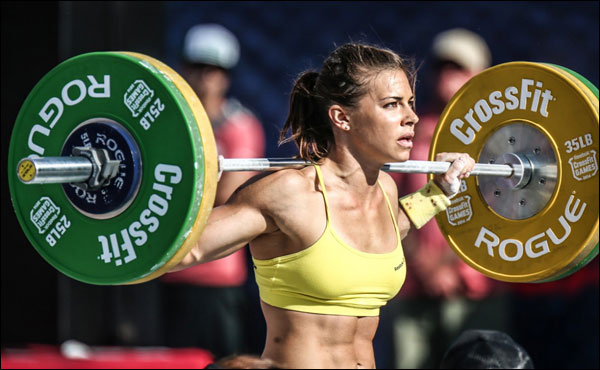 To really save money on this bar, watch for it in the Closeouts section of the Rogue website after the CrossFit Games. Last year they were selling the Games' bars for the low $400s. That's a pretty big discount for a bar that's only been used for a week.
Eleiko Sport Training Women's Olympic Bar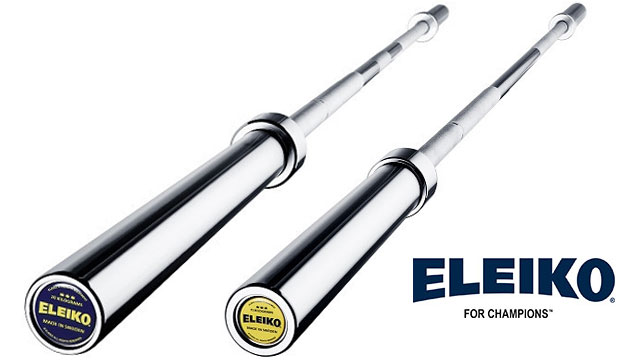 Here's a bar you can't go wrong with, assuming you can afford it. The Eleiko Sport is Eleiko's most inexpensive professional Olympic bar at about $729. It's not certified by the IWF, but unless you're the person that chooses equipment for Nationals or the Olympic Games, I don't think it'll ever be an issue.
The Sport sports (fun) the same 215,000 PSI, famously whippy Swedish steel shaft as all Eleiko weightlifting bars, including the certified Competition Bar. Matter of fact, other than a ever-so-slightly reduced aggressiveness in the knurl, the only real difference between the Sport and the Eleiko IWF bars is one less bearing per sleeve; eight total bearings instead of ten. Not a big deal at all, especially for over $300 in savings from the Competition bar.
This bar costs $729, so obviously it's not for everyone. If you take your weightlifting seriously and you can afford this bar, I'd almost suggest you hit up American Barbell for their stainless steel Olympic bar (below), or at least put it on your short list along with this bar. In any case, the Women's Sport is 15 kg, 25 mm, finished entirely in Eleiko's special chrome; no center knurling.
WerkSan Women's Training Olympic Bar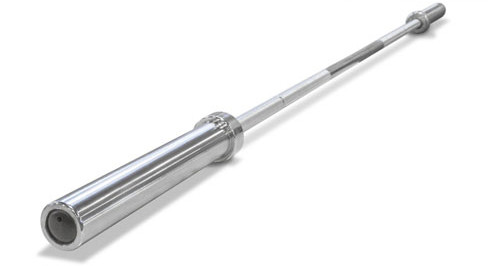 This is the training version of the WerkSan IWF-certified Olympic Comp Bar. The WerkSan Training Bar has 5 needle bearings per sleeve, is completely finished in chrome, has no center knurl, and is guaranteed to be within .2 kilograms of the stated 15 kg weight. The 25 mm shaft is rated at 205,000 PSI, which is more than adequate for an Olympic training bar.
WerkSan makes a pretty solid bar, and they are certified to supply gear for IWF-sanctioned events, but I'd probably go with an Eleiko over a WerkSan if I was willing to spend this kind of money on an Olympic bar. $880.
American Barbell Women's SS Bearing Bar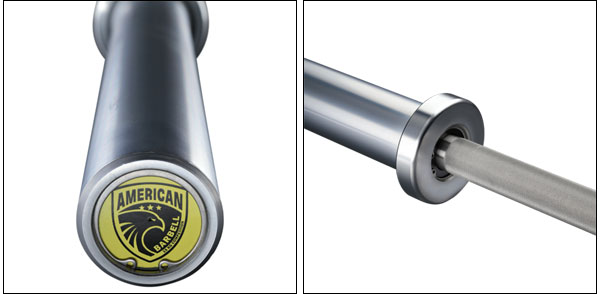 Another stainless steel option from AB, the Women's SS Bearing Bar is a beautiful, high-performance Olympic bar clearly designed with the experienced weightlifter in mind. The stainless steel shaft not only completely prevents the bar from oxidation, but it offers what can only be called the perfect grip. No bar finish feels like stainless steel; only bare steel is comparable in feel, but bare steel easily rusts. Stainless really is the ultimate shaft material, but you'll pay dearly for the privilege of owning it… you'll pay $800 actually.
Thankfully you get more than a stainless steel shaft for that money. You also get high-load bearing cartridges that are unlike any other needle bearing. These proprietary bearings can handle any load you could possibly put on this bar. The sleeves will spin smoothly and reliably no matter what. There is also a chalk/dust guard that protects the bearings. This is a beautiful, functional, high-performance bar. Many comparably priced bars out there are just as good, but none are as unique. $799
♦ ♦ ♦
Dual-Marked / Multi-purpose / CrossFit Barbells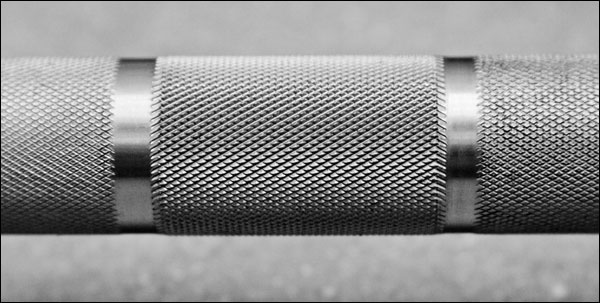 Dual-marked barbells are multi-purpose barbells; they are marked for both Olympic weightlifting (IWF) and powerlifting (IPF.) These are great garage and home gym bars, and they are what you'll typically find being used for CrossFit; although the more advanced CrossFit athletes tend to prefer true Olympic bearing bars for their WODs because of the better turnover at higher weights.
The advantages of a multi-purpose bar for women is really more about the reduced cost than anything else. Other than the fact that multi-purpose bars usually have bushings rather than bearings, almost everything else is the same as it is with Olympic bars. Shaft diameter is the same, still no center knurl, etc. Women's bars don't tend to vary in shaft diameter like men's bars do.
If your budget doesn't afford you a bearing bar, or if your skill level simply doesn't necessitate it, know that there is nothing wrong with dual-marked bushing bars. They will take you pretty far with your training, and they'll do it for a lot less money.
The Rogue Bella 2.0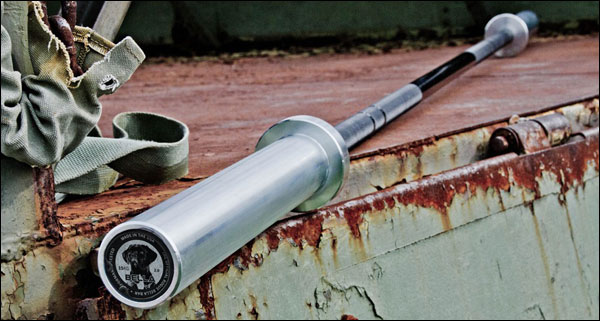 I'm going to go ahead and label the Bella the queen of women's CrossFit bars. I'd wager that there exists no other women's bar out there that fills as many garage gyms and CrossFit boxes as the Rogue Bella. Yup, this bar is popular, and why shouldn't it be? The Bella is more or less the 15 kg version of the economical Rogue Bar 2.0 ($255), and it's even more affordable than it's 20 kg counterpart at only $215.

The Bella is a solid multi-purpose bar. It's a 25 mm, dual-marked, bronze bushing bar that has reliable spin, decent whip, and a high-rep friendly knurl. The price would be reasonable even if it were a single-application bar, but the fact is that it makes a great bar for both CrossFit and general strength training.
The Bella has 190,000 PSI black zinc shaft and bright zinc sleeves. The bar is warranted against defects for life, and like all Rogue bars, it's made in the USA. This bar has a flawless 5-star review rating. $215 before shipping.
Burgener & Rippetoe Women's Bar by York

The B&R Bar is one of the better multi-purpose bars on the market in my opinion. Developed by coaches Mark Rippetoe and Mike Burgener, and manufactured by York Barbell, this bar separates itself from the rest of the dual-marked bars by being one of the only bare steel options. Bare steel has that natural, raw feel to it that you wont get from a finished barbell (chrome, zinc, oxide, etc.) It requires some maintenance, but plenty of folks will tell you that it's completely worth it.
The bar itself boasts very respectable specifications for being under $300. The PSI rating of the shaft is about average at 190,000 PSI, and the sintered bushing system is smooth and reliable. Matter of fact, I can personally attest to the fact that this bar does not lose spin over time. My B&R is going on four years old and still spins flawlessly today, and I've only oiled the sleeves once in that time.
Again, bare steel is great, but you do need to be willing to clean the bar in order to prevent rust. It'll become a chore if you avoid this responsibility for too long, but it's easy to stay on top of it. Don't want to clean bars? Well the only way you'll get a feeling like bare steel without the maintenance is to buy a stainless steel bar, but that'll set you back at close to twice as much cash for an otherwise comparable bar.
The B&R Women's Bar is 15 kg, has a dual-marked 25 mm shaft, and has moderate knurling. Oddly enough, the women's B&R has no reviews, but you'll find a perfect 5-star rating (20 reviews) on the men's 20 kg version, and you can read those to get a feel for the 15 kg bar. $285
♦ ♦ ♦
My Bar Suggestions
Full disclosure, I am not a woman, and I don't lift with 15 kg bars very often. Usually only for warm-ups, snatch balances, stuff like that. However, I like to think I know enough about bars to pick out the right bar for a given job. Feel free to comment and leave your own personal feedback on any of the bars on this page, or even bars not on this page.
Women's Economy CrossFit Bar Recommendation
Definitely the Bella. It's a solid piece of equipment, and the $215 price tag just makes it a no-brainer – it performs well and it'll last for years and years. Be cheaper than this at your own risk.
Women's Multi-purpose Bar Recommendation
The B&R is a nicely-balanced bar for various lifting modes. The steel is strong enough to handle heavy deadlifts and squats without an excessive amount of bounce, but the bar still has enough elasticity to snatch and clean. There is ample spin for a smooth turnover, but it doesn't over-spin, or overreact when performing slow lifts. The knurling is quite possibly perfect; a good depth combined with the bare steel makes for a very, very secure grip.
Women's Professional Olympic Bar Recommendation
Easily the American Barbell Pro SS Bar. The SS Pro has a flawless bearing system, a great non-aggressive knurl, and the stickiness that you can only get from raw bars. This is my favorite men's bar Olympic bar, and this preference easily carries over to the 15 kg version. Beautiful, functional, and expensive – but the last bar you'll buy for a very, very long time.
I doubt that anyone would have a reason to dislike the AB SS Pro, but I certainly don't suggest buying an $800 bar for your first Olympic bar. This bar is for experienced Olympic weightlifters.
♦ ♦ ♦