That's right, I've been searching high and low for the perfect pair of gym shorts. A pair of shorts to train in that are comfortable, lightweight, flexible, preferably affordable, and short enough to squat in without having to worry about material catching on the knees or sticking to the thighs. Bonus features would include moisture-wicking, breathable, and good looking – or at the very least not stupid looking.
Since around Christmas I've been ordering shorts that looked like they would meet the majority of my criteria for great gym shorts, and I've ordered a dozen or so different pairs so far. Many have turned out to be decent, a couple are great, and a couple are trash-worthy. The majority of them I don't regret buying, but I'd still never buy the bulk of them again.
Now before you tell me that I'm making an unnecessary quest out of buying shorts, let me say that I believe that it's just as important to be comfortable in gym shorts as it is to be comfortable in training shoes, a lifting belt, or any other piece of gear. I mean, you're free to train in long basketball or board shorts that can catch on the knee or soccer shorts that don't yield in a squat, but I want shorts that I'm totally unaware of once I start training. By unaware of I mean they aren't sticking to my thighs, riding up, reducing range of motion, falling down, and so on.
To be honest I kind of enjoy the search anyway. Most of the shorts I've purchased aren't very expensive, and very few of them were a total waste of money. Almost all of them will get used for something, even if it's not leg day.
Anyway I'll show you the better shorts out of the whole bunch, and then ramble on about the pros and cons of each pair a little bit. Maybe you'll see something you like, maybe you won't. Also, let me apologize to the ladies. These are all men's shorts. I'm sure I don't have to explain why that is.
Fusion Yoga Shorts – My Favorite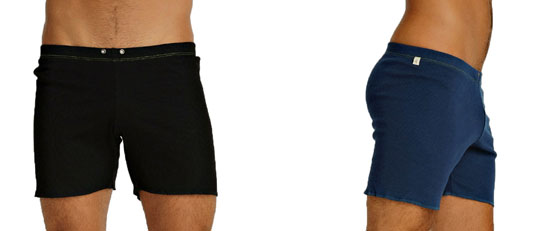 The Fusion Yoga Shorts are my favorite new shorts so far. They are made with a very soft, eco-friendly fabric that feels like cotton, isn't cotton, but is stronger than cotton. They are form fitting, though not tight like compression shorts. There is no annoying mesh liner brief, the material is moisture-wicking, and the fabric is flexible enough to allow full range of motion.
Aside from just being incredibly comfortable, it's the flexibility of the fabric and the length of the inseam that make these my current favorite. They are perfect for squats – perfect for pretty much anything that puts you on your haunches. There's no tugging and no sticking, yet they aren't so short that it feels like I'm training in boxer briefs. I love 'em.
As a bonus, I think that they look pretty nice too. I'd still wear these shorts even if they were ugly, or just came in one color instead of like ten, but I do appreciate the fact that I don't hate looking at them. I should also mention that they've been through the washer and dryer a couple times now without shrinking, fading, or shedding threads.
Fusion shorts sell for $34 a pair, and $36 for the very largest size – not too bad. They ship for free within a day (at least they did both times I ordered), and there are a crap load of positive reviews for them. Matter of fact, all of those reviews make me feel like I'm late to the party.
The Fusion Yoga Shorts are one of the only pairs of shorts I've purchased since December that I went back to buy more of. I wish these had been the first shorts I ordered rather than the last!
Eros Sport Core Energy Shorts (Second Favorite)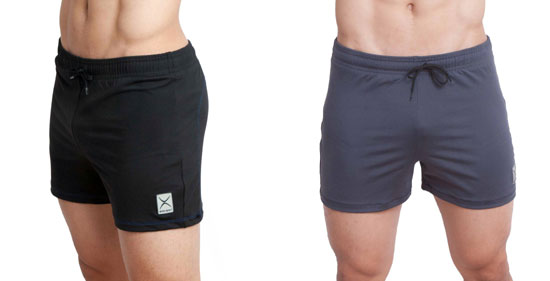 These were my favorite before I got the Fusion Yoga Shorts. They are still a very, very close second though. I like the slightly shorter inseam (3½"), and I love the fabric, but I don't care for the nearly $50/pair price tag.
The Eros Sport Core Energy shorts are made of a soft and breathable nylon/spandex microfiber that wicks moisture. The best way to describe the fit is to say that they are loose fitting compression shorts. Actually, they are basically the non-compression version of the Eros Sport Core Vibe shorts – shorts that I also have and will talk about next.
In terms of function they aren't much different than the Fusions. I love them for leg day because of the short inseam and the flexibility of the fabric. Whether you go just below parallel in a back squat or ATG in a front or overhead squat, the fabric cooperates and stretches at the bottom. I'm not even aware of them, and that's exactly what I want.
There's only two colors of these, and that's kind of boring, but it is what it is. These shorts do have a mesh liner in them, and there is even a "jock" pocket (remember, they're Yoga shorts), but I've always worn underwear with them so I've never been bothered by the mesh. I think they're good looking shorts, and they are made in the USA, but again the price is a bit high. Though to be fair, if it were not for the ~$30 Fusions, I'd still have sprung for more pairs of these. And even these don't touch the insane prices of Reebok's training shorts.
Eros Sport Core Vibe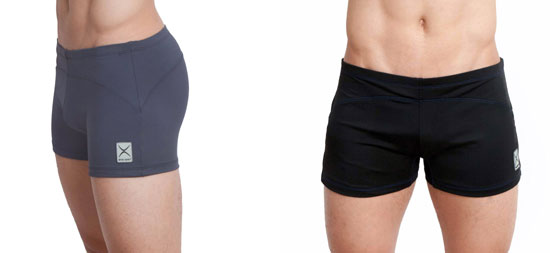 The Eros Sport Core Vibes were one of the first pairs of shorts I ordered, and one of the most expensive. I preferred them over anything else that I ordered in the first month (about six different shorts) so I didn't mind the high price so much. I've since decided that the Core Energy and the Fusions are a better fit for me, but I still like these and I still wear them.
The Core Vibe are compression Yoga shorts, but they don't feel as tight as they look. They are made of the same material and have the same inner mesh liner as the Core Energy shorts. With underwear I find them to be plenty comfortable, but because of the more form-fitting nature of them, I do have to make adjustments from time to time. That, and how revealing they are the only reasons that I prefer the Core Energy. I can't imagine ever wearing these out and about; they just look too much like biking shorts or boxer briefs.
If you don't give a damn about running around in all black briefs, I highly recommend these shorts. They are great for strength training, rowing, WODs, and of course Yoga. Again, they are a little pricey, but they are high quality and they are made in the USA; something very few clothing manufacturers can claim these days.
Powerhouse Gym Shorts

Now these are the definition of gym shorts – 100% cotton, stretch-to-fit elastic waistband, and a short inseam. For those of you old enough to have taken P.E. every year of high school, the Powerhouse Gym Shorts ought to bring you back a little.
These are pretty solid as training shorts go. They're great for squats, deadlifts, running, whatever! There's no excess material to restrict range of motion, the cotton has a nice flex to it, and they breathe relatively well. The leg openings feel a bit bigger than they need to be in these particular shorts, but it's not that big of a deal.
I like 'em. They're basic and functional… classic even. If they were closer to $10 a pair, or even if the seller wasn't demanding a ridiculous amount of money for parcel post shipping, I'd probably have bought more of them. But at $30 a pair after shipping, I opted to go with more Fusions instead of buying more of these. I like the classic gym short look, but the Fusions feel better and look better for about the same price.
Still it's tough to find classic cotton gym shorts, and if that's what you are in the market for, these are them.
Sizing Notes: Sizing was accurate, but the seller warns that these shorts will not work well for overweight people, and I would have to agree. However, the warning about not buying these if you are over 200-pounds can be ignored if your weight is muscle mass as opposed to fat. I'm 230-pounds and I had no problem fitting these shorts (at 6'4″, 34″ waist, I ordered Large.)
Via Privé Cargo Shorts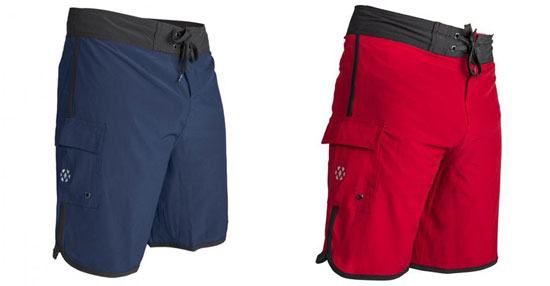 The Via Privé Cargo Edition Shorts are pretty standard CrossFit shorts. They're cut like board shorts, but they are made of a four-way stretchable polyester/spandex material. The fabric is lightweight, thin, and moisture wicking, so they stay cool and dry. They lace up in the front so they can be tightened as much or as little as you want, which ensures a comfortable fit. Overall they are great shorts, and they've survived many trips through the washer and dryer.
I have only two issues with them. First of all they are very expensive at $60 a pair. Second, they are too long. At just right above the knee, there is just too much unnecessary material. When sweating, the material will stick and drag down the thighs. Now the fabric is flexible and deep squats are still completely doable, I just don't like that feeling.
If you don't mind spending $60 on shorts, these are nice, and they look good too. I wear mine when I do cardio, go to the park, or on upper body days. I prefer not to wear them for any lower body days though.
Ranger Panties / Silkies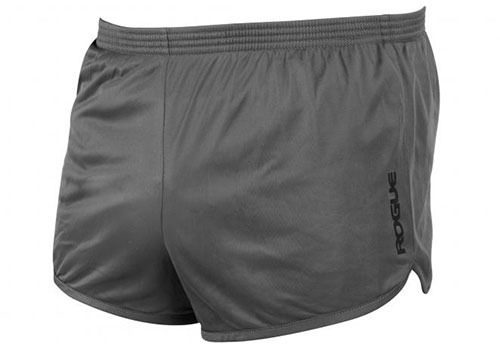 Ranger Panties are really just running shorts, but they've become quite popular among CrossFitters because they are comfortable, allow full range of motion, and have a liner brief for keeping all the goods nicely supported while bouncing about. Personally I don't do much bouncing around, but I picked up a couple pair of these anyway to see whether or not I would enjoy training in them, and well… I have mixed feelings.
What I like about them is the material. The nylon tricot fabric is comfortable, lightweight, and flexible, and it seems like this material stays cooler than cotton. Also the length is perfect for leg work; there is no excess fabric to get in the way of even the deepest of squats.
What I don't like is the mesh liner brief. The elastic bands around the thighs start to feel uncomfortable to me after about 30 minutes. It's not a huge deal, and I don't mind liners normally, but I prefer to be less aware of them. I also find the 2″ inseam to be a tad too short. I'm pretty damn tall, so a 2″ inseam isn't covering very much leg on me.
Still, Ranger panties are soft, affordable, and they stay pretty damn cool. They're definitely a good choice for bouncy WODs and cardio – assuming you don't mind being scandalous. I tend to only wear mine on leg days, and only when my favorites are all dirty.
Rogue Fitness sells a lot of different Ranger Panties. You can also get no-names on Amazon, and they appear to be the exact same product from what I can tell. Sizing for Ranger panties is pretty straight-forward.
Desmiit Men's Mesh Shorts

The Desmiit Mesh Pocket Shorts look more like flashy swimming trunks than they do training shorts, and when I first came across them I decided to pass. Eventually I found my way back to 'em though – I saw how cheap they were and how many good reviews they had so I changed my mind and bought a pair.
They're pretty comfy. They're made out of a soft, silky polyester. There is an inner liner but it's not annoying or uncomfortable, and all of that mesh breathes exceptionally well. The polyester outer isn't the most pliable material out there but there is still enough flex to it. It almost doesn't matter; the shorts are too minimal to restrict range of motion.
The pockets are very shallow and are practically useless, but you can get small stuff like a locker key or iPod Shuffle in there if you wanted. Honestly my biggest problem with these shorts is just the way they are cut; they look awful from behind. I also think that the look is a little too gaudy for training. Meh, it was worth a shot for less than $20, and they'll get used, but I wouldn't buy them again – not for training anyway.
Sizing Notes: Sizes are Asian, but US sizes are given alongside the Asian sizes. It's not complicated to find your size, but I just wanted you to be aware of it.
SEOBEAN Workout & Running Shorts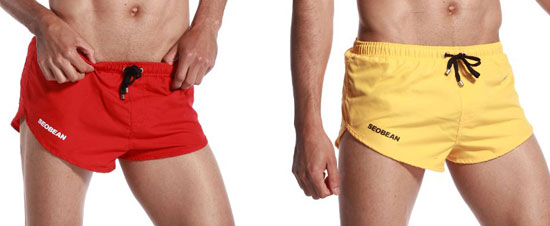 I bought a pair of the SEOBEAN Workout Shorts and I gotta tell you, I don't like them at all. The day I got them and tried them on I immediately knew that I would never wear them again. The fabric itself was coarse and cheap feeling, the mesh liner is like sandpaper, and the waistband has very little elasticity to it. On top of all that, they aren't even remotely good looking – not at all flattering like in the pictures.
For running, I'm sure they are fine and dandy so long as you wear underwear to protect yourself from that harsh mesh. But workout shorts? The only way these could ever be "workout" shorts is if you wore them on chest day. I just don't see these surviving many squats or WODs. I'd rather train in my underwear.
Suggestions?
I'd like to continue to add to this list. I'm rather enjoying this gym shorts search. It's like buying all the different lifting shoes, only a lot cheaper! So if you have any suggestions, please share them in the comment. And as always, I appreciate those shares.