Free-Weight Substitute/Alternative To: Leg Extensions, Plate-Loaded Hack Squat, Leg Press, Selectorized Horizonal Leg Press, Glute Kickbacks.
Main Muscles Worked: Quadriceps, Gluteus Max, Hamstrings, Gastrocnemius, Low Back.
Other Exercise Names: One-Legged Squat, Barbell Split-Squat.
Equipment Needed: barbell + weights + utility bench / box
Instructions: Stand with your back to a bench or box. Place the barbell on the back of your shoulders much the same way you would for a back squat. Extend one leg back and place the top of your foot on the bench. Squat down by flexing the knee and hip of your front leg until the knee of your rear leg is almost in contact with floor, then return to the original standing position by extending hip and knee of forward leg. Repeat for reps and then switch legs.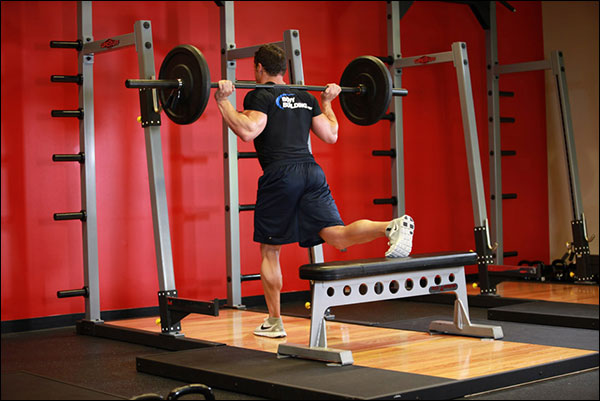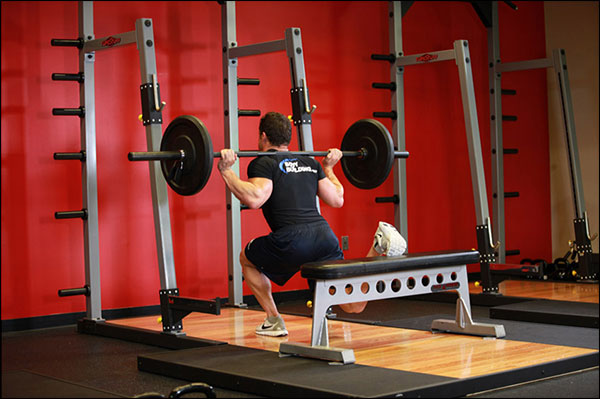 Comments (from ExRx.net): Keep your torso upright during the Bulgarian Split Squats; flexible hip flexors are important. Forward knee should point same direction as the foot throughout movement.
Many thanks to bodybuilding.com for their extensive exercise image & video collection.
Return to Free-Weight Alternatives to Gym Machines
---