This is a review for the Rep Fitness HR-5000; a heavy-duty, space-saving, fully-loaded and competitively priced beast of a power rack. And it's a half rack! the perfect type of rack for a home or garage gym.
Why do I think half racks are the perfect rack for a garage gym? Because half racks offer all the functionality, versatility, safety and storage capability of a full-sized, six-post power rack, yet they require less of your ever-diminishing real estate, cost much less than similarly-built, full-size racks due to the use of less steel (making them less expensive to ship as well), and despite their smaller footprint they still don't generally need to be bolted to the ground; as is the case with the HR-5000 here.
Now I'm not just saying this because it sounds good, I practice what I preach.  In addition to the HR-5000 here I also own a Rogue Collegiate Monster Half Rack; and prior to that rack I had converted an R3 into a half rack as well. I'm all about my power rack not consuming 30 plus square feet of precious floor space like many full-sized racks. I want my safety spotters and that plate storage, and some band pegs too, but please leave me some space for other equipment as well.
In this review I'll go over the HR-5000's specifications and dimensions, discuss all the pros and cons of rack, tell you exactly what ships with the rack, and I'll give you all my thoughts on the product as a whole. I'll also compare the HR-5000 to my Monster Half Rack; the HR-5000's main competition (or should that be the other way around?).
---
Rep HR-5000 Half Rack Review – Table of Contents
---
Rep Fitness HR-5000 Half Rack – Specifications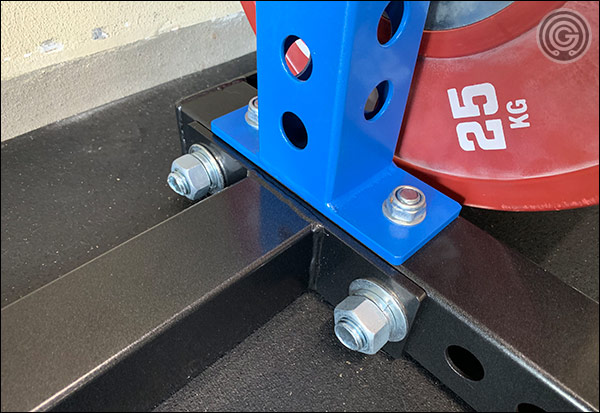 uprights: 3″ x 3″, 11-gauge steel with 1″ attachment holes at 2″ intervals *
upright holes feature laser cut numbers at odd intervals (1, 3, 5, etc.)
assembly hardware: m24 bolts (36 mm driver) and m16 bolts (24 mm driver)
total footprint: 58″ wide by 56″ deep by 93″ high
does not require anchoring, but anchor holes do exist
front feet length: 25″
inside depth (front to rear upright): 20″
outside to outside distance of front uprights: 47″ †
Rep HR-5000 ships standard with:

dual-lock UHMW sandwich-style J-cups
dual-lock UHMW safety spotter arms
multi-grip, reversible (fat/skinny) pull-up bar

1.25″ diameter (skinny) and 2″ diameter (fat)
multi-grip height from floor: ~93″

fixed upper and lower band pegs (3 pairs up, 3 pairs down)

peg length: 5½"
distance between pegs: 5½"

six pairs of weight storage horns (3 pair long, 3 pair short)

6″ short horns, 12″ long horns

Rep Fitness nameplate (always black)
rear stabilizer (also always black)

available in four upright colors (hammertone red or blue, metallic black or silver)
price: $1149 before shipping
optional dual-sided HR-5100 add-on (I believe black only): $749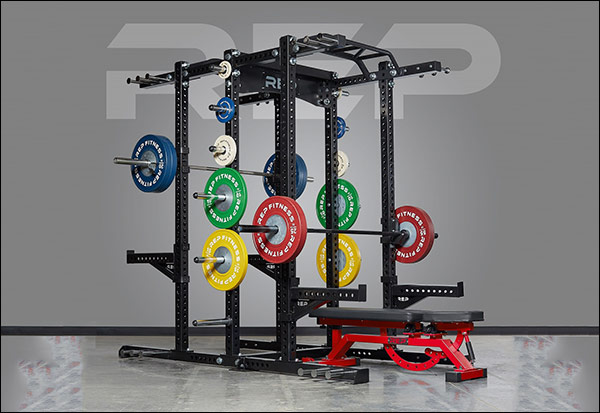 * Technically the HR-5000's uprights are 2.95″ x 2.95″ rather than 3″ x 3″, which I'll cover.
† versus the 49″ of some racks; namely Rogue.
---
Rep Fitness HR-5000 Review – Front Rack Opening
The Rep Fitness HR-5000 has a very interesting feature that a lot of lifters find appealing; it has a 47″ opening (inner distance between the two front uprights) rather than the 49″ that is found on a great number of racks (Rogue, for instance.)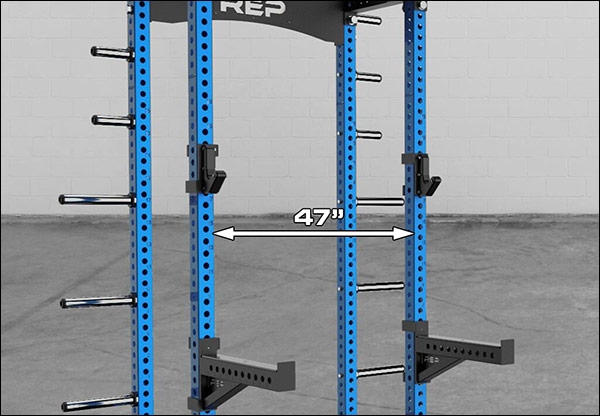 The reason this 2″ difference is so attractive is because many people find that 49″ does not leave enough wiggle room for racking and unracking the bar. The complaint (almost always having to do with squatting) is that when walking out of the rack, the plates have a tendency to clip the J-cups or uprights during that first step back. Everything is just so tight on a wider 49″ rack that any lateral movement during that first step back puts the plates right where the rack is. The issue becomes exacerbated if your bar has slim collars, as at least with chunky collars the plates begin the lift-off further away from the uprights and the J-cups.
I personally don't seem to have this issue; at least it doesn't happen often enough for me to care; but I can certainly understand why those who do find themselves clipping the rack or cups on the way out would prefer the narrower 47″ racks. If that sounds like you and you're in the market for a half rack, I can give you at least one good reason why the HR-5000 may be a better option for than many of the other half racks out there.
---
Rep Fitness HR-5000 Review – J Cups
The HR-5000 comes standard with a pair of dual lock, Sandwich-Style J-cups. "Dual-lock" basically means a double wraparound design – lateral support on both sides of the upright.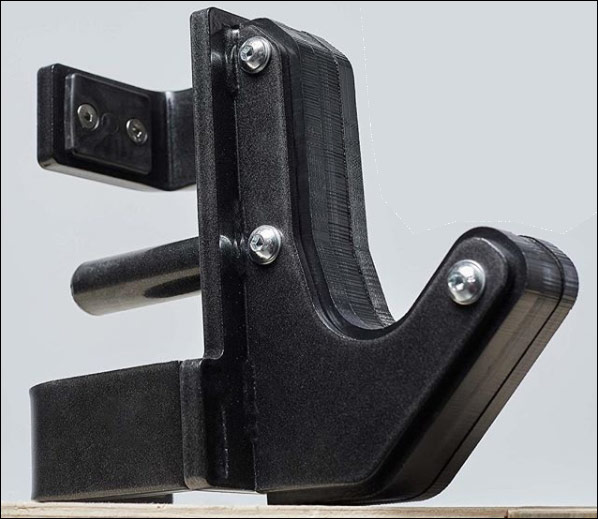 This wraparound design is nice enough, but if I'm being honest I'd have to admit that I don't recall a time where I questioned the stability of my standard-design J-cups. That said, I will admit that Rep's wraparound design does seem to reduce the likelihood that sliding the bar or racking / unracking will cause the J-cups to rotate out of position, so I suppose that's still an improvement over standard-design cups.
Rep's J-Cups are sandwich-style cups, so there is a giant mass of UHMW meant to protect the bar's finish and knurling. UHMW is also lining the inside of the cups; which protects the paint/finish of your uprights as well.
At the end of the day, you're looking at a solid J-cup. They're strong, easy to attach, lined in all the right places with UHMW, and they are even relatively compact compared to Rogue's Monster Sandwich J-cups (which are definitely nice, but they're big and they are heavy.)
---
Rep Fitness HR-5000 Review – Spotter Arms
The HR-5000 Spotter Arms are built with the same dual-lock system as the J-cups. The pin for attaching to the rack is slightly lower than on other spotter arms,  and instead of a single wraparound support on only one side, both sides have a wraparound support.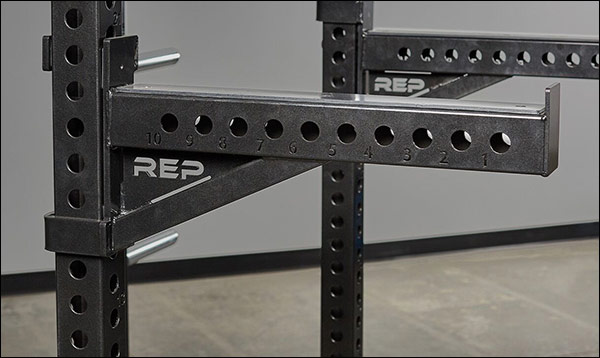 Rep's spotters have UHMW along the length of the top of the arm, as you'd expect, and the inside of the attachment is also lined with UHMW; again, to protect the rack's finish.
The HR-5000 Spotters do stay in position; despite attaching with only a single pin; thanks to that dual-lock design, and they definitely appear to be strong enough to be safe (as I've had a loaded bar for RDL's on the outer edge of the spotters while jumping up and down on one side and they didn't budge.) In other words, I'm not worried about them failing.
The best thing about the HR-5000 Spotter Arms is that they are included in the price of the rack. My Rogue Monster Half Rack didn't come with spotters. I had to add them at a cost of $270. Nice, beefy spotter arms for sure, the Rogue's, but definitely not cheap!
---
Rep Fitness HR-5000 Review – Multi-Grip Pull-up Bar
The Rep HR-5000 also comes standard with a reversible, multi-grip, pull-up bar instead of the typical straight bar that tends to ship with most power racks. This is a nice touch; in my opinion; as having to upgrade this attachment later means we basically pay for our pull-up bar twice (and only one can ever really be installed at a time.)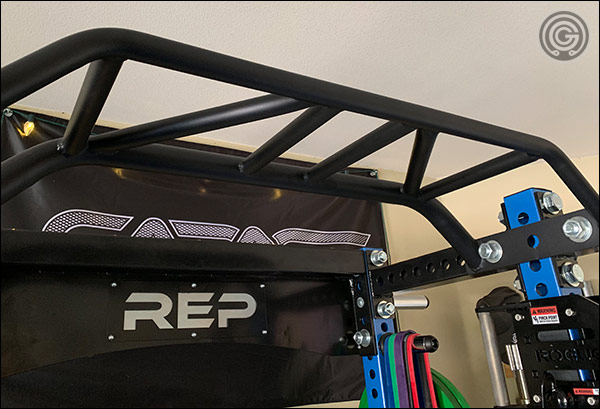 Rep's multi-grip bar is black powder coated and textured for an improved grip. In addition to the standard straight pull-up grip, this attachment offers a sloping wide grip, an inner angled grip, two neutral grips (close grip and wide grip), and the whole thing can be installed one of two ways – with a normal 1.25″-diameter pull-up bar or the fat 2″-diameter pull-up bar facing forward.
---
Rep Fitness HR-5000 Review – Plate Storage
This rack ships with a ton of plate storage horns; 12 individual horns to be exact. Half these are 12″ in length and the other half are 6″ in length. Unless you're using iron plates, you are actually getting more plate storage than you can even use! Only when your plates shrink in diameter as they get lighter will you actually be able to utilize six horns per upright. But hey, I'd rather have too many than not enough.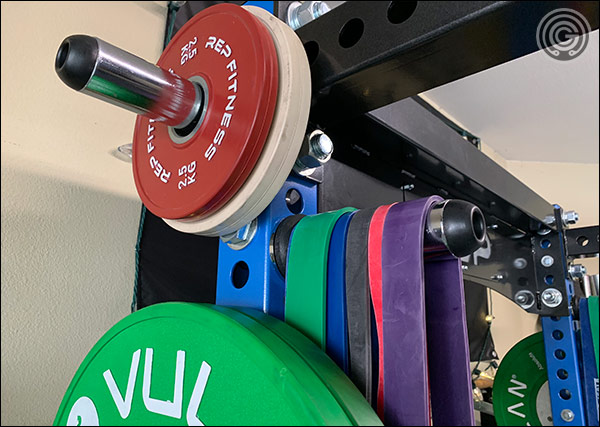 I actually have competition bumpers loaded on my HR-5000 so I was unable to get that last short plate horn installed. It didn't go to waste though! I installed it up high up on the upright facing forward and use it to store a portion of my resistance band collection. I'm sure if you find yourself with an unused horn you too could find a good use for it.
---
Rep Fitness HR-5000 Review – Band Pegs
The band pegs on the HR-5000 are fixed onto the rack; as in they are not removable or free to move around the rack.  I wouldn't say that I mind this so much as I would say that I would prefer to be able to move them around.  Sure, 95% of the time the band pegs on my Rogue rack are in basically the same position as they are on the HR-5000, but there are those rare times when I do move them to an upright for miscellaneous band work.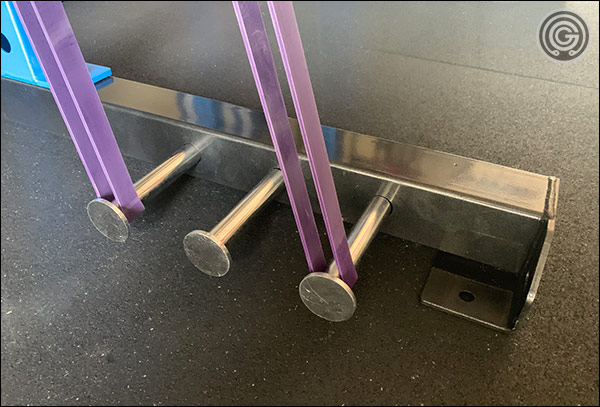 Now technically you could just buy a set of 1″ band pegs separately; it's not a big deal. Hell for what Rep is asking for this rack compared to what I paid for the Rogue Monster Rack, I suppose it's silly to complain about having to buy band pegs on the side; if you even care at all!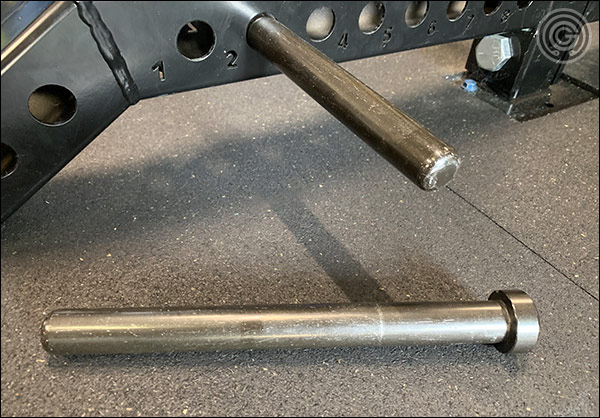 An advantage of the HR-5000 over most other half racks is the presence of high band pegs – not just the standard lower pegs. Now I've never really had the desire to do negative band work (though I do regularly use bands) but I do know a great number of athletes who do like performing reverse band presses and squats, and now these folks don't need to own a rack that requires working out inside the rack to make that happen. It's a nice feature to have the upper pegs, even if you don't think it's something you'd care about.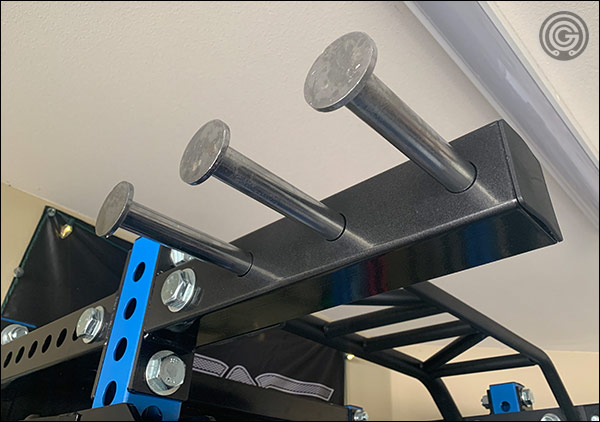 Any drawback of the upper pegs? Depending on your height you may not be able to do pin presses (overhead) without banging the upper peg arms or the pegs themselves. A normal strict press just requires you to walk out a little further; which isn't a deal breaker to me.
---
Rep Fitness HR-5000 Review – Cross Compatibility
I mentioned in the specifications that the uprights are actually 2.95″ square rather than a full 3″. If you were to look at the uprights of say a Rogue Monster Rack,  you'd notice that those uprights are actually the full 3″. This very small difference of 0.05″ will not interfere with your ability to share accessories from Rogue with Rep (or vice versa) but you may notice that an accessory from Rep will fit tight on a Rogue rack and that Rep accessories feel a bit lose on a Rogue rack.
That said, there is another minor difference between Rogue Monster rack and the HR-5000 that you should be aware of it you were thinking to utilize Rogue's extensive accessory line on your HR-5000, and that's that there is a .5 mm difference in hole spacing between these two products.  This very minor discrepancy is just enough to prevent many accessories that utilize a two-pin installation from being cross-compatible.
For instance, I own the Rep Dip Attachment for the HR-5000.  It attaches to the Rep upright via a 1″ pin. It drops into place much the same was as a J-cup, then is locked onto the rack using a 1″ detent pin (two attachment points total). The Rogue upright has the same 1″ hole sizing and it will accept the Rep Dip Attachment, but the bottom hole that you would secure using the detent pin does not line up. That .5 mm difference in hole spacing over the length of four or five holes is enough to cause an alignment issue for that second pin (see below).
Now going from Rogue to Rep instead of from Rep to Rogue, let me give another example. I also own the Rogue Monster Trolley Arms, which also utilizes two pins for installation (one is the 1″ trigger pin, the other is a 1″ detent pin). The Trolley Arms actually will install on the HR-5000 because the two attachment holes are closer together. Less distance means there is less deviation, and things still line up well enough for the install. It's obvious that it's not a perfect fit, but it does still work. That said, the 0.05″ difference in diameter means that those Trolley Arms feel a hint looser on a Rep upright than they would on the Rogue.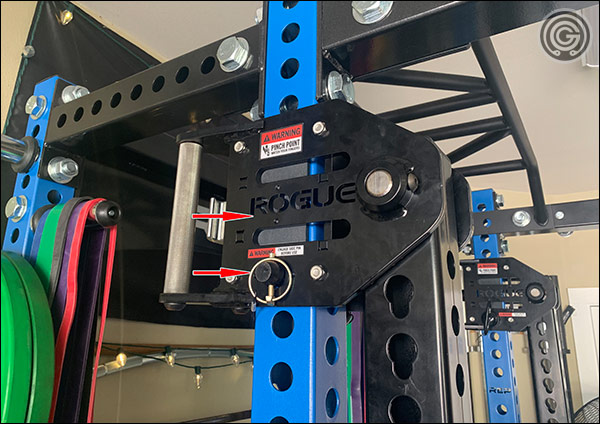 My point is this. If you want to use a Rogue attachment on your HR-5000, just keep in mind that any single-pin attachment will work with no issue, but double-pin attachments may not line up properly. The further apart those two pin points are, the less likely it is that it will fit.
---
Rep HR-5000 Review – Lots of Pros! Any Cons?
Normally I do a pros and cons list, but this rack is pretty much all pros!  The pros list is like this entire review. Can I do a cons list though? Well I love being fair and unbiased, so I'll try!
HR-5000 Cons
Band pegs are fixed and do not move. You may want to buy a pack of 1″ band pegs on the side – though I'll bet less than 10% of you will care about this.
The .5 mm difference in hole spacing between Rep and Rogue is moderately annoying; as someone who already owns Rogue accessories anyway.  To be fair though, it's only come close to be being an issue, it hasn't actually been an issue yet.
I had to buy a metric socket for assembly. I think the 36 mm socket was about $15, and I had to drive all the way to Home Depot to get it! I'm really reaching here btw.
Yeah that's all I have as far as cons for now but I promise if I think of anything else I will add it to the list.
---
Rep Fitness HR-5000 versus the Rogue Monster HR
I am rather impressed with the HR-5000, and as someone who just months ago spent a ton of cash on the Rogue Monster Half Rack and who still has that rack all of 10′ away from the HR-5000 Half Rack, I think I'm in a pretty good position to be making a comparison of these two units.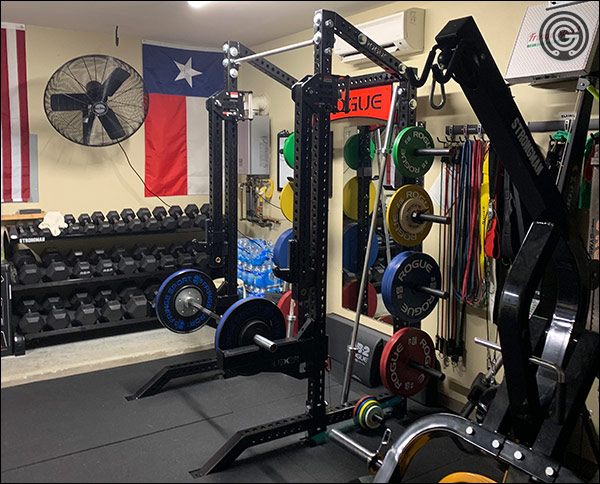 The HR-5000 is $1149 before shipping, and that price includes the spotters, sandwich-style J-cups, band pegs, a ton of plate storage, and a multi-grip pull-up bar. You can add colored uprights for $50 and a dip station for $99. This is a complete product at a very fair price and I do not foresee needing any upgrades to this initial set up.
Rogue's Monster Half Rack is $1160 before shipping and includes basic J-cups, band pegs, and four pair of storage horns. Even Rogue's basic cups are nice, and the plate horns are a new design that are long, easy to install, and badass looking, but you'd need to spend $270 to add the safety spotter arms and $500 (yes, I'm serious!) to add the only multi-grip pull-up bar available for the Monster Half Rack (Crown Pull-Up). If you want to swap out the normal J-cups for sandwich-style cups at the time of purchase, that'll run you another $100.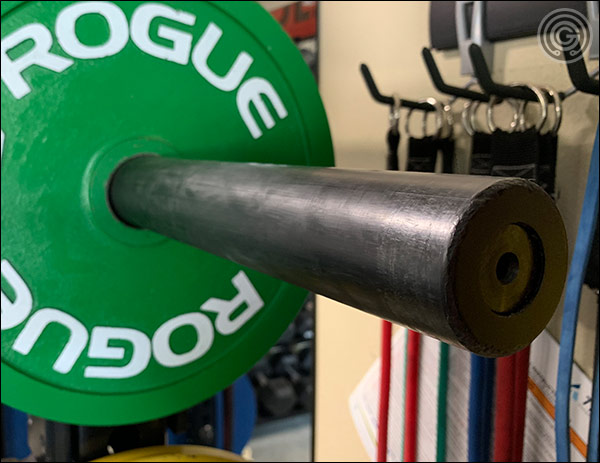 Additionally, you still need to anchor the Rogue to the ground, and if you wanted those high band pegs on the Rogue you are just out of luck.  Custom color on the Rogue will cost a bit more than the $50 Rep wants, but color variety is larger with Rogue Fitness for sure.
So clearly the HR-5000 is significantly less expensive, but why is that?  Well the Rep HR is an import whereas the Rogue HR is American-made. That fact alone will have some impact on the price. Also, Rogue's accessories are beefier. The spotters are much more massive & heavy, the sandwich style J-cups are nearly 20 pounds a pair, and even Rogue's basic cups are pretty substantial. Fit and finish on Rogue racks is also top-tier; even the weight storage horns are pretty fancy. With Rogue you're simply paying for a more refined, American-made product.
The question is, does any of this stuff matter? When comparing these two half racks, I think I'd argue that it doesn't really matter. I mean, we're talking a huge difference in overall price when both of these racks serve the exact same purpose; same function, same basic design and footprint, and pretty much the same features.
When you want a highly-refined, over-engineered, super expensive half rack with with more accessory options than you can shake a stick at, you go Rogue. When price actually makes a difference to you but you still want function, variety, style and most importantly safety, you go with Rep Fitness. There is no wrong answer. It's all about your budget and what add-ons you think you'll want down the road. Safety and function are covered with either rack.
---
Rep Fitness HR-5000 Half Rack Review Summary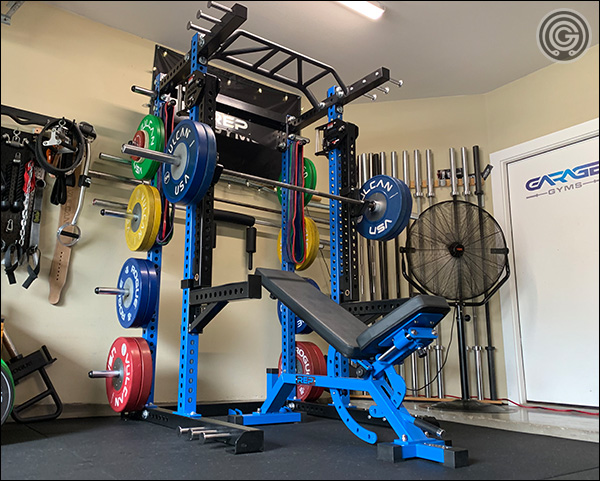 The Rep HR-5000 is one hell of a rack. It's beefy, it's fully-loaded, it's awe-inspiring, and it's even slightly intimidating in its size; which is amazing considering its relatively conservative foot print. It's just a lot of product for a price that just cannot be beat.
I mean think about what we get with the HR-5000. For $1150 you get a 93″ tall, 3″ x 3″ rack with sandwich-style J-cups and 24″ long safety spotter arms as standard equipment, a multi grip pull-up bar, no less than 12 chrome-finished weight storage horns, and both upper and lower band pegs. It also has a nameplate instead of a basic crossmember, stabilizer across the base of the rack, optional anchor holes, numbered uprights, and even the opportunity to choose a color for so little money it's not even worth commenting on. Do we see any issues with this? I sure don't!
The HR-5000 is a steal at its current price.  If you're in the market for a power rack for your garage or home gym this really should be on your short list. Even if you were originally only looking at standard racks and not half racks, you should still be considering this. It's just so much rack for the money and it's still compact, functional, safe, and able to accept many an optional accessory.
I absolutely recommend the Rep Fitness HR-5000 Half Rack. No hesitation; no doubt about it… and the Hammertone colors are just beautiful. I obviously have the blue but I have seen the red as well. Both of them are classy as hell (especially when you bench matches!)
---